Editor's note: Seeking Alpha is proud to welcome Mr. Long Game as a new contributor. It's easy to become a Seeking Alpha contributor and earn money for your best investment ideas. Active contributors also get free access to SA Premium. Click here to find out more »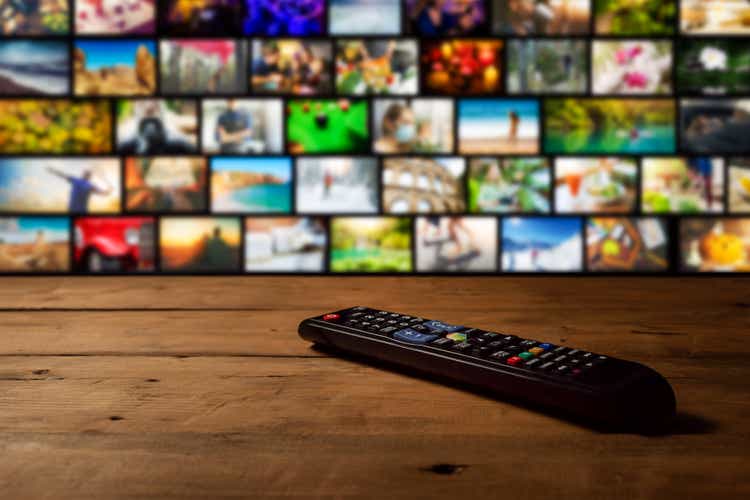 Investment Thesis
fuboTV (NYSE:NYSE:FUBO) is developing a unique model for Connected TV (CTV) that will help it achieve profitability and growth not seen in traditional linear TV. 3Q results further lend support that the company has a path to profitability and management clearly feels that they are close to reaching "escape velocity" as stated in the earnings Q&A session. fuboTV's investments in advertising, data aggregation, and user engagement will lead to a highly profitable business segment with positive cash flow coming much sooner than the bears believe. At 3x forward sales, the risk of further shareholder dilution to fund growth in the near term is outweighed by the long-term opportunity for fuboTV to execute on its advertising and wagering strategy. This is an increasingly bullish investment and I continue to grow my overall position as I buy on the recent weakness.
Overview of fuboTV's Revenue Streams
As of 3Q 2021, fuboTV has had two primary sources of revenue: Subscription and Advertising. With the sportsbook getting launched on November 3, 2021 in Iowa, we won't get our first look at the highly anticipated new source of revenue until the company reports their Q4 earnings early next year. It is also important to keep in mind that the sportsbook revenue is not included in Q4 guidance. Subscription revenue is directly tied to the number of subscribers and the ability of fuboTV to upsell what they refer to as Attachments in the earnings call. Think of Attachments as premium packages that users can add to their base package. The most popular Attachment is their Sports + 4K package and includes the NFL Redzone channel along with a couple other dozen sports channels for an additional $10.99/mo. Margins are higher on Attachments, but fuboTV traditionally faces some seasonality effects of users adding Redzone in Q3 and Q4 during the NFL season.
They are hopeful that as they expand the sportsbook into more states during 2022, user engagement and retention for the additional sports channels will grow. However, I do not believe there is a significant opportunity to contribute to operating margins with further improvement in retention rates as subscribership is primarily priced to "keep the lights on." That is to say that they are mostly breaking even on subscribers and revenue is just enough to keep up with the increasing capital requirements to acquire the premium live sports product that is the hallmark of the business. Overall, Average Subscription Revenue per User was reported at $66.31/mo which represents a growth rate of 10% year-over-year.
Advertising revenue is generated by fuboTV selling ad space (commercials) they are allotted on the various channels they provide. In their 3Q shareholder letter, the company highlighted the fact that Advertising revenue grew to 12% of total revenue, leading to a significant contribution to margin expansion. CEO, David Gandler, also touched on the company utilizing a combination of ad sales via Fill Rate, CPM, and Viewership Hours to further maximize advertising revenue. As consumers continue to shift from traditional linear TV to live TV streaming, fuboTV believes they will be well positioned to capture ad dollars that are rapidly being shifted to CTV.
More importantly, fuboTV still trails their larger peers in the CTV space, most notably ROKU (ROKU), in terms of CPM rates they are charging for ad sales. However, this rate is growing and leadership has clearly stated they believe they will be more inline with rates of 3.0-3.5 in the not-so-distant future. More on this later in the article. Overall, Advertising Revenue per User (ARPU) was reported at $8.23/mo which represents a growth rate of 10% year-over-year.
Advertising, Higher Margins, and Room to Grow
While fuboTV has been experiencing extremely high growth in subscribers, subscriber-related expenses still represent 91.5% of the total revenue and Broadcasting/Transmission costs are an additional 9.1%. This is a significant improvement from prior years, but the margins for the subscription side of the business will remain extremely tight for the foreseeable future until further scale is reached.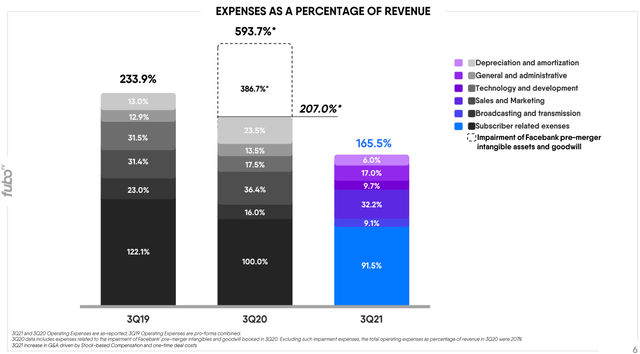 Source: 3Q Earnings Deck
Conversely, Advertising revenue has significantly higher margins and costs only represent 32.2% of total revenue (see chart above). fuboTV stated in the earnings call that they intend to keep these costs relatively flat in the industry standard range of 30-35% which would provide an opportunity for further margin expansion as they grow their revenue. fuboTV expanded their relationship with Magnite (MGNI) as their ad sell-side platform and announced an alliance with Dentsu to help advertisers leverage data from the fuboTV platform to drive a more targeted advertising experience that found on traditional linear TV. This ability to aggregate customer data and provide a more premium advertising product is clearly being overshadowed by the current cash flow risks, which led to the recent sell-off in the stock from over $34 pre-earnings to less than $20 at the time of writing this article.
As I touched on previously, David Gandler emphasized on the investor call that they are focused on growing CPM advertising revenue to be more inline with their industry peers. CPM represents the cost per 1K impressions fuboTV can charge an advertiser. fuboTV had success in the quarter growing their CPM from 2.1 to 2.3, but are still short of the rates between 3.0-3.5 that CTV companies achieve. I believe that if fuboTV continues to grow CPM at the current rate, CPM should be about 3.0 by 3Q 2022. This would imply ARPU growth of 35% or an estimated $11 per subscriber per month. This could easily add $35-50M in revenue for 2022 taking into account S&M expenses of 30% and utilizing and average subscriber base of 1.5M for the full year. Those numbers are somewhat conservative given the fact that the subscription business is growing at 158% year-over-year.
The Premium Customer and Engagement
fuboTV stated in the earnings call that 90% of all viewing hours on the platform in Q3 was for live content and a staggering 96% of all subscribers viewed live sports. This is the kind of viewer that advertisers crave as they tend to be more engaged, they watch the commercials during live sporting events, and are generally a higher quality customer. It is hard to see the percentage of viewers consuming live sports content grow much more than the 96% mark, but this type of data will be fundamental to the company growing their CPM numbers.
We are also getting an early look at the potential for their Fan View and Sportsbook wagering products to grow user engagement. fuboTV launched free-to-play games within the broadcast for the CONMEBOL South American World Cup Qualifier matches. Viewers who participated in their free-to-play games spent 57% more time watching the games than non-participants. fuboTV is now focused on expanding this experience across more broadcasts and are acquiring Edison.ai to further their video-data capabilities and strengthen the user experience while watching live events.
As wagering comes online via the Fubo Sportsbook in additional states during 2022, it can only be expected that these user engagement numbers continue to grow and make for a very compelling platform to sell to potential advertisers. Without Q4 sportsbook numbers from Iowa or any kind of guidance for 2022, it is hard to forecast the additional benefit to EPS, but we can only assume that this growth opportunity is not being fully valued in the current stock valuation.
Financials
While fuboTV demonstrated an ability to grow subscribers above expectations, improve revenue from advertising, and increase margins by managing expenses, there is still reason to be cautious when evaluating the 3Q financial statement. They only had $400M of cash on hand at the end of Q3. With the company estimated to lose ($2.14) per share over the next year, this would leave roughly $90M in cash on hand as of Q4 2022 should fuboTV not improve margins or revenue.
fuboTV will be acquiring the French live TV streaming company, Molotov SAS, in January of 2022 and has announced that they will cash to cover up to 15% of the $190M acquisition cost. The balance sheet has strengthened slightly in the last year given the cash position has grown and liabilities have remained relatively flat. However, this has come at the expense of shareholder dilution and there is a risk to the stock valuation that they will continue to leverage their market cap to fund growth and potential acquisitions in 2022.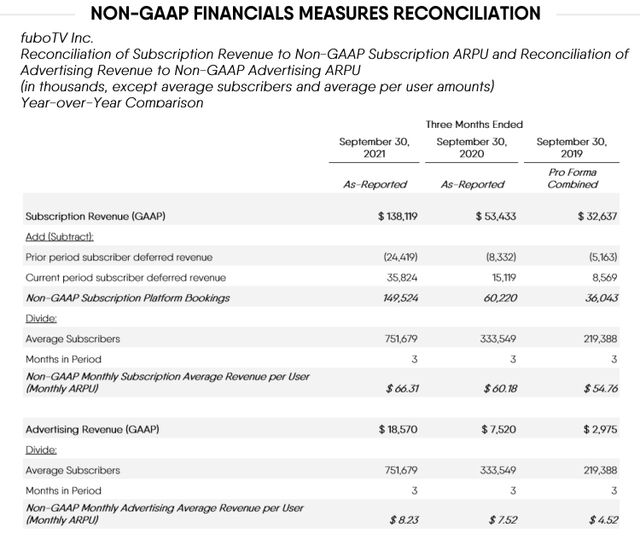 Source: 3Q Earnings Deck
Both subscription revenue per user and advertising revenue improved by 10% year-over-year. I believe it is well within reason that we can expect another nice jump in revenue per user for Q4 as Q3 only captured the large benefit of the NFL and College Football seasons starting in the final month of the quarter. Going forward, we would like to see the advertising revenue begin to outpace the increase in subscription. This will be important in the first half of 2022 considering subscriber growth is traditionally slower in the first two quarters of the year.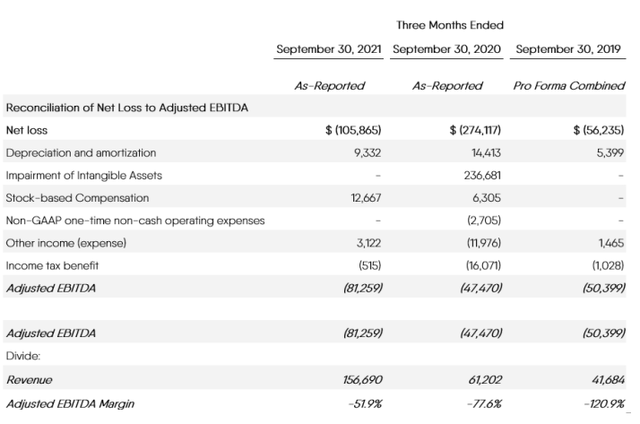 Source: 3Q Earnings Deck
It is clear to see that EBITDA Margin continues to improve and the path to profitability is becoming more defined by the quarter. fuboTV will most likely not be profitable for several years, but we will continue to look at Adjusted EBITDA Margin each quarter to see if there is any acceleration in overall margins. The risk to margins in the short term will most likely come from the sportsbook business as there could be additional costs associated with acquiring Market Access Agreements in additional states. We also don't know if fuboTV will utilize promotional offers to attract customers to the platform similar to DraftKings and other major sportsbooks.
Regardless, the growth potential of the sportsbook and benefit to user engagement should only be viewed as a net positive for margins in the long run. However, I am not including any growth to margins from the wagering business in my valuation analysis below and am just considering current revenue streams until we get the wagering numbers with the Q4 report.
Competition in the CTV Space
The primary competitors in the CTV space remain YouTube TV (GOOGL), Hulu+ Live TV (DIS), and Sling TV (DISH). Other streaming services such as ESPN+ (DIS), Disney+ (DIS), Peacock (CMCSA), Paramont+ (VIAC), and Netflix (NFLX) can be seen as competition for customer dollars spent on entertainment/TV services, they are not direct replacements for traditional linear TV. It can't be overlooked that all of the competitors are a part of much larger corporations. However, their weakness is in that they have been built to be complementary to other services provided by their parent companies. Meanwhile, fuboTV is being built as a CTV company that can profit from attracting the most premium customers viewing live events as previously stated.
Keep in mind that fuboTV's basic package includes 112 channels, 250 hours of cloud DVR space, and streaming on up to 3 screens at the same time for $65/mo. Sling TV is at 52 channels, 50 hours of DVR, and 3 screens for $50/mo. Hulu TV offers 87 channels, 50 hours of DVR, and 2 screens for $65/mo. Youtube TV provides 85 channels, unlimited DVR space, and 3 screens for $65/mo. fuboTV is clearly the best value, but does have work to do to round out its channel offering. Most notably, it cut the A&E and Turner Networks in 2021 to make room for the streaming rights to the ESPN lineup and Disney channel. We will be keeping an eye on how fuboTV handles the Turner Networks going forward considering TNT, TBS, and TruTV carry most of the early round games for the NCAA March Madness basketball tournament. It would be expected that they would want this content back on the platform in 2022 as they work on the rollout of their sportsbook. As none of fuboTV's main rivals are stand-alone CTV services, it can be difficult to use the implied valuation of these streaming services as a comparison to fuboTV since their earnings are imbedded in the larger reports with their parent companies. However, we can compare to subscriber numbers reported by the various service from time-to-time to get a sense of where the general market for TV/Streaming Services is headed.
NBCUniversal has not reported detailed subscriber numbers for Peacock, but did state in their most recent earnings call that they are on track to surpass their goal of 35M subscribers in 2024. Meanwhile, they lost 408,000 net subscribers to their traditional linear TV service in the third quarter alone. Peacock's live sports offerings are highlighted by the rights for the English Premier League (EPL) and Sunday Night Football games for the NFL. They recently were awarded the rights to the EPL through the 2027-2028 season and games will transition to the USA Network for linear/streaming TV as NBC folds the NBCSN at the end of 2021. This premium sports content will be a cornerstone to Peacock's continued growth. Netflix only grew subscribership by 2% in the quarter and HBO Max grew by 2.7%. These are much more mature businesses, but also lack the live sports content may prove critical to their growth opportunities in the future. YouTube TV has not provided an update on subscribers since late 2020 when it reported 3M subscribers, but it was recently estimated by LightShed Partners to now be at 4M subscribers making it the largest TV streaming provider in the United States. Lastly, Hulu's TV service has actually shrunk in 2021 losing 200,000 subscribers in Q1 and 100,000 in Q2. This corresponded with increases in pricing and further supports the value in fuboTV's base package when comparing the services. The simple conclusion here is that fuboTV is offering the product that consumers are running to at a highly competitive price point.
Challenges to the Thesis
Beyond the cash flow and shareholder dilution risks I have already touched on, I ultimately see the challenge to my overall thesis hinging on fuboTV's ability to manage the balance between cost of content and furthering user engagement. Live sports content is not cheap, but it is the core of the business model and feeds the ability to maximize revenue from advertising sales and the sportsbook business. We have already seen them not shy away from refining their content lineup to control costs and it can be inferred that they are using viewership data to guide which networks are worth the cost to acquire the streaming rights. fubotTV's value proposition to customers will be to continue to lead the CTV industry in live sports content, but we can anticipate that it will continue to face pricing pressure from the competition.
It also appears that Disney may have an interest in coupling a sportsbook with their Hulu+ and ESPN+ products with CEO Bob Chapek indicating such in his comments to CNBC after their most recent earnings call. This could be viewed as validation that fuboTV's model has significant value, but a direct competitor aligning their product offering more closely with fuboTV poses some additional risk.
There is also reasonable concern about management being able to execute on their international expansion goals. Molotov helps diversify the subscribership and fuboTV's own workforce, but it is also operating under a different pricing model and we do not have a good idea on managements plan to leverage the increased scale that Molotov brings. In a recent interview with Benzinga, David Gandler also touched on the fact that they will most likely slow any further plans for expansion in the Europe, most notably the U.K., due to the recent response from investors to the Molotov acquisition. It is nice to see a recognition that they need to remain focused on refining the core business in the U.S. before aggressive international expansion, but investors should be cautious given the rate of recent acquisitions.
Valuation Analysis
fuboTV's stock price has taken a significant hit since reporting Q3 earnings in early November with stock being down as much as 40%. There is clearly a concern among investors about the company's ability to fund continued growth from the cash flow it generates. This is a risk all investors should consider and further dilution should be anticipated in the near-term given the fact that fuboTV continues to acquire other companies.
The wagering business is still a wild card and revenue impact is expected to be limited in Q4 with just the state of Iowa online so far. Investors will eagerly await the results on the next earnings report, but a larger impact may come from further announcements of wagering partnerships or an acceleration to the rollout schedule in previously announced states.
At the current price around $20/share, investors are paying less than 5x sales for 2021 and what should be estimated as less than 3x forward sales for 2022. This certainly seems cheap given the growth rate of subscribers, the ability of management to continue to capitalize on economies of scale, and the potential for advertising revenue to be a near-term driver of revenue growth even if subscriber growth begins to come back down from its astronomic levels. Until the company becomes profitable, price to sales is the best way to value the fuboTV given the ease of comparison to other companies like Roku (8x sales), Netflix (10.5x), and DraftKings (DKNG) (11.5x) all receive much more lofty valuations. DraftKings is not a direct competitor, but will become more relevant as the Fubo Sportsbook numbers begin to be reported in 2022.
I have a year-end 2022 price target of $45
ARPU growing to $78/mo is a reasonable expectation given the organic opportunity to grow CPM by 35-50% in 2022. As previously stated, advertising revenue could grow by $11 per user if fuboTV continues to bring their CPM rates in line with industry standards. Accounting for 35% in S&M expenses, net gains to ARPU could be up to $7/mo and I am using a conservative contribution of $3.5/mo for my model. This also does not account for any improvement in subscribership margins or growth in average subscribers beyond my estimate of 1.5M in 2022. They have guided to 1,065,000 subscribers at the end of 2021. Keeping in the range of their most recent increases in subscribers year-over-year of 74-94% would easy allow them to hit this target of 1.5M average subscribers. Using a sales multiple of 5x, keeping in mind that the competition receives a much higher multiple, produces a price target of $45 for year-end 2022.
Summary
fuboTV still has a long way to go to profitability and further dilution provides downside risk to the stock price, but cash flow concerns can subside quickly if the company continues to produce strong results on its plan to grow advertising revenue and if it executes a strong rollout of the sports wagering business.
Investors are currently undervaluing the potential for fuboTV to maximize ad revenue and are not fully appreciating the growth rate in premium subscribers. The stock is a strong buy for investors with a high risk profile and a long-term hold strategy.