TFF Pharmaceuticals: Upside Catalysts Starting To Show Up Amid Omicron, But Timidly
Summary
After a long and painful downside, TFFP's stock has finally delivered a one-day outperformance with respect to the big Covid plays due to the Omicron variant.
The next question is whether this is just another blip as was the case in July when there were positive clinical trials results for Augmenta's drug candidate using TFF (Thin Film Freezing) delivery.
The answer lies in the ability to leverage existing drugs with known safety profiles and reformulate these such as Niclosamide.
Despite high operational expenses, finances are adequate, with the pharma sharing costs through partnerships with biotechs.
Still, at an early stage, the road to commercialization could be a long one, but in the meanwhile, there are opportunities to benefit through licensing of intellectual property assets.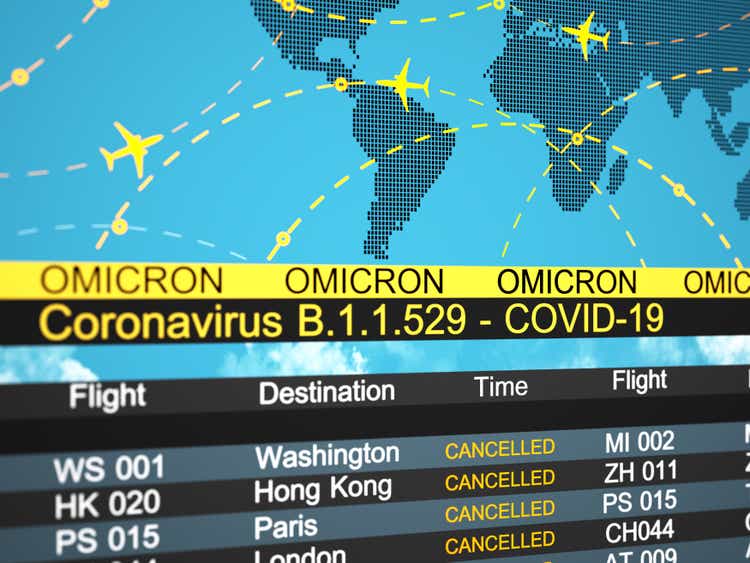 Given the number of mutations it harbors, the new Covid variant called Omicron is potentially more contagious. What worries authorities the most is that it could evade vaccines, with preliminary data from South Africa pointing towards symptoms different from those displayed by other variants.
Here, some will surely put into question the relationship between TFF Pharmaceuticals (NASDAQ:NASDAQ:TFFP) which is not developing any vaccine, and the Omicron variant, when there is already the mighty Moderna (NASDAQ:MRNA) with its proven mRNA technology.
Well, considering that it is the lungs that are most affected by COVID‐19, TFFP's Thin-Film Freezing ("TFF") technology becomes useful in conveying dry powder formulations of specific monoclonal antibodies (MAbs) for inhalation delivered directly to the main respiratory organ of patients.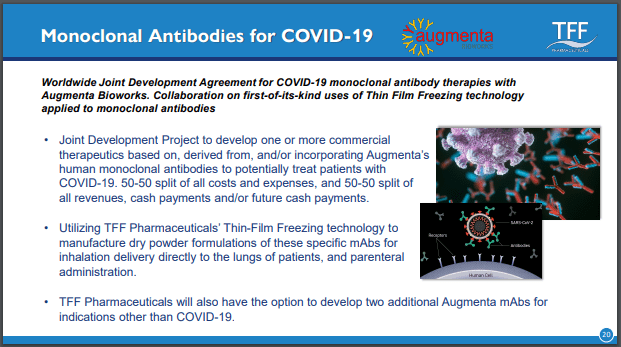 Source: Company presentation in Seeking Alpha
For this purpose, the company has a partnership with Augmenta Bioworks for the latter's MAbs to treat patients with COVID-19, but in order to put things into perspective, I start with providing a picture of how the new variant is altering the rules of the game.
The post-Omicron Covid paradigm
As seen by the performance of stock markets worldwide on Black Friday and on Tuesday, the emergence of the South African variant has somewhat put into question this new Covid normal consisting of vaccine providers whose jabs offer protection against the already more infectious Delta variant, with governments throughout the world focusing on inoculating their populations to achieve something called "herd immunity".
In this respect, some of the preliminary findings of Dr. Angélique Coetzee, the president of the South African Medical Association, seem to indicate that the symptoms associated with the new variant are different. One of these is that there is no "loss of taste or smell" as with precedent strains. However, these findings should be validated by the World Health Organization based on a larger sample.
Pursuing further, mRNA technology's capability to provide protection against Omicron took setback after Moderna CEO Stéphane Bancel suggested that "there will be a sharp decline in the effectiveness of the current COVID-19 vaccines with the emergence of the new Omicron variant". Thus, the biotech's shares lost 5.29% on Tuesday while BioNTech (NASDAQ:BNTX) dropped by 3.45%. At the same time, the shares of Regeneron (NASDAQ:REGN) "came under pressure amid concerns over the impact of Omicron on the efficacy of its MAbs".
In sharp contrast, TFFP's stock, in green, gained 4.70%.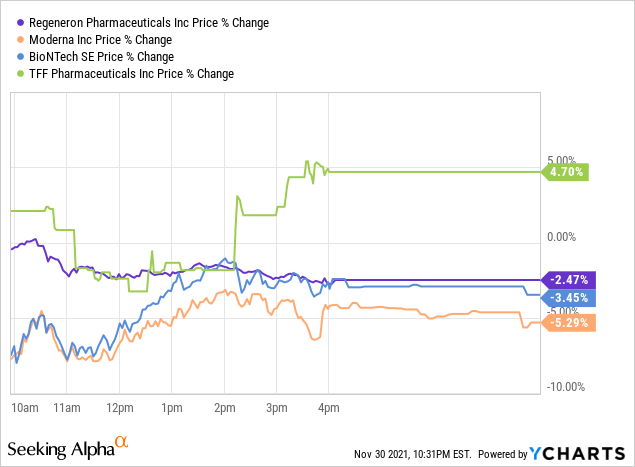 The reason for this could be Moderna's CEO's belief that "it will be months before the omicron specific variant is ready to ship in massive quantities". This uncertainty factor brought some oxygen to alternative vaccine developers like TFFP.
The pharma's main track record is a 3-year collaboration with the U.S. Army to investigate TTF for countermeasures, encapsulating MAbs against Alphaviruses (e.g. Venezuelan, Western, and Eastern equine encephalitis viruses) and others. The objective was to develop biodefenses that are potentially more easily administered on a battlefield via a pulmonary or intranasal route while being thermally stable.
Leveraging existing drugs using Thin Film Freezing
Shifting to civilian uses, TFFP aims to repurpose FDA-approved drugs against COVID-19 by leveraging existing drugs with known safety profiles and reformulating these using TFF for optimum delivery. For this purpose, the company is working with university researchers to reformulate Niclosamide (an anthelminthic drug used since the 1960s) to be inhaled directly into the lungs. Here, the strategy is to use an antiviral drug that is already known in the medical community with potency higher than Gilead's (GILD) Remdesivir.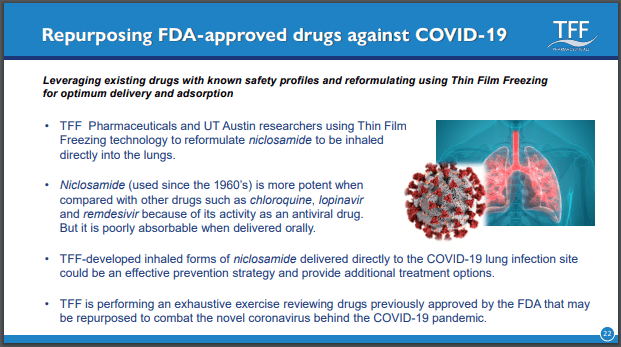 Source: Company presentation in Seeking Alpha
Now, according to the National Library of Medicines, Niclosamide is "widely used to treat various diseases due to its pleiotropic anti-inflammatory and antiviral activities", but the researchers also add that "clinical trials are mandatory" to confirm its potential role in Covid-infected patients.
For this purpose, TFF has "received approval from Health Canada to begin a Phase 1 trial of a dry powder formulation of Niclosamide", with the company anticipating enrollment to be completed by early Q1-2022. This study is based on preclinical studies of an inhaled dry powder formulation of Niclosamide showing a "seven-fold reduction in lung viral load in hamsters when administered 24 hours after inoculation with SARS-CoV-2".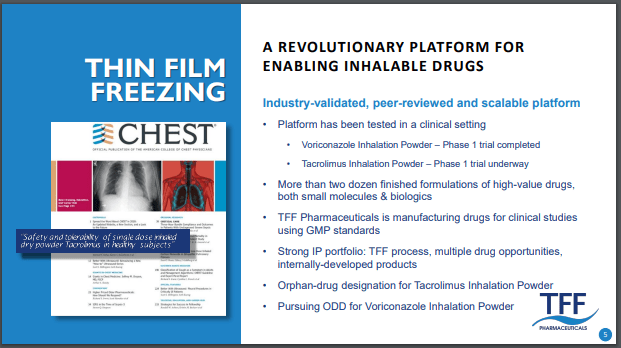 Source: Company presentation in Seeking Alpha
Now, with so many biotechs pouring money into finding Covid cures, be it through intramuscular injection, or using the oral routes like Pfizer's (PFE) pill, or being nasally administered as for Atossa Therapeutics (NASDAQ:ATOS), there is competition, implying the possibility of TFFP getting delayed with its therapy. In this case, the world of clinical research is littered with biotechs who missed the train or others who boarded it too late, with the stocks taking a battering.
Such a worst-case scenario looks improbable for TFFP due to the fact that it is diversified in other therapies, with its two lead in-house programs for inhaled Voriconazole and Tacrolimus powder. For investors, Voriconazole is generally considered to be the "most effective antifungal drug" for treating Invasive Pulmonary Aspergillosis, and, as for Tacrolimus, the Phase 1 study indicates an acceptable safety profile, and based on the data, the executives expect to initiate the Phase 2 program shortly.
The company expects to file NDA Filings for both within the next 24 months at a total cost of $27 million. As for commercialization, the global market for inhalable drugs is predicted to be worth around $40.10 billion by 2028, from $25.05 billion in 2020, growing at a CAGR of 6.8%. This signifies billions of dollars of opportunities, but it is important not to ignore the risks.
Valuations and key takeaways
The company had cash and equivalents of $44.7 million as of the end of September, up from $35.3 million in December last year as per the balance sheet below.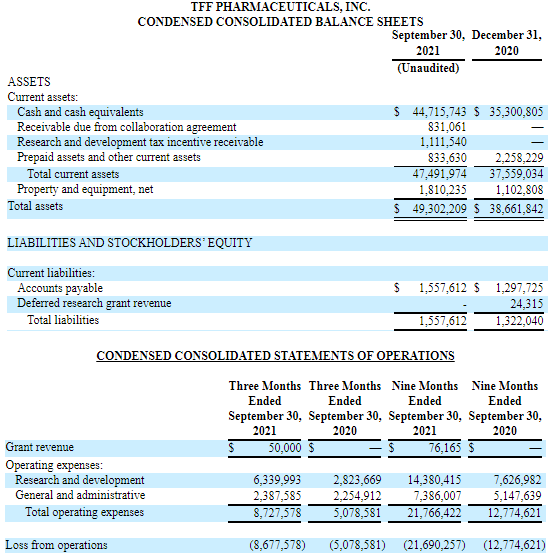 Source: SEC filings on Seeking Alpha
It also received $76.1K as grant revenue in the first nine months of 2021 as shown in the statement of operations above. However, this amount has not covered its operating expenses of $21.8 million. As a result, TFFP is loss-making. Still, with no debt, and consuming about $8.7 million per quarter, its cash position should allow it to sustain operations till 2023, while prospects materialize.
On a further positive note, as depicted in the introductory slide, TFFP has been able to develop joint projects as exemplified by Augmenta's 50-50 cost-sharing formula. Additionally, as for TFF licensing, a letter of intent has been signed with Felix Biotech entailing upfront payment, development, and commercial milestones worth up to $281 million, along with royalties on net sales. This is a step forward in applying TFF technology across a broad array of different molecules, and given that the intellectual property estate consists of about 120 patents (either granted or pending), one can easily imagine the monetization opportunities.
Potential also exists for TFF to be applied for producing inhaled versions of cannabinoids with lung-friendly ingredients, and in mRNA therapeutics, namely for room temperature storage.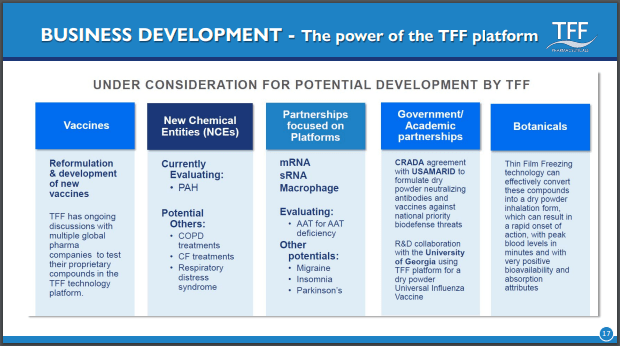 Source: Company presentation in Seeking Alpha
To be realistic, these research areas make a lot of sense, but, again, things may take time to materialize as assessing for clinical safety at the appropriate doses is time-consuming. This can in turn result in investors' becoming impatient as was the case in July when TFFP's shares climbed 5% after publication of "positive in vitro data indicating that AUG-3387 (from Augmenta) binds to and neutralizes the SARS-CoV-2 Delta variant (B.1.617.2)".
The shares subsequently fell down due to the absence of other catalysts and the stock is currently flagged by SA with a high risk of performing badly.
Still, the stock could rise further if the final formulation of AUG-3387 currently being used to complete the in vivo (within the body) preclinical tests can generate a "neutralizing concentration in the lungs". These can be delivered via the already approved commercial dry powder inhaler devices.
Looking for valuations, in its SEC filings, the company mentions that it is seeing a "strong uptick" in the number of MAbs and mRNA-based therapeutics being evaluated for Thin Film applicability by its large pharma partners. Restricting myself to MAbs, and just considering the eventuality that TFFP obtains a sixth of the $450 million contract Regeneron's was awarded by the U.S. government for its casirivimab and imdevimab cocktail, could signify revenues of $75 million for the small pharma, or roughly 1000 times current sales. Consequently, such a deal would value TFFP at 2.18x Price to Sales multiples, transitioning the stock from overvalued to the undervalued territory.
Valuations including $75 million potential sales = 2,181x/1000 = 2.18x.
Thus, depending on progress, the pharma could again jump to the $10-15 levels, and for this matter, there are two catalysts to watch out for, namely the AUG-3387 toxicology studies by the end of 2021 and the Niclosamide study to be completed by early Q1-2022.
Finally, Wednesday saw the big vaccine plays as well as TFFP trending lower, most probably due to the fact that they have to reassess the efficacy of their cures against the Omicron threat. The coronavirus mutating rapidly has now become synonymous with market volatility for the biotechs and pharma concerned and should continue with the variant reaching U.S. shores.
This article was written by
My aim is to provide differentiated insights, whether it is for investing, trading, or informational reasons. For this purpose, I am not a classical equity researcher or fund manager, but, I come from the IT world as the founder of Keylogin Information and Technologies Co. Ltd. Thus, my research is often backed by analytics and I make frequent use of charts to support my position.I also invest, and thus, in this tumultuous market, I often look for strategies to preserve capital. As per my career history below, I have wide experience, initially as an implementer in virtualization and cloud, and I was subsequently a team leader and project lead, mostly working in telcos.I like to write around themes like automated supply chains, Generative AI, telcos Capex, the deflationary nature of software, semiconductors, etc and I am often contrarian. I have also covered biotechs.I have also been an entrepreneur in real estate ( a mediocre one), a business owner, and a farmer, and dedicate at least 5 hours per week to working on a non-profit basis. For this purpose, I help needy families by providing sponsored work and contributing peer reviews and opinions for enterprise tech.I have been investing for the last 25 years, initially in mutual or indexed funds before later opting for individual stocks. Got a lot of experience in the 2008/2009 downturn when I lost a lot due mostly to wrong advice. Since then I do my own research and have fallen in love with Seeking Alpha because of the unique perspectives it provides to someone investing hard-earned money as well as access to some of the best analysts.
Analyst's Disclosure: I/we have no stock, option or similar derivative position in any of the companies mentioned, and no plans to initiate any such positions within the next 72 hours. I wrote this article myself, and it expresses my own opinions. I am not receiving compensation for it (other than from Seeking Alpha). I have no business relationship with any company whose stock is mentioned in this article.

This is an investment thesis and is intended for informational purposes. Investors are kindly requested to do additional research before investing.
Seeking Alpha's Disclosure: Past performance is no guarantee of future results. No recommendation or advice is being given as to whether any investment is suitable for a particular investor. Any views or opinions expressed above may not reflect those of Seeking Alpha as a whole. Seeking Alpha is not a licensed securities dealer, broker or US investment adviser or investment bank. Our analysts are third party authors that include both professional investors and individual investors who may not be licensed or certified by any institute or regulatory body.