TFF Pharmaceuticals: Data Desert May Be A Thing Of The Past By 2022
Summary
TFFP is suffering due to a lack of human trial data.
They may have multiple human trial data readouts by next year.
The market may begin to notice this company once that happens.
Looking for more investing ideas like this one? Get them exclusively at The Total Pharma Tracker. Learn More »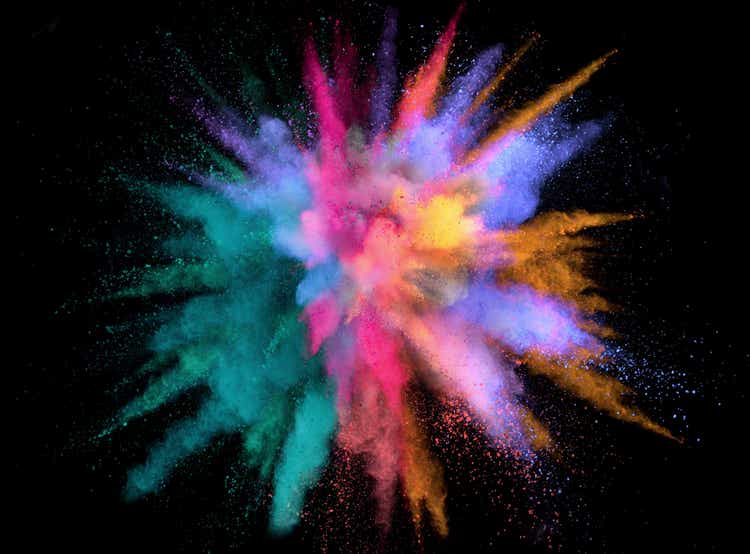 I covered TFF Pharmaceuticals (NASDAQ:TFFP) twice, once in January and once in June. After the first article, it fell 60%, and after the second one, it fell 30%. I am hoping that it will maintain that rate of progress and when I write the next article, we will see the stock rise 30%.
Jokes apart, this poor performance is seriously disconcerting to me given their science, their positioning, their addressing a large unmet need and so on. There's no particularly poor data that can be held responsible for TFFP's dour show. Rather, it is the lack of data - any data - that, I held previously, could have caused the stock to fall. However, in the last few months, TFFP has produced some data. That could be the reason it has fallen, but not by as much as before.
In June, TFFP announced that it has selected AUG-3387 as its lead monoclonal antibody targeting SARS-COV2. AUG-3387 was isolated from an asymptomatic COVID patient and then identified through collaborator Augmenta's platform in less than two weeks. In preclinical tests, the molecule showed effective neutralizing ability, and was active against major variants of SARS-COV2. A month later, the company announced that AUG-3387 was shown to bind to and neutralize the SARS-CoV-2 Delta variant (B.1.617.2). According to Seeking Alpha, the companies plan to develop AUG-3387 as an inhaled therapy for the treatment of COVID-19 disease in two types of individuals:
(1) those already infected with SARS-CoV-2 who are at a high risk for severe disease but not yet hospitalized, and

(2) for the prevention of SARS-CoV-2 infection for individuals at high risk for severe disease.
In a world of mRNA vaccines, how does this help? First, recall how TFFP's technology works. This is a novel technology of producing dry powder formulations of common drugs - small molecules, biologics, vaccines and botanicals. As I noted in my coverage earlier:
There are competing and time-tested methods of producing dry powder formulations of medicines. Spray drying, which uses heat to cause evaporation, is one - however, this method does not produce adequate porosity for deep lung delivery. Lyophilization is a slower method which does, but it increases risks of molecular degradation and contamination. TFF overcomes the inadequacies of both methods, producing dry powder drugs 100x to 1000x faster than the latter method, and enables deep lung delivery of known-efficacy common drugs.
This technology has higher efficacy potential because it enables deep lung delivery, lower safety concerns because it reduces GI tract absorption, and higher cost efficiency because it does not require storage at ultra cold temperatures. Now that the world has made successful vaccines, the problem is to make these vaccines available worldwide. We are realizing that vaccine diplomacy is best done not by the hoarding of vaccines by rich nations, but by enabling vaccination to all, especially the poor nations - because those may be the nations where the virus mutates, and mutations have a way of jumping across the wealth divide and hit wealthier countries as much as poorer ones.
This is where a technology that does not require cold storage to produce shelf stable vaccines may be of great importance. Since everyone and their cousin is now out developing covid-19 treatments, the real technologies may be getting a little lost in the crowd. It is well possible that TFFP's Thin Film technology, whose high pedigree I discussed earlier, may be one of them.
In this context, it is good to recall something I quoted in my previous article:
On the vaccine front, our technology has been recognized as being employed by some of the world's leading scientists and research organizations. We're very proud to report that Dr. Drew Weissman, at the University of Pennsylvania, one of the original pioneers in the field of mRNA is using our technology to generate a shelf-stable vaccine. And Dr. Karthik Chandran at the Albert Einstein College of Medicine, one of the leaders in the development of the first successful vaccine against the Ebola virus is using our technology to develop a second generation COVID vaccine. There'll be free of the cold chain requirements of the existing MRNA COVID vaccines.
Noting the potential of our technology platform, Dr. Weismann, the inventor of the current BioNTech-Pfizer mRNA COVID vaccine, provided the following comment: "The freeze-dried powder formulation by TFF has enormous potential to move the mRNA-LNP vaccine platform to efficient worldwide use by allowing room temperature storage and the development of oral inhaled delivery."
In an October publication of biorxiv, AUG-3387 was able to show neutralizing activity in preclinical hamster tests against the alpha, beta, delta, gamma, kappa, lambda and mu variants of SARS-CoV-2:
Infections from the SARS-CoV-2 virus have killed over 4.6 million people since it began spreading through human populations in late 2019. In order to develop a therapeutic or prophylactic antibody to help mitigate the effects of the pandemic, a human monoclonal antibody (MAB) that binds to the SARS-CoV-2 spike protein was isolated from a convalescent patient following recovery from COVID-19 disease. This mAb, designated AUG-3387, demonstrates a high affinity for the spike protein of the original viral strains and all variants tested to date. In vitro pseudovirus neutralization and SARS-CoV-2 neutralization activity has been demonstrated in vitro. In addition, a dry powder formulation has been prepared using a Thin-Film Freezing (TFF) process that exhibited a fine particle fraction (FPF) of 50.95 ± 7.69% and a mass median aerodynamic diameter (MMAD) and geometric standard deviation (GSD) of 3.74 ± 0.73 µm and 2.73 ± 0.20, respectively. The dry powder is suitable for delivery directly to the lungs of infected patients using a dry powder inhaler device. Importantly, AUG-3387, administered as a liquid by intraperitoneal injection or the dry powder formulation delivered intratracheally into Syrian hamsters 24 hours after intranasal SARS-CoV-2 infection, demonstrated a dose-dependent reduction in the lung viral load of the virus. These data suggest that AUG-3387 formulated as a dry powder demonstrates potential to treat COVID-19.
These early results demonstrate TFFP's potential in COVID. And since this is an epidemic, things move much faster here if there's any promise. I expect this technology to quickly get to the clinic for covid-19 and have data by the end of next year.
An article a few months ago on Newsweek was very upbeat about TFFP's technology. Infusion treatments, the article said, required IVs, however the inhaler can deliver the treatment directly to a patient's lungs, which can therefore be taken at home, and does not require refrigeration. Here, delivering the antibodies through a solid form rather than through a liquid application is the key. Quoting Dale Christensen, leader of TFF's clinical programs, the article says:
Basically, everything is more stable in a solid state than a liquid state. With an infusion, you might get 500 milligrams to 8,000 milligrams, in the case of some of the Regeneron antibodies. When we deliver directly to the lung, we only have to deliver a fraction out, so we can deliver five to 10 milligrams.
Christensen further says how bioreactors that produce antibodies have limited capacity, and this difference in necessary delivery volumes can translate to more people getting treatment for the same number of runs of each bioreactor:
There's limited ability to produce antibodies in the world, limited capacity of the big bioreactors that produce antibodies, and so by doing it this way, we can extend how many patients get treated for every run of the bioreactor so we reduce the dose and spare the antibody so it can be used to treat more people.
Besides the all-important Covid program, TFFP also reported preliminary data from its phase 1 tacrolimus inhaled powder program. The data showed that "low dosing of Tacrolimus Inhalation Powder (0.5-1.0 mg) can achieve blood levels that are sufficient for efficacious immunosuppression." Key highlights of this data:
In the subjects that received inhaled tacrolimus in the low dose group, the mean trough blood levels reached 1.1 ng/mL, while blood levels in the highest dose group reached 10.0 ng/mL.

In addition, at 2.5 mg while fasting or 30 minutes after a high fat meal, there were no significant differences in systemic exposure.

Furthermore, during the Multiple Ascending Dose phase, repeated dosing of inhaled tacrolimus every 12 hours over 7 days demonstrated that subjects receiving 0.5 mg twice daily and 1.0 mg twice daily dose achieved 12-hour trough steady state blood levels that averaged 6.8 and 14.9 ng/mL, respectively.
Topline data from this study, announced in September, further showed:
In the single ascending dose phase of the study, inhaled delivery of tacrolimus resulted in mean trough blood levels of 10 ng/mL 12 hours post-dosing for subjects that received a dose of 5 mg, which falls within the desired range for maintenance immunosuppression following lung transplant.

Also, new data shows that once daily dosing with 1.5 mg of Inhaled Tacrolimus Powder resulted in mean 12-hour trough blood levels of 6.3 ng/mL and mean 24-hour trough blood levels of 4.8 ng/mL, consistent with the desired therapeutic ranges for lung transplant patients.
Tacrolimus is an immunosuppressive drug used for the prophylactic treatment of lung transplant rejection. That last bullet is important to note because studies have shown that lower mean trough blood levels are associated with a higher risk of organ rejection. Most patients display optimal response to tacrolimus with trough blood levels of 5.0 to 15.0 ng/mL. As this study showed:
The premise that lower TAC trough levels are associated with subsequently higher first BPAR risk during the first 12 mo post-transplant was recently questioned. Using our prospectively followed cohort of 528 adult, primary kidney transplant recipients (pooled across four randomized trials) who received reduced TAC dosing plus an IMPDH inhibitor, TAC trough levels measured at seven time points, 7, 14 days, 1, 2, 3, 6 and 9 months post-transplant, were utilized along with Cox's model to determine the multivariable significance of TAC level(T) (a continuous time-dependent covariate equaling the most recently measured TAC level prior to time t) on the hazard rate of developing first BPAR during the first 12 months post-transplant. The percentage developing BPAR during the first 12 months post-transplant was 10.2% (54/528). In univariable analysis, lower TAC level(T) was associated with a significantly higher BPAR rate (P = 0.00006), and its significance was maintained even after controlling for 2 significant baseline predictors (African-American/Hispanic Recipient and Developed DGF) in Cox's model (multivariable P= 0.0003). Use of a cutpoint, TAC level(T) <4.0 vs. ≥4.0 ng/ml, yielded an even greater association with BPAR rate (univariable and multivariable P < 0.000001), with an estimated hazard ratio of 6.33. These results suggest that TAC levels <4.0 ng/ml should be avoided during the first 12 months post-transplant when TAC is used in combination with fixed-dose mycophenolate with or without corticosteroids and induction therapy.
So, TFFPs ability to attain such adequate trough levels with its inhaled dose is very good news for this patient population. Tac is an established drug, so the company can quickly and easily use the 505 (B)(2) pathway to get their drug formulation to the market. Their IP moat protects them from competition, and as I discussed earlier, they seem to have a difficult to copy trade secret that will hinder competing companies to produce copycats.
Financials
TFFP now has a market cap of only $180mn, which is a drastic fall from where it used to be in January. I am glad to see that short interest is a low 2%, so it appears that the low prices are not a result of active shorting, but simply of the market's ignorance of the company. TFFP has a cash balance of $44mn, which, given their low trial costs because of them following the 505 (B)(2) pathway, may last them for 2 more years. They spent approximately a million a month during the last 3 quarters, so that gives us a ballpark figure of their annual spend.
TFFP has very low funds/institutional interest, which may be another reason the market does not have the stock on its radar.

I am happy to not 4 insider buys in the last few months after years of mostly sells:

Bottom line
There's real promise in TFFP's science, and the premise is very logical. TFFP is down because they do not have human patient data. 2022 could change that. I will keep looking out for early signs of such data, and update my readers in these columns.
About the TPT service
Thanks for reading. At the Total Pharma Tracker, we offer the following:-


Our Android app and website features a set of tools for DIY investors, including a work-in-progress software where you can enter any ticker and get extensive curated research material. 
For investors requiring hands-on support, our in-house experts go through our tools and find the best investible stocks, complete with buy/sell strategies and alerts.
Sign up now for our free trial, request access to our tools, and find out, at no cost to you, what we can do for you. 
This article was written by
Cautious, low key, disciplined investing in biopharma stocks
Avisol Capital Partners runs the Total Pharma Tracker Seeking Alpha Marketplace service. This is managed by Dr Asok Dutta, BVScAH and Dr Udaya Kumar Maiya, MD Oncologist. The service offers end-to-end research on both investing and trading ideas everyday, and includes a 150-stock watchlist and two 40-stock model portfolios that are continuously tracked.

Dr Dutta is a retired veterinary surgeon. He has over 40 years experience in the industry. Dr Maiya is a well-known oncologist who has 30 years in the medical field, including as Medical Director of various healthcare institutions. Both doctors are also avid private investors. They are assisted by a number of finance professionals in developing this service.

If you want to check out our service, go here - https://seekingalpha.com/author/avisol-capital-partners/research

Disclaimer - we are not investment advisors.

Analyst's Disclosure: I/we have no stock, option or similar derivative position in any of the companies mentioned, and no plans to initiate any such positions within the next 72 hours. I wrote this article myself, and it expresses my own opinions. I am not receiving compensation for it (other than from Seeking Alpha). I have no business relationship with any company whose stock is mentioned in this article.
Seeking Alpha's Disclosure: Past performance is no guarantee of future results. No recommendation or advice is being given as to whether any investment is suitable for a particular investor. Any views or opinions expressed above may not reflect those of Seeking Alpha as a whole. Seeking Alpha is not a licensed securities dealer, broker or US investment adviser or investment bank. Our analysts are third party authors that include both professional investors and individual investors who may not be licensed or certified by any institute or regulatory body.