COMEX Gold At A Crossroads
Summary
It has been a wild and volatile month for gold investors.
The month of December is going to bring all sorts of news that will impact the COMEX gold price.
Once below $1,760, the downside risk becomes $1,720 and maybe even $1,680.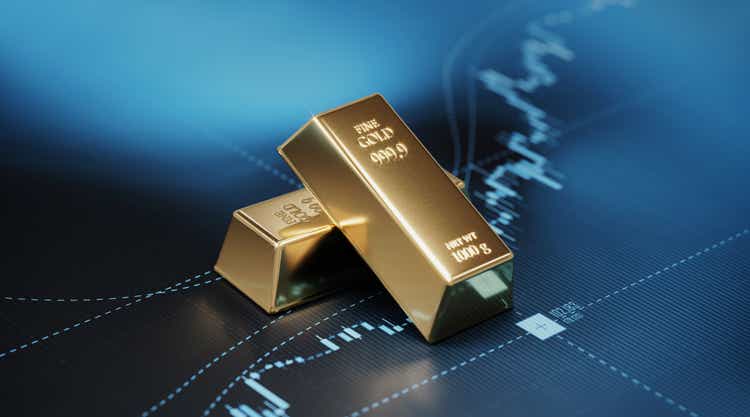 By Craig Hemke
It has been a wild and volatile month for gold investors, and what happens next will go a long way toward determining whether or not 2022 will be a better year than 2021.
Let's begin by looking backward. The year 2021 began with the COMEX gold price near $1,900 and with many tailwinds seemingly at its back. Inflation was poised to surge over the year, and with that, real interest rates would fall. We expected that this would lead to a general rally in price, but it has not. Why?
One word: "transitory".
All rallies in COMEX gold have been sold this year in large part due to the prevailing belief that the growing inflation pressures would be temporary and that, in a short time, things would reverse. Inflation would fall, nominal interest rates would rise, and real interest rates would turn positive.
This continues to be a misplaced belief for the long term, but that's not the point of this post. Instead, let's just review the events of the past month so that we can begin to forecast where things might head in the short term.
Below is a chart of COMEX gold over the past two months with several key dates noted.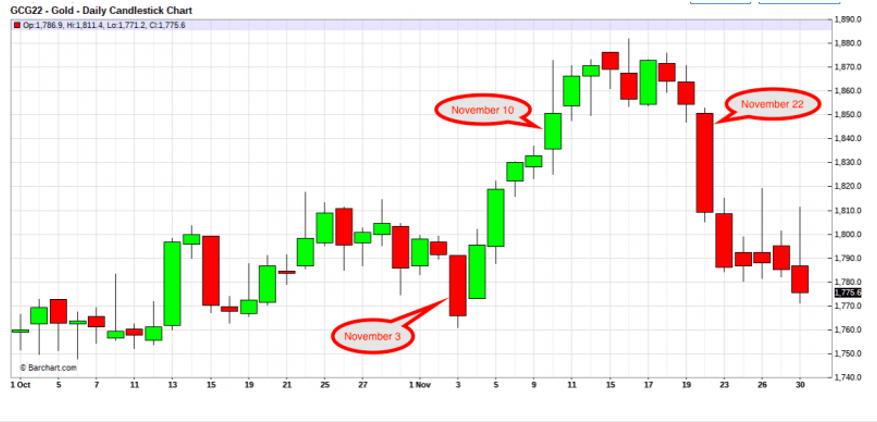 What is the significance of those dates?
Wednesday, November 3: The November FOMC concludes with the announcement that the Fed will begin to taper their monthly QE program with the goal of ending it by summer of 2022.
Wednesday, November 10: The latest U.S. Consumer Price Index is released, and it shows the highest level of inflation in nearly three decades.
Monday, November 22: President Biden renominates Jerome Powell for a second term as head of the Federal Reserve.
So, on November 3, "Team Transitory" was leading and the gold price was falling. However, by the next day, the market began to buy this news, and once the latest inflation data was released on November 10, Team Transitory was losing ground as investors sought gold in all its forms ahead of the worsening price inflation reality. But then, on November 22, Team Transitory surged back into the lead due to the notion that a renewed Chair Powell will press for accelerated QE tapering and even fed funds rate hikes in 2022.
The end result? The COMEX gold price is almost exactly where it was when this whole episode began four weeks ago.
So, what happens next? Maybe a longer-term chart will provide some clues.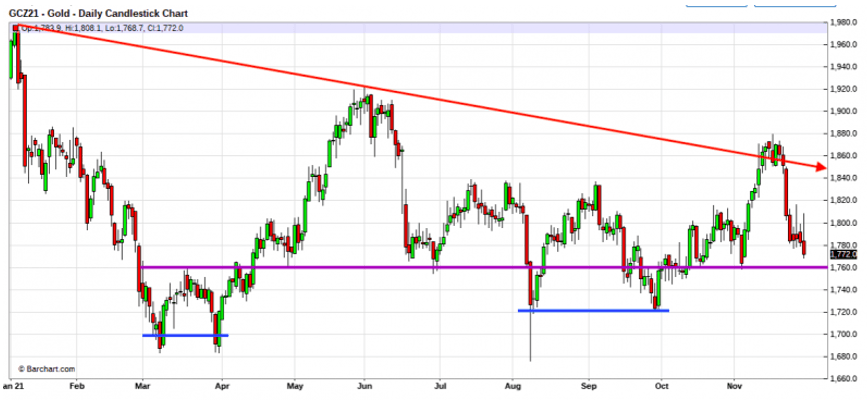 What do we see? Three primary things:
Gold tried but failed to break out above the 2021 red downtrend arrow. That's not
Gold has made two consecutive double bottoms at $1,680 and then $1,720. That is
The $1,760 level has repeatedly been a key level of support or resistance over the course of the year.
The month of December is going to bring all sorts of news that will impact the COMEX gold price. We'll have the next jobs and inflation data over the next few days. We'll have the year-end FOMC meeting in two weeks. We'll have all sorts of kabuki theater regarding the U.S. debt ceiling and possible government shutdown. And, of course, we'll have concerns over Covid and whatever new mutation comes along.
How will gold respond? Well, I suppose that will continue to be a function of the strength of Team Transitory. In congressional testimony on November 30, Chair Powell himself finally admitted that the term "transitory" no longer applies to the inflation discussion. But does that matter? Given the price action that day, maybe not.
It's time to retire the word transitory on describing inflation, says Fed Chair Jerome Powell during Senate testimony on the economy:
So I guess all we can do is watch the chart. See below.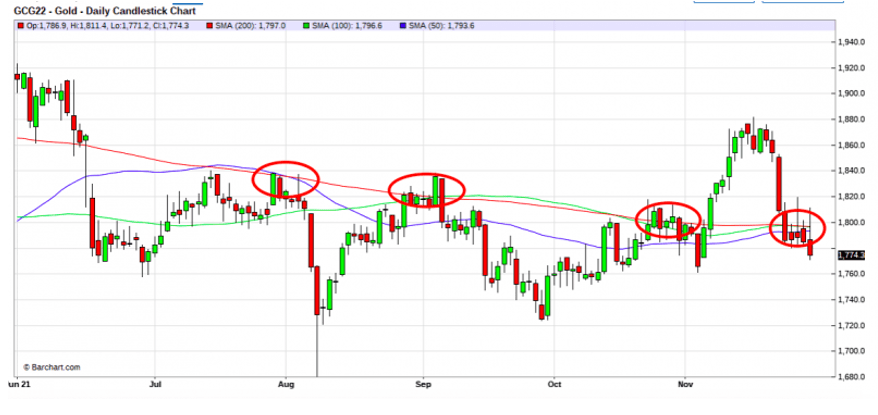 Given the recent (and historical record of) price capping by The Banks at those key MAs and the declines that followed, it's reasonable to assume that the gold price has farther to fall in the short term. Once below $1,760, the downside risk becomes $1,720 and maybe even $1,680. However, if it can regain its footing above those key moving averages and the $1,800 level, then we'd have a good signal that this latest price decline is the only thing that's actually "transitory".
So don't call it a year just yet. Watch the headlines over the next few weeks and then watch how the COMEX gold price responds. Where price finishes 2021 will go a long way toward determining how gold trades in 2022.
Editor's Note: The summary bullets for this article were chosen by Seeking Alpha editors.
This article was written by
Established in February 2008, Sprott Money Ltd. is a leading precious metals wholesale, institutional and retail dealer selling gold, silver and platinum bars, coins and wafers online and over the phone. We offer competitive precious metals storage, IRA, and RRSP services, as well as a comprehensive news site.Sprott Money Ltd. is a privately held company owned by Eric Sprott and operated by Larisa Sprott.