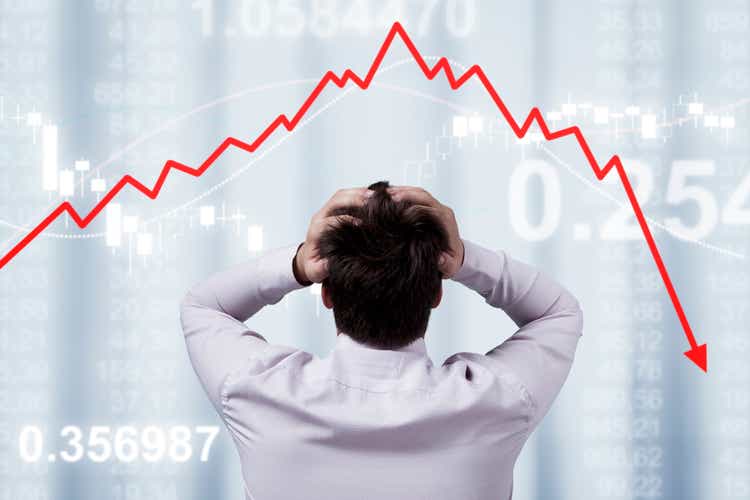 Reason # 1: Powell said the Fed should stop buying huge chunks of Treasury bonds sooner rather than later. (AKA - We will speed up "tapering.")
This is news? Let alone a reason for the Dow to fall nearly 1000 points on Friday, climb a couple hundred Monday, fall 660 yesterday and now - happy December 1st - to fall another 461.
This is what happens with bear corrections. They are lightning fast, but almost always of short duration compared to the long upward march of bull moves. At any rate, there is no reason why we should be shocked (cf. Claude Rains in Casablanca) that someday the Fed would stop being the buyer of first resort for America's deficit spending. It must be something else...
Reason #2: With the Omicron variant a wild card ("The sky is falling! The

sky is falling!") it could be that various governments across the globe will lock down. If anything like that happens, strides made by airlines, cruise ships, energy companies, materials miners, manufacturers, importers and exporters and just about everyone else would see lower trade, sales and profits.
OK, this comes a little closer to a reasonable reason why reasonable and unreasonable investors would want to dump everything at any price. After all, we all pretty much have profits this year. Best protect what we still have, even if it is down 5% or more from just last week.
Except. No one has a clue about this variant. Yes, it is a cartoon-ugly-looking variant with all those weapon-like spikes. But mutating is what viruses do to survive. With so many humans now vaccinated or having survived a bout of Covid-19 and gained natural immunity, the first wave of soldiers, just boring old unmutated Covid-19, can't penetrate our immune system armor. Of course, to live, the virus has to mutate.
But before we all join Chicken Little, shouldn't we try to figure out if this variant follows the paths of many others in history - more transmissible but of a lower virility? There must be another reason...
Reason #3: Omicron has invaded the United States! Or at least that is what you are led to believe if you only read the headlines.
It was announced yesterday that one man in California, recently arrived from the Republic of South Africa, tested positive for Covid-19.
He has mid symptoms and is not hospitalized, but is currently self-quarantining.
His close personal contacts have not, so far, tested positive.
Meanwhile, scientists around the world are working diligently to ascertain how transmissible Omicron is, how sick it does or doesn't make people, and if and how well vaccines already in our bodies and our bodies' own immune systems can deflect this variant as we have others.
None of these three "reasons" in and of themselves, even combined, are reason to forget that more and more people are seeking vaccinations, more and more of us are traveling again, and better and better vaccines are being developed, building upon the success of the ones already in use.
That leaves one reason that makes the most sense: many investors and traders panicked. Here is yesterday's Fear and Greed Index, courtesy of CNN Money: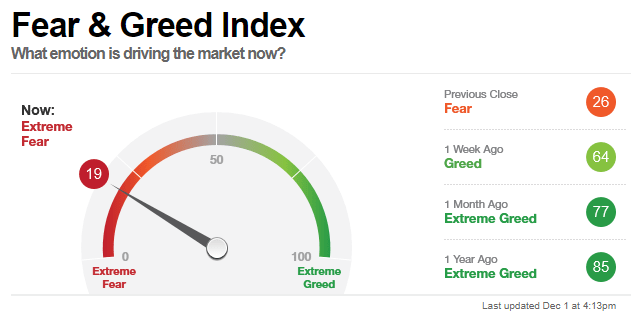 Source: money.cnn.com
Please note that one week ago it was all about greed, not fear. A month ago, even more so. A year ago, way more so. Is it just possible that the September decline still did not shake out enough of the day-traders and margin players? That maybe this is just an excuse to pause a little before the next move up?
Let me be clear. I have no crystal ball. All I have to go on is a little common sense and a certain level of experience, both good and bad, successful and less successful. But since Omicron is the 15th letter of the Greek alphabet and is derived from the Phoenician letter ayin, I'm just [s]ayin...
I am currently adding regularly to my favorite positions for myself and my subscribers. But since this is a route that has covered the waterfront, I will merely close with a suggestion for your due diligence. When everything is down, buying the SPDR S&P 500 Trust ETF (SPY) or any other suitable representative ETF of the S&P 500, or any other favorite of yours like the Nasdaq's QQQ Trust (QQQ) might make sense. You can always enter a buy stop if you just want to make sure you don't miss too much of any recovery.
Great investing,