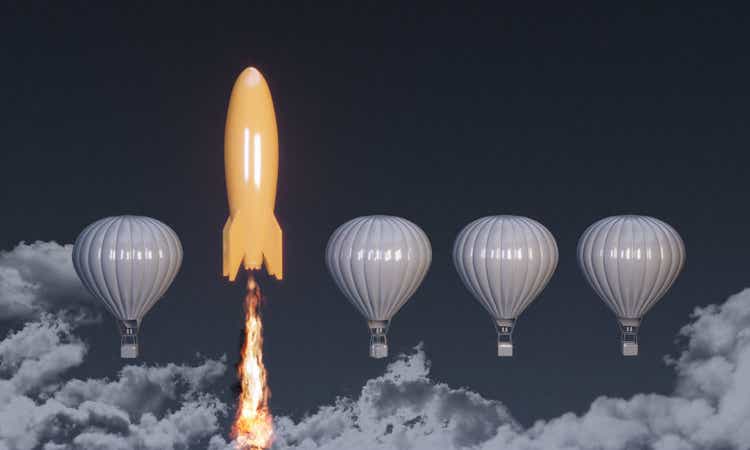 Setting the Framework
Bitcoin (BTC-USD) is still in a secular bull market, and I expect higher prices in the following months.
In my last article about Bitcoin, published on September 7, I highlighted bearish and bullish signals. The duration and the drawdown of the correction starting in May were distinct outliers to previous bull runs. The Bitcoin bull market was balancing on a knife-edge at that time. I remained cautiously bullish.
Through October, Bitcoin rallied to new all-time highs, peaking in early November at ~ $68.000. Euphoria started grabbing the markets along the way. Predictions for a Bitcoin price of 100k this year vanished after the crash in May. But they were quickly back in play after the pump.
Bitcoin prices had to decline because of overly bullish sentiment. And they did: Currently, Bitcoin is down ~ 20 % from its all-time high, and some market participants are calling out a double top and lower prices from here.
I believe the structure of the Bitcoin market is much more bullish now. I suggest buying the dip. I derive my opinion from macro On-Chain metrics, which turned positive during the last three months.
On-Chain Analysis > Technical Analysis
Technical analysis provides an estimate of the market sentiment. A floor establishes when the aggregated market participants refuse to sell at some price range. On the contrary, a top forms when the aggregated market participants refuse to buy at a certain price range. These indicators signal asymmetric upside or downside.
However, technical analysis is purely reactive. The price has to move first to generate data points. Furthermore, technical analysis is highly subjective. Some Traders begin to see signals when others don't. Most importantly, however, technical analysis has only one data source: prices. That is because it is impossible to reliably separate individual market participants from one another. For example, one can only speculate if price movements stem from big institutions or small retail investors. By the time BlackRock (BLK) announced that it continuously sold almost all of its Alibaba (BABA) stake, prices were already down significantly. Some market participants influence prices but don't even have to report their trading.
On-Chain-Analysis, however, derives its data points directly from the associated blockchain. Because Bitcoin is an open ledger, every transaction is 100 % trackable. It is possible to analyze transactions immediately. Different market participants are separable by building cohorts. That allows for more diverse and more precise market analysis. Thus, On-Chain-Analysis is only in part subjective, and its data points precede price action.
In short: On-Chain-Analysis uses primary transaction data to estimate the market's state while Technical Analysis uses a singular secondary data point. I believe that On-Chain-Analysis provides the best macro data of the state of the Bitcoin cycle.
The Significance of Transaction Volumes and Supply
Originally, Bitcoin was thought of as open-source P2P money. Over the years, discussions about emerging use-cases of Bitcoin emerged. The current perception of the majority of investors is that the protocol functions as a decentralized store of value. However, investors expect Bitcoin to acquire market share from other assets like Gold (XAUUSD:CUR) and real estate.
Transaction volume is a crucial factor for an estimation of the demand side of the market cycle. If transaction volume is high, market participants are migrating to crypto assets at a fast pace. Low transaction volume signals a lack of motivation to allocate capital in Bitcoin and lessens speculation, which lowers prices.
The Supply Side of the market cycle is heavily dependent on the percentage of illiquid Bitcoin. The more Bitcoin locked up in cold storage, the less in circulation and the higher the price. Analyzing Exchange Reserves and building cohorts to separate Bitcoin Holders by their spending pattern gives a great estimation of that.
Bitcoin is far away from a Speculation Bubble
The NVT signal compares the market cap (or network value = NV) to the 90-day moving average of daily transaction volume (T). The pure NVT-Signal would trend upwards because of growing tendencies towards Off-Chain settlement like exchange activities and second-layer solutions. The adjusted NVT-Signal created by Willy Woo displays how many standard deviations the NVT-Signal is above or below its historical norm, which is the 2-year moving average:
Image Link: woobull.com
The resulting metric displays the relative price of Bitcoin in relation to the transaction volume. Historically, the NVT-Signal exceeded the benchmark of 2x during the absolute peaks of previous Bitcoin cycles in late 2013 and early 2018. Meaning, the NVT-Signal confirms speculation bubbles. Currently, the adjusted NVT-Signal is at minus 1,6x. According to that, Bitcoin is not in a speculation bubble, but rather within discounted range even with prices near all-time highs.
And that's no surprise. Total transaction volumes of Bitcoin rose significantly during the last three months. The spikes in transaction volumes suggest that whales and exchanges are getting active in OTC trading and are positioning for another speculation bubble to distribute their locked-up coins.
Image Link: CryptoQuant.com
The significant bear case in terms of transaction dynamics is that the total number of transactions remains too low for the bull market to continue. Low numbers of transactions result in cheap fees because outstanding transactions compete for execution through an auction system in the Bitcoin protocol. After the plunge in fees during the 'Elon Bubble', Bears argued that the transaction fees dropped from similar highs as early 2018. Thus, the highly speculative phase of Bitcoin bull cycles was over, and the next bear market had to begin.
Image Link: Graph by Blockwareintelligence.com using Glassnode.com
During the last month, however, transaction fees went up again, unlike in 2018. As of now, Bitcoin fees are at levels seen in late 2020, previously to the run-up. In my opinion, slowly rising transaction fees imply that smart money accumulated large amounts of Bitcoin during the correction in mid-2021 via large transactions, similar to mid-2020. A few big transactions don't pressure fees but push transaction volumes. Transaction fees only rise, when many small fishes (i.e. dumb money) buy Bitcoin in fractions and clock up the system. Late 2020 could repeat in 2021 for the second leg of the bull cycle.
Exchange Balances reached an All-Time Low
The available supply of Bitcoin is shrinking in the last three months, even while the price doubled from the lows of ~30.000 US-Dollar to ~60.000 US-Dollar. The collective exchange reserves of Bitcoin show outflows, even during the recent correction.
Image Link: Graph by insights.glassnode.com
In prior bear markets, crypto-asset exchanges experienced significant inflows of Bitcoin. The additional supply provided sustainable downward pressure. Currently, the constant outflows of exchange reserves create upward pressure for Bitcoin. Exchange Balances are at an all-time low of 12,9 % of the total supply.
Sidenote: Ether (ETH-USD) is showing even more significant outflows as the ETH 2.0 staking rate increases. Exchange Reserves of Ether dropped from ~24 million at the beginning of 2021 to ~17,5 million in November.
Long-Term Holders Start Selling Their Bitcoin
Long-term Holders of Bitcoin (typically smart money) have accumulated Bitcoin since the correction in April 2021.
Image Link: Graph by insights.glassnode.com
The rate of accumulation exceeded 400.000 Bitcoin per month for ~5 months. With the recent price surge of Bitcoin, long-term Holders decided to start selling their Bitcoin. In early November, the Net Position Change turned negative for the first time since April 2021. Meaning the average Long-Term Holder of Bitcoin is starting to sell.
This is incredibly bullish.
Long-term Holders typically sell early into strength and buy early into weakness. During the run-up from November 2020 to April 2021, Long-term Holders of Bitcoin continuously distributed their Coins. That is equivalent to smart money dumping their positions on dumb money during rapid speculation manias. The accumulation phase in 2021 has been more aggressive than the accumulation phase in 2020. The rate of buying in 2021 exceeded the 2020 accumulation by ~2x.
The Short-Term Holder Cost-Basis is above the Long-Term Holder Cost-Basis, but far from overheated
The On-Chain Cost-Basis Ratio compares the cost-basis of both short and long-term holders. If prices rise, long-term holders dump their coins on short-term holders. Thus, the cost-basis of short-term holders rises in comparison to long-term holders.
Image Link: Graph by Blockwareintelligence.com using Glassnode.com
Historically, when the On-Chain Cost-Basis Ratio reaches ~ 0,2x, the absolute peak of the cycle is reached. Currently, the ratio is not overheated. But because long-term holders are starting to sell their Bitcoin, I expect this to change during Q4/2021 and Q1-Q2/2022. In that case, the ERA 3 Bitcoin cycle would mirror a stretched-out ERA 1 cycle during 2013-2014.
Market Participants are not willing to sell at a Loss
The Spent Output Profit Ratio (SOPR) is the ratio between the fiat value at the time of the UTXO (unspent transaction output) and the fiat value when the UTXO is spent.
Image Link: Graph by Blockwareintelligence.com using Glassnode.com
If the SOPR value equals 1x, then the average coins moved on that day are sold at break-even. SOPR values greater than 1x mean that the transacted coins that day are on average selling at a profit. SOPR values of less than 1x indicate that the transacted coins that day are on average selling at a loss.
In a bull market, the macro sentiment is positive, and SOPR stays above 1x. If market participants reach their break-even point, they tend to "buy the dip" and SOPR bounces above the 1x threshold. In a bear market, the opposite happens. Market participants are happy to sell their Coins at break-even, and SOPR bounces repeatedly below the 1x threshold.
After four months of the SOPR largely below 1x, the ratio broke above 1x in August 2021. During the correction in October, SOPR retested the 1x threshold successfully. Another strong bounce of the 1x threshold during this 20 % correction implies that market participants are not willing to sell their Bitcoin at a loss, and macro sentiment about the Bitcoin bull market is still standing.
The SSR mirrors its Ratio of November 2020
The Stablecoin Supply Ratio (SSR) measures the Bitcoin market cap relative to the aggregated market cap of all stablecoins. The lower the SSR, the more market participants are staying in cash via stablecoins (e.g. Tether (USDT-USD) or USCoin (USDC-USD)). A lower SSR implies more potential buying power for Bitcoin.
Image Link: CryptoQuant.com
The SSR is currently at 13,3x. Again, similarities to November 2020 show, where the SSR was ~14x. There is more than enough dry powder to fuel markets once another speculative phase begins.
The Cycles are lengthening, and the Patient shall be rewarded
With the growing market cap of the crypto asset space, I expect the Bitcoin cycles to lengthen. Maybe sometime in the future, they will disappear completely. Additionally, the historical returns of Bitcoin are not sustainable in the future. A growing market cap always means diminishing returns.
Image Link: Buybitcoinworldwide.com
There is already clear evidence of the diminishing returns and lengthening Bitcoin cycles. The ERA 1 Cycle had higher returns at a faster pace than the ERA 2 Cycle. Currently, the ERA 3 Cycle has lower returns at a slower pace than the ERA 2 Cycle. The 'Elon Bubble' in early 2021 was a temporary deviation from this trend. It was a premature rally into another re-accumulation phase, similar to the ERA 1 cycle.
I get headaches because of analysts predicting outrageous Bitcoin prices for this ERA 3 cycle based on previous ones. I reiterate my call to continuously trim the Bitcoin position (and positions of other crypto assets) during this cycle, the moment On-Chain data suggests an overheated market. To give my rough estimation: I believe this could happen at a price of ~100.000 US-Dollar per Bitcoin. However, I don't believe in price prediction and think it is best to act according to the On-Chain data regardless of price action.
Keep the Leverage in Mind
Currently, Bitcoin Futures Open Interest is almost at all-time highs at ~400.000 Bitcoin in total volume.
Image Link: Graph by insights.glassnode.com
Open Interest was primarily driven by the demand for CME Bitcoin Futures because of the new ProShares Bitcoin ETF (BITO). Even during the recent drawdown, Futures Open interest increased. Usually, this elevates downside risk. However, long squeezes typically happen after the price has significant run-ups. I wouldn't exclude the possibility of a short squeeze if prices recover.
Summary
Bitcoin is still in a secular bull market, and I expect higher prices from here. The transaction volumes suggest that the accumulation phase ended. A small uptick in transaction numbers and the turnaround of the On-Chain Cost-Basis Ratio indicate that short-term holders are buying coins from long-term holders. Additionally, market participants are not willing to sell their Bitcoin at a loss. There are enough stablecoins around to absorb the selling of the long-term holders and to fuel another speculation bubble. The ERA 3 Cycle is on track because of lengthening cycles and diminishing returns.
I'm turning very bullish on Bitcoin for the rest of the ERA 3 cycle. The recent negative sentiment shift because of the correction from the all-time highs supports my belief. I think it is likely that a speculation phase from Q4/2021 to Q1 and Q2/2022 emerges, similar to the 'Elon bubble' last year. Only then will be the time to trim the crypto-asset position.