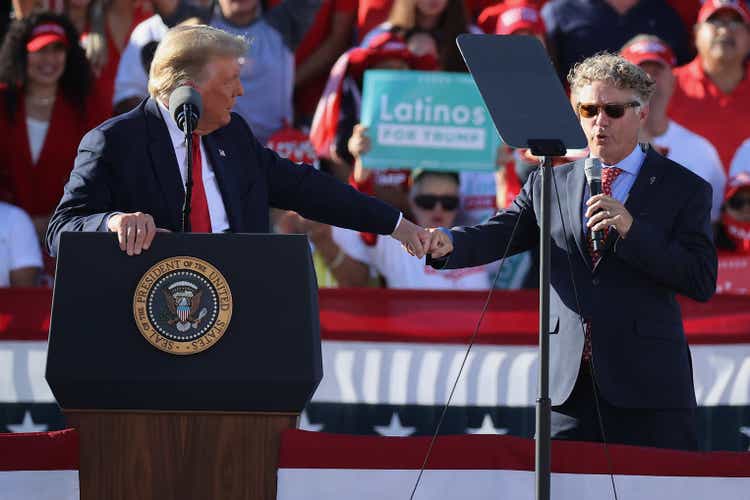 The Opinion of the Supreme Court in Collins v. Yellen brought by Fannie (OTCQB:FNMA) and Freddie (OTCQB:FMCC) shareholders against the government in regards to the net worth sweep reads:
Or suppose that the President had made a public statement expressing displeasure with actions taken by a Director and had asserted that he would remove the Director if the statute did not stand in the way. In those situations, the statutory provision would clearly cause harm.
President Trump has now written a letter that he would have removed Director Watt and that Watt did stand in the way.
Investment Thesis
Fannie and Freddie are in conservatorship where they are currently recapitalizing from earnings and their equity capital structure prevents them from raising money using their underwriters JP Morgan and Morgan Stanley. This update solely impacts the trajectory of the Collins v. Yellen court case that went before the Supreme Court and had claims that were remanded. The former President of the United States has now written a letter to the effect that this constitutional issue prevented him from accomplishing his version of administrative reform, which is exactly what the Collins case needed as evidence to prove harm. In the event of a legal ruling in favor of shareholders, preferred could get par plus 6% simple interest per year since 2012 when the net worth sweep was enacted, or ~154% of par at present. That is roughly 10x their value at present.
Rule of Law Guy's Overview
Rule of Law Guy is an Attorney and private investor, so his legal perspective is more relevant than mine because I'm not a lawyer. He summarizes the significance of the Trump letter as follows:
As a bone tossed to the plaintiffs, SCOTUS held in Collins that inasmuch as Director Watt served as a Director removable only for cause by statute for some two years during the Trump administration, and this was an unconstitutional provision, if plaintiffs could prove that the Trump administration wanted to remove Director Watt at will but couldn't as per HERA, then "clearly" plaintiffs would be entitled to a remedy (damages).

The Trump Letter provides this proof.
Without further ado, let's look at the Trump letter.
Trump Letter
Trump's letter was addressed to Rand Paul who spoke with Trump about Fannie and Freddie: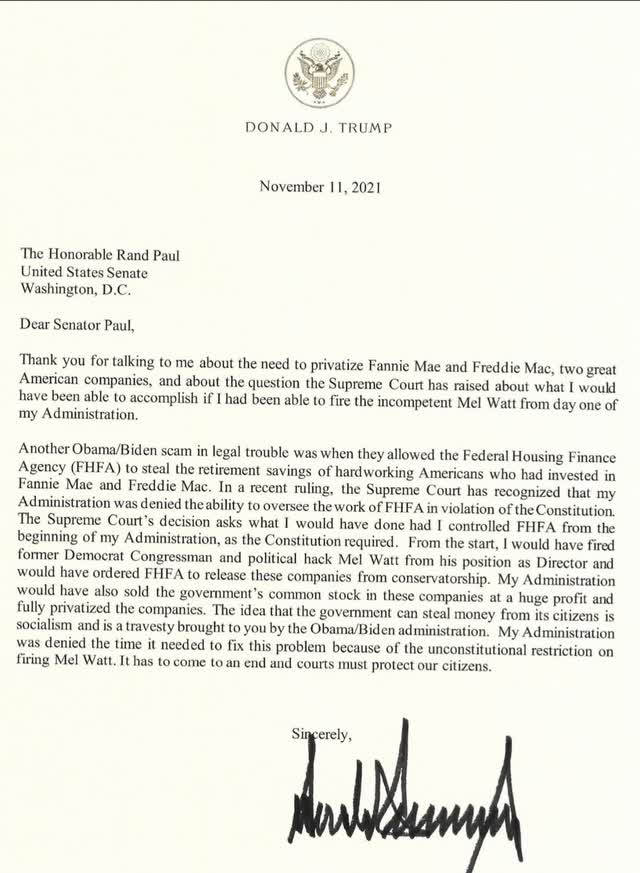 Trump says that the Supreme Court acknowledged that his administration was denied the ability to oversee work of FHFA in violation of the Constitution and that the idea that the government can steal money from its citizens is socialism and is a travesty.
This is huge for the Collins v. Yellen case as it basically makes the case on remand: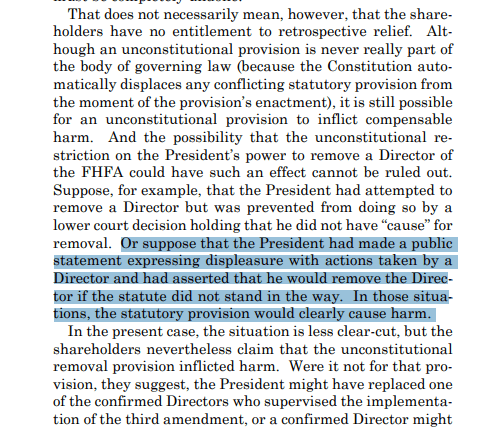 This significantly changes the prevailing legal interpretation that the shareholder lawsuits have no merit. The shareholder claims (security prices) are still trading down significantly from the Supreme Court ruling.
Plaintiffs Filed Letter In Court
Plaintiffs filed the letter in court. It's a two-pager so I'll post the legal filing in its entirety below: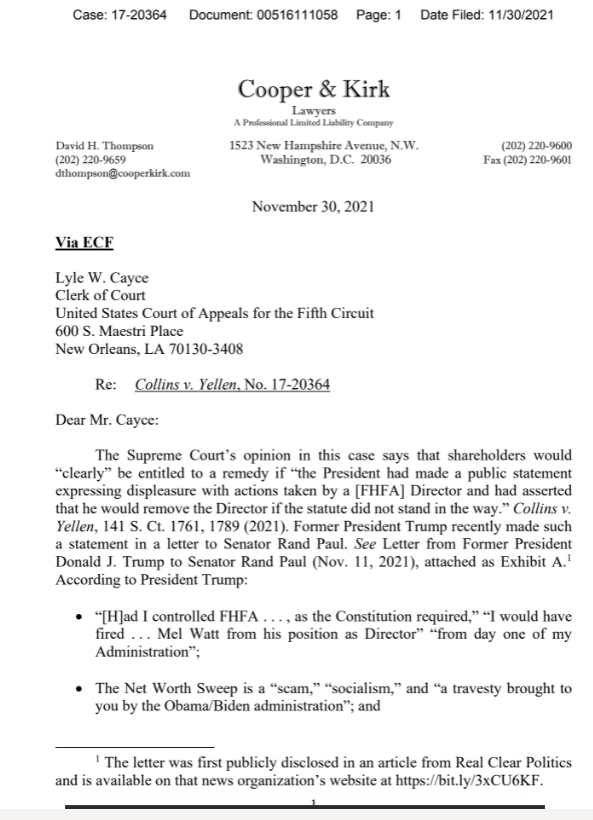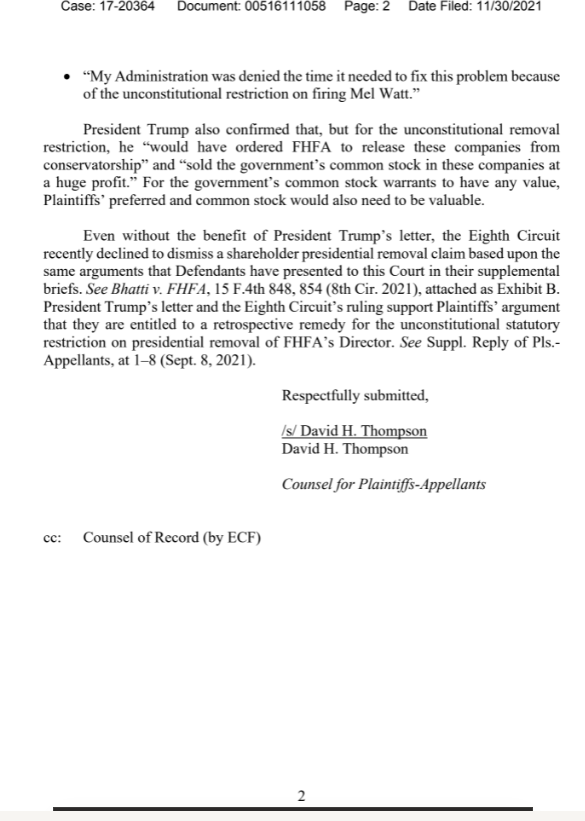 This trump letter is evidence that GSE shareholders have suffered damages from the unconstitutional restriction on removing the FHFA director.
Rule of Law Guy wrote up an in-depth analysis of the legal implications of this Trump letter that you can read here. His core argument boils down to:
Courts often want an evidentiary showing that plaintiffs' claim has merit before it considers shifting the burden of proof onto defendants. While shifting the burden of proof is an extraordinary ruling normally, it would be less so in the case of a statutory provision that SCOTUS has ruled to be unconstitutional.
If the fifth circuit court shifts the burden of proof on damages as plaintiffs have requested, then this gets very interesting.
Bove's Analysis
Odeon Capital analyst Dick Bove points out that this Trump letter may have delayed a legal decision:
It was expected that a federal court in New Orleans would issue a decision on Tuesday at noon on whether "compensable harm" was done by an FHFA rule that the president could only dismiss the director of the agency for cause, Bove said. The public release of the Trump letter may have delayed that decision, he suggests.
Fannie and Freddie preferred stock has traded post Supreme Court ruling as if administrative-led reform has a 0% probability and the court cases have less than a 10% probability of success. I tend to think that the odds for both are much better than that and this letter specifically ignites the Collins case which I figured was a long shot, but I never would have thought that Trump would pave the way for stakeholders like he has now that he is out of office.
Summary and Conclusion
Donald Trump wrote this letter to say what he would have done if it was not denied the time it needed to fix this problem because of the unconstitutional restriction on firing Mel Watt. This is exactly what the shareholders needed according to the Supreme Court to win their legal case on remand. This letter is absolutely fantastic for shareholder plaintiffs who have fought in court since 2013 for their shareholder rights of Fannie Mae and Freddie Mac.
Trump says he would have fully privatized the companies and sold the government's common stock in these companies at a huge profit. He did stop the sweep. I believe Biden is in a position to follow in Trump's footsteps, enact his own view of reform and sell the government's stake in these companies at a huge profit as well.