GoPro: The Crazy Subscription Gamble Is Actually Working Out
Summary
A once tragic story, GoPro is becoming an increasingly interesting turnaround play and is possibly one of the better investment opportunities of the year.
Their gamble on the DTC subscription model seems to be surprisingly successful, transforming the company into a higher-margin and more profitable business.
The action camera company is building a strong moat for its business and is on a path of becoming the Apple of the action camera world.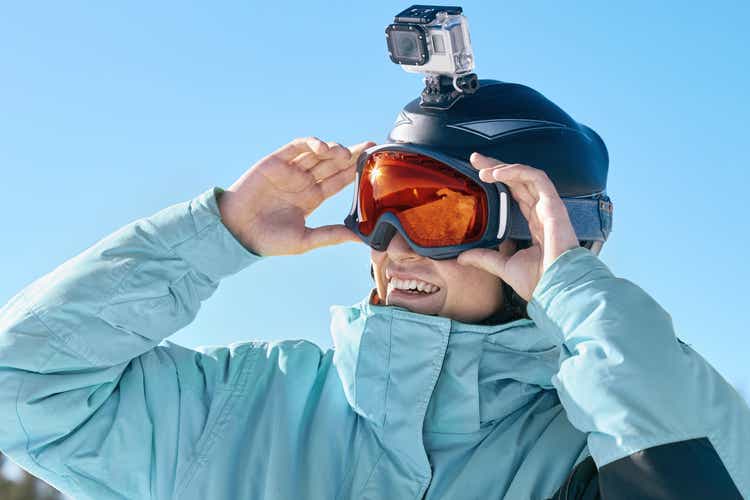 When I first heard that GoPro's (NASDAQ:GPRO) management plans to make its action camera offering a subscription-based direct-to-consumer service, I remember thinking that it was a failure waiting to happen. However, management's success in onboarding more than a million DTC subscribers made me take another look into the company and reconsider my position.
Now, in the light of everything that has happened in the past couple of quarters, we can conclude that we are dealing with a potentially interesting turnaround play and possibly one of the better investment opportunities of the year.
Adventure into the DTC subscription model
Management has gone all-in on the subscription model by upgrading what used to be their cloud-storage subscription program into an all-around subscription model with multiple benefits.
The current upgraded GoPro subscription has a lot to offer to the customers. It includes a discount for new purchases, unlimited cloud storage, free camera replacements, premium access to the Quick App, and up to 50% discount on the accessories and gear sold on GoPro.com.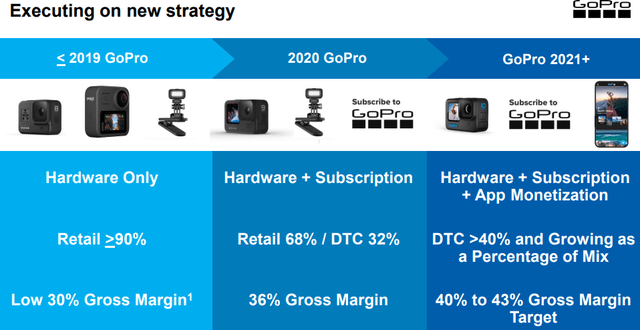 source: 2021 Investor Presentation
The direct-to-consumer, subscription-centric strategy on which management has been focusing has the ability to transform GoPro into a higher-margin, more profitable business with increasingly stronger growth. The impact of the DTC model can be already seen in the last couple of quarters. Both revenues and margins are on the rise.
Starting with Q3 of 2021, their subscription revenues made up 15% of the GoPro.com segment revenues. That means that the subscriptions revenue share has more than doubled in a year.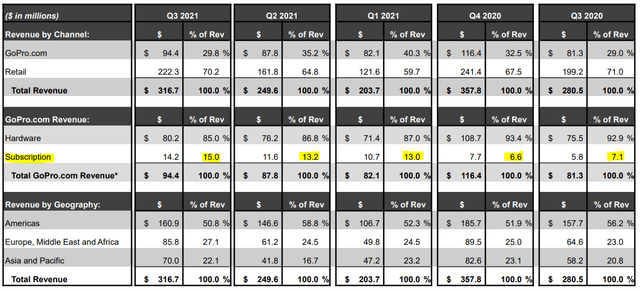 source: Q3 2021 Supplemental
Now keep in mind, that is 15% of the GoPro.com segment, not the total revenues. If we expect that the Q4 subscriptions will follow the trend and bring in some $20 million in revenues, that means that the subscriptions program will bring in a total of $56.5 million for the year.
Analyst estimates place the company's 2021 revenues somewhere in the area of $1.16 billion. With some back of the paper math, we can see that we are expecting that the subscriptions are going to make up close to 5% of the revenues for the entire year.
Another important statistic that can be seen in this chart is that the US market remains the core market for GoPro, an important thing that I am going to elaborate further on later in the analysis.
At the close of Q3, we had 1.34 million GoPro subscribers, representing 168% year-over-year growth - adding approximately 840,000 new GoPro subscribers since the close of Q3 2020. We've now passed the one-year mark for the subscriber cohort who received their subscription as part of their HERO9 Black bundle purchase and we are encouraged that our annual subscriber retention rates from this cohort are healthy and in line with our expectations. We expect to exceed 1.7 million subscribers by year-end and remain confident in our subscription business's ability to positively impact margin over the long term.

Brian McGee - Chief Financial Officer and Chief Operating Officer
This is where we arrive at a problem that is worth discussing. Many might claim that the subscriber growth has been artificially inflated by the selling practices that were exercised on the newer models.
Not a one-trick pony
Currently, a GoPro Subscription saves the average customer around a 100$ when buying a new camera. For example, a basic GoPro Hero10 Black sells for $399.98 with an included one-year GoPro Subscription or $499.99 without a subscription.
This can be viewed as the company effectively giving $100 to customers who are willing to sign up. Or in other words, the one-year subscription has been "free" for the new customers who were willing to sign up.
Most likely, it is being sold as a "nothing to lose" to the average customer. However, this is only partially true. It remains a question of how the average customer will react to the subsequent subscription charges. Not all of the customers who signed up have a need for free cloud storage or a nice editing app.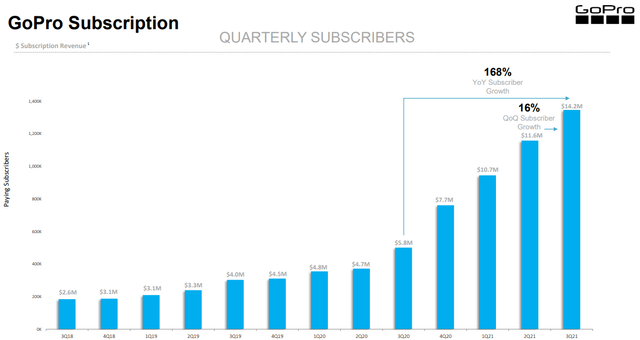 source: Q3 2021 Supplemental
Many might opt out of the program, especially if they don't buy new action cameras every year. Out of this, we can see that high churn numbers are to be expected for the first two million subscribers.
With all of this being said, let us expand the horizon and take a view of the long game that is being played here. One thing to note is that the subscription is a great value, being priced only $50 per year. To many of the customers, that is a charge that might get easily overlooked in a statement. Furthermore, for somewhere in the range of $4 per month, many customers might not be willing to go through the hassle of the cancellation procedure. The pricing is set up perfectly to avoid potential churn.
Another important thing to point out is that this is most likely a selling practice that is here to stay. GoPro is probably going to keep selling all the new and upcoming models with the bundled subscription discount. How many people will actually go to a website and subscribe to an action camera subscription? Probably not many. But I can tell you that a whole lot of people will be taking a "free subscription" for many years to come.
The company is currently selling roughly 3 million units yearly. If half of the buyers are non-subscribers, the question is how many of them would take the free subscription? Even with calculating a 50% churn after the first year, the numbers are still looking convincing. I see no problem in the company adding around a million net subscribers yearly.
Financials and valuations
The action camera company has gone public back in 2014. For early investors in the company, GoPro has been far from a profitable investment. In fact, the company stock has lost 71.3% of its value since it went public.
From the initial high hopes for the future, GoPro has proven to be one of the more tragic investment stories. The negative 15.5% CAGR is made even worse given the fact that we are living in one of the greatest bull markets in history. For comparison, the market has returned close to 170% for the same period, or somewhere around 14% CAGR.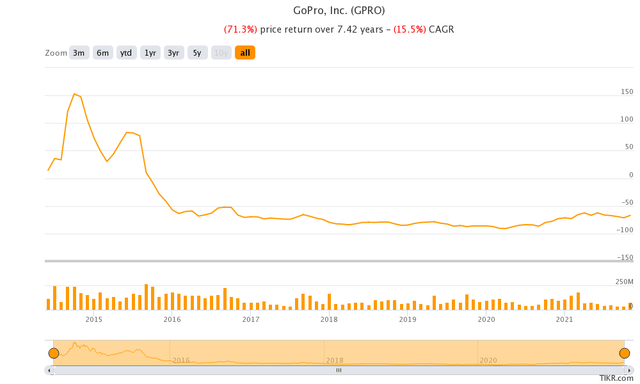 source: TIKR Terminal
The company's financials tell a similarly bleak story. GoPro has not made any money for almost half a decade. The last positive bottom lines were back in 2015, which also remains to be their revenue record year up to this point.
It is not only that the company stock has been suffering throughout the years, but the fundamentals have also been lacking. There is no real growth to be seen, other than the company managing the bottom line slowly into the positive over the last couple of years. The action camera company looks to have been regressing if nothing.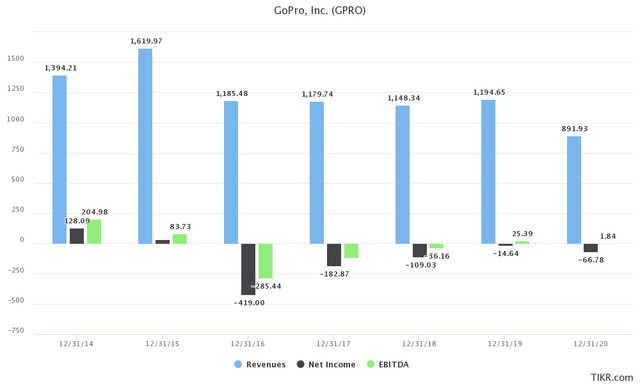 source: TIKR Terminal
The story behind GoPro shows once again that most investors would be smart to stay clear of IPOs and newly listed companies selling you a story. With all of the investor headaches of the past decade in mind, today the future seems bright for GoPro.
Analyst estimates park this year's revenues at $1.16 billion, with 2022 growing to $1.24 billion. Finally, we can see a growth trend which is being established. EBITDA is to turn green this year with an expected $162.49 million, followed by a $182.59 estimate for the next year. In the next couple of years, the company should consolidate its profitability, bringing home around a dollar of earnings per share for its investors. Another important thing to point out is that margins are on the rise. GoPro is growing from a low 30% to a high 40% gross margin company.
All of those are signs of a healthy and growing company. However, a difficulty with valuing GoPro is that the company created its own market. There are not many companies to which you can draw a direct comparison. Still, the company is selling for an x1.24 TEV/Revenue multiple, accompanied by an x8.64 TEV/EBITDA multiple. As of Q3 of 2021, the company almost has no debt to speak of. Its total debt sits at $284.36 million, while the company's net debt is red, considering it carries more than $378 million in cash and cash equivalents. The Total Enterprise Value can be pretty much swapped out with Market Cap in any of these multiples. The NTM P/E is in the range of x11.93, while the NTM MC/FCF is x16.16.
After years of being insanely overvalued, the company is starting to look interesting in terms of valuations and pricing. Currently, the company is trading at $10.21 per share. At these prices, GoPro looks like a steal.
Becoming the Apple of the action camera world
GoPro's branding has reached a level in which the product name has become a noun in the everyday life. In a very similar way that a lot of people are not "buying a phone", but rather they are "buying an iPhone", a lot of customers are "buying a GoPro" instead of "buying an action camera".
Those are signs of some deep moat being created. In fact, the story seems all too familiar. In my view, there are a lot of similarities that can be drawn between Apple (AAPL) and GoPro.
The striking similarities:
Both are American-based companies selling expensive top-of-the-line products in their categories.
Almost invented a market for themselves by creating a groundbreaking product that nobody knew they needed until they did.
Built a unique brand that has become somewhat of a status symbol that seems to sell itself from time to time.
Are digging out a deep moat surrounding the product with a simple and easy-to-use ecosystem of software and hardware that is becoming harder to penetrate by the day.
Attracted a lot of competition, most of the successful ones coming from Asian-based companies which managed to produce arguably better products at more affordable prices.
Defended its market share thanks to a loyal fan base, remarkable brand, and strong foothold in the United States.
source: 2021 Investor Presentation
The American smartphone company had gone through some difficult times lately. Its international market share has been shrinking quarter by quarter in favor of companies like Samsung (OTCPK:SSNLF), Xiaomi (OTCPK:XIACF), and others. The international markets, which are more considerate of pricing have reacted well to this push, however, their US market presence has always been mostly unaffected.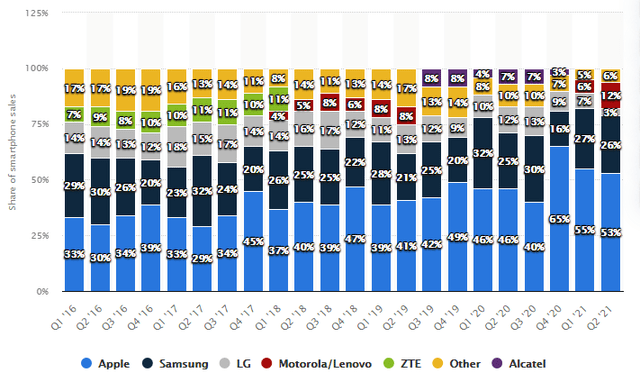 source: Statista
Still, even with poor global market share performance, relying heavily on its strong branding, a closed software & hardware ecosystem, and a rock-solid US presence, the company generated excellent returns for its shareholders. This is the exact sort of place in which I can see GoPro finding itself.
Risks to consider
If one plans to invest in the company, there are several risks that are to be kept in mind.
An undisclosed portion of the current subscriber base is customers who have enrolled in the subscription as a bonus of buying the latest action camera. A close eye is to be kept on the churn.
The nature of the relatively simple and high-margin business is bound to attract ever-growing competition.
There is a question of the total addressable market for the product the company produces, and thereby the total potential growth.
The last year's pandemic has had a negative effect on the business. We can expect similar results in case of further lockdowns and restrictions.
As competitors increase the quality and the general presentation of their product, GoPro's market share is destined to shrink internationally.
Final thoughts and conclusions
Out of all the companies that are to try themselves out in a DTC subscription model, an action camera company would probably be the last that I would have expected. If one was to claim years ago that GoPro would have close to two million paying DTC customers, I would not have many nice things to say about them. Now, two years later, I stand corrected.
GoPro has been one of the more tragic investor stories of the last decade. However, things seem to be turning for the better. The direct-to-consumer subscription service has enabled some strong new revenue sources to be created, allowing for a new take on the company's future growth potential.
The action camera company is showing ever more growing similarities with one of the giants of the smartphone industry, seemingly following in their footsteps. If their software and hardware ecosystem pitch takes off with the DTC subscribers, we might start seeing some similarities in regards to the returns as well.
Management has made several bold decisions and the financials seem to be following. Based on everything that has been said, the company's future seems bright and the current valuations look attractive. For those who are willing to invest in the company today, GoPro might prove as one of the better investments of the year. In my view, it is going to be difficult to lose money on this investment in the next couple of years.
This article was written by
A long-term-oriented value investor with a bottom-up fundamental approach. Passionate about investing and finance. Subscribed to the ideas and principles of value investing, whose philosophy was influenced by the lives and work of the likes of Charlie Munger, Howard Marks, Seth Klarman, and others.
Analyst's Disclosure: I/we have no stock, option or similar derivative position in any of the companies mentioned, and no plans to initiate any such positions within the next 72 hours. I wrote this article myself, and it expresses my own opinions. I am not receiving compensation for it (other than from Seeking Alpha). I have no business relationship with any company whose stock is mentioned in this article.
Seeking Alpha's Disclosure: Past performance is no guarantee of future results. No recommendation or advice is being given as to whether any investment is suitable for a particular investor. Any views or opinions expressed above may not reflect those of Seeking Alpha as a whole. Seeking Alpha is not a licensed securities dealer, broker or US investment adviser or investment bank. Our analysts are third party authors that include both professional investors and individual investors who may not be licensed or certified by any institute or regulatory body.