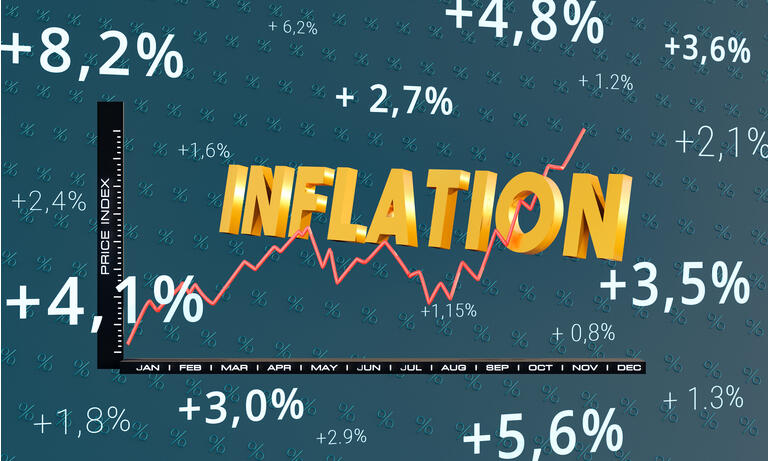 (This article was co-produced with Hoya Capital Real Estate)
Introduction
Every day we hear stories about consumer prices rising at the fastest rate in 30+ years here in the United States. Government stimulus checks, new federal spending and supply chain bottlenecks are main reasons mentioned. Fossil fuel restrictions, a boost in millions of Social Security checks, wage pressure from a tight labor market and new labor contracts like the one Deere & Co (DE) just agreed to point to our 6.2% rate not declining as soon as the Administration hopes.
Seeking Alpha Contributors have provided several strategies to protect an investor's portfolio from inflation such as:
Buying UST I-bonds, which set their coupon based on the recent inflation rate.
Using ETFs to hedge against inflation which discussed several possibilities.
Protecting your FI allocation by investing in Floating-Rate funds.
After those and other articles focused mostly on US-based solutions, I remembered there was an ETF that used International TIPS to defend against inflation, the SPDR FTSE International Government Inflation-Protected Bond ETF (NYSEARCA:WIP). Even though it is driven by non-US inflation rates, in this author's opinion, its success should be measured by how well it protects investors against inflation in their home market as rates vary greatly around the world. While the US one-year rate is 6.2%, 60th highest over the past year, the range was -3.3% in Rwanda to Venezuela's 1,575%! The GDP-weighted inflation rate for the G20 currently is about 4.6%, up from 3.2% last year. Remove the US, the interest rate and matG19 is only 3.9%. Over the last two decades, World inflation, as measured by CPI, has been under 4% except for the spike leading into the GFC.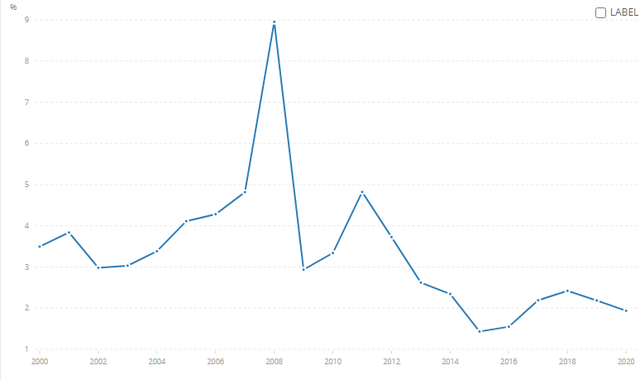 Source: data.worldbank.org
Of the eight funds I found that invest in US TIPS, the WIP ETF trails every one. Add in currency risk and you get a Very Bearish rating.
Understanding TIPS
Treasury inflation-protected securities (TIPS) are a type of Treasury security issued by the U.S. government. TIPS are indexed to inflation in order to protect investors from a decline in the purchasing power of their money. As inflation rises, TIPS adjust in price to maintain its real value. TIPS are designed to protect investors from the adverse effects of rising prices over the life of the bond. The par value-principal-increases with inflation and decreases with deflation, as measured by the CPI. When TIPS mature, bondholders are paid the inflation-adjusted principal or original principal, whichever is greater.

Source: investopedia.com
Like regular bonds, TIPS come with an interest rate and maturity date. The coupon payment moves with the value of the bond. If held to maturity, the minimum amount returned to the investor is the original Par value.
The same Investopedia.com site list Pros and Cons of investing in TIPS.
Pros
The principal increases with inflation meaning that at maturity, bondholders are paid the inflation-adjusted principal

Investors will never be paid less than their original principal when TIPS mature

Interest payments increase as inflation increases since the rate is calculated based on the adjusted principal balance
Cons
Interest rate offered is usually lower than most fixed-income bonds that do not have an inflation adjustment

Investors might be subject to higher taxes on increased coupon payments

If inflation does not materialize while TIPS are held, the utility of holding TIPS decreases
| | | |
| --- | --- | --- |
| Recent Issue | Coupon | Yield |
| 10-Yr UST | 1.38% | 1.54% |
| 30-Yr UST | 1.88% | 1.88% |
| 10-Yr TIPS | .13% | -1.05% |
| 30-Yr TIPS | .13% | -.43% |
When Treasury bonds are trading below the expected inflation rate, as is the case today, TIPS yields fall into negative territory. There are investors willing to accept a negative yield if they think inflation is enough of a concern since TIPS' principal value adjusts upward with inflation.
Examining the SPDR FTSE International Government Inflation-Protected Bond ETF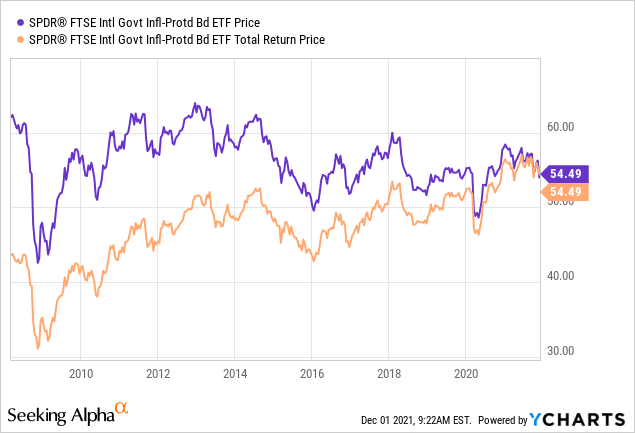 Seeking Alpha describes this ETF as:
SPDR Series Trust - SPDR FTSE International Government Inflation-Protected Bond ETF is an exchange traded fund launched by State Street Global Advisors, Inc. The fund is managed by SSGA Funds Management, Inc. It invests in the fixed income markets of global ex-US region. The fund invests in fixed-rate inflation-linked government bonds that are rated at least C by S&P or at least Ca by Moody's with a maturity of at least one year. It seeks to track the performance of the FTSE International Inflation-Linked Securities Select Index. WIP was formed on March 13, 2008.

Source: seekingalpha.com/symbol WIP
WIP has collected $435m in assets and currently provides investors with a 4+% yield. SSGA charges 50bps in fees. SSGA lists these as reasons to invest in the WIP ETF:
Seeks to provide exposure to inflation-linked bonds of developed and emerging market countries outside of the US.
Seek to hedge against the erosion of purchasing power due to inflation outside of the U.S.
The same WIP Factsheet (as of 9/30/21) listed the Average YTW as 3.41%; the Option Adjusted Duration (or Effective Duration) at 11.38, and the Option Adjusted Spread at 6.7.
Index review
FTSE/Russell provides a detailed description of the Index used by WIP. Here are the key points, starting with the description:
The FTSE International Inflation-Linked Securities Select Index measures the returns of inflation-linked bonds outside the United States with fixed-rate coupon payments that are linked to an inflation index. The index includes markets tracked by the FTSE World Inflation-Linked Securities Index (WILSI) and FTSE World Inflation-Linked Securities Index-Additional Markets (WILSI-AM) that meet inclusion criteria Currently, the index comprises government inflation-linked debt from 18 countries denominated in 15 currencies.
Key methodology points include:
The market capitalization-based weights of each individual country in the FTSE International Inflation-Linked Securities Select Index are capped at 22.5%. Furthermore, the total market weights of the countries with more than 4.6% market weight in the index cannot exceed 45% of the total index weight.
Issue size minimums are set at the country level. The Index includes government debt (direct obligations of the issuer country) but does not include quasi-government debt or corporate debt. There is no set number of issues in the Index.
Eligible security types are also set at the country level.
An index quality is assigned to each index bond as of profile fixing and remains unchanged during the month. The minimum rating is C by S&P and Ca by Moody's (excludes defaulted issues).
Rebalancing occurs monthly.
Total returns are computed on the assumption that each security is purchased at the beginning of the period and sold at the end of the period. An issue's total rate of return is the percentage change in its total value over the measurement period. The components of total return are price change, principal payments, coupon payments, accrued interest, and reinvestment income on intra-month cash flows.
Holdings review
I will start with the country allocation, which includes the weight and their current inflation rate. Combining the data, the weighted-average inflation rate comes to 4.95%.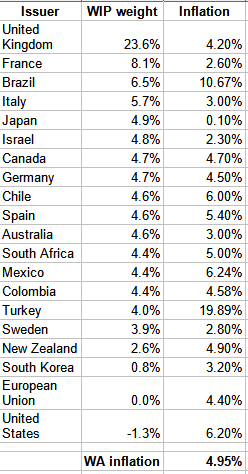 Source: WIP website (weights), TradingEconomics.com (inflation); compiled by Author.
Here are how the two largest positions have moved over the last three years.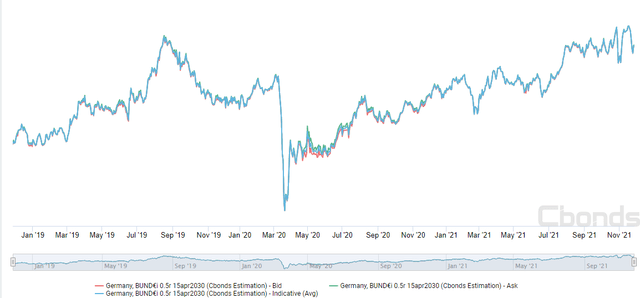 Source: cbonds.com/bonds/73051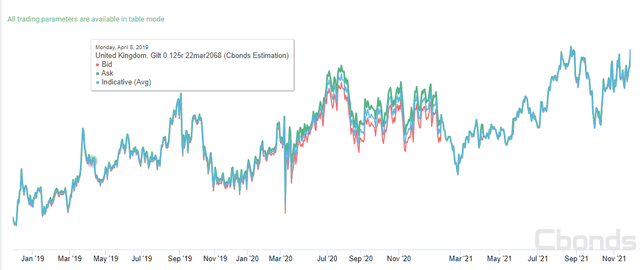 Source: cbonds.com/bonds/106005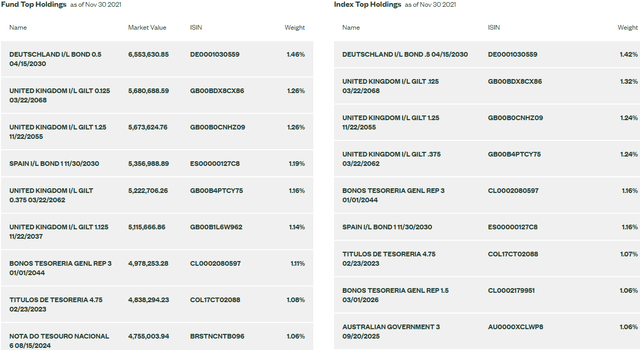 Source: ssga.com WIP
It is unusual for the website to also list the Index's top holdings but this gives an investor an idea of how closely they mimic the Index. They made the same comparison using two important portfolio characteristics. This set compares bond ratings.

WIP is more conservative once they got below "A" rated bonds.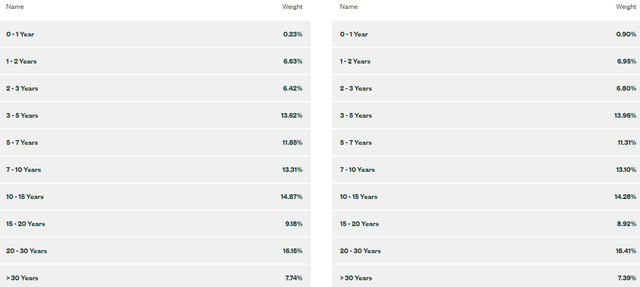 The maturity allocation matches the Index more closely than the ratings data does. As one would expect with a 11+ year duration, a high percent of the bonds has maturity dates beyond ten years (44+%). With only 7% coming due within two years, WIP has a small percent that can be replaced with bonds that might reflect the current inflation spike unless it lasts into 2025.
A country comparison was not made and that allocation for WIP is shown above in the weighted-inflation-rate table. About 25% of the portfolio is from Emerging Market governments, which in this author's opinion are at higher risk of default and currency erosion.

Source: www.etf.com
The above table shows how well WIP performed versus the Index they invest against. It shows a mixed picture.
Payout review

Source: seekingalpha.com DVDs
Tax documents from SSGA show payouts have been classified as ordinary income, with a few capital gain payments back a few years. The Seeking Alpha Dividend Scorecard rates WIP as "A+".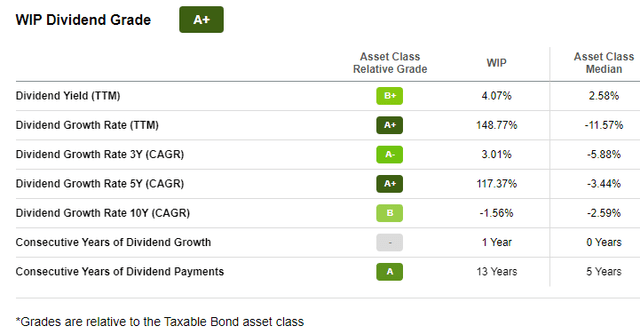 Source: seekingalpha.com DVD Scorecard
Comparing WIP against a set of US TIP ETFs

Source: portfoliovisualizer.com
Since 2013, WIP has provided the poorest return, accompanied by the second higher StdDev, not a winning combination. From the looks of the world inflation chart above, this was during a period when world inflation was much higher than US rates. Their other risk statistics are way worse than all their US counterparts. WIP wins in yield but not by much.

Source: Hoya Capital Income Builder
Portfolio Strategy
I mentioned several common strategies to "beat inflation". Staying the course since 1994 has proven the best approach and doesn't require shifting your asset allocation.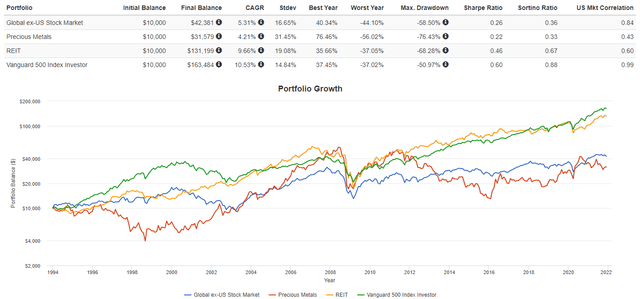 Source: portfoliovisualizer.com
Removing REITs, data goes back to 1986 and shows the same results: stay in equities! Those results add to my reasoning of giving the SPDR FTSE International Government Inflation-Protected Bond ETF a Very Bearish rating. The Seeking Alpha ETF scorecard for WIP confirms my viewpoint.