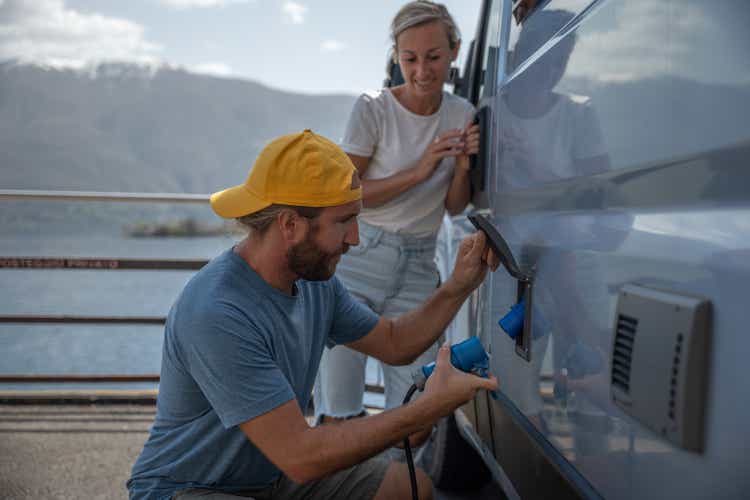 Investment Thesis
Canoo (NASDAQ:GOEV) is set to launch its first product in a year time from now. Attractive designs, multipurpose platform, and multiple revenue streams differentiate the company from its competitors. Moreover, compared to other EV stocks, the valuation of Canoo looks attractive. The stock's price should follow the company's development path in next one to two years.
An Overview
Founded in 2017, Canoo has developed a technology platform that enables it to bring new consumer as well as commercial vehicles to market faster and at lower cost than others. The product portfolio of the company includes Multi-Purpose Delivery Vehicle, The Lifestyle Vehicle, and Canoo Pickup.
Canoo has reassembled its board and management team after various changes in the management, including exit of its founders. The company's current management team includes well experienced professionals from different domains. The CEO of the company, Tony Aquila, is a serial entrepreneur and inventor with 100+ patents.
Product Portfolio
As a start-up company, Canoo is still positioning to execute its plan on vehicle launch. The company's initial upcoming vehicles pipeline includes:

Source: Canoo.
The Lifestyle Vehicle: Canoo is planning to launch its first consumer vehicle in the second half of 2022. The vehicle offers an estimated EPA range of 250+ miles, electric motor of 300hp, and 20% to 80% of charging in 28 minutes. The spacious seven-passenger vehicle has comfortable seats comparable to Volkswagen's Golf.
Multi-Purpose Delivery Vehicle: The product is expected to offer spatial efficiency, making it suitable for operating in congested urban environments and small business uses. The specialty of the cabin built by the company's platform is that it can be modified to facilitate dimensions, performance, and cost requirements. The vehicle is expected to be launched in 2023.
Canoo Pickup: It is an extended cab vehicle, which offers the performance specifications for professional use. Revealed in March 2021, the delivery of the pickup vehicle is estimated to begin in early 2023.
Multiple Revenue Streams
A couple of factors differentiate Canoo from its competitors and may potentially give it an edge over others. To begin with, it is focusing on minivans or SUVs (The Lifestyle Vehicle), delivery vans, and pickup trucks, which are the most profitable segments in the automobile sector.
Secondly, Canoo's multi-purpose platform allows it to develop new vehicle variants quickly and cost-effectively. The re-use of the platform allows the company to save significantly on labor and other costs. The vehicle design is vertically integrated to focus on efficiency and secured connectivity layer.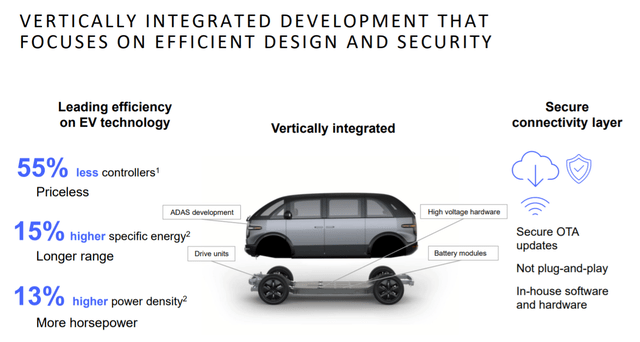 Source: Canoo's Investor Presentation, August 2021.
The third key factor is that Canoo plans to focus on providing software, upfitting, and accessories across the entire life cycle of the vehicle. According to Canoo, there is as much as 70% to 80% of a vehicle's lifetime profit opportunity from owners 2 to 4. Most of the auto companies lose this opportunity by focusing only on the first buyer.
This will also allow Canoo to use car data more effectively and increase its monetization opportunity. The company estimates to collect 1-2 terabytes of raw data per day per connected vehicle. Its products have harmonized hardware and software with superior cleansing, which will allow it to generate actionable data.
The Canoo app has functionalities to schedule mobile services such as charging station reservations / payments, over-the-air updates and provide instant quotes for insurance, financing, and vehicle valuation services. Canoo also claims that its vehicles will be better protected from cyber vulnerabilities.
Industry Factors
The demand for EVs has grown rapidly in both consumer and commercial segments. According to EVAdoption, the demand for passenger EV in the U.S. is expected to grow at a CAGR of 26% from 2019 to 2028. The growth is expected to be higher in urban areas. The adaption of EVs among businesses, including commercial delivery vehicles, is dramatically increasing as they're pressurized by regulators, consumers, environmental, social, and governance stakeholders to reduce their footprint.
The adaption of EVs in commercial delivery is expected to be led by light commercial vehicle segment. According to BloombergNEF, from 2019 to 2028, demand for electric light commercial vehicles will grow at a CAGR of 33% in United States, Europe, and China.
Government regulations in many cities, states, and countries are encouraging a shift to EVs from fossil fuel-powered vehicles. The growing threat of climate change is pushing consumers towards EVs. They are also becoming more confident to adopt EVs due improved range and expansion of EV charging infrastructure. As a result, consumers are increasingly switching to EVs as their next vehicles.
Competitive Environment
Due to improved environmental awareness and latest regulatory developments, most of the transportation sector is switching towards low emission, zero-emission, or carbon neutral solution. So, Canoo faces huge competition from well-established legacy automakers as well as new EV manufacturers. Whether customers prefer Canoo's products over competitive offerings remains to be seen.
Its potential competitors include General Motors (GM), Ford (F), Tesla (TSLA), Rivian (RIVN), Nikola (NKLA), Lordstown Motors, and Bollinger Motors. Deliveries of Tesla's CyberTruck is expected to begin in 2022.
Recent Developments
The company has chosen Oklahoma as the location for its own U.S. manufacturing facility. The facility will host a new R&D center, software development center, and customer support and finance center. Moreover, it is planning an industrialization facility and R&D center in Arkansas. The company will receive $100 million in incentives from the states.
The company has achieved approx. 500k miles of Beta testing and is entering into the gamma phase of development.
In October, Canoo entered an agreement with Panasonic to supply batteries for its upcoming lifestyle vehicle.
Financial Performance
The company hasn't generated any revenue for the nine months ended September 30, 2021, since its products are still in the pre-commercialization stage.
The company has incurred a loss of $80.88 million for the nine-month ended September 30, 2021, and it has incurred a cumulative loss of approximately $429.38 million since incorporation. The company will continue to incur operating and net losses each quarter, till it begins product delivery, which is expected to be in Q4 2022.
The company has liquidity of $414.9 million as on September 30, 2021, which it believes is sufficient to continue operating activities, including production of lifestyle vehicle, for the next one year.
Valuation
Canoo is still nearly a year away from the start of production. It expects to produce 500 to 1,000 units in 2022. Canoo's market capitalization is higher compared to that of Lordstown Motors and Workhorse Group (WKHS) - both of which are facing ongoing issues.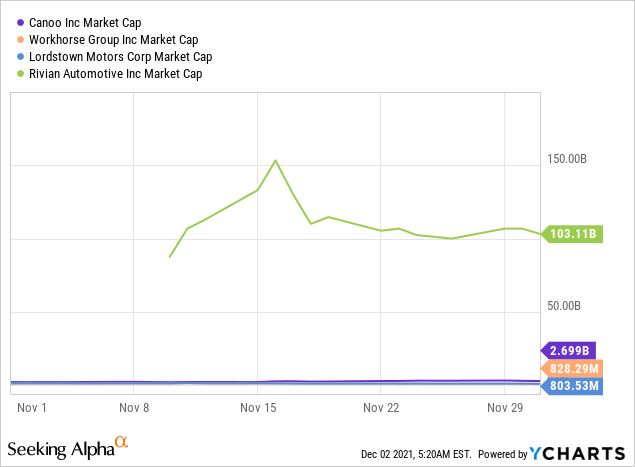 However, as evident by Rivian IPO, Canoo's stock price and market capitalization may soar if it delivers its first vehicles on time. In the long-term, there would be several other factors that will drive the stock's price.
Risk Factors
There is a risk of customer acceptance of the company's EVs. Moreover, even if customers adopt the product, there is no assurance of financial success of the company.
The current development of its own new manufacturing facility may delay which may delay deliveries and increase capital expenditure. Production delays could hurt Canoo's growth in the competitive EV market.
VDL Nedcar, the outsourced manufacturing partner of Canoo, was subject to a cybersecurity attack in October. The investigations are still ongoing. If the attackers got access to Canoo's proprietary information, it may harm the competitive advantage of the company.
Conclusion
Though Canoo faces several risks and stiff competition, its offerings are attractive. Its technology platform may allow it produce vehicles at a lower cost, while focusing on multiple revenue streams could foster growth and increase profitability. The management team is strong, focused on the development path, and experienced in creating value for shareholders. Canoo's stock price may soar if it delivers its first vehicles on time.