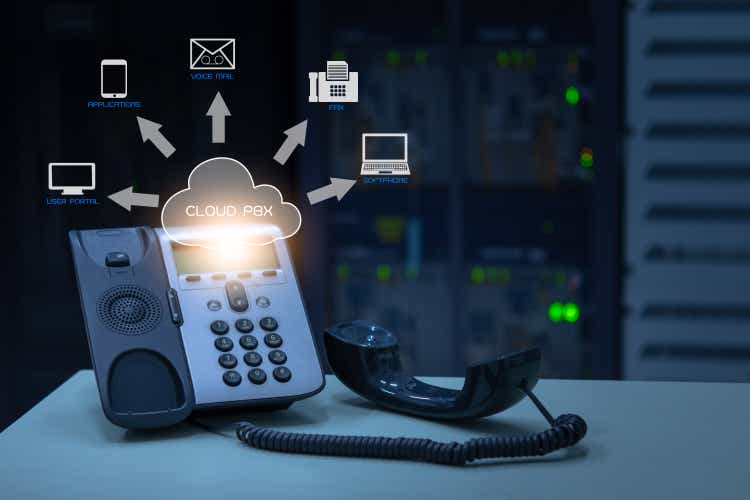 This thesis comes in the footsteps of my recent piece entitled "Together With Vonage (NASDAQ:VG), Ericsson (NASDAQ:ERIC) Is Paving The Way For The Metaverse". Now, Kaleyra (NYSE:KLR) just like Vonage provides messaging-type services referred to as CPaaS.
Taking a glance at the market, while Vonage's share price, as shown in orange below, has risen to 96.57% (partially due to its acquisition by Ericsson), Kaleyra's stock has delivered a minus 2% (-2%) one-year performance, and this, despite its quarterly revenues (in blue in the chart below) rising at triple digits by 149%.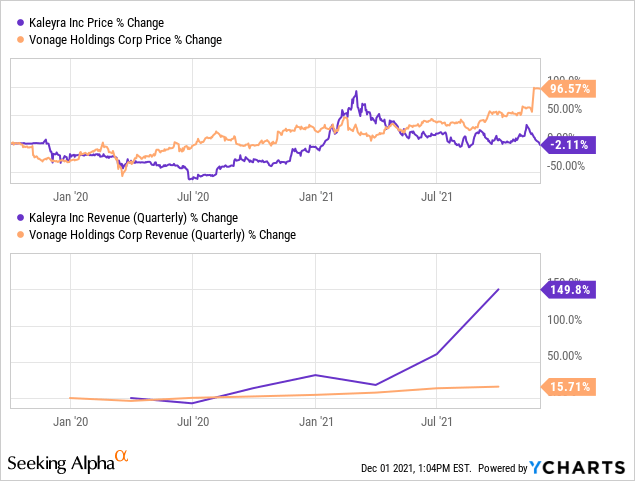 This difference does not make sense due to the fact that Kaleyra also provides mobile communication services to financial institutions, eCommerce players, healthcare providers, logistics companies, retailers, and other large organizations worldwide.
Trying to make sense of it all, I start by providing insights into how the company is faring in the CPaaS (communication platform as a service) market.
Competition in the CPaaS market
The origins of CPaaS can be traced back to around 12-15 years ago when new Silicon Valley startups launched applications like Facebook (NASDAQ:FB), Uber (UBER), WhatsApp, and others. At that time, what mattered was the speed at which new features could be deployed, but this was somewhat delayed by a lack of connectivity between apps and communication infrastructures. It is here that CPaaS proved handy, as it made communication platforms accessible on demand through APIs. This, in turn, allowed grouping together of activities like notifications, reminders, two-factor authentication, and any other type of message that you can receive through your phone or laptop via SMS, WhatsApp, email, etc.
Seeing the benefits, other companies started to make use of the technology, and we are right in the midst of the mass adoption phase, somewhat accelerated by Covid-induced digital transformation. The mobile messages you receive from your bank are very likely to go through one of these CPaaS platforms owned by Kaleyra for which the latter charges a fee.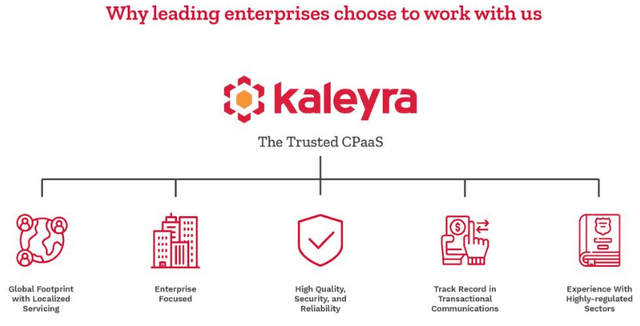 Source: Company presentation in Seeking Alpha
The company has a customer base of 3800+ companies located in 190+ countries, including all tier-1 US carriers. Through its proprietary platform and robust APIs, Kaleyra manages multi-channel integrated communication services, consisting of messaging, rich messaging and instant messaging, video, push notifications, e-mail, voice services, and chatbots.
Pursuing further, Kaleyra's technology makes it possible to securely manage billions of messages monthly with over 1600 operator connections, but this remains a highly dynamic environment, where in addition to Vonage, there are other competitors too. Moreover, the market is characterized by continuous consolidation through M&A activities as exemplified by Twilio's (TWLO) acquisition of SendGrid and Segment for several billions of dollars. As for Kaleyra, despite its much smaller market cap at only $445 million, has also acquired mGage and Bandyer, both in 2021, for $215 million and $15.5 million respectively.
Analyzing the competition, the small company remains firmly in the "Established Leader" quadrant far in front of Vonage, which got into CPaaS with the Nexmo acquisition back in 2016. This classification also places Kaleyra in front of Twilio, but there are other solid players.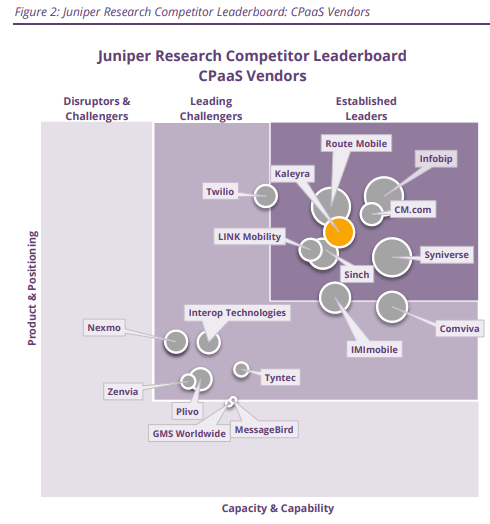 Source: kaleyra.com
The company has also won awards based on the quality of its software, implementation time, and "budget-friendly" solutions. Now, charging customers less in a highly competitive market makes sense as it has allowed Kaleyra to exhibit higher growth figures, but there is the profitability metric to consider too.
Talking profitability
First, the triple-digit third-quarter growth came mostly as a result of revenue recognition from acquisitions, but, going into detail, the company also saw an approximately 30% organic growth rate. As per the CEO, this "validates our regional growth strategy to be still viable within our traditional business unit".
As for the bottom line, I also noted that the gross profit grew by 161% on a year-over-year basis. The increase was mainly driven by the mGage and Bandyer integration and campaign registry, where the company's SaaS offering developed in partnership with MNO's (Mobile Network Operators) is gaining more traction among wireless carriers for Application-to-Person (A2P) 10 Digit Long Code messaging.
Pursuing further, the company is also seeing cross-selling opportunities with the mGage platform which signifies better cost synergies. For this purpose, there are two main drivers of gross margin expansion. The first one is enhanced presence in the U.S. market, which typically enjoys larger gross margins than other markets, an area where mGage has significantly contributed. Second, there is a change of product mix (voice, video, and the campaign registry) with messaging volume increasing by 114% in Q3 compared to last year and voice increasing by 36%.
This momentum could be sustained in Q4 as the company's non-U.S. main markets, namely Italy and India seem to be doing well thanks to the rate of vaccinations. While it remains very hard to predict anything related to COVID, the Omicron variant seems to exhibit only mild symptoms despite being infectious. As a result, Kaleyra should improve on its 2020's gross profit margins of 19.93%, which was much lower than peers. For this matter, gross margins in Q3 were 23.34%.

Source: Seeking Alpha
Continuing on a positive note, the executives have "a clear strategy to drive sustainable long-term growth". That strategy relies firstly on expanding the company's geographical footprint across many under-penetrated parts of the world while maintaining a diverse revenue split.
Secondly, the company continues to invest in Omni-channels CPaaS service. Here, the aim is to provide a seamless customer experience whether the client is accessing services from a mobile device, a laptop, or from a partner's cloud such as Google's (NASDAQ:GOOG) GCP. This forms part of a strategy to meet partners on whichever channel they require to best connect with the customers.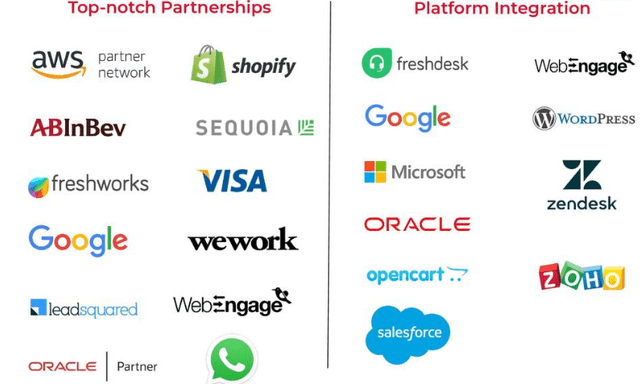 Source: Company presentation in Seeking Alpha
Third, Kaleyra has expanded its platform integrations with giants like Oracle (ORCL). Another example is Kaleyra's SMS available through Zoho CRM, in turn permitting sending of SMS to leads, contacts, or account reps with a hassle-free interface.
Valuations and potential to be acquired
CPaaS is still in its early innings, and platforms now encapsulate tools for users of every level, be it for transactional alerts, promotional communications, video applications, or making phone calls to customers. With enterprises accelerating the use of communication services, this implies billions of dollars of opportunities, and, in addition to CPaaS, adjacent markets consist of A2P messaging and video conferencing, all expected to grow by double-digit figures in the next 5 years.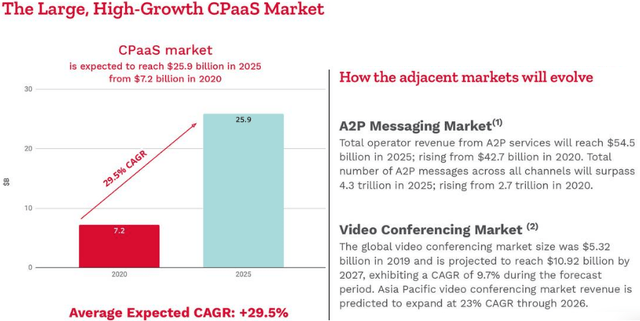 Source: Company presentation in Seeking Alpha
Corporations of all sizes are leveraging flexible and cost-efficient API-based CPaaS offerings to enhance customer experience, hence improving on "digital competitiveness". However, crafting APIs for inter-platform communications requires advanced coding capabilities and a lot depends on the capacity to acquire skill sets at a reasonable price. There are also automated messaging capabilities making use of AI, and, in this regard, Kaleyra provides user-friendly capabilities such as workflow builders for creating software APIs faster.
Looking from the industry perspective, as seen by Kaleyra's and Twilio's acquisition, this is a marketplace where organic growth remains difficult to achieve because of "long-established relationships between customers, MNOs, and rival CPaaS providers". These result in challenges to secure new clients and expand geographically in an organic fashion. Consequently, there are more M&As with larger companies buying smaller providers.
Consolidation has taken another form with the Ericsson/Vonage deal given that the two operate in different industry verticals. In the same way, Cisco (NASDAQ:CSCO) has acquired IMImobile for $750 million in order to add to CPaaS capabilities. Extrapolating this further, with a market cap of less than $450 million and debt equivalent to $232 million (despite its high Debt to Equity ratio as listed in the peer comparison table above), Kaleyra could constitute an acquisition target. For this matter, its trailing price to sales multiples of 1.51x is at a discount to the IT sector by 63%.
As for a potential acquirer, I am thinking of Nokia (NOK) looking to further roll out an API-based developer platform on top of its cloud-native core 5G offering, which should enable the creation of integrated applications. These could help the Finnish mobile network provider to win enterprise 5G contracts in an increasingly competitive space with Amazon's (NASDAQ:AMZN) recent entry. This is a priority area according to Raghav Sahgal, the President of Nokia Enterprise. To this end, the acquisition of Vonage by Ericsson, a mobile equipment provider, was aimed at boosting its wireless enterprise business.
Finally, even if its name does not form part of an acquisition list, Kaleyra is a buy. To justify my bullish stance, there is the balance sheet which had cash amounting to $106.8 million as at the end of Q3 and the fact that the FY-2021 revenue guidance of $265.7 million (mid-point) represents a substantial 80% increase over the last year. Additionally, going forward, rising gross margins should positively impact the currently negative operating income figures.