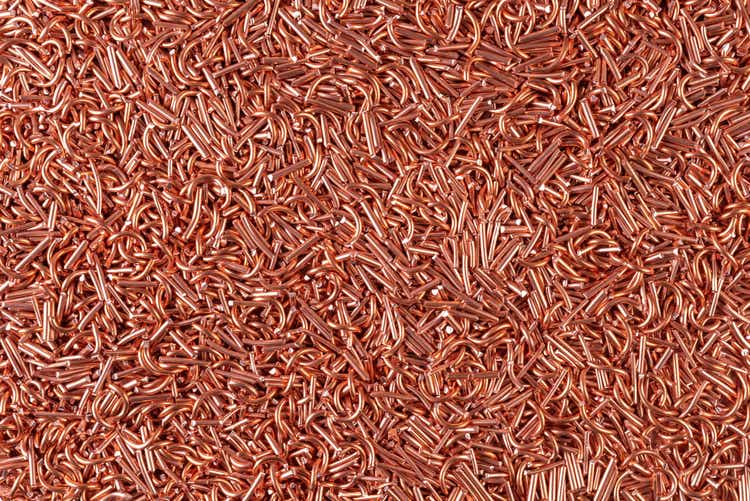 Introduction
In July, I was bullish on Teck Resources (NYSE:TECK) as it looked like there was a perfect storm brewing for the commodity producer. The price of metallurgical coal was going through the roof while the zinc and copper price remained stable at relatively high levels. Teck indeed reported an excellent performance during the third quarter.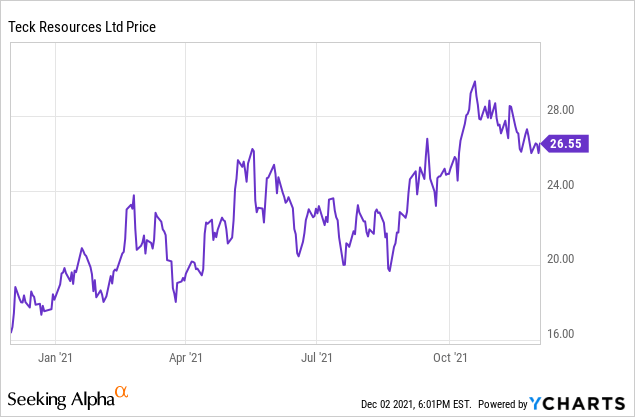 Q3 was okay, but not as good as I was expecting
In the third quarter, Teck Resources sold approximately 76,000 tonnes of copper, 5.9 million tonnes of metallurgical coal and about 2.2 million barrels of bitumen. And as you can see in the image below, it was able to sell all of its products at a substantially higher price compared to the third quarter of last year, and even at a higher price compared to the first half of the current financial year.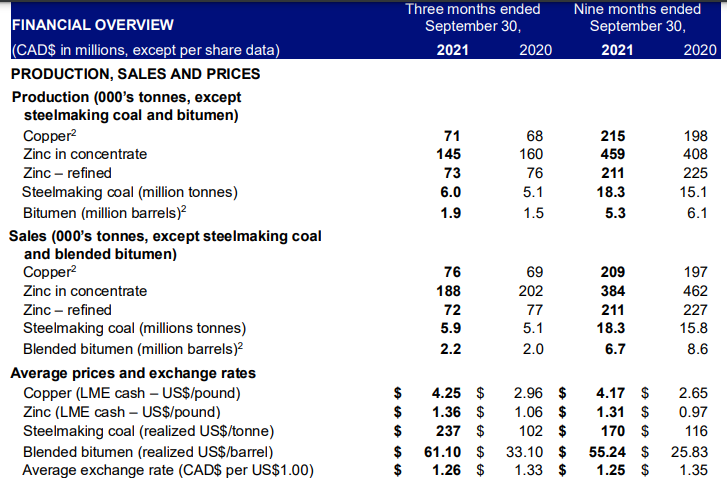 Source: quarterly report
Strong production and sales results while locking in the highest prices in years obviously has a direct impact on the financial results of Teck Resources. The revenue almost doubled to C$4B, and the revenue in just the third quarter alone was almost as high as in the entire first half of the year.
I will predominantly focus on the company's cash flow profile as that's what ultimately matters to Teck as it needs the dollars to fund its ongoing expansion plans.
The total reported operating cash flow was C$1.48B, but we also see this includes a C$295M investment in the working capital position. However, we also see Teck only paid C$280M in taxes although C$514M in taxes were due based on the pre-tax income in the third quarter. Additionally, we should deduct the C$33M in lease payments, the C$19M in distributions to non-controlling interests and the C$120M in interest and financing charges that were actually paid during the year.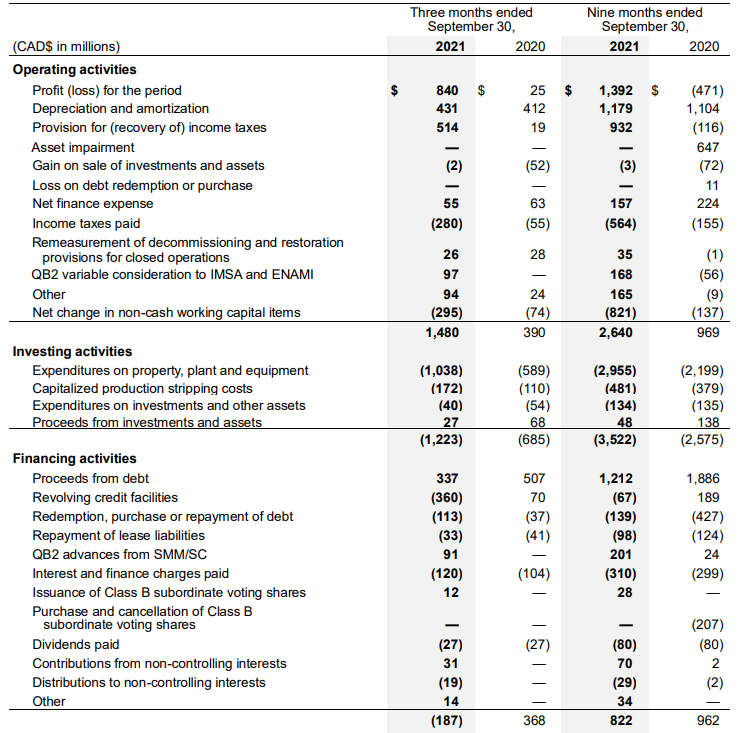 Source: quarterly report
On an adjusted basis, the operating cash flow was approximately C$1.37B. That's obviously still an excellent result as this represents an annualized operating cash flow of in excess of C$5B (on an after-tax basis).
The total capex was high at $1.21B resulting in a free cash flow of C$160M, but as mentioned in previous articles, Teck Resources is spending billions on its Quebrada Blanca 2 copper project. Additionally, the financing cash flow also shows there was a C$91M deposit paid by the joint venture partners, so including all QB2-related cash flows, the quarterly free cash flow was C$250M.
But as you can very clearly see in the image below, the sustaining capex is estimated at just C$830M (for an average of just over C$200M per year). The total capex budget for this year is about C$3.95B, but about 60% of that amount will be spent on the Quebrada Blanca 2 project. The timing is excellent because Teck's other divisions are firing on all cylinders and are basically 'carrying' the investment in QB2. Should the copper and coking coal prices have been lower, Teck for sure wouldn't have been free cash flow positive after including the QB2 capex.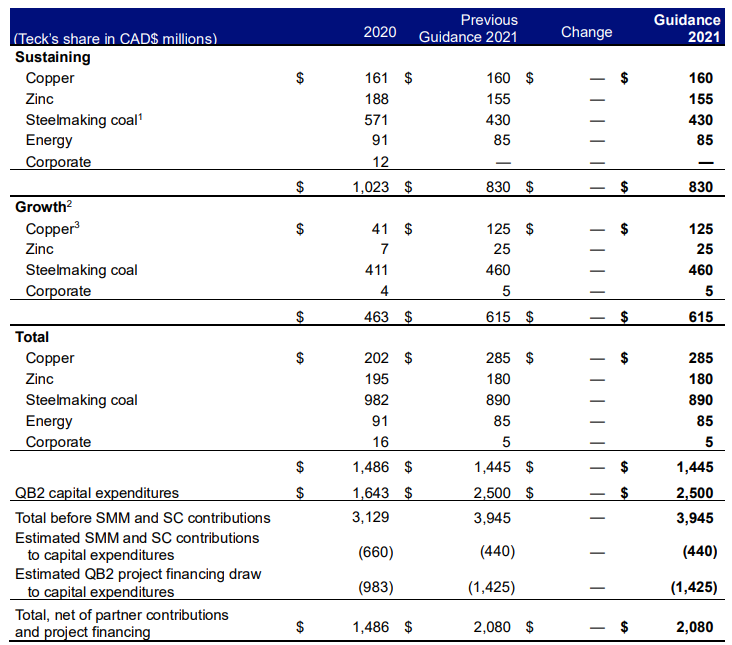 Source: quarterly report
Another important element are the capitalized stripping costs. Those were expected to come in at around C$675M this year.

Source: quarterly report
So the combination of sustaining capex and capitalized stripping was anticipated to be around C$1.5B or less than C$400M per quarter which means the free cash flow result in Q3 would have been close to C$1B if one would exclude all investments in growth and expansion. That would have been approximately C$1.85 per share, or approximately US$1.50/share at an USD/CAD exchange rate of 1.25.
Of course we cannot just 'forget' about the investments in growth and Quebrada Blanca 2, but the underlying free cash flow generated by Teck Resources is extremely strong at the current met coal and copper prices. And that means Teck is able to fund the QB2 capex using its own free cash flow, rather than having to borrow to fund the construction activities.
2021 will in general be weaker due to issues out of Teck's control
2021 could have been an amazing year for Teck Resources as the company benefits from excellent prices for its main commodities (with especially the coking coal price performing much better than originally expected) but unfortunately Teck had to deal with some headwinds that were totally out of its control.
During the summer months, the operations in British Columbia were impacted by the wildfires in Canada. The Highland Valley copper mine had to be shut down for a few days in August and after reopening the mine there was an additional period of 'lost' production while the mine and mill were ramping back up to full production, while the Trail smelter also had to shut down for 10 days due to the wildfires. The steelmaking segment was also negatively impacted as the supply chain got disrupted.
That was Q3. In the current quarter, Teck's BC operations will have to deal with the floods in Canada which once again is an unfortunate circumstance.
Investment thesis
So while the 2021 results will for sure be good, they won't be as good as they could have been without the wildfires and floods in Canada. Nonetheless, investors should definitely not complain as Teck is definitely firing on all cylinders. Despite the setback, the operating cash flow reported during the third quarter was phenomenal and allows Teck to fund all sustaining capex, growth capex and QB2 capex as well as the capitalized stripping expenditures without having to borrow a single dollar.
Let's hope the current price environment lasts for a few more quarters as that will really catapult Teck's future financial health into a higher category. The QB2 project should produce its first copper by the end of next year, and has the potential to double Teck's current copper output within the next two years, making it an excellent company to have exposure to the copper price.
Consider joining European Small-Cap Ideas to gain exclusive access to actionable research on appealing Europe-focused investment opportunities, and to the real-time chat function to discuss ideas with similar-minded investors!