Tilray: $4 Billion Market Opportunity In German Adult Recreational Cannabis
Summary
The German soon-to-be-three-party coalition government recently announced its plans to legalize the use of adult recreational cannabis.
The nation of 80 million people is poised to grow its annual cannabis sales market to $4 billion within three years of legalization.
Tilray is currently the market leader in German medical cannabis extracts sales. The company will likely dominate the region's adult recreational cannabis market as well.
We believe that Tilray's 5x 2023 forward EV/sales multiple, while expensive, suggests that investors have yet to price in the German opportunity.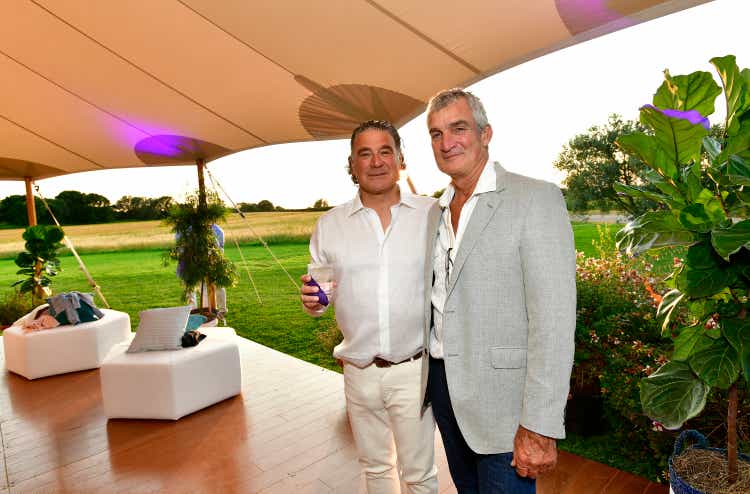 The German soon-to-be-three-party coalition government recently announced its plans to legalize the use of adult recreational cannabis. In response, investors have rushed to invest in German cannabis companies, causing their valuations to increase significantly in the last 10 days; for example, SynBiotic and Cannovum moved up by 100% and 60%, respectively. However, investors seem to have forgotten or are unaware that the Canadian cannabis LPs, such as Tilray (NASDAQ:TLRY) and Aurora Cannabis (ACB), are the leaders in the German medical cannabis market. Aurora ranks number one in dried cannabis sales, while Tilray leads in the cannabis extracts market. We believe that Tilray's 5x 2023 forward EV/sales multiple, while expensive, suggests that investors have yet to price in the market opportunity that is poised to grow to $4 billion in annual sales in three years.
Furthermore, we believe that Tilray can extend its market leadership in Germany when the country legalizes adult recreational use due to two reasons. One, Tilray can leverage its domestic Canadian adult recreational cannabis expertise to the German market. And, two, Tilray has a first-mover advantage with its leading production and distribution capacity in Germany.
Germany's Adult Recreational Cannabis Legalization
Following the German election that took place in October 2021, three German political parties - the Social Democratic Party, the Greens, and the Free Democratic Party - reached a deal to form a coalition government that will end the 16-year reign of Chancellor Angela Merkel. The coalition agreement is now expected to go to the wider set of party members for their support. Barring any last-minute upsets, German finance minister and leader of the Social Democratic Party, Olaf Scholz, is expected to be sworn in as chancellor by next month.
Among the many promises made in the three-party coalition, government deal is the legalization of adult recreational cannabis in Germany. The soon-to-be coalition government is expected to introduce a cannabis legalization bill that will begin the sales and distribution of adult recreational cannabis in Germany through channels such as tobacco stores, pharmacies, or even coffee shops similar to those found in Amsterdam:
We're introducing the controlled distribution cannabis to adults for consumption in licensed stores. This will control the quality, prevent the transfer of contaminated substances, and guarantee the protection of minors. We will evaluate the law after four years for social impacts.
While many details of the legalization have yet to be disclosed, we believe the nation of 80 million people represents the single largest and most exciting cannabis market opportunity outside of North America. With the potential legalization, it is expected to direct cannabis users from illicit black markets to regulated and approved channels - research forecasts market consumption to be at least 400,000 KG per year. This represents a market opportunity similar to California's with $4 billion in sales, which is double the size of the Canadian recreational market at C$2.6 billion (in 2020).
We believe most analysts have yet to price in this opportunity in their valuation for Tilray. Prior to October's election, it was not within the market's expectations for a coalition government without the Christian Democratic Union party. Merkel and the Christian Democratic Union party have previously dominated both the Bundesrat and Bundestag, which rejected the Green party's proposal for cannabis legalization in 2020.
The surprise coalition government and the potential adult recreational cannabis bill have caused German cannabis stocks to trade up significantly in the last 10 days, as suggested by the headline "German Cannabis Firm Shares Pop After New Government Pledges to Legalize the Drug" (linked to above). More specifically, SynBiotic - a German-listed cannabis company that focuses on the CBD market - traded up from $20.20 on Nov. 22 to $39.40 on Dec. 1, which represents close to a 100% gain in less than two weeks. SynBiotic is now valued at a market capitalization of 79 million euros. Similarly, Cannovum AG - a Berlin-based medical cannabis importer, wholesaler, and distributor - saw its share price traded up from $5 on Nov. 22 to $9.15 on Dec. 1.
We believe the legalization of adult recreational cannabis in Germany was a "surprise," as suggested by the German cannabis stocks' sudden and explosive upward price action. We also believe the legalization of the adult recreational cannabis will increase the German cannabis market by 10x from a $400 million medical market to a $4 billion medical and recreational market. In our opinion, the $4 billion in annual sales will materialize within three years after adult recreational cannabis is legalized in Germany, which is similar to the pace of development observed in the Canadian recreational cannabis market.
Investors Are Unaware of Tilray's Leading Position in Germany
As mentioned earlier, while German cannabis stocks (e.g., Cannovum and BioSynthetic) saw their share prices move up significantly in the last 10 days, the Canadian cannabis LPs traded flat. What investors should know is that Canadian cannabis LPs (e.g., Tilray and Aurora) are actually Germany's medical cannabis market leaders; Aurora is the number one in dried cannabis flower sales, while Tilray leads the market in cannabis extracts. Neither company's valuations have improved, while the German cannabis stocks rallied. Both Tilray and Aurora actually traded lower on Dec. 1 along with the industry, as the broader market tanked in response to increased fears regarding both inflation and the COVID variant Omicron. Tilray traded down by -8.40% along with the industry (MJ) by -5.06%, while the broader market (QQQ) traded down by -1.7%.
Tilray and Its German Operations
We've already discussed why we believe the German market will become a massive opportunity. Now, we will discuss why we believe Tilray is likely to outperform local German cannabis competitors and extend its leadership to the German recreational cannabis market.
Tilray is a global cannabis company with principal business in production, distribution, and sales of cannabis and cannabis-derived products in over 20 countries. In April 2021, Tilray and Aphria completed a business combination with an intention to combine the two companies' complementary assets to create a global leader in the cannabis business. The business combination brought the two companies together, creating the world's largest cannabis company by revenue and geographic footprint.
As mentioned earlier, Tilray is Germany's market leader in medical cannabis extract sales. We believe Tilray's German medical market success will be extended to the region's recreational market after legalization for two reasons.
Tilray's Domestic (Canadian) Expertise in Recreational Market
First, we believe Tilray can leverage its domestic expertise and success in operating within the Canadian adult recreational market to their future German recreational cannabis operations. Tilray is the number one market leader within the Canadian adult recreational cannabis market by revenue. Amid ongoing impacts due to COVID-related shutdowns and other industry-wide retail challenges, Tilray continued to post strong top-line growth within the segment. In Q1 2022, Tilray generated over $70 million in revenue from the Canadian adult recreational segment alone, which represents 37% growth vs. the year prior.
Tilray offers one of the most successful portfolios of cannabis brands within the Canadian recreational market. Their retail brands are consistently ranked as top choice within the Canadian cannabis community and are often the best seller found on OCS. During the Q1 2021 earnings call, CEO Irwin Simon announced that the top five brands by sales in Canada were all part of Tilray's retail portfolio. Furthermore, Tilray offers one of the largest product portfolios, covering the widest price points in the Canadian market. It also includes a total of 15 brands, addressing different market needs from economy to premium plus quality of dried cannabis flower. As per the earnings call transcript:
Good Supply, our top selling adult-use brands, reached net revenue on an annualized basis of $225 million … And, in fact, five brands in our portfolio ranked in the top five sales leading brands across all adult-use product categories, including Good Supply, Chowie Wowie, which recently won a Budtender Choice Award in Canada.
Tilray's experience in operating in the Canadian recreational cannabis market and its quality product offering within the retail market will likely distinguish the company from local German operators that have previously focused solely on the medical market.
Tilray's Leading Production and Distribution Capacity
Second, we believe Tilray's leading local production and distribution capacity in Germany will secure the company a first-mover advantage as soon as the adult recreational market legalizes.
Tilray acquired CC Pharma in 2019, a leading German importer and distributor of pharmaceuticals for the German and European markets. Tilray acquired the company with an intention to utilize the pharmaceutical company's network and distribution capacity for future cannabis sales. CC Pharma currently delivers Tilray's medical cannabis products to over 13,000 wholesalers and retailers across Germany. We believe the distribution capacity and network offered by CC Pharma will prove to be tremendously valuable to Tilray's future cannabis operations.
Tilray is also one of the few companies licensed to produce cannabis domestically in Germany. In 2019, Tilray was awarded with a license to produce by the German Federal Institute for Drugs and Medical Devices (BfArM), which granted Tilray five of the 13 available tender lots for domestic production. Each tender lot requires a minimum production capacity of 200kg. Tilray recently announced their first successful harvest and distribution of medical cannabis grown in Germany.
While Germany's production licenses set minimum production requirements, there is no ceiling to production; Simon confirmed during the Q1 2021 earnings call that there is no restriction on how much cannabis Tilray can produce with their cannabis facility in Germany. Given that there are currently a limited number of licensed local cannabis producers in Germany (again, Tilray holds five out of a total of 13), Tilray stands to supply a significant portion of the market and acquire a first-mover advantage as soon as the German adult recreational cannabis legalizes. As per the transcript (linked to above):
Question: There's a great limit to the amount of cannabis Tilray can grow and sell in Germany. Will there be new permits issued to Tilray for continued growth and production?

Irwin Simon: First of all, there's no limit that we can grow in Germany, and if we did grow - if we're able to hit the limits that we grow, we have plenty of [additional] capacity in Portugal. And I think that's the big thing within Tilray.
To summarize, we believe because 1) Tilray can leverage its domestic expertise in the Canadian recreational market, and 2) Tilray has already front-loaded investments in developing leading production and distribution capacity in Germany, the company is likely to gain significant market share and a first-mover advantage in the German adult recreational cannabis market.
Valuation
Tilray is currently trading at $10.57, which implies a market enterprise value of $5.36bn and a TTM EV/sales multiple of approximately 9.5x. Tilray's earnings estimate is forecast to be $879.9mm for 2022 and $990.80mm for 2021, which represents YoY growth of 43.91% and 18.85%, respectively. The two revenue figures imply forward price/sales of 5.57x and 4.94x, respectively.
We believe the market consensus revenue only incorporated Tilray's previous guidance that the international market (German, Israel, and the UK) will likely become a $1 billion market by 2024, instead of $4 billion in Germany alone as adult recreational legalizes. Neither $879 million in 2022 nor $990 million in 2023 reflects the 80 million population market opportunity and Tilray's position in the market as discussed above.
Risks
There are several risks to consider here. First, Tilray is not a profitable company, and its operating losses have widened from one-time events and increasing costs due to acquisitions. Tilray's Q1 2022 top-line improved significantly compared to the prior year: $168 million compared to $117.5 million, which represents a 46% improvement. But Tilray's operating expenses increased by more than double (+175%) from $43 million to $119.5 million. As a result, Tilray's net loss almost doubled from -$21 million to -$34 million. Management guided that the increase in operating expenses was due to full-quarter reporting for SweetWater and Tilray post-acquisition. The increase in operating expenses also includes non-cash amortization charges associated with intangible assets acquired during acquisition. The rest are contributed by one-time transaction costs and non-recurring acquisition expenses.
Second, Tilray operates at negative free cash flow. In our view, it is possible that the company will issue more shares to fund future investment opportunities, which will result in share dilution and damage the interest of its current shareholders. In Q1 2022, after adjustments, Tilray generated cash flow from operations of -$93 million compared to the year prior of -$56 million. Net cash flow also decreased to -$112 million from -$54 million in Q1 2021. The increasing negative cash flow has resulted in Tilray's declining cash position by over $100 million in the last two quarters.
Management has explained that the increasing negative cash flow was due to one-time costs associated with its Aphria merger, income tax expenses incurred at Aphria's facilities, and increased account receivables due to increased sales. While costs associated with the merger should significantly decline moving forward, we will remain cautious as Tilray's increasing negative cash flow from operations will deteriorate our thesis that Tilray operates a strong balance sheet of $400 million cash vs. its local competitors in Germany.
Third, there are uncertainties in Germany's recreational cannabis market legalization. We acknowledge that there's currently little to no information on the detail of the country's potential recreational market in regard to the framework, process, timeline, etc. Details regarding the market's distribution, retail channel, and license types are also yet to be announced. All of these things are important in accurately assessing Tilray's future profitability. However, we'd like to remind our readers that our thesis is much narrower - if the market has jumped the gun and reacted to the legalization news by trading the local German cannabis stocks up significantly, then why not the current and potential future market leader Tilray?
Conclusion
We believe the upcoming legalization of German adult recreational cannabis to be a tremendous opportunity for Tilray. The country's population of 80 million represents a market opportunity that is poised to grow to at least $4 billion in annual sales within three years following legalization. With the potential chancellor Olaf Scholz expected to get sworn to office in December, we should receive more details to the legalization process and framework soon; the market is expected to react then.
Lastly, given Tilray's domestic expertise and track record in operating in the Canadian recreational market and its leading distribution and production capacity in Germany, we believe the company will likely secure significant market share through its first-mover advantage.
This article was written by
Livy Investment Research is a technology sector research analyst providing long investment ideas by uncovering hidden value ahead of the tech innovation curve.
Livy runs the investing group
Livy Investment Research
. They provide deep-dive coverage, interactive financial models, industry primers and community chat. Livy covers companies that are playing a fundamental role in tackling existing technology hurdles capable of capitalizing on long-term growth frontiers. They include electric and autonomous vehicles, semiconductors, cloud-computing, AI/ML, cybersecurity, and analytics – all of which are disrupting legacy norms and contributing towards a more efficient, value-adding economy.
Learn more
.
Analyst's Disclosure: I/we have a beneficial long position in the shares of TLRY either through stock ownership, options, or other derivatives. I wrote this article myself, and it expresses my own opinions. I am not receiving compensation for it (other than from Seeking Alpha). I have no business relationship with any company whose stock is mentioned in this article.
Seeking Alpha's Disclosure: Past performance is no guarantee of future results. No recommendation or advice is being given as to whether any investment is suitable for a particular investor. Any views or opinions expressed above may not reflect those of Seeking Alpha as a whole. Seeking Alpha is not a licensed securities dealer, broker or US investment adviser or investment bank. Our analysts are third party authors that include both professional investors and individual investors who may not be licensed or certified by any institute or regulatory body.