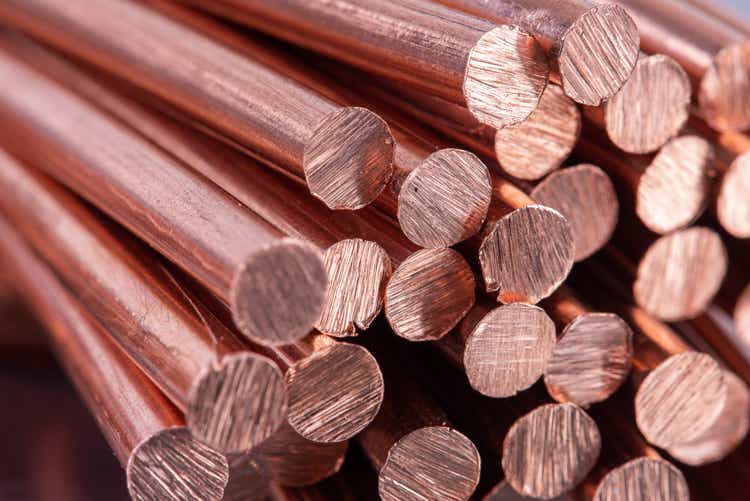 Teck Resources (NYSE:TECK) has taken investors on a wild ride over the last couple of years. Anyone who has held it and has ridden all the ups and the downs knows exactly what I'm talking about. Yet, the story hasn't changed. Teck is a great way to play the copper supercycle as they look to double production over the next two years. Is it early? Maybe. But the company is going to deliver record EBITDA in 2021, and I'm willing to bet they will do it again in 2022. The company has a strong Steelmaking Coal business unit, but the growth here is going to come from copper as QB2 comes online next year. I am long Teck.
What Is Going To Drive Teck Forward?
If you have read my previous articles on Teck, you know I love Teck for the work they are doing at QB2. Looking at the most recent report for Q3 in late October, we saw Teck report a 95% year-over-year increase on Copper related EBITDA. They produced a total of $434 million for the quarter on the back of an average realized price of $4.28 per pound. The $212 million increase included a 4-day shutdown at Highland Valley in mid-August due to wildfires. Before I dig into what's happening with QB2, let's look at the guidance for current operations. For 2022 through 2024, annual production will remain between 275 kt and 315 kt. Again, this excludes QB2. The guidance here remains unchanged despite upward pressure on cash unit costs. Costs are increasing thanks to a stronger $CAD, and higher consumables costs.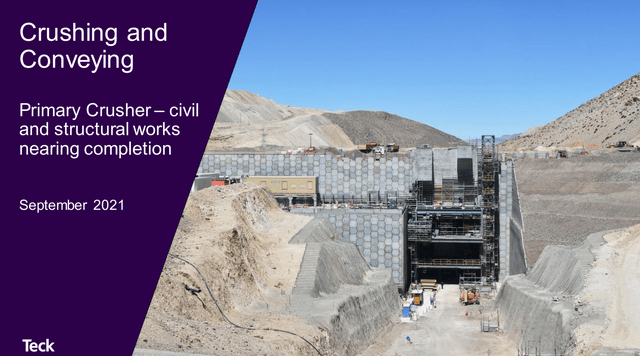 (Source: Teck Resources)
Above is one of the most recent pictures Teck has released with regards to QB2. They update their files here every quarter if you are interested in looking at other pictures. During Q3, the project officially passed the 2/3 mark, which is right on schedule. Very impressive considering everything the world has had to deal with over the last couple of years. Production is still on pace to begin in the second half of 2022, which is only 7 months away now. I know, hard to believe. By 2023, it is expected that QB2 will double Teck's consolidated corporate production. To ensure worker safety and to keep the project online, Teck rolled out a vaccination campaign. Regardless of how you feel about it, it helps keep the project moving on time. The proportion of workers who have been fully vaccinated now exceeds 88% and in fact, 93% of workers have been administered at least one dose of the vaccine. Keeping the site operating, and the workforce healthy is crucial with regards to delivering on the promised timelines. They have done so well that Bechtel indicates that QB2 is one of their best-performing projects worldwide for managing the spread of the virus.
As I mentioned, there are some increased costs. And those apply to the QB2 project. The overall cost of $5.26 billion that was published back in April of 2020 may see a 5% increase. We will have to wait for Q4 results in February to see exactly how much the increase is, but that is where Teck has set the expectation at this point.
With regards to general EBITDA, looking below we can see that the company is on track to set records for annual EBITDA, and it's not a shock that with QB2 coming online in 2022, that it is expected that EBITDA once again increases. I think this is a trend we are going to see over the next 5+ years with Teck thanks to the increased urgency the company has dedicated to copper production.

The bulk of the EBITDA continues to come from the Steelmaking Coal side of things, I mean for Q3, year-over-year Teck saw a 15x increase in EBITDA on Steelmaking Coal alone. This is thanks to increased prices and increased sales and production volumes. Q4 will prove to be even better due to even higher prices. This is the stable backbone of Teck. We are expecting production to end up around 25-26 mt for 2021, and from 2022-2024 we expect to see 26-27 mt annually.
I will reiterate that the growth here is going to come from the copper increases. Will it top the Steelmaking Coal unit? Probably not in the short term, but I do believe copper is the future for Teck and it will be the driving force down the road.
What Are The Risks?
In short, it's commodity pricing. I'm going to focus on copper pricing for purposes of this article, but as mentioned Teck does have its hands in multiple commodities which are all a risk to some degree.
On December 1st, we saw the world's largest copper producer, Codelco, based in Chile, said they expect prices to fall next year. In March of this year, we saw pricing go up over $4.00 per pound for the first time since 2011. Codelco says they are forecasting $3.80 and $3.90 next year. While this decline isn't insane by any means, it still is about an 11% decline from where we currently are.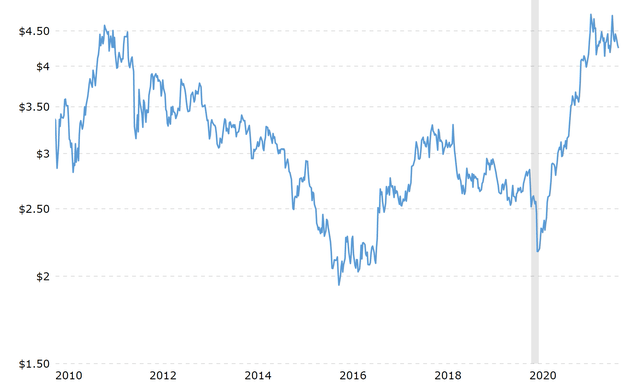 (Source: Macrotrends.net)
The theory behind what they were saying isn't all that bad. More or less that they expect supply to outpace demand until ~2024. This is when we will see a massive uptick in green technology such as electric vehicles. At this point, the supercycle will launch into overdrive. As I mentioned, I think that demand will continue to increase, and companies like Teck will benefit, but Codelco expects output next year to be very similar to 2021. Chilean copper regulator Cochilco, said this week it sees copper prices falling to $3.95 per pound next year, which is slightly less pessimistic.
If you are in it for the long term, there isn't much to worry about. As Teck starts increasing production, they will make more money on copper than you could have over the last 10 years which is going to do wonders to cash flows as is. If it takes an extra year or two for the supercycle to launch into overdrive, so be it.
What Does The Price Say?
The last time I wrote on Teck, the fair value was $20. Seeing as the fair value is based on future cash flows, it's safe to say good things are happening! Let's look at $41 for starters. The stock hasn't been at that level since 2012, and I'm not sure it's going to reach $41 in the short term. I do believe the stock will one day hit that mark and beyond, but with regards to when your guess is as good as mine. The stock peaked in October and has fallen about 14% since. While any further downside is likely limited, I do think we could see a little more. That said I am bullish on Teck long-term.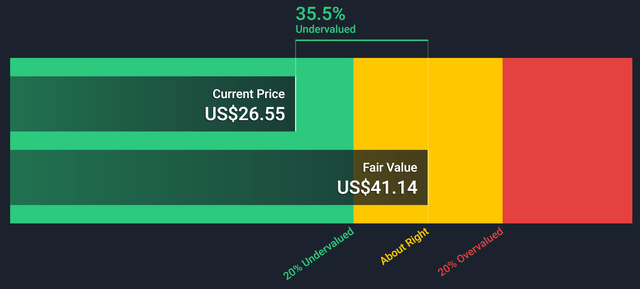 (Source: Simplywall.st)
Let's dive into the charts. In the past, I have highlighted the 50-day moving average. I have done so again below. This has been a key point to watch. While not perfect, it has proven to be very good support/resistance in the past. The bad news is on the 18th of November, we broke it. The good news is we shot right back up. I think we could see a bit of a similar pattern as we saw over the summer where I highlighted on the chart below. Markets may continue to be a bit choppy as prices find a good equilibrium.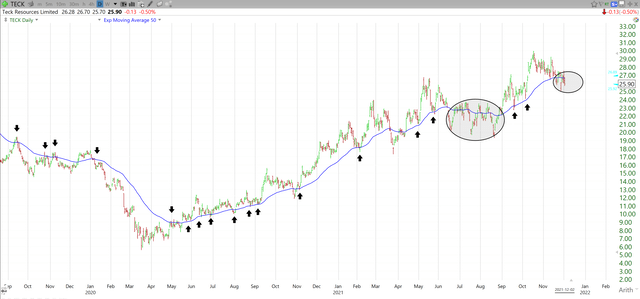 (Source: TC2000.com)
So how low could we go? Well, we currently find ourselves on a bit of support. Back in April, I mentioned $24.36 was my price target. Looking below we can see the same chart I used there, but I have added the 200-day moving average as well. We can see the two areas I outlined played out pretty perfectly, and we are currently testing the top line of $25.69. I think we could see a re-test of the 200-day moving average which should mark the official bottom. The moving average will continue to drift higher and if the stock trades sideways for a bit it will catch up. The stock doesn't have to crash for them to touch, but as always, it could.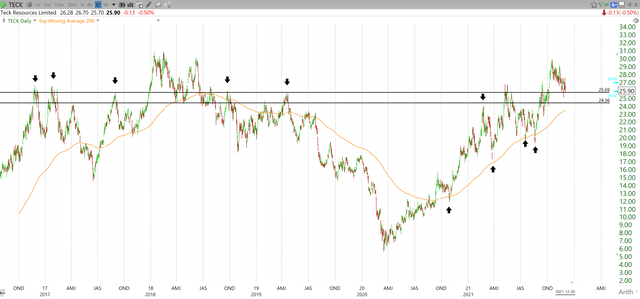 (Source: TC2000.com)
So where to from here? Well, the stock is currently "flagging" a bit which is typically a bullish signal. It has had a couple of false breakouts on both sides of the flag, but nothing overly extended. Keep an eye on which way it goes out of this flag. The below chart is a weekly view. $30 is a clear line of resistance dating back as far as 06-07. For purposes of clarity, I have outlined it back into 2012. You will also notice that there isn't much resistance above $30 in the last call it 9 years. The next mark is $38.00, where I expect some heavy resistance. This of course assuming we can clear the $30 mark in the near future.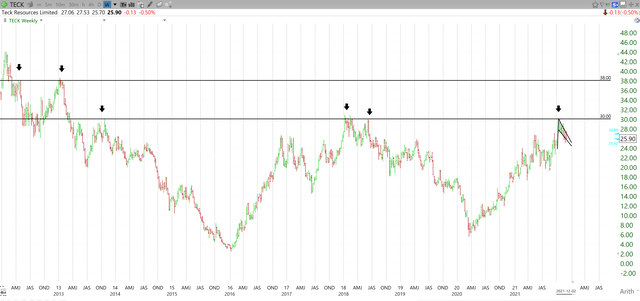 (Source: TC2000.com)
The chart is by no means broken. Keep an eye on the 200-day moving average. I do think you could initiate a long position here with a stop slightly below if you did not want to wait. I would suggest waiting until the flag moves one way or another for confirmation of direction, but generally speaking, everything looks good here technically for Teck.
Wrap-Up
As you can see, there is a lot to like about the future growth in Teck thanks to their foresight on the copper world. Are there other pure copper plays? Of course, but Teck has the diversification to make money outside of copper. The world will see a copper imbalance as electric vehicles take over the roads and Teck is one of the ways you can play that trend with regards to material exposure. The stock will continue to be choppy, but I am locked and loaded for a ride back up to $41 and beyond. Stay safe out there!