How Giga Berlin Could Cause Problems For Tesla In China
Summary
Tesla helped blaze a trail for the rise of the EV industry, and has leveraged its early-mover advantage to take an early lead.
While Tesla is still the world's leading EV maker, others are gaining fast; VW has already surpassed it in Europe, where Tesla faces falling market share.
In China, Tesla has seen solid, but not phenomenal domestic sales, raising the specter of potential market saturation; this is despite significant production volume at Giga Shanghai going to exports.
The imminent opening of Giga Berlin further complicates matters in China, since Europe has been the top export destination of Tesla's Shanghai plant.
With the China market already showing early signs of demand saturation, Tesla may struggle to find buyers for Giga Shanghai's cars.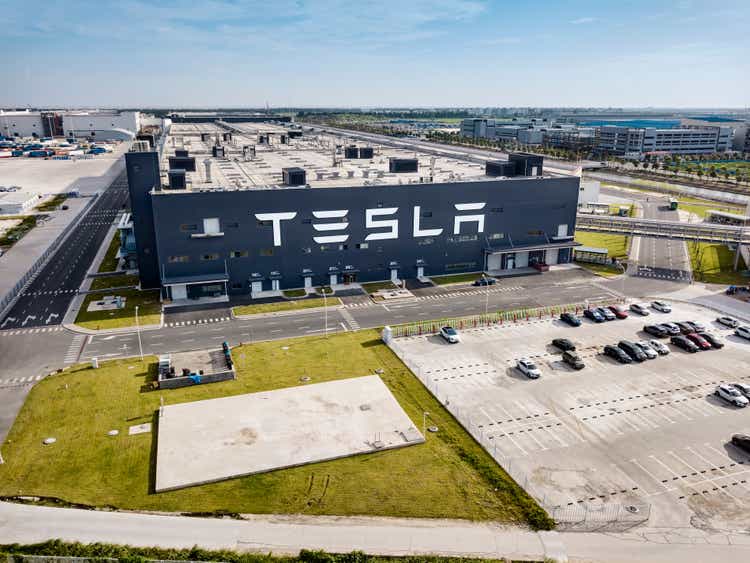 Today, Tesla Inc. (NASDAQ:NASDAQ:TSLA) is the biggest and best known electric vehicle ("EV") maker in the world. Indeed, it holds this distinction by a healthy margin. It is also growing significantly, though the growth rate has cooled markedly of late. Globally, Tesla achieved a record 627,350 vehicle sales in the first three quarters of 2021, 16% more than it sold in the entirety of 2020.
However, while these facts might seem to stand in Tesla's favor as an investment, they belie shifting dynamics within its key markets. A raft of competition has emerged to challenge Tesla. Fueled by tens of billions of dollars in investment and supported by a proliferation of new EV models, the competition is gaining ground on Tesla at an alarming rate.
Europe, in particular, has proven increasingly tough for Tesla, while China has shown worrying signs of demand saturation. While some bullish investors hope that the forthcoming opening of a Tesla factory in Germany will revive sales in Europe, it risks creating a new problem: excess production capacity at the Giga Shanghai factory.
Should that occur, Tesla could find its vaunted valuation – which is based on the assumption of near-limitless growth – could come under threat.
Let's discuss.
What's Going On In Europe
As recently as 2019, Tesla was the undisputed top dog of the European EV market. That year, fueled by excitement over the release of the Model Y, Tesla sold 96,492 vehicles. Tesla left its nearest competition in the dust: 2nd-place Renault-Nissan-Mitsubishi Alliance sold 70,778 EVs, while 3rd-place Volkswagen AG (OTCPK:VWAGY) sold 45,850. So rapid was Tesla's ascension in 2019 thanks to the Model 3 and Model Y that some observers began to question whether other automakers would ever be able to catch up. Fast-forward to today, their question has been answered.
Two years can be a long time in a fast-evolving industry. A wave of new EV offerings, such as VW's flagship iD series, has hit the European market washing away Tesla's market leadership in the process. In 2020, Tesla sold just 85,363 vehicles in Europe, which proved to be only good enough for a 4th-place finish behind VW, Renault-Nissan-Mitsubishi, and Hyundai-Kia.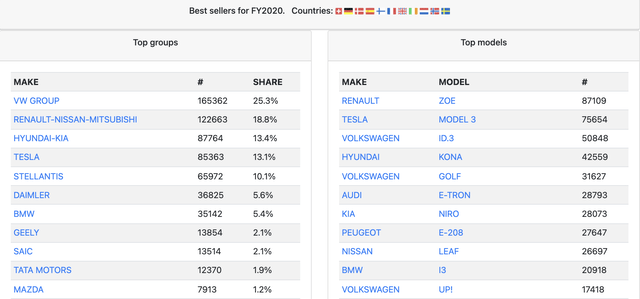 Source: eu-evs.com
Tesla has managed to gain a little ground in 2021, rising to 3rd place with 97,450 sales year-to-date. But VW has maintained the commanding lead it took in 2020, with 195,195 sales year-to-date. Tesla's European EV market share has slipped from 30.8% market share in 2019 to 13.2% year-to-date.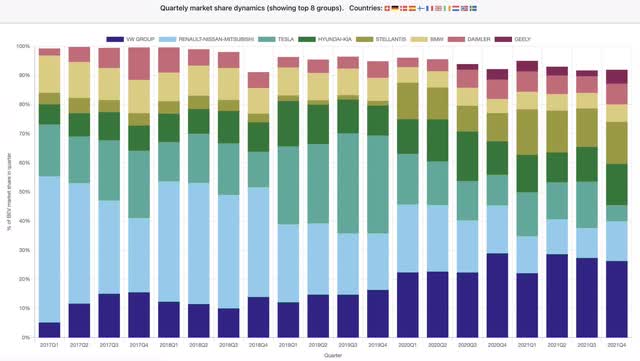 Source: eu-evs.com
Despite the recent loss of ground in Europe, Tesla investors have stayed positive about the company's future in Europe. Many expect that the much anticipated opening of Tesla's German factory, dubbed Giga Berlin, will revive the American company's fortunes in the European market. The factory, which is anticipated to open within the next quarter, is initially rated to produce 500,000 vehicles annually.
China And The Trillion-Dollar Demand Question
Tesla's foray into China has gone rather well so far. Its Giga Shanghai factory was completed in record time and has been pumping out vehicles at a solid clip. Tesla has sold about 218,000 cars in China in 2021 through October. Giga Shanghai also produces "Made in China" ("MIC") vehicles for export, especially to Europe. In October, an estimated 40,666 MIC vehicles were exported, an all-time record representing 75% of total monthly MIC volume. November was also export-oriented, though the data have yet to be disseminated.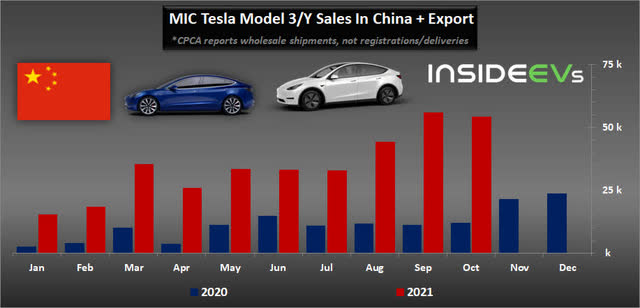 Source: InsideEVs.com
Tesla's total sales in China have been robust, growing rapidly right out of the gate. However, lately there have been early signs of market saturation. Of particular concern is the marked drop-off in sales of the Model 3. As this pair of insightful charts by Seeking Alpha's CoverDrive shows quite vividly, the recent introduction of the Model Y to the Chinese market has helped to conceal the Model 3's weakness: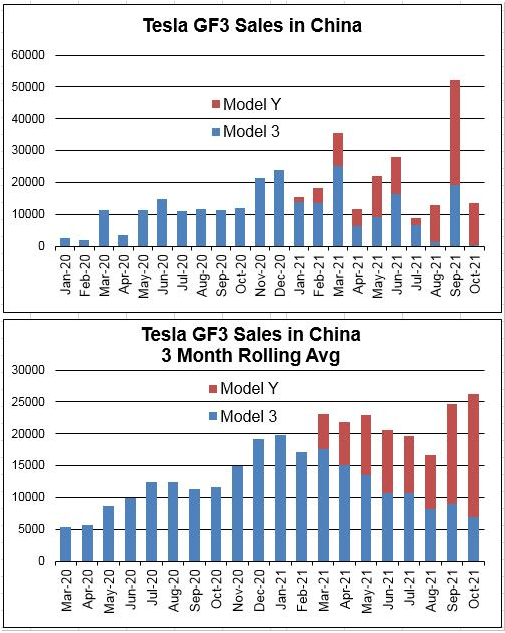 Source: CoverDrive
The imminent opening of Giga Berlin further complicates the China situation. Stripped of its principal foreign export destination, Giga Shanghai will have to find other places to sell that volume.
Investor's Eye View
While Tesla's sales in China are hardly likely to dry up instantaneously, the scale of steady-state demand may not be enough to absorb the full production capacity of Giga Shanghai. With no new models on the near-term horizon, there is unlikely to be another sudden jolt in demand as happened when the Model Y hit the market.
Tesla is currently valued in excess of $1 trillion. That means, not only is Tesla the world's most valuable automaker, it is more valuable than the next five top automakers combined. Take Volkswagen, for example. The German auto giant produces millions of cars every year, and managed 8.5% of global auto market share last year. Tesla, meanwhile, has yet to crack 1 million sales in a calendar year and only reached 1% of global auto market share for the first time this year. Yet Tesla boasts a market cap that is nearly ten times that of Volkswagen.
Clearly, Tesla's stock has a truly monumental amount of growth priced in already. Based on VW's global auto market share, the market is effectively valuing Tesla as if it will eventually sell the vast majority of all cars worldwide. That sounds rather far fetched on its face, given the intensely competitive and crowded nature of the automotive industry.
Most importantly, the opening of Giga Berlin opening could force Tesla to confront the question of the Chinese market's real steady-state appetite for its cars. Moreover, even if Giga Berlin ramps up as intended, it will still leave Tesla as just one strong player in a crowded field in Europe.
Putting all of this together, I find it rather difficult to see how Tesla can sustain its monumental valuation as the EV market comes into its own. The assumptions underpinning its share price are beyond optimistic, flying in the face of the mounting evidence from Europe and China, the world's two largest EV markets.
Ultimately, however, it is important to remember that Tesla has proven itself to be astonishingly capable of defying market gravity. Betting on a sudden reversal of investor sentiment due to something as prosaic as economic fundamentals can be unhealthy in the current market.
Anyone approaching this particular name should do so with extreme caution.
This article was written by
Investment professional specializing in deep value opportunities, growth plays, special situations (long + short) across a range of asset classes and industries.Current Role(s): President, Almington Capital Merchant Bankers; Chief Investment Officer, The Cannabis Capital Group.Asset Classes: publicly traded securities (stocks + fixed income), private equity, real estate, venture capital, cannabis, fintech.https://subscriptions.seekingalpha.com/lp_premium_beat_the_market_4/?source=affiliate:42612986Education: MA, Trinity College Dublin (economics + philosophy); Diploma (finance), London School of Economics & Political Science; MBA, University of Oxford.
Analyst's Disclosure: I/we have a beneficial short position in the shares of TSLA either through stock ownership, options, or other derivatives. I wrote this article myself, and it expresses my own opinions. I am not receiving compensation for it (other than from Seeking Alpha). I have no business relationship with any company whose stock is mentioned in this article.
Seeking Alpha's Disclosure: Past performance is no guarantee of future results. No recommendation or advice is being given as to whether any investment is suitable for a particular investor. Any views or opinions expressed above may not reflect those of Seeking Alpha as a whole. Seeking Alpha is not a licensed securities dealer, broker or US investment adviser or investment bank. Our analysts are third party authors that include both professional investors and individual investors who may not be licensed or certified by any institute or regulatory body.