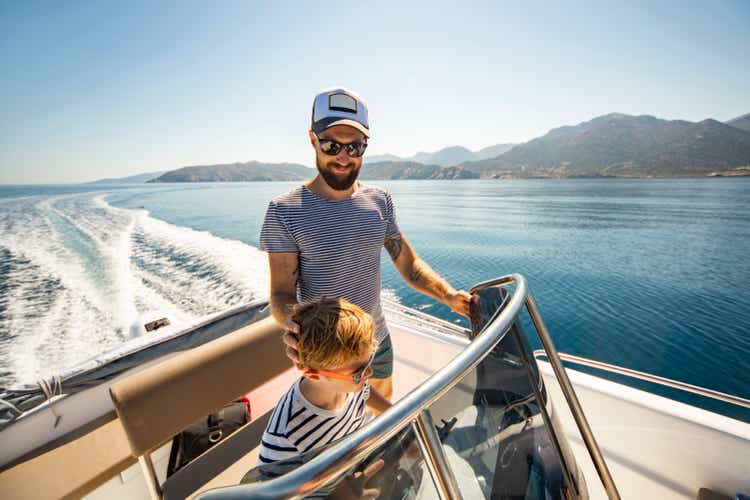 2021 saw a record number of new boat owners launched on the water. Boating quickly became a popular way to enjoy the outdoors while social distancing. According to a survey done by Sea Tow Services International:
52% of boaters surveyed anticipate their boating activity to increase this summer compared to last.

20% cite the pandemic as the reason for extending their boating season again in 2021.

24% plan to vacation on/by boat (versus other forms of travel) because of the pandemic.

35% plan to use their boat primarily for cruising near their home.

16% upgraded to a larger boat in 2020 or plan to do so in 2021.

52% plan to use their boat primarily for fishing (65% in-shore / 30% off-shore / 5% freshwater).

30% have found it more difficult to find dockage and/or marina

space.
In the face of that demand, boats are becoming more expensive and harder to find. As a sign read at Wilson Marine in Michigan: "Buy now before they are gone." Customers wanting to buy a boat need to wait three to six months. Wilson touts itself as the state's largest pontoon dealer, but yacht dealers are having difficulties finding inventory as well.
Reason #1: Inventory for Strong Demand
In the meantime, boat inventory is building up at Marine Products (NYSE:MPX).
The company is the manufacturer of Chaparral sterndrive boats, as well as Robalo outboard boats. Quoting Statistical Surveys, Inc. the company claims to be the largest manufacturer of outboard boats in lengths from 16 to 36 feet in the United States, with a market share of 5.2 percent. In addition, "the combination of Robalo and Chaparral outboards holds the highest position in the overall outboard market, with a market share of 6.5 percent"
According to CEO Rick Hubbel, inventory levels are high due to supply chain issues. Delayed deliveries of critical components "delayed shipments of substantially completed boats." The inventory can be plainly seen on the balance sheet:

Heightened inventory at Marine Products due to supply chain problems.
CFO Ben Palmer reported that "Several of these critical bottlenecks have eased and as a result, our working capital requirements are now declining, and our cash balance will be increasing during the coming months."
Unwinding existing inventory should result in increased sales. Baird analysts led by Craig Kennison reported that "Despite stubbornly weak preliminary retail data, the backdrop remains bullish for marine OEMs and suppliers, who have exceptional visibility into strong demand."
Reason #2: The Stock Price is Becoming a Bargain
As the popularity for boating grew, Marine Products' stock price spiked above $22. Then it bounced between $15 and $19 until mid 2021, when it broke below $15 and kept going. Today the stock price is near 52-week lows, despite the expected advance in revenues.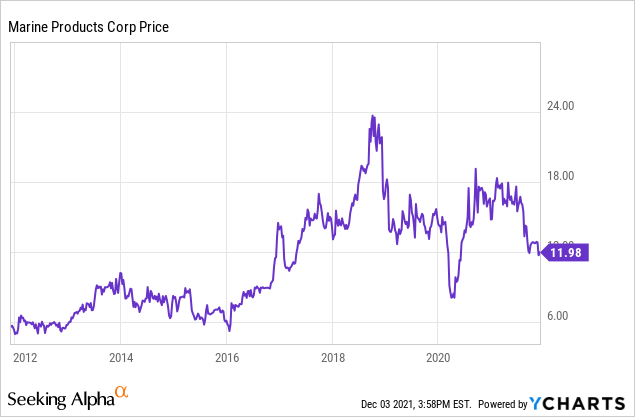 The price presumably has followed the free cash flow. The stock price is expected to rebound once the free cash flow recovers.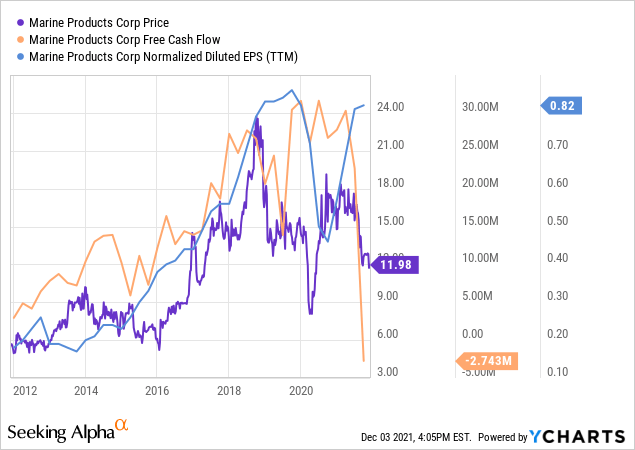 Reason #3: Strong Management Friendly to Investors
Of the publicly traded boat manufacturers, Marine Products has always sported the strongest balance sheet. It has no debt and it still has $9.6 million in cash. The dividend payout is quite safe.
The dividend stands at just a shade under 4% as of this writing. The company had an unbroken string of dividend increases between 2012 and 2019. It was reduced in 2020, but resumed 2019 levels in 2021. It is reasonable to assume that the company will continue to increase dividends.
The company also has a long history of share buy backs. It has repurchased 6,679,572 shares in the open market under the Company stock repurchase program, which began in 2002. The company, however, did not repurchase any stocks in 2021.
The dividend cut and the lack of buybacks may disappoint investors, it speaks to management's fiscal strength during a difficult set of circumstances caused by a pandemic.
What Can Go Wrong?
The company could continue to experience more supply chain issues. If so, inventory will continue to build despite the strong demand.
Sterndrive engines do not hold the top place in the boating world as it once did. If they continue to fall out of favor, the company's Chaparral line may struggle. Competition for outboard engines may threaten the Robalo line.
If the pandemic passes and the culture returns to what it was, the popularity of boating may eventually diminish.
The business is seasonal. The rise in income might not be seen until the first quarter. The stock price may continue to sink over the next few months, until the first quarter results are known.
Takeaway
The demand for boating is high. Supply chain issues will be worked out eventually, and some of them have already been. The company should have plenty of customers to buy their boats once the boats are complete. The issues with the current cash flow should be temporary. Increasing earnings at a low stock price should produce a P/E Ratio that will attract investors.
The tide will turn for Marine Products, but we need to wait a couple of months to see it. For now, the stock is rated neutral, with the expectation that it will become a buy when the first quarter results come in.