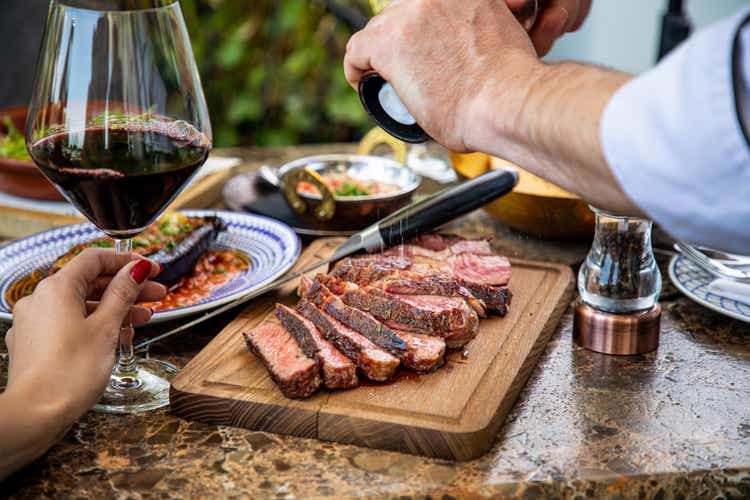 Investment Thesis
The ONE Group Hospitality, Inc. (NASDAQ:STKS) was a winner of the economy's reopening; the stock is up 301% from early December 2020. In the last month, the stock has come under pressure from the sell-off in equities and the emergence of the omicron variant. If the sanitary situation remains stable, I expect the company to deliver solid above-average operating results compared to its peers. The stock is currently trading at ~10.6x forward EV/EBIT based on analysts' estimates, which is fairly valued in my opinion. I believe other opportunities exist in this sector that can provide a better margin of safety.
Company Details
STKS is a worldwide hospitality firm that creates and runs premium, high-energy restaurants, and lounges across the world, as well as offering hospitality management services to hotels, casinos, and other high-end venues. They opened their first restaurant in 2004 in New York. STKS has 3 brands which are:
STK
STK is a steakhouse restaurant brand with locations in major cities worldwide. The concept was launched in 2006. At each STK location, customers may enjoy a high-energy experience that stimulates social interaction, which includes a big, approximately 10,000 to 11,000 square feet, open restaurant and bar space with a DJ playing music throughout. The restaurants are located in key urban locations across North America, Europe, and the Middle East. The firm runs 10 owned, 5 managed, and 5 licensed STK restaurants. For owned and operated STK restaurants in 2020, the average restaurant revenue and average domestic check were $6.9 million and $114, respectively.
Kona Grill
Launched in 1998, Kona Grill is a bar-centric grill concept, approximately 7,200 square feet, serving American classics, award-winning sushi, and specialty drinks. In 2020, the average restaurant revenues and average domestic check for the Kona Grill restaurants were $3.3 million and $32, respectively.
ONE Hospitality
The ONE Hospitality platform includes F&B hospitality management partnerships with hotels, casinos, and other high-end venues. A few of these partnerships are listed below:
ANGEL. The exquisite Southern-Mediterranean restaurant ANGEL Rooftop Bar and Dining, which debuted in the fourth quarter of 2019, is located within the Hotel Calimala in Florence, Italy.
Heliot Steak House, located within the Hippodrome Casino in London, is an award-winning steakhouse and bar with spectacular views of the main casino gaming floor.
The Hideout by STK is a poolside restaurant and bar located within the W Hotel in Westwood, California.
The Radio Rooftop is a well-known rooftop restaurant and lounge bar concept with two distinct locations on the roofs of the ME London and ME Milan hotels.

Source: Investor Presentation June 2021
Business Strategy
The company's mission is to become the undisputed global leader in vibe dining. Management defines vibe dining as a mix of high-quality service, ambiance, high energy, and exquisite cuisine. Management has high growth ambitions, mentioning several times during the last earnings call that they are one of the leading restaurant chains in terms of same-store sales growth in the industry. Their strategy of delivering high returns to shareholders relies on 4 pillars:
Drive same-store sales
Improve restaurant operational efficiency
Cut corporate general and administrative costs
Drive unit growth through licensing and management agreements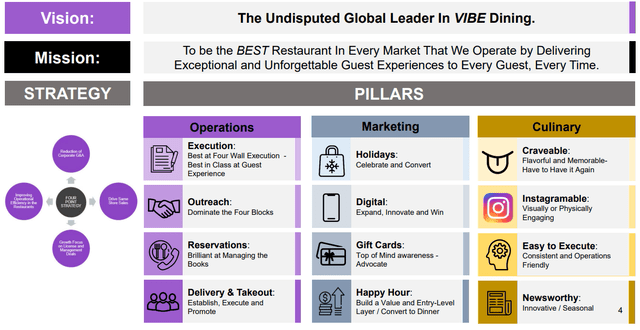 Source: Investor Presentation June 2021
Same-Store Sales
The company delivered solid same-store sales figures during the last quarter and management expects that the positive trend will continue:
Our recent comparable sales have been extremely strong building on our long history of outperforming the industry. During the third quarter, consolidated comparable sales for The ONE Group increased 44.7% when compared to 2019. Comparable sales at STK increased 63.8% and Kona Grill comparable sales increased 26.9% compared to 2019. All, meaning each and every one of our domestic STK and Kona Grill restaurants were positive for the third quarter versus 2019 sales performance.
STK has been outperforming for some time now the Fine Dining Steak Index. From 2017 to 2019, this brand never delivered negative same-store sales growth and was always outperforming the index. It is good to see that Kona Grill managed to deliver strong results in the last quarter which might suggest that management was able to turn around the brand that was posting high single-digit negative same-store in 2017 and 2018.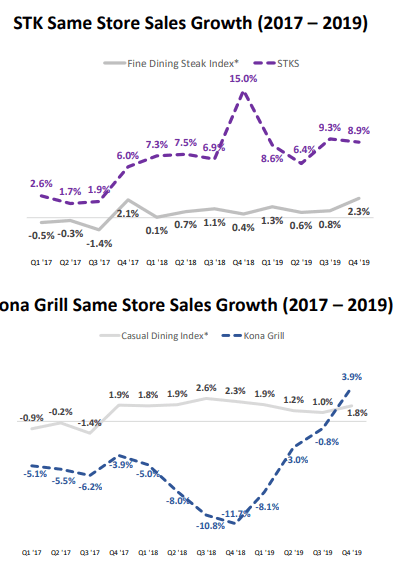 Source: Investor Presentation June 2021
Improving Restaurant Efficiency
The restaurant business is a highly competitive industry in which it is relatively hard to differentiate yourself. It is good to see that management was able to improve the operating profit margin in late 2020 and 2021 compared to FY19. I'm curious to see how this trend will continue going forward given the increase in costs as a result of inflation.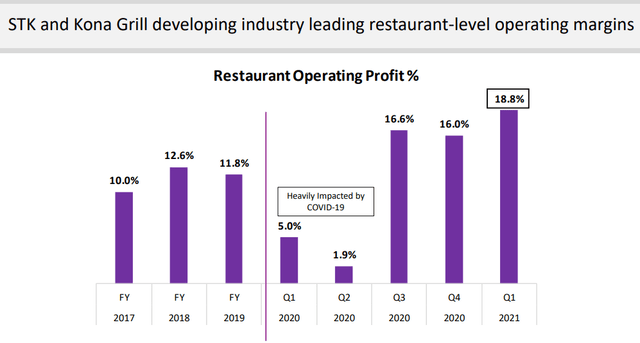 Source: Investor Presentation June 2021
Moreover, the company is betting on growing the takeout and delivery business. For the time being, the top-performing restaurants in the group are generating an annualized rate of $1 million to $1.5 million in takeout and delivery revenues:
Second, we are using our takeout and delivery business to reach new and current guests and continue to be encouraged by this highly accretive revenue driver at both STK and Kona Grill. Even with the restaurants at full capacity, we haven't seen a slowdown in our off-premises business and we continue to market and innovate the business for further growth. We have carefully crafted the takeout and delivery menu to be an extension of the in-dining room menu, and it provides a great introductory price point offering for both STK and Kona Grill.
Despite increasing profitability, the service and product quality do not seem to be squeezed. Overall, recent costumer reviews tend to be positive with an average rate of 4/5.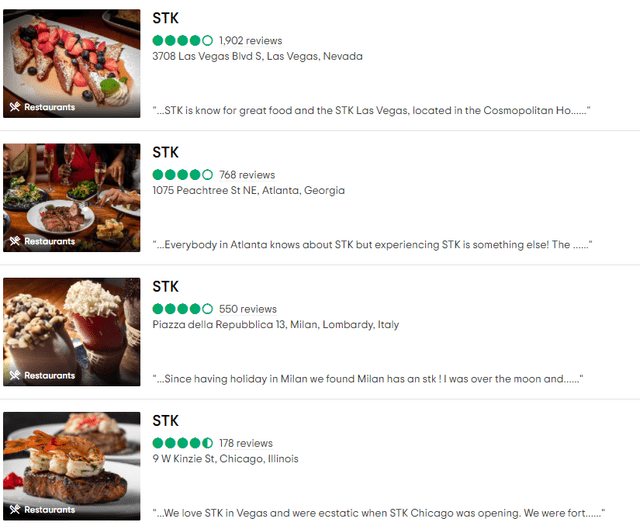 Source: TripAdvisor: STK
The Kona Grill experience is pretty much in line with the STK experience. Overall, positive reviews.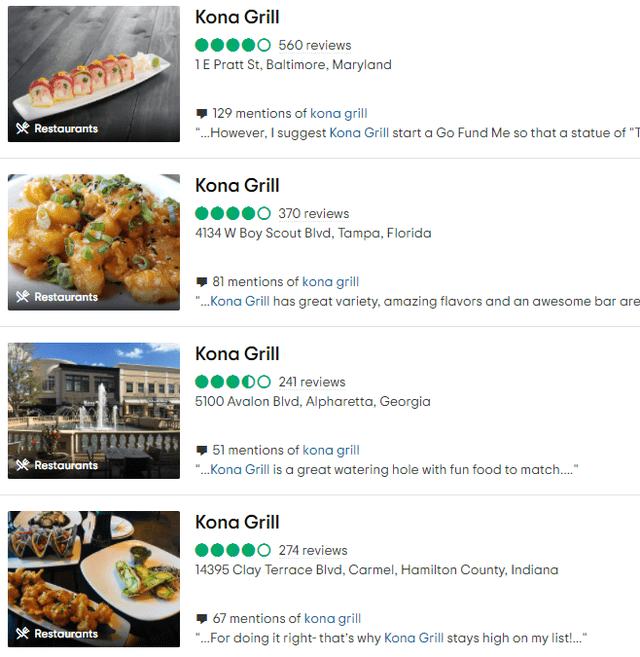 Source: TripAdvisor: Kona Grill
G&A Costs
Moving on to the third target, management was successful in reducing the share of G&A expenses as a percentage of total revenue in the period 2016-2019.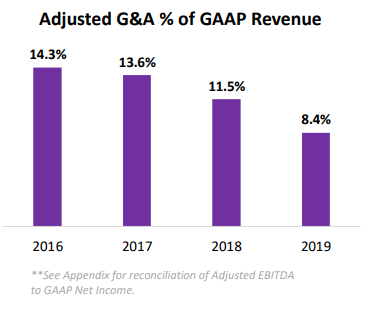 Source: Investor Presentation June 2021
During 2020 and 2021, the company was able to maintain the share of G&A expenses below 10% which is a clear improvement compared to the 2016 figure.

Source: Refinitiv Eikon
Unit Growth
In 2021, STKS opened seven new venues. The company is expanding the STK brand in Arizona with their new opening in Scottsdale in January as well as in Bellevue, Washington, which is the first STK restaurant in the Pacific Northwest. Another important milestone is the licensed STK opening at Los Cabos airport in Mexico which is the first airport location. Management is bullish that they will be able to open new locations under licensing agreements in airport locations globally. On top of that, the pipeline for future projects is very interesting:
As of today, we have 3 additional STKs under construction. They include a company-owned STK in Dallas taxes, a company-owned STK in San Francisco, California and a managed STK in the Stratford area of London. We expect all of these locations to open in late 2021 or early 2022.

Now turning our focus to development. We have an exciting pipeline of growth through both company-owned restaurants and managed unlicensed deals for the remainder of 2021 and into 2022. We still plan to open 13 new STK and F&B venues between 2021 and 2022.

Turning to Kona Grill. We have set an initial target of 3 to 5 new Kona Grill locations per year beginning in 2022 with annual unit volumes exceeding $5 million and strong store level margins, Kona Grill produces highly attractive unit economics for us with potential 40% plus cash on cash returns on our investments.
All in all, you should expect strong unit growth in the three business segments, pushing revenues higher going forward.
Valuation
Based on 32 million shares outstanding, and a price of $13.15 per share, the company has a market cap of $421 million. STKS finished the last quarter with $19.1 million in cash and $24 million in debt. Therefore, the company has an enterprise value (EV) of approximately $426 million. Due to the uncertainty of COVID-19, management has suspended all financial guidance for 2022. We will therefore use a comparable valuation approach using Wall Street estimates.
I have decided to compare STKS against a basket of competitors. Based on the forward EV/EBIT metric, the company is trading close to the basket's average (~11.83x EV/EBIT) and very close to the median value (~10.54x EV/EBIT). In my opinion, I think that the stock is currently fairly valued and I believe that a company such as Bloomin' Brands (BLMN) could offer a higher margin of safety.

Source: Refinitiv Eikon
Key Takeaways
STKS seems on track to achieving its strategic goals and becoming more profitable. On top of that, I like the fact that there is a large runway for growth opportunities, both in terms of new openings and same-store sales. The company is currently testing some new locations such as the one in Los Cabos. Expanding such locations could prove very profitable once the pandemic will be over. In terms of valuation, the stock is fairly priced in my opinion. I understand why the company is more expensive than BLMN and I think it is fair to give a higher multiple to STKS given the high unit growth potential and the strong same-store sales growth performance. However, for the time being, I would personally prefer an investment such as BLMN offering a higher margin of safety. Given the new variant, I think it is cautious to wait before purchasing this stock in order to see how the sanitary situation evolves and how the market reacts to the news. On top of that, during the last earnings call, management warned that inflation could pressure margins going forward, although they were able to mitigate this risk so far. A persistent level of high inflation could therefore increase the risks of investing in this company.