We Move Back To Buy On DocuSign
Summary
DocuSign stock peaked in August this year, began a modest correction and then positively dived into the abyss following its Q3 earnings this week.
We believe the stock is once more at an attractive buy point.
Fundamentals remain very strong - and we think the correction augurs well technically.
We rate the stock at Buy on a long-term hold basis. We could yet see a further drop, so in staff personal accounts we are adding stepwise rather than betting the farm.
Looking for more investing ideas like this one? Get them exclusively at Growth Investor Pro. Learn More »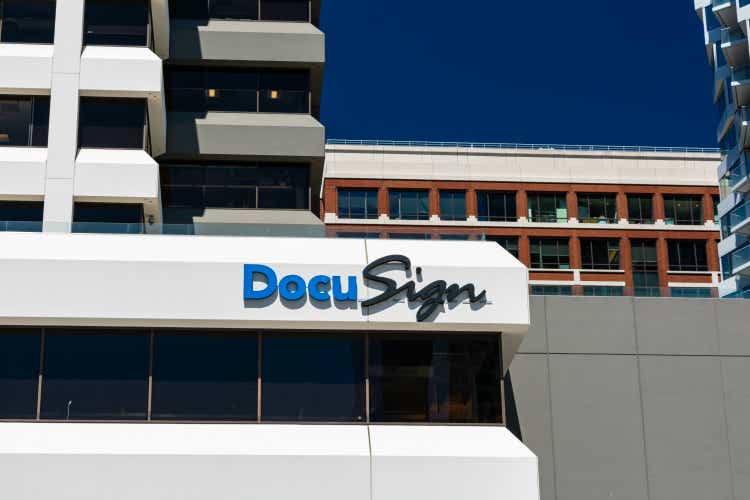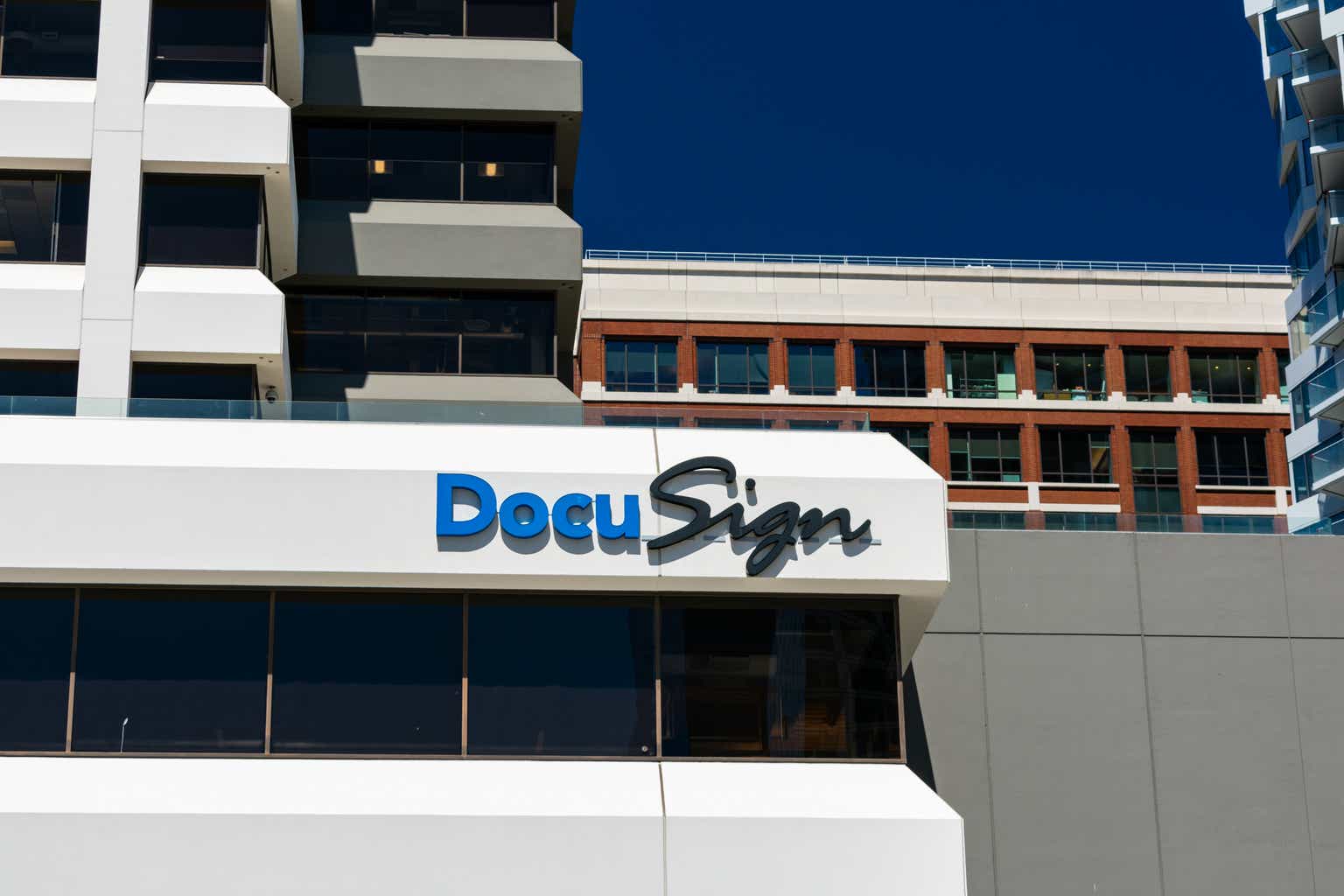 DISCLAIMER: This note is intended for US recipients only and in particular is not directed at, nor intended to be relied upon by any UK recipients. Any information or analysis in this note is not an offer to sell or the solicitation of an offer to buy any securities. Nothing in this note is intended to be investment advice and nor should it be relied upon to make investment decisions. Cestrian Capital Research, Inc., its employees, agents or affiliates, including the author of this note, or related persons, may have a position in any stocks, security or financial instrument referenced in this note. Any opinions, analyses, or probabilities expressed in this note are those of the author as of the note's date of publication and are subject to change without notice. Companies referenced in this note or their employees or affiliates may be customers of Cestrian Capital Research, Inc. Cestrian Capital Research, Inc. values both its independence and transparency and does not believe that this presents a material potential conflict of interest or impacts the content of its research or publications.
Sure, It's A Work From Home Stock. Whatever
DocuSign (NASDAQ:DOCU) is a work-from-home stock like e-mail was a tool invented to help postal workers relax more. DOCU is not a work from home business. It's a process automation business. Or in other words, an enterprise software company. Because all enterprise software companies do is to automate - a little bit anyway - manual business processes. Like booking rooms. Or signing documents. Or ordering more widgets. One of the wonderful things about investing in software is that software is still so unbelievably basic in the things it can do and in the amounts of things in the world it has yet to eat. DocuSign means you can handle documents and sign them - commit yourself or your company to their contents - without having to wield the tool fast going the way of the musket, the "pen". And whilst we can argue about whether DocuSign or Adobe (ADBE) is going to lead the way in document automation, it would be a very strange way to waste all our time if we chose to argue about, really, whether post-Covid-lockdowns, people are going to want to go back to using that pe ... what was it again - "pen", that's right - to sign stuff. We might as well argue about whether we should organize a machine-wrecking tour of the American industrial heartland this weekend because, you know, machines are the source of labor alienation and they should be smashed in the name of all that is human.
Fortunately if you have any cash left after this week's face-ripper, DocuSign is now on sale. If you read most coverage of the stock it will tell you that it is on sale because (1) it missed earnings and/or (2) it lowered guidance and/or (3) sellside analyst X, Y, or Z dropped the price target by two bucks and/or (4) because it's a work from home stock and that work from home this is so like 2020 right now and we aren't going back to any kind of virusy-lookin' restrictions any time soon, so, sell those work from home stocks quick-smart. But you know really why it cratered? Because it was due a correction. And why was it due a correction? Because that's what stocks do. They go up, for many reasons but no reasons that anyone can actually point to and say that's the reason, and then provide, you know, actual evidence to support their argument; and then they go down for all the same reasons. Again none of which anyone really knows. Whilst we are fiercely pro-fact, pro-Enlightenment, anti-anti-science here at Cestrian, we would be the very first to say there is no science or fact to stock prices. Underlying fundamentals, sure. Pure math. But stock prices? No, the only math involved in stock prices is the Golden Ratio, the Fantastic Fibonacci Sequence, the algorithm sat somewhere in fractal form in wetware read-only memory. And looking at DOCU through this lens, you could see that a correction was due.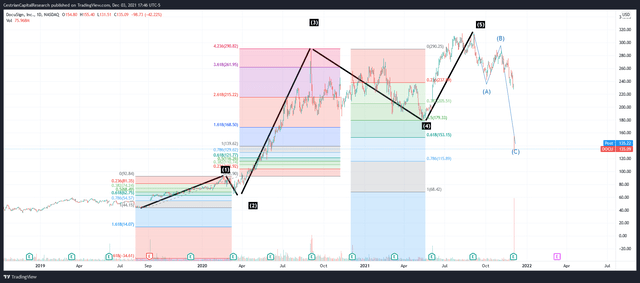 Source: TradingView, Cestrian Analysis (full page chart here)
When a stock hits a 4.236 Fibonacci extension of its initial Wave 1 up, as DOCU did in mid-2020 (when, OK, the market priced it as a work from home stock), then puts in a not-too-painful Wave 4 correction, then a new high above that huge Wave 3 high? You know it's time to either sell or brace yourself for the hurricane that is about to hit. In our Growth Investor Pro Seeking Alpha Marketplace service we moved from Buy to Neutral when the stock was at $288 and thereafter commenced selling down in staff personal accounts (always flagged beforehand to our subscribers). We also, in the same service, called for a move to 50% cash at the open on Monday this week, which involved further selldown of our DOCU personal account holdings. We called "go to cash" because of that same Fibonacci sequence, this time the local tops struck in SPY and QQQ indices (a 100% and 1.618 extension of earlier Wave-1s respectively). You can read parts of that "be careful" subscriber note from last Sunday here.
So when the Big One hit DOCU, we held very little of it. Having surrendered more than all the value created in that last Wave 5 - as post-5-waves-up corrections are wont to do - the stock is now priced right around the level it was at in May 2020. When work from home wasn't really a thing that anyone properly understood yet. So if it was priced like a work from home stock? It isn't now. Oh and by the way, the company has twice the TTM revenue now that it did then (TTM revenue at Q3 2021 earnings was $1.96bn; TTM revenue at Q1 2020 earnings, the latest published as of 20 May 2020, was $974m), it is cash flow positive now (TTM unlevered pre-tax free cash flow margins of 17% in Q3 2021 vs negative 6% in Q1 2020), and, before you say "oh but growth must have slowed because of work from home", TTM revenue growth in Q3 2021 was +53% vs. +39% in Q1 2020. So the fundamentals are way better now than when the stock was last priced this way.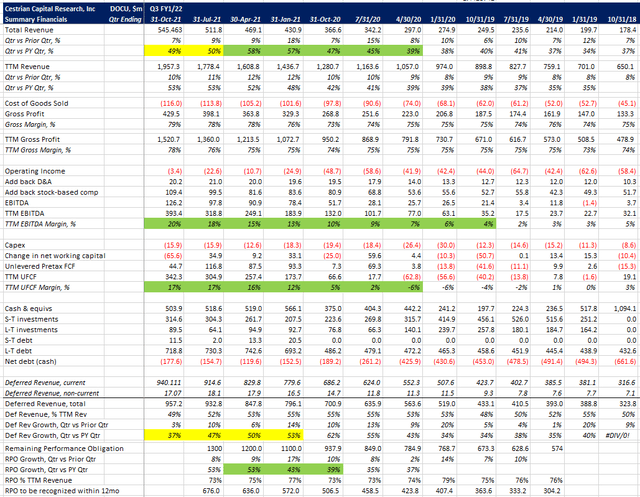 Source: Company SEC Filings, YCharts.com, Cestrian Analysis
And whilst we cannot yet call an end to the selloff - it will stop when it stops - we can express our most confident view that the next major move for the stock will, in our view, be up not down. And with this in mind we bought a little DOCU stock at the open today and we shall be adding a little more in a stepwise fashion over the coming weeks. Suitably re-armed with electronically signed stock certificates, we hope to ride the next Wave 1 and beyond up.
Here's the Enlightenment version of the valuation, based on the most recent close: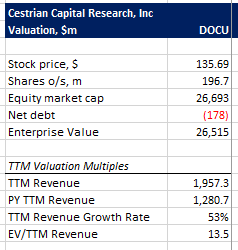 Source: Company SEC Filings, YCharts.com, Cestrian Analysis
13.5x TTM revenue for 53% TTM revenue growth, and 17% TTM unlevered pre-tax cashflow margins, we do not consider to be at all expensive. We think the next set of larger-degree waves for the stock will be 5-up. And so we rate the name once more at Buy - Long Term Hold. And again, we plan to continue buying stepwise in staff personal accounts.
Cestrian Capital Research, Inc - 3 December 2021.
To learn more about our popular 'Marketplace' service Growth Investor Pro, including all our great 5-star subscriber reviews, click here. 
You get long-term picks in cloud software & services, cybersecurity and space sectors, together with short-term trading ideas in the same stocks. 

We run a real-money service publishing our own buyside research.  Subscribers get alerts on any planned buy or sell order in covered stocks, ahead of time.  You get the opportunity to buy or sell before we do.

This article was written by
Cestrian Capital Research, Inc. is an independent, SEC-regulated investment research business led by CEO Alex King. Alex is a professional investor with 3 decades of experience. Cestrian specializes in covering growth stocks, index ETFs and index options, long-run investing, swing trading and risk management via hedging.
Alex runs the investing group Growth Investor Pro. Features of the full service include: , real-time trade alerts in covered stocks or ETFs, a vibrant and welcome community chatroom, access to all covered stock ratings and charts, as well as access to Alex and his team for questions. Learn More.
Analyst's Disclosure: I/we have a beneficial long position in the shares of DOCU either through stock ownership, options, or other derivatives.

Business relationship disclosure: See disclaimer text at the top of this article.

Cestrian Capital Research, Inc staff personal account(s) hold long position(s) in DOCU
Seeking Alpha's Disclosure: Past performance is no guarantee of future results. No recommendation or advice is being given as to whether any investment is suitable for a particular investor. Any views or opinions expressed above may not reflect those of Seeking Alpha as a whole. Seeking Alpha is not a licensed securities dealer, broker or US investment adviser or investment bank. Our analysts are third party authors that include both professional investors and individual investors who may not be licensed or certified by any institute or regulatory body.