ImmunoGen's Data For Ovarian Cancer Primes It Up For Several Catalysts Near-Term And In 2022
Summary
ImmunoGen announced positive results from the phase 3 SORAYA trial using mirvetuximab for ovarian cancer patients, meeting both the primary and secondary endpoints.
A pivotal confirmatory study using mirvetuximab, known as MIRASOL, is expected to have results out by Q3 of 2022. This confirmatory study is a crucial turning point for the company.
BLA filing of mirvetuximab for patients with folate receptor alpha (FRα)-high platinum-resistant ovarian cancer expected Q1 of 2022.
Initial data using IMGN632 with VIDAZA or VENCLEXTA to treat patients with acute myeloid leukemia (AML) to be shown at the 2021 American Society of Hematology (ASH) Annual Meeting in December of 2021.
This idea was discussed in more depth with members of my private investing community, Biotech Analysis Central. Learn More »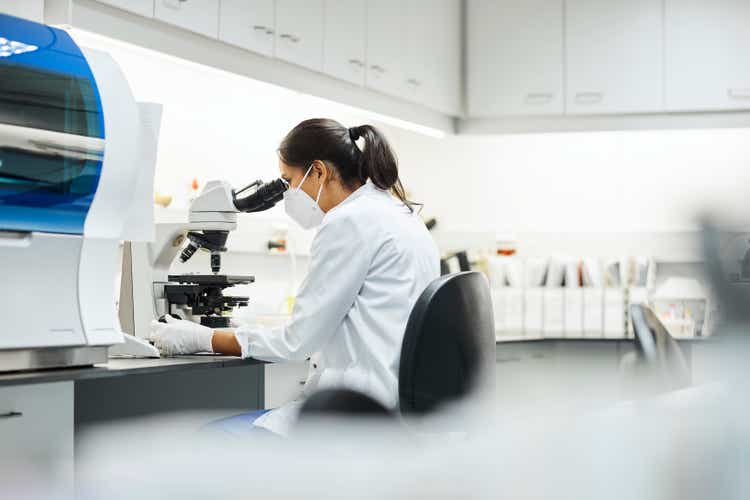 ImmunoGen (NASDAQ:IMGN) is a good biotech to watch. That's because it had recently reported positive results from the pivotal Phase 3 SORAYA trial. It used its drug mirvetuximab alone to treat patients with folate receptor alpha (FRα)-high platinum-resistant ovarian cancer. The study met on the primary endpoint of objective response rate (ORR) for patients who were given this drug. With that in mind, this sets up a few catalysts within a year or so. The first of which involves another data readout from the other phase 3 study using mirvetuximab known as the MIRASOL trial. Data from this study is expected by Q3 of 2022. A positive readout from this study would definitely reaffirm the efficacy established by mirvetuximab from the other phase 3 study. But before then, the biotech will file the BLA of the drug for Accelerated Approval for patients with folate receptor alpha (FRα)-high platinum-resistant ovarian cancer. This is expected to happen in Q1 of 2022 and this will be a major catalyst, which I believe could cause the stock to trade higher. The final catalyst that may be possible would ultimately be if this biologic drug is approved by the FDA. With Accelerated Approval being possible, depending upon when the application is submitted, then FDA approval could come by the 2nd half of 2022. Plus, there are some additional catalysts that investors may want to keep an eye on. This is why I believe it is a good speculative biotech to look into.
Mirvetuximab For The Treatment Of Patients With Ovarian Cancer
ImmunoGen's main program in the pipeline involves the use of mirvetuximab for the treatment of patients with folate receptor alpha (FRα)-high platinum-resistant ovarian cancer. Ovarian cancer occurs as the disease takes over the ovaries of a woman's reproductive system. The ovaries are an important part of the female reproductive system. That's because they are responsible for producing a woman's eggs and female hormones in the body. An ovary is very small and is roughly the size of an almond. This is a rare type of cancer, but it still affects many women. There are roughly less than 200,000 cases of ovarian cancer in the United States each year. That's not a groundbreaking type of a population, but that's still a decent amount of patients just in the U.S. alone. The market is still expected to grow though. For instance, the global ovarian cancer market is expected to reach $10.1 billion by 2027. The biggest risk for ovarian cancer is that it's hard to find when it is at an early time point. Meaning, it is not typically discovered until the cancer has already progressed to the advanced stage. When that happens, it becomes far more difficult to treat. These women experience several symptoms which are:
Pain in lower abdomen
Abnormal periods
Unexplained back pain that gets worse
Nausea and vomiting
Loss of Appetite
There are many more symptoms. The thing is that sometimes in the early stages there are no symptoms or early warning signs. The main treatment option possible would be surgery followed by chemotherapy. However, platinum-based chemotherapy is typically first-line therapy for these patients. Mirvetuximab is an antibody drug conjugate (ADC) that targets folate receptor alpha. Folate Receptor Alpha is highly expressed in several tumors, especially in newly diagnosed or recurrent ovarian cancer tumors. Therefore, the biotech's goal is to screen patients that have this type of tumor, which is more suitable for success.
Speaking of which, the company had set up two pivotal studies. One of which was a single arm pivotal study known as SORAYA. The patients recruited into this study are those who had taken and failed prior therapies including Avastin (bevacizumab). SORAYA is a single-arm study that enrolled approximately 106 patients. It was initiated back in March of 2020. These were really sick patients being enrolled for this study, because they had failed on up to 3 prior regimens, including Avastin. The endpoints are as follows:
Primary endpoint - Overall response rate (ORR) as determined by investigator assessment
Secondary endpoint - Duration of response (DOR)
The breakdown of the patients on how many therapies they had before entering this study were as noted:
51% of patients had up to 3 prior lines of therapy
48% of patients had up to 2 prior lines of therapy
These were very sick patients, where all patients had received prior Avastin treatment from Roche (OTCQX:RHHBY). In addition, close to half had received prior PARP inhibitor therapy. Going into this study, these were patients who had not responded on so many other treatments. Despite many of these patients failing at least 3 therapies, ImmunoGen was able to tout success for this pivotal single arm study. It touted success for both the primary and secondary endpoints of the study. The primary endpoint of the study, which was objective response rate (ORR), was shown to be 32.4%. There was a complete response (CR) achieved in at least 5 patients. In terms of the secondary endpoint, that also was met. It was shown that the median Duration of Response (DOR) was 5.9 months. Pretty good right? Well, this metric is still ongoing. The biotech expects that ultimately it could reach a range between 5.7 to slightly over 7 months.
The drug was tolerable for the most part, but there were some minor setbacks. For instance some patients receiving mirvetuximab had to reduce dosing, which occurred in roughly 19% of patients. Then about 32% of them had to delay dosing by a bit. The highest common treatment-related adverse event was blurred vision. However, only 6% of patients had a grade 3 blurred vision event. With a tolerable safety profile, plus the efficacy reached above, I believe that this could be a huge transformational treatment for these folate receptor alpha (FRα)-high platinum-resistant ovarian cancer patients. There are 3 major catalysts that are expected within a year or so. The first of which would be the BLA filing of mirvetuximab for this indication, which is expected to happen Q1 of 2022. If all goes well with the Accelerated Approval filing, that may put FDA approval of the drug by the 2nd half of 2022. The third catalyst would involve the release of the final results from the pivotal phase 3 randomized MIRASOL study. Data from this study is expected Q3 of 2022.
Confirmatory Study For Mirvetuximab For The Treatment Of Patients With Ovarian Cancer
Data from the pivotal single arm phase 3 SORAYA study was amazing. There is just one thing that must be taken to account and that is it was a single arm study. While the FDA might still allow for Accelerated Approval of mirvetuximab for these ovarian cancer patients, ultimately ImmunoGen must achieve success in the pivotal phase 3 MIRASOL study. That's because this is a confirmatory study to see if its drug can help patients far better than investigator's choice of therapy (which is likely a chemotherapy treatment). If for whatever reason mirvetuximab doesn't beat out all these chemotherapies in the head to head study upon readout, then it's possible that the FDA may not approve the drug after all. The MIRASOL study is expected to enroll up to 430 patients. They will be randomized to receive either mirvetuximab or investigator's choice of single-agent chemotherapy. Such single agent chemotherapies that may be chosen are:
Topotecan
Paclitaxel
doxorubicin
These are just a few of the ones that could be deployed. Again, these patients must have FRα-expressing ovarian cancer tumors and who had been treated with up to 3 other treatments. One key thing to note is that this time around the primary endpoint is different compared to the SORAYA study. The MIRASOL study is looking at progression-free survival (PFS) as the primary endpoint. The secondary endpoints will be: Overall response rate, overall survival (OS) and patient reported outcomes.
There is a major catalyst with respect to this phase 3 study. It is expected that top-line results from the MIRASOL study are expected to be released by Q3 of 2022. Again, if primary endpoint is met, then mirvetuximab may possibly go from Accelerated Approval to Full FDA approval. In addition to receiving FDA approval for mirvetuximab as a monotherapy for patients with folate receptor alpha (FRα)-high platinum-resistant ovarian cancer, the biotech is also branching out to another subpopulation type for ovarian cancer. Again, it will be patients that are folate receptor alpha (FRα)-high, but who are platinum sensitive. Platinum sensitive means they may respond to chemotherapies initially, like cisplatin and carboplatin, but the cancer comes back 6 months later. This pivotal single arm phase 2 study is known as PICCOLO. It was initiated in September of 2021 and it expects to enroll about 75 patients. The primary endpoint of this study is objective response rate (ORR) to see if patients respond to mirvetuximab monotherapy.
Financials
According to the 10-Q SEC Filing, ImmunoGen had $245.8 million in cash and cash equivalents as of September 30, 2021. A big reason for this cash was because of two cash raises that occurred during the quarter. During the quarter, it sold about 2.2 million shares of its common stock with its At-The-Market (ATM) generating about $13 million. Also, in August of 2021, it entered into a Securities Purchase Agreement pursuant to which the Company agreed to sell to an investor a warrant to purchase up to an aggregate of 5,434,782 shares of the Company's common stock. With this agreement, it was able to raise about $30 million. However, with ImmunoGen reporting highly positive data from its phase 3 SORAYA study, it decided to raise cash again. Biotechs typically tend to do this after the stock trades much higher on the back of positive results or other positive news item. It priced an underwritten public offering of 11,636,364 shares of its common stock at a price of $6.60 per share before expenses. In addition, it offered pre-funded warrants up to an aggregate of 27,363,636 shares of common stock at a price of $6.59. Lastly, it gave underwriters a 30-day option to purchase up to an additional 5,850,000 shares of its common stock at the public offering price. The biotech expects to raise about $257.1 million in proceeds. However, this doesn't include the option that the underwriters have. If they decide to use the option to buy more, then this figure will be higher.
Risks To Business
The first risk would be the BLA filing of mirvetuximab itself. The data seems strong from the single arm study, but that goes with the understanding that the FDA accepts the filing of Accelerated Approval for this drug in patients with folate receptor alpha (FRα)-high platinum-resistant ovarian cancer. Even if it is accepted, there is no guarantee that ImmunoGen will receive such Accelerated FDA approval either. Another big risk would be the data readout of the MIRASOL study itself. That's because it's a confirmatory study which has to prove that mirvetuximab succeeds against chemotherapies in a randomized study. A failure in this pivotal study would mean that ImmunoGen would not gain full FDA approval of this drug for this indication. The risk of dilution has been drastically reduced which is very good news. That's because the company enacted a public offering to raise about $257.1 million or more in net proceeds.
Conclusion
I believe that ImmunoGen is a good speculative biotech to look into. I don't believe it's a long-term yet, because the risk of the confirmatory study remains. What would be a huge positive to see an increase in the stock price in the short term would be the BLA filing of Mirvetuximab. Such a BLA filing is expected in Q1 of 2022. The risk would be the readout of the MIRASOL confirmatory study, which will be released by Q3 of 2022. I believe this is a make or break catalyst for ImmunoGen in terms of a one-year period. There are other shots on goal in the pipeline with other drugs targeting other indications. That means there are several other catalysts that investors can expect from ImmunoGen before the end of 2021 and in 2022. A very near-term catalyst would be initial data using IMGN632 as a combination regimen in patients with acute myeloid leukemia (AML) at the 2021 American Society of Hematology (ASH) Annual Meeting in December. This is interesting because IMGN632 is being combined with either VIDAZA or VENCLEXTA, which both of these drugs have already been used many years to treat AML patients. IMGN632 has huge potential because it is an anti-CD123 antibody. There is an IND filing expected for another drug known as IMGN151 before the end of 2021. This is an anti-Folate receptor alpha drug that targets tumor types with lower levels of folate receptor alpha (FRα). A good thing about this drug is that it can go after several types of solid tumors like Ovarian, Endometrial, non-small cell lung cancer (NSCLC) and Triple-negative Breast Cancer (TNBC). Another catalyst expected in 2022 which could be good for the biotech would be results from a phase 1 study using IMGC936, which is being used to treat patients with several types of solid tumors. Results from this study are expected in 2022. With so many catalysts coming and the potential of the BLA filing of mirvetuximab in early 2022, I believe that ImmunoGen is a great speculative biotech to look into.
This article is published by Terry Chrisomalis, who runs the Biotech Analysis Central pharmaceutical service on Seeking Alpha Marketplace. If you like what you read here and would like to subscribe to, I'm currently offering a two-week free trial period for subscribers to take advantage of. My service offers a deep-dive analysis of many pharmaceutical companies. The Biotech Analysis Central SA marketplace is $49 per month, but for those who sign up for the yearly plan will be able to take advantage of a 33.50% discount price of $399 per year.
This article was written by
Actionable ideas on small-large cap biotech stocks through deep analysis.
I am the Founder of Biotech Analysis Central, A subscription service on Seeking Alpha's Marketplace. If you want to learn more about biotech investing or you want to check out my biotech analysis you can do so with a free 2-week trial to my service. Just hit the "Learn More" button on the bottom of the Marketplace Research Tab. I have a Bachelors of Applied Science Degree In Technology Management, Industrial and Business Services Management from St. Petersburg College Florida. I have been investing in biotech stocks for many years, and I prefer to invest as a long term investor. With that In mind I seek stocks that have long term value! I primarily Like to Invest In biotechnology stocks and I accept the risks. I Write for the Healthcare Sector and Stock market in general. I contribute to Seeking Alpha.
You can follow me on stocktwits.com under the name BiopharmaPro where I currently have (62.5K) followers. Join me in my quest to find the best biotechnology stocks that deliver results to help patients with new treatment options.
Analyst's Disclosure: I/we have no stock, option or similar derivative position in any of the companies mentioned, and no plans to initiate any such positions within the next 72 hours. I wrote this article myself, and it expresses my own opinions. I am not receiving compensation for it (other than from Seeking Alpha). I have no business relationship with any company whose stock is mentioned in this article.
Seeking Alpha's Disclosure: Past performance is no guarantee of future results. No recommendation or advice is being given as to whether any investment is suitable for a particular investor. Any views or opinions expressed above may not reflect those of Seeking Alpha as a whole. Seeking Alpha is not a licensed securities dealer, broker or US investment adviser or investment bank. Our analysts are third party authors that include both professional investors and individual investors who may not be licensed or certified by any institute or regulatory body.