NIO And Shell Partnership Could Be A Game Changer
Summary
NIO and Shell are partnering up to build battery swap and charging stations across China and Europe.
This is great news for NIO, which is laying the groundwork to become much more than an EV manufacturer.
Shell will benefit by gaining access to NIO's keen insights into battery technology.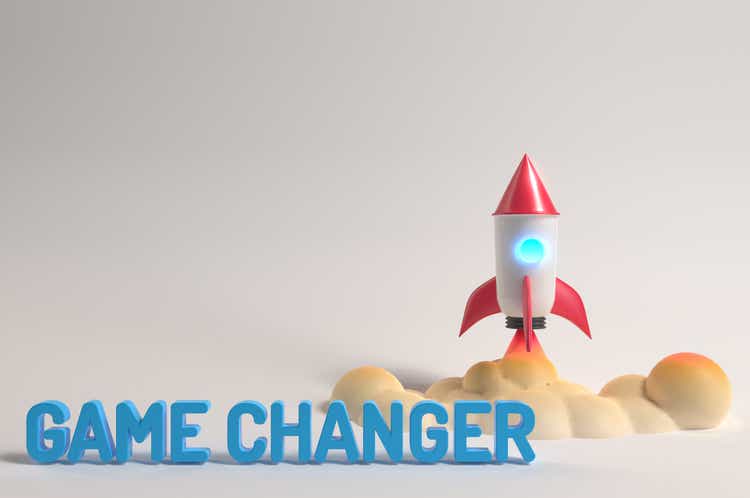 Thesis Summary
NIO Inc. (NYSE:NIO) and Royal Dutch Shell (RDS.A)(RDS.B) are partnering up to offer battery swapping stations in Europe and China. Battery-as-a-Service has been a key offering of NIO's, and this partnership has the potential to supercharge (pun intended) the company's expansion home and abroad. Ultimately, I believe both companies could be set to benefit strongly from this deal.
Here's What's New
A few days ago, NIO and Shell announced their plans to jointly construct battery swap stations for Electric Vehicles in Europe and China. NIO has seen significant success in China implementing BaaS, which can make charging a much more efficient task than traditional plug-in chargers. In China, NIO partnered up with another oil giant, Sinopec, to roll out over 5000 battery charging and swapping stations.
NIO already made clear its ambitious battery swapping plans on its last NIO Power day:
We have increased our goal to build 700 new sites across China by the end of this year, up from an initial goal of 500. And over the next three years, NIO has committed to install 600 more new sites in China. By 2025, we have set a target to locate more than 4,000 battery swap stations worldwide, with 1,000 of them based outside China.
Source: NIO.com
Now, just as NIO has opened its doors in Norway, the company has entered a partnership with the company that operates the most service stations in the world. Specifically, there are three main areas where NIO and Shell will be collaborating. Firstly, the companies will be working together on battery technology R&D. Secondly, Shell and NIO will be developing co-branded battery swap stations in China, aiming to build 100 by 2025. They will also aim to begin building pilot stations in Europe in 2022. Lastly, the companies will be working together in expanding the Shell Recharge Mobility Service Provider (MSP), which aims to provide customers with a wide array of EV charging options and solutions through Shell Recharge Solutions. In other words, Shell is trying to build a whole ecosystem of charging solutions, including charging stations, home charging, and even business charging, and is now bringing NIO on to help.
There's a lot to process from this newly minted partnership, but we can break this down into two key questions: How does NIO benefits from the partnership, and how does Shell benefits from it.
What could this mean for NIO?
For NIO, which is the smaller, newer, and lesser-known company in the partnership, the implications of this deal could be huge. For starters, Shell will be an ideal ally to expand NIO's presence in Europe, which is the next step in NIO's growth plan. Shell already has thousands of service stations, and it will help NIO build battery swap stations and also superchargers that will make owning NIO that much more convenient. This expansion will also take place in China, where the competitive landscape is heating up.
Charging an EV is the biggest challenge the industry faces right now. Most cities, businesses, and homes are not fitted with the right infrastructure which is why a lot of work has to be done in this area before EVs can become mainstream. In the USA, Tesla, Inc. (TSLA) managed to successfully sell its cars by creating a large infrastructure of chargers and superchargers around the country, and this is what NIO is replicating in China and Europe.
But the benefits to NIO, don't just stop at increasing its charging network. The company, together with Shell and other partners, like Sinopec (SHI), is building infrastructure that other EVs will very likely use in the future. An infrastructure that NIO will in some way own, operate, or service.
In terms of Battery Swap, indeed, it won't be easy to create stations that can work for other cars, at least not in the short term. This is an intricate technology, and batteries would have to be produced in a standardized fashion. However, I don't think it's ludicrous to think that in the long term, and given sufficient Swap stations, some of the other carmakers could consider building new models that can use these stations. The benefit of being able to use these stations would be huge to their customers, if, as I said, NIO succeeds in building a large enough network. There are various ways NIO could monetize this by either charging for using the stations or even selling other companies their batteries. On the other hand, we have regular charging and supercharging stations, which NIO is also building across China and Europe, which can be used easily by all EVs.
Ultimately, NIO is laying the foundation to become much more than an EV manufacturer. The company has vast expertise in the realm of batteries, and this sector could be a lot more lucrative than simply selling cars. NIO is playing the long game and building a network of incredibly valuable assets, something which isn't being recognized by investors.
What could this mean for Shell?
And what does Shell get from this arrangement? The company will be able to increase its presence in Europe and China in terms of service stations, though this isn't as significant as it is for NIO. For Shell, this partnership is about transitioning into the world of electric vehicles and green energy.
Above, I mentioned the fact that NIO will help Shell expand its Shell Recharge Solutions. Shell is trying to adapt its existing infrastructure to what the demand of the future will be; electric charging. Shell also wants to be a key player in the "EV charging" industry, by creating a holistic network of hardware and software that can serve the needs of tomorrow. Owning, running, and maintaining this infrastructure could one day bring millions in revenue to the company, and Shell is trying to get ahead.
By partnering with NIO, Shell gets all of the insight into battery technology that NIO has. I believe this is a testament to just how much knowledge NIO has in this area. This is why Shell wants to collaborate with NIO in its R&D efforts.
Other considerations
Having said all of the above, we must also consider the possible costs that this partnership will entail. As mentioned above, Shell and NIO will begin by creating two pilot battery swap stations in China and will look to expand this to 100 by 2025. The cost of this build-out will be significant, though it is hard to know at this point just how much each company will be investing. According to some statistics, Battery Swap stations in China can cost up to $1.5 million to build. This means NIO and Shell could be looking at spending $150 million over the next 3-4 years.
However, the expansion plan in Europe is still unclear, and will probably depend on how demand for NIO's cars evolves over the coming years. What is also unclear at this point too is how NIO and Shell will collaborate in expanding Shell's Recharge Mobility Service Provider.
Understandably, some investors could be concerned that such a partnership will lead to high costs, for NIO especially, which will have to be funded through stock dilution. I certainly agree that NIO's heavy investment strategy in Battery Swap stations is not "good" in the short term. Furthermore, it creates a lot of uncertainty for investors. After all, if NIO is looking to become something beyond a traditional EV company, what will this look like and how do we value it? And, most importantly, how will the share price react to this news?
As I write this, NIO has experienced one of its worst trading days, falling by over 11% on Friday. This was not a reaction to the partnership, which was announced much earlier, but probably has something to do with fears that Chinese ADRs may be delisted. In this regard, I see the partnership with Shell and European expansion as becoming increasingly important and relevant to the company and its share price in the long term. The more NIO can distance itself from the CCP and establish itself as a well-regarded international company, the less it will suffer from this kind of speculation.
Final Thoughts
In conclusion, and though not much has been made of this news, I see this partnership as incredibly bullish for both companies, but especially NIO. NIO is currently working to expand into Europe, and Shell is the perfect ally in these efforts. The EV segment is getting crowded, but by becoming a key player in the charging part of this industry, NIO can offer superior value to its customers, and perhaps even find new monetization avenues. With that said, the strategy carries out significant risk, as NIO will have to make heavy upfront investments into this infrastructure. Ultimately, I believe in the long-term growth story behind NIO. Investors willing to be patient will be rewarded.
This article was written by
James Foord is an economist by trade and has been analyzing global markets for the past decade. He leads the investing group The Pragmatic Investor where the focus is on building robust and truly diversified portfolios that will continually preserve and increase wealth.
The Pragmatic Investor covers global macro, international equities, commodities, tech and cryptocurrencies and is designed to guide investors of all levels in their journey. Features include a The Pragmatic Investor Portfolio, weekly market update newsletter, actionable trades, technical analysis, and a chat room.
Learn more
.
Analyst's Disclosure: I/we have a beneficial long position in the shares of NIO either through stock ownership, options, or other derivatives. I wrote this article myself, and it expresses my own opinions. I am not receiving compensation for it (other than from Seeking Alpha). I have no business relationship with any company whose stock is mentioned in this article.
Seeking Alpha's Disclosure: Past performance is no guarantee of future results. No recommendation or advice is being given as to whether any investment is suitable for a particular investor. Any views or opinions expressed above may not reflect those of Seeking Alpha as a whole. Seeking Alpha is not a licensed securities dealer, broker or US investment adviser or investment bank. Our analysts are third party authors that include both professional investors and individual investors who may not be licensed or certified by any institute or regulatory body.