Why I Put 8% Of My Money In Lockheed Martin
Summary
Lockheed Martin has an 8.2% weighting in my portfolio as I consider it to be an excellent dividend growth stock.
The company has a high yield, an attractive valuation, and plenty of free cash flow to hike dividends.
Current headwinds are supply chain issues, which offer us the opportunity to buy.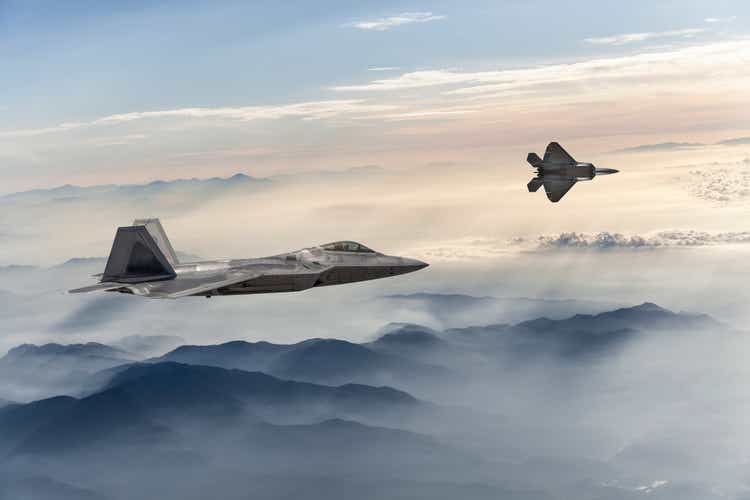 Introduction
In August, I wrote my most recent article covering defense giant Lockheed Martin (NYSE:LMT). Since then, a lot has happened in the world and Lockheed has underperformed the market caused by supply chain issues that have shaken up the entire industry. As a long-term dividend growth investor, this is where the bad news ends. Lockheed has reached a very attractive valuation, which includes having a similar dividend yield to some utilities and other companies that are considered 'high' yield. In this article, I will explain why I made LMT so large in my portfolio and why I will continue to buy on stock price weakness. It's all about the company's free cash flow and ability to withstand economic turmoil. So, without further ado, let's get to it.
Lockheed Martin Means Quality
I have two stocks in my portfolio with a weighting of more than 8.0%. Union Pacific (UNP) with a weighting of close to 9% and Lockheed Martin, with a weighting of 8.2%. While most of my top holdings are large because they simply performed better than the smaller holdings, I deliberately picked UNP and LMT to account for roughly 17% of my portfolio. Note that my portfolio is roughly 92% of my net worth, so I'm very serious about these investments.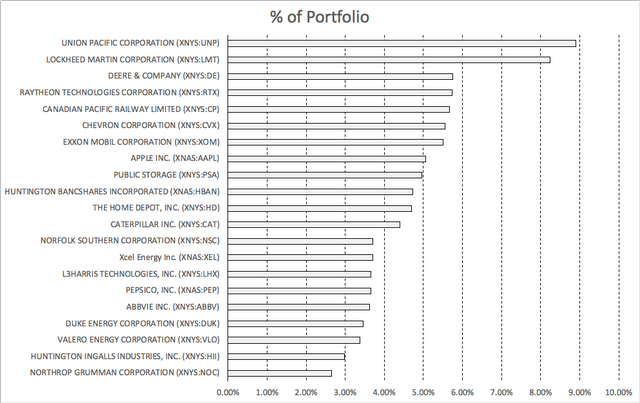 Source: Author
When I pick stocks for my long-term dividend growth portfolio, I always ask myself one question: would I be willing to hold the stock forever?
Forever is a long time and nobody knows what the world will look like in 10-20 years. Let alone 50.
Lockheed Martin makes sense because it's a high-tech company that has been around for a long time. LMT the way we know it has been around since 1995 when Lockheed and Martin Marietta merged. The Lockheed Corporation was founded in the 1920s and played a huge role in the second world war when it produced aircraft like the P-38 Lightning.
Defense companies have always been leaders in technology. Officially, Lockheed is operating in the "industrial" segment. However, I sometimes jokingly say that Lockheed is more innovative than most "technology" companies. After all, its core product is the F-35 and the company has significant exposure in space and 5G technologies. So, needless to say, the company has a huge moat. There is of course competition from Boeing (BA), Northrop (NOC), and related companies, but these companies work closely together on projects and all have full support from the Department of Defense and allied countries who rely on Lockheed's products.
This also means that with almost 0% commercial exposure, the company is dependent on government spending.
For example, between 2012 and 2016, Lockheed Martin had zero revenue growth. Between 2012 and 2014, annual sales declined from $47.2 billion to roughly $40.0 billion. It took the company more than two years to recover from the decline. The reason is simple as the U.S. defense budget fell during these years. As Lockheed has almost 100% government exposure, there is no way to escape a declining trend in defense spending - especially not considered that Lockheed produces some of the most important aircraft of the armed forces. - LMT article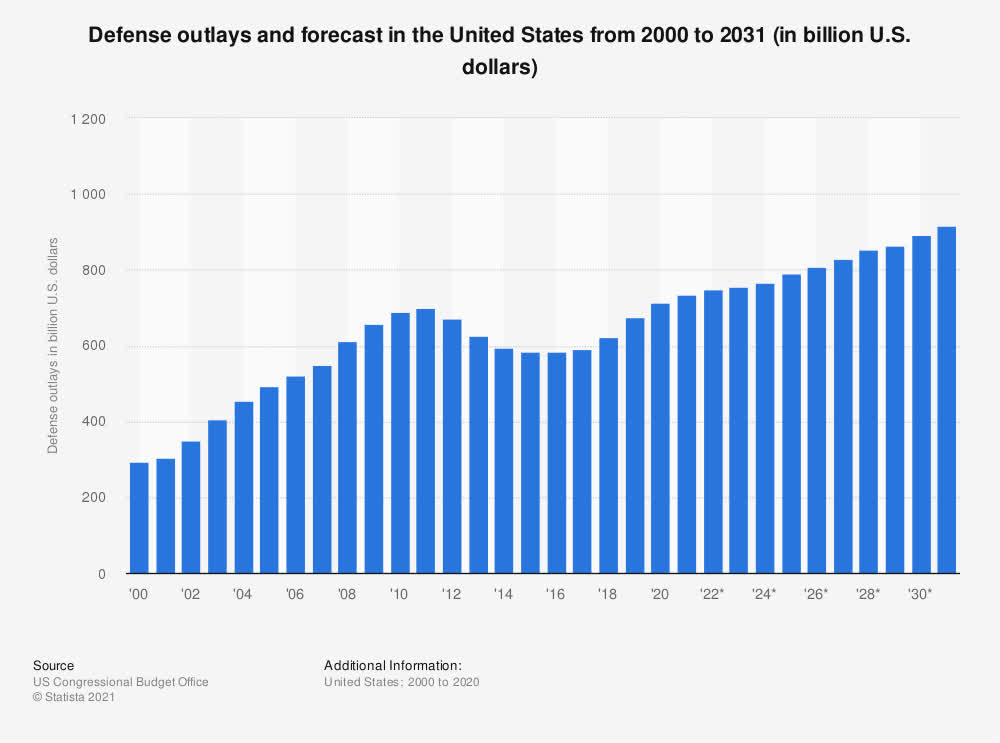 Source: Statista (Graph used in my Northrop Grumman article)
In this case, I don't mind (close to) 100% defense exposure as it gives LMT a very distinctive characteristic that its competitor Raytheon Technologies (RTX) does not have: outperformance in times of weakening economic growth.
The graph below shows the ratio between LMT and the S&P 500 and the ISM manufacturing index in orange. The ISM index displays economic expectations. As we can clearly see, LMT outperforms the market in times of falling economic growth. This is NOT the case for (most) other cyclical industrial stocks. LMT has predictable income and while it does come with supply risk, investors know it offers quality yield. Hence, they buy it when dumping riskier stocks.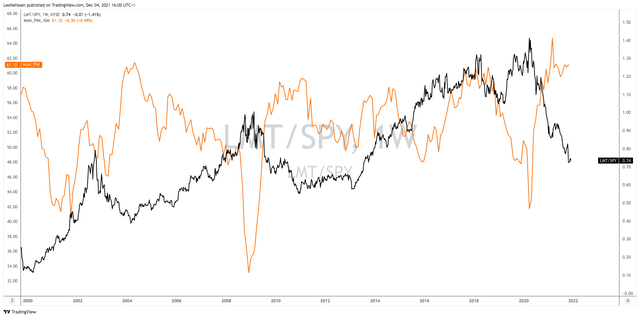 Source: TradingView
With this in mind, let's take a closer look at its yield.
High Yield, But Not Without Growth
LMT yields 3.4%. The utilities ETF (XLU) yields 3.1%. The consumer staples ETF (XLP) yields 2.5%. In other words, we're dealing with a yield that competes with defensive investments. However, unlike most utilities, LMT does have growth in its fundamentals.
One big part of "quality" is a company's ability to generate free cash flow. Free cash flow can be spent on dividends, buybacks, and other things as it is net income adjusted for non-cash items and capital expenditures. Typical growth stocks have no free cash flow or very little as investors are betting on their ability to generate high free cash flow in the future. More mature companies tend to have higher free cash flow - at least the ones who are able to pay a dividend.
With this in mind, Lockheed's total shareholder distributions have been flat in recent years at roughly $4.0 billion per year. As my graph shows, dividends have increasingly become more important as they accounted for more than half of the total money returned to shareholders in 2020. Prior to 2018, the ratio was roughly 50%.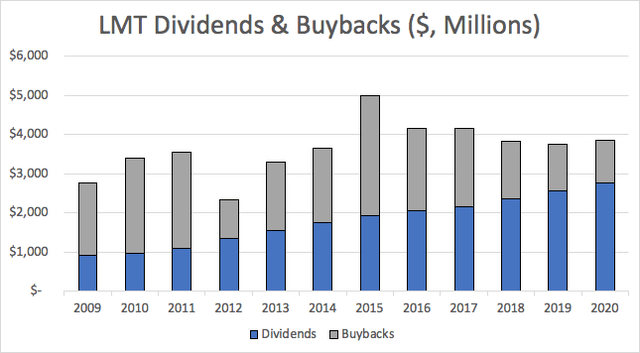 Source: Author
This does in no way mean that LMT is old and out of options to increase shareholder distributions. The opposite is true.
But before I show you why, let's look at one of the reasons why distributions have remained flat: the company's capital expenditures have risen rapidly. In 2020, CapEx was roughly 80% above 2016 levels.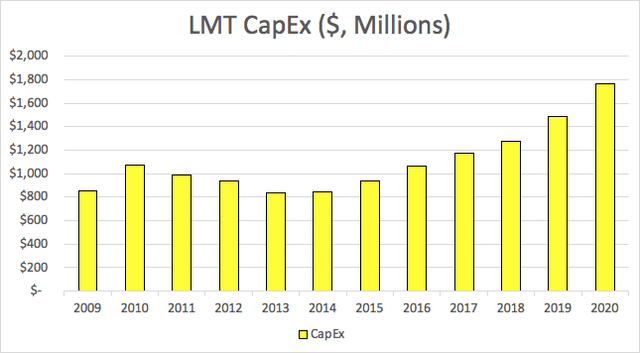 Source: Author
In this case, the company has ramped up investments in its F-35 program as well as new aeronautics (among others).
The majority of our capital expenditures for 2020 and those planned for 2021 are for equipment, facilities infrastructure and information technology. Expenditures for equipment and facilities infrastructure are generally incurred to support new and existing programs across all of our business segments. For example, we have projects underway in our Aeronautics business segment for facilities and equipment to support higher production of the F-35 combat aircraft, and we have projects underway to modernize certain of our facilities. We also incur capital expenditures for information technology to support programs and general enterprise information technology infrastructure, inclusive of costs for the development or purchase of internal-use software. - Lockheed Martin
Right now, rising investments meet supply chain issues that caused the company to lower full-year sales guidance. This is the main reason why defense stocks are performing so poorly. Vaccine mandates are unpredictable and ongoing supply chain issues disrupt otherwise smooth operations.
That's the bad news. The good news is that the company's operating cash flow is rising faster than CapEx - which means higher free cash flow. In 2020, the company generated more than $6.0 billion in free cash flow. That's up from $4.0 billion in 2016. The surge in CapEx suddenly does not look so bad anymore.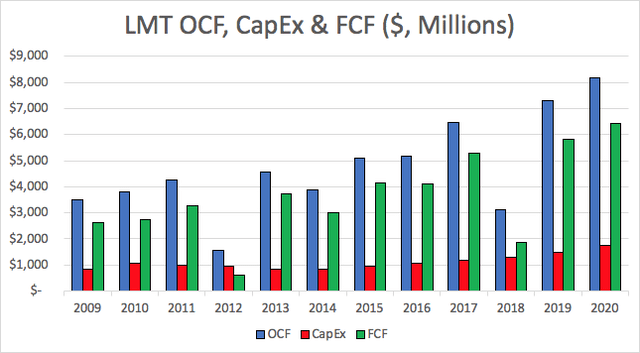 Source: Author
So, when comparing free cash flow (including 2021 and 2022 expectations) to total shareholders' distributions (dividends and buybacks), we see that there is plenty of cash left to raise payout. Next year, free cash flow is expected to reach $6.6 billion. Based on the company's $92 billion market cap, we're dealing with a 7.2% free cash flow yield. Again, its dividend yield is 3.4%. So, even without raising free cash flow, there is a lot of room left to boost distributions again.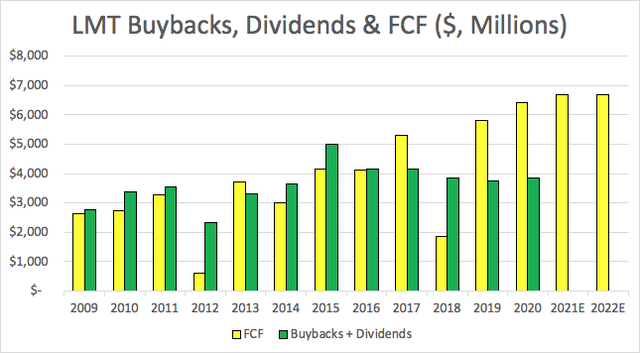 Source: Author
A 7.2% implied free cash flow yield is one of the highest in recent history - suggesting that the valuation is attractive: investors are not overpaying to get access to the company's cash.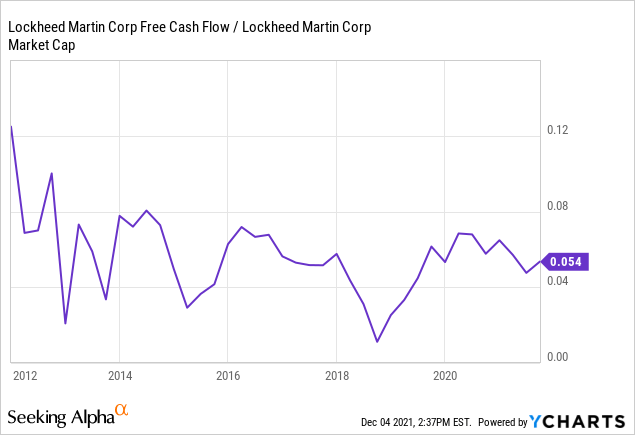 As a result, investors have enjoyed steady and significant dividend hikes. Since 2004, dividends have increased on average by 15% per year. More recently, dividend growth has declined to the high single-digit range, which is fine given the supply chain uncertainties and the current yield of 3.4%.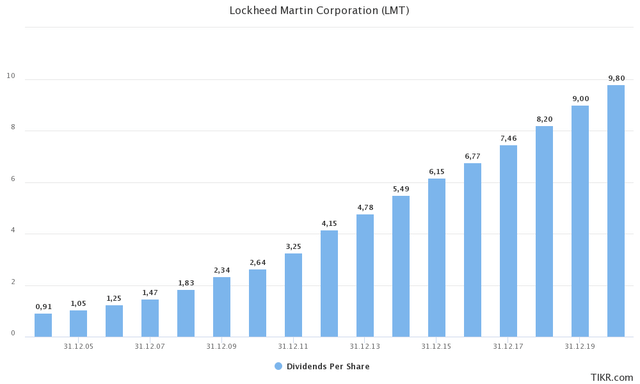 Source: TIKR.com
With this in mind, let's look at the valuation.
Balance Sheet & Valuation
Lockheed Martin is expected to end this year with $8.5 billion in net financial debt. This is down from more than $14 billion after the Sikorsky acquisition in 2015. On top of this, the company has $9.4 billion in pension (and related) obligations. That's a lot, but down from more than $16 billion a few years ago. Note that excluding pensions, the company has net financial debt valued at just 0.9x EBITDA. Given how recession-proof EBITDA is, this is something that lets me sleep well at night.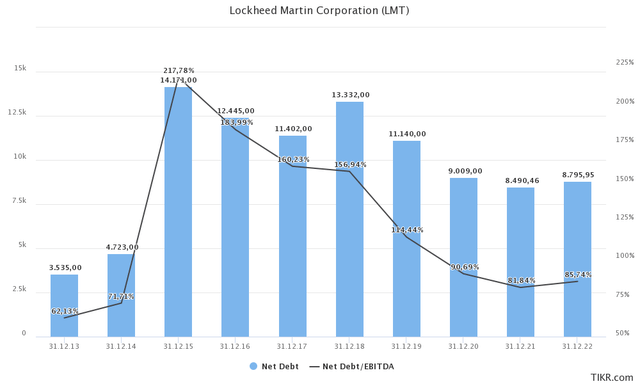 Source: TIKR.com
When adding $9.4 billion in pension debt to roughly $8.5 billion in net debt, we're dealing with total net debt of $17.9 billion. Adding the $92 billion market cap gives us a $110 billion enterprise value. Given that EBITDA is expected to be $10.4 billion this year, we get an EBITDA multiple of 10.6x. Note that this includes the pension obligations.
This is a multi-year low and an attractive valuation. It's worth adding that the company's dividend yield is also at a multi-year high and roughly 200 basis points above the S&P 500 yield. This, too, is a multi-year high.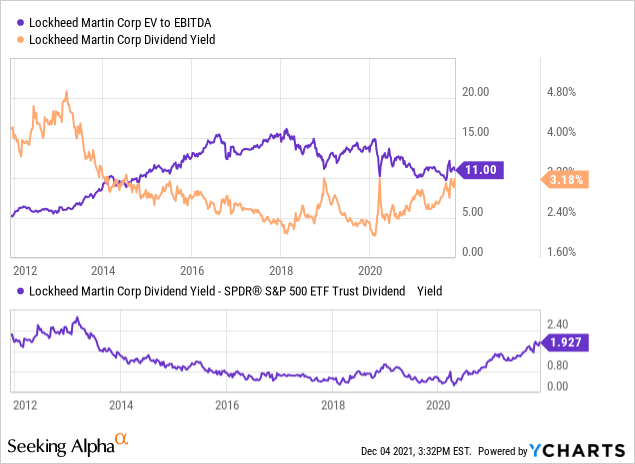 So, here are my final thoughts.
Takeaway
Go overweight LMT is not my message to readers. Me being overweight LMT is the result of my confidence and my investment style. This article aimed to explain where my confidence comes from.
LMT has a fantastic business model and the ability to accelerate dividend growth in the years ahead based on rising free cash flow and sustainable debt levels. Current headwinds are supply chain issues. Tailwinds are global tensions that force the US government to step up defense innovation. For example, hypersonics and advanced fighter jets.
In addition to that, the stock is attractively priced and a good asset to hold during tough economic times when investors look for quality yield.
Long story short, if you are looking for dividend growth, a high yield, and an attractive valuation in a rather 'expensive' market, look no further.
(Dis)agree? Let me know in the comments!
This article was written by
To ensure this doesn't happen in the future, please enable Javascript and cookies in your browser.
If you have an ad-blocker enabled you may be blocked from proceeding. Please disable your ad-blocker and refresh.