Sunrise Kills Off NioCorp's Scandium Economics
Summary
This is not specifically about NioCorp, it's about the scandium market and all companies that might attempt to address it.
Companies that base their approach on higher than current prices, for volumes vastly greater than the current market, aren't going to work.
This is a general point about the way that markets work, not just specific to one company.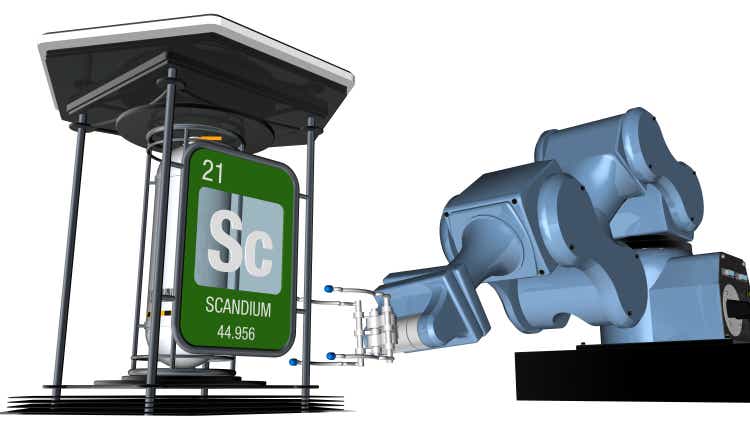 Scandium is lovely stuff
As I've mentioned before here, I spent a decade as the globe's leading wholesaler of scandium. For most of those years, I handled 50% and more of the entire planet's usage. I am now out of that market and so what I'm saying now is not me talking my own book, it's just me applying my industry specific knowledge to what's going on out there.
Scandium is lovely stuff, the aerospace and aluminium alloy market is going to use more of it off into the future. The halide light bulb market never was very big - hundreds of kg a year - and is now dying with that lighting technology. The market for solid oxide fuel cells could explode, might not, that's uncertain. Scandium is very useful indeed in certain applications. This does not, though, leave it free from the usual market interactions between supply, demand and price.
NioCorp
We've discussed here before the NioCorp (NIOBF) proposal for their Elk Creek mine. I'm here and here, significant disagreement with me is here.
My point about NioCorp is that I'm fine with their read of the geology. I agree that the extraction is possible. This does not mean that I've checked they're doing it right, only that yes, extraction of the relevant metals from this type of ore is a known process that is in the literature. I've no particular problems with their resource estimations or anything else. Except for this one thing, the scandium price they assume.
I have checked again in their most recent presentation. They are saying that they'll be able to sell 95 tonnes a year of Sc2O3 at a price of around $3,000 to $4,000 a kg. My insistence is that this isn't going to happen.
Of course, I could be wrong on this but that is what my insistence is.
For, as I've said before, the current global market is 10 to 15 tonnes a year of Sc2O3. The current price of Sc2O3 is in the $1,000 to $1,500 per kg range. You don't get to come to market with 6 to 9 times total global consumption and also triple the price you can charge for the material. That's just not how supply, demand and price interact.
Yes, I know they've got an analyst who says this will be just fine. I don't believe him or them - don't believe them on this specific point that is. Whether I'd believe them about the Patriots winning the SuperBowl is another matter.
Almost as an aside my disbelief might extend further. This from that latest (it's dated this month, December 2021) presentation:
Demand exceeding supply • Approximately ⋍22t per annum demand growing at 23% CAGR for battery applications from one supplier (Bloom Energy)
I tend to doubt that given that Bloom makes solid oxide fuel cells, not batteries. Agreed, the Bloom fuel cells are scandia stabilised zirconia and they are a major, major part of the global market for scandia (which is also known as Sc2O3) but getting mixed up between batteries and fuel cells in your own presentation isn't, well, it's not showing much attention to detail now, is it?
So, my contention. NioCorp will not be able to sell a vast increase in global supply at a price higher than the current global price. That's just not how markets work.
It's also true that the scandium revenues are important to their financial case. Based on niobium alone (the titanium revenues are trivial) they never will break into profit. It's scandium that makes the numbers positive - or at least it's the assumptions about scandium which make those financial numbers positive.
Sunrise Energy Metals
Sunrise Energy Metals (OTCQX:SREMF) is an Australian company closely connected with Clean TeQ. Actually, what we used to call Clean TeQ is now Clean TeQ Water and has been spun off, Sunrise is now a nickel laterite play.
We might note that Clean TeQ did do some good work on scandium. They had a little operation extracting from the wastes of a titanium process for example. Not that it made sense as a standalone project. But ilmenite contains Sc, it ends up somewhere in the process. The acid method of Ti production means that the Sc reports to the waste water. If you've got to clean that waste for environmental reasons then why not extract the Sc and sell it to cover some costs?
Cool, excellent and so on, but the point really here being that they do know a bit about scandium.
Further, it's well enough known that nickel laterites contain some scandium. There have been several Australian companies talking about setting up scandium extraction facilities for example. In fact, one of the earliest Ni laterite operations (now called Murrin Murrin) was originally built with an Sc extraction circuit. No one really ever got it working properly but it was there. Sumitomo now extracts from their Ni laterite project in the Philippines (6 tonnes a year from memory).
So, yes, if you're going to go mining a nickel laterite for the Ni and cobalt (Co) contents why not think about a scandium extraction operation on top?
My complaint about the scandium leading projects that have been suggested has always been as with NioCorp. To scale the plant meant they would - variously, each chose slightly different numbers - need to be producing 40, or 60 tonnes Sc2O3 annually. Which, as above, is something I insist they can't sell without crashing the price - if they can sell that much at all.
But to let the Ni and Co carry all the costs of the project, scandium being a little addition on top? That might - note might, the difference here is that this might work rather than definitely will not - work. In fact, only turn on the scandium part of the plant when the revenues from doing so cover the marginal costs of having done so. And don't base the economics of the project itself upon that scandium revenue.
At which point, what Sunrise is saying about scandium:
Global supply of scandium oxide is approximately 10-15 tonnes per annum. Consistent with the Company's strategy of facilitating wider-scale adoption in key emerging markets (such as high-performance aluminium alloys), Clean TeQ has adopted a long-term scandium oxide price assumption of US$1500/kg in the PEP.
I still think that's a little high as a price assumption but it is at least close to current reality.
Scandium oxide refining capacity of up to 20 tonnes per year installed from year three, which can readily be expanded to 80 tonnes per year with approximately A$25 million capital expenditure on additional refining capacity. As the scandium market grows, future investment in a dedicated resin-in-pulp scandium extraction circuit and further refining capacity offers the potential to increase by-product scandium production to up to approximately 150 tonnes per annum.

• The PEP conservatively ramps up scandium oxide sales from 2 to 20 tonnes per year over the first decade of the mine life.
And that's the bit that makes sense. Designing in the Sc capture circuit is pretty cheap at this stage. It also has an option value. Then in production, produce a bit (valued at, say, $3 million, 2 tonnes) and see if you can sell it. If you can then extract more. Carry on spending money on expanding that extraction circuit as the market grows - or not as it doesn't.
Scandium is being treated as an interesting add on to the project, not as the crucial financial prop to it.
Please note that I am saying nothing at all about the base viability of Sunrise, nor its value as a stock. This is purely and solely about what I consider the only possibly, potentially, viable manner of approaching the scandium market.
From the specific to the general
To make the general point of which NioCorp and Sunrise are only the examples. Anyone who says they can leap into the scandium market with many times current world consumption and sell at a higher than current world price is, I insist, wrong. Someone who says that they might be able to gain a little revenue as a useful byproduct might be right. Might be right note, might not is.
Which is a handy little explainer to use when evaluating any junior miners who claim to be interested in getting into the scandium business.
My view
Again, this is not specifically about these two stocks, NioCorp and Sunrise. It is using the assumptions they make about scandium to make the larger point.
My background in this very specific business tells me that claims about vast - relative to current demand - production simply are not going to work, not with any reasonable price assumptions. Those making such claims should, at the very least, be looked at most askance.
The investor view
Again, this isn't specifically about these two stocks. It's a point about the larger claims sometimes made in this little world of scandium supply. Any stock which claims they'll be able to produce many times world current demand and also charge a decent price for that production is in my mind wrong. So, as an investor that might be a useful starting point for evaluating their claims.
This article was written by
Tim Worstall is a wholesaler of rare earth metals and one of the global experts in the metal scandium. He is also a Fellow at the Adam Smith Inst in London and an writer for a number of media outlets, including The Times (London), Telegraph, The Register and even, very occasionally indeed, for the WSJ. This account is linked with that of Mohamad Machine-Chian: https://seekingalpha.com/user/52914142/comments
Analyst's Disclosure: I/we have no stock, option or similar derivative position in any of the companies mentioned, and no plans to initiate any such positions within the next 72 hours. I wrote this article myself, and it expresses my own opinions. I am not receiving compensation for it (other than from Seeking Alpha). I have no business relationship with any company whose stock is mentioned in this article.
Seeking Alpha's Disclosure: Past performance is no guarantee of future results. No recommendation or advice is being given as to whether any investment is suitable for a particular investor. Any views or opinions expressed above may not reflect those of Seeking Alpha as a whole. Seeking Alpha is not a licensed securities dealer, broker or US investment adviser or investment bank. Our analysts are third party authors that include both professional investors and individual investors who may not be licensed or certified by any institute or regulatory body.