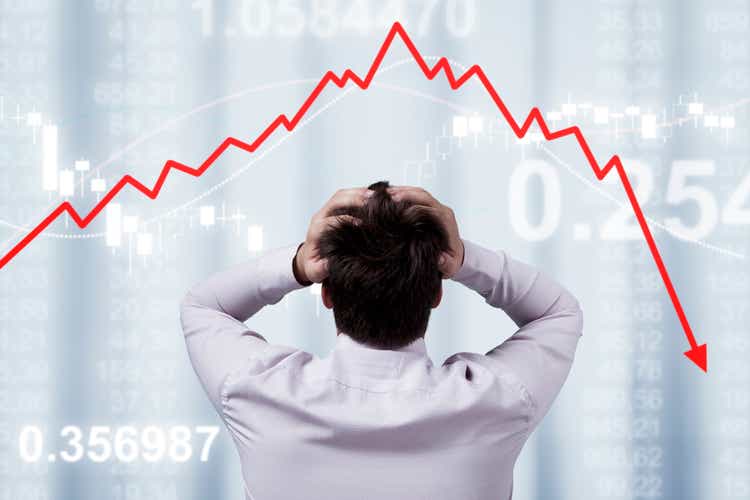 I have run a series of articles now since August suggesting that early 2022 could be in line for a significant stock market correction. In this piece, I suggested that fundamentals, technicals, and leverage all were lining the stock market up for a correction:
Overvalued, Overbought & Overleveraged Market While The Fed Tightens, What Could Go Wrong?
After that, I suggested that the Fed is withdrawing liquidity for two reasons:
to rein in inflation.
to reload their bazooka for the next wave of deflation.
Macro Dashes: The Fed Is Reloading Its Bazooka For Next Time
What I have said for weeks in my webinars is that a bear market is likely to start in Q1 of 2022. That doesn't mean we can't skip the Santa rally though and see it start sooner.
In reviewing the long-term MACD, I was blown away to see just how extreme it has become. It reminds me that markets can remain irrational for a long time. That irrationality usually only lasts as long as easy money from the Fed lasts though and the M2 money supply is now plunging.
What Is MACD?
MACD is a trend and momentum indicator that is useful to find pivots in the market. It can also help you buy into trends that are not quite over with yet, which is of course useful if we are sometimes late to the game.
Here's MACD per StockCharts.com:
"The MACD indicator is special because it brings together momentum and trend in one indicator. This unique blend of trend and momentum can be applied to daily, weekly or monthly charts. The standard setting for MACD is the difference between the 12- and 26-period EMAs. Chartists looking for more sensitivity may try a shorter short-term moving average and a longer long-term moving average. MACD(5,35,5) is more sensitive than MACD(12,26,9) and might be better suited for weekly charts. Chartists looking for less sensitivity may consider lengthening the moving averages. A less sensitive MACD will still oscillate above/below zero, but the centerline crossovers and signal line crossovers will be less frequent."
Bonnie Gortler, whom I consult with and who has worked for Gerald Appel, the creator of MACD, for over 3 decades, says this about MACD in her free article:
Moving Average Convergence Trading Method (MACD) Made Simple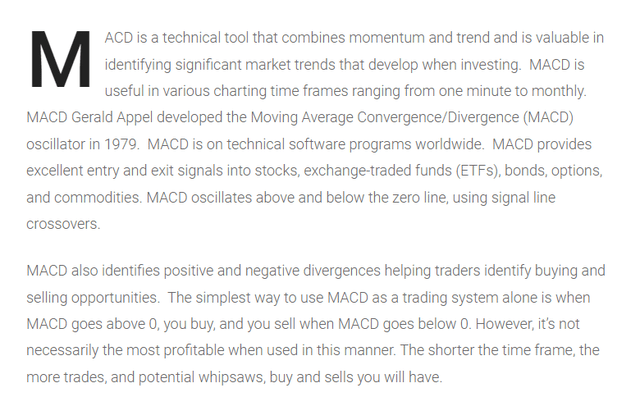 Here's what Fidelity says:
MACD is a technical indicator that can generate buy and sell signals.
It is particularly useful in trending markets.
Amid the rally to record highs for US stocks, MACD is not sending a strong signal for short-term market direction. But that could quickly change.
That was what they said in August when I said this in a viral article:
Stock Market Correction Is Due And It Could Be Deep
The takeaway is that MACD was in a peaking process and not giving a strong buy signal anymore. Why? Because the extremely overvalued, trending upward, YOLO, what-me-worry stock market was starting to lose its mojo.
MACD Has Gone X-Games
When measuring MACD, you can use different time settings as mentioned by StockCharts above. Here are three charts using different settings and using the monthly closing charts going back to before the Dot-com crash.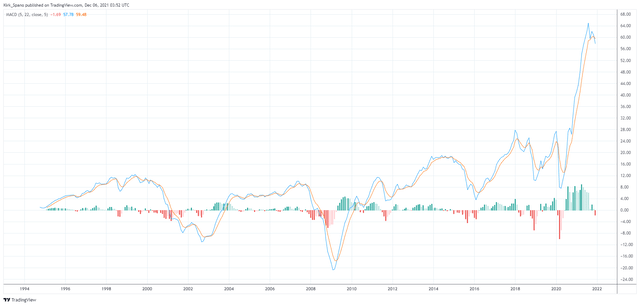 TradingView Chart
This MACD chart uses a fast setting. I used a 5-period (in this case measuring months) short time frame and a 22-period long time frame to take a look at what the stock market is signaling. Using the shorter time frames, especially when measuring months, which is a long duration chart, made sense to me because being a month or two late on battening down the hatches into a big correction is, well, too late.
The above chart is signaling that upward momentum in the stock market is essentially gone and that price pivot is coming sooner than later.
Here's a MACD chart with a more standard setting of 9 periods and 26 periods, which is close to defaults used by many traders and just barely a shade fast.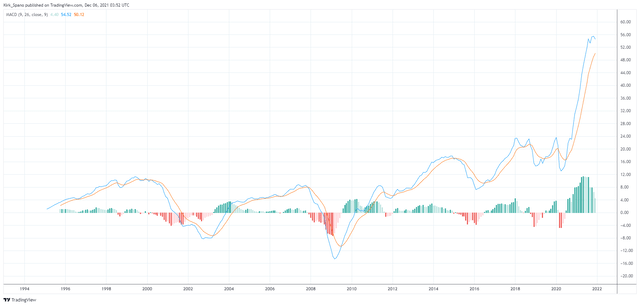 TradingView Chart
A more normal look at MACD demonstrates a plateau of momentum and a potential change in trend. Certainly, it could push up a bit more, but that would be unusual.
Finally, here is a chart using slow settings for MACD. I think this is useful if the Fed weren't tapering QE. With the reality being that liquidity is falling, as I'll show below, I think it's less likely this chart is correct, but who knows, there's a lot of money out there. This MACD chart essentially says there might be one more puff left on the bull market cigar.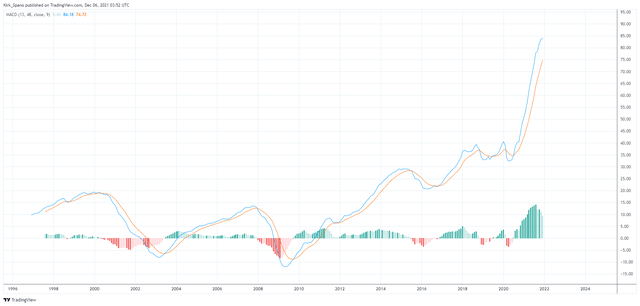 TradingView Chart
So, the summary is that MACD is signaling either an imminent correction or at least, there is very little left in this bull market run.
Based purely on valuations, which I have covered extensively in the other linked articles, this bull market could have ended a year ago. Of course, we must always remember that markets can remain irrational for a long time.
The easy to understand and very mature reason that the stock market has remained irrational for a long time is that it has been hyper-liquid. That is, the Fed has printed a lot of money. It's easy to see that relationship: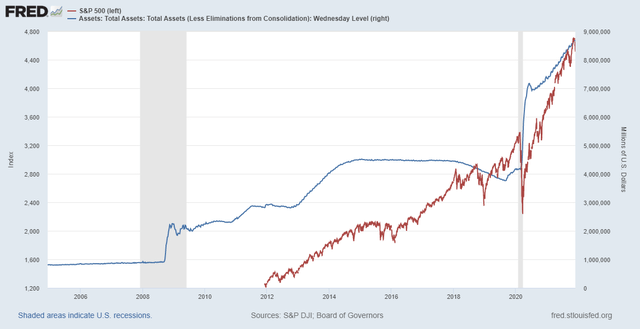 M2 Says Lower Liquidity Is Coming Fast
Below is a chart by the Federal Reserve Bank of St. Louis FRED system of M2 money supply that is pretty easy to take in.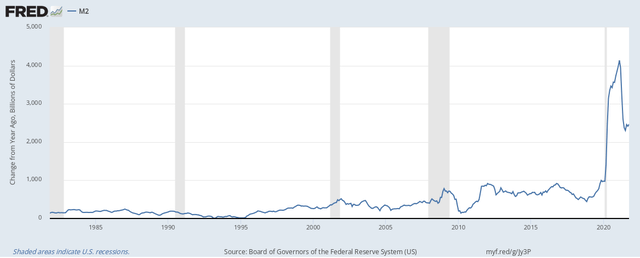 What we see is that year-over-year money supply is falling rapidly after the COVID surge in money supply. During the taper of QE, this number will continue to come down. Money supply is synonymous with liquidity.
As liquidity falls, that will make it harder to get leverage on money, from buying homes where rates are likely to rise to maintain a margin account where not only will rates rise, but margin requirements are likely to get tighter.
If inflation persists and the Fed is pushed into shrinking its balance sheet, then things could get really destructive for risk assets.
What Will Millennials Do Next?
In being an early follower of Reddit, I know that not all the kids in the room understand that margin requirements can change fast. However, it is clear to me that there are fewer bad traders among Millennials than earlier generations.
Simply put, the Millennials have become better traders at earlier ages. In my opinion, they are less emotional and are going to be willing to "flip the switch" from uber bullish to uber bearish. I talked about that a bit over a year ago here:
Will Young Traders Flip The Option Switch To Cause A Crash?
If Millennials start to buy puts and short stocks, then the upward pressure we have seen on stocks can become downward pressure pretty quick.
We are already seeing that in small caps where it is easier to gang up with a short attack on an underfollowed stock. If you look across stocks with market caps under $2 billion, you'll find many already down 20-30% or more.
The iShares Russell 2000 ETF (IWM) is already down over 10% in a month. That might only be a blip when this is all over.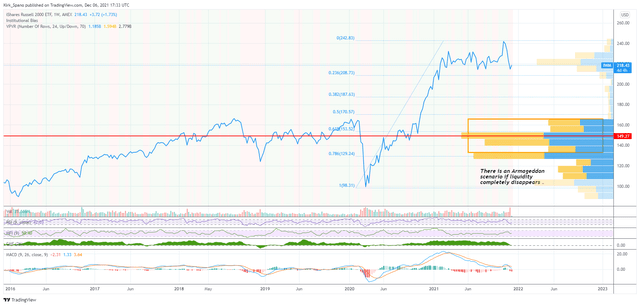 We're also seeing declines in meme stocks. Here's just a couple.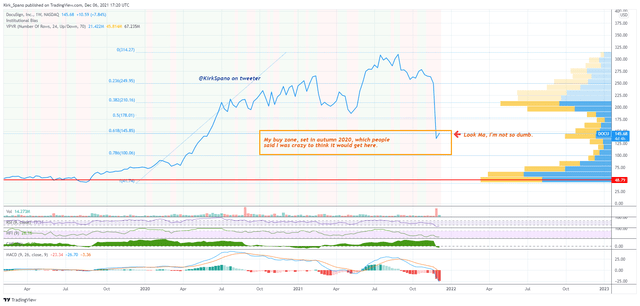 TradingView Chart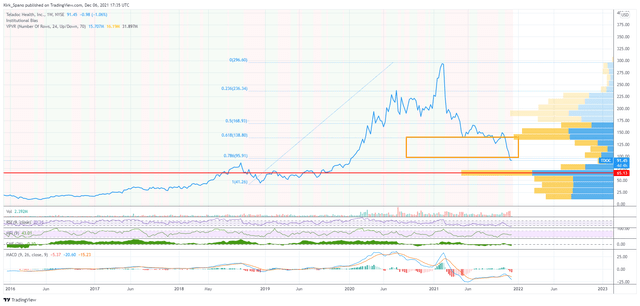 TradingView Chart
And in certain FAANG stocks, it could just be beginning.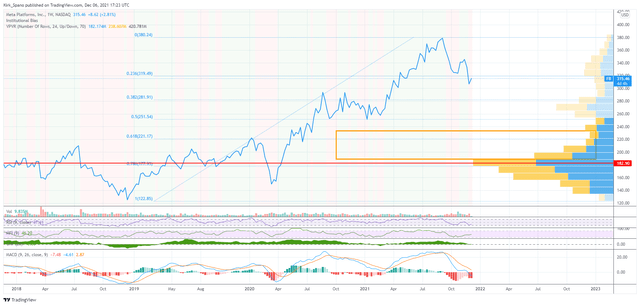 TradingView Chart
Investment Quick Thought
It's always time to be very conscious of valuations and outlooks. Managing risk by maintaining a margin of safety is always smart.
When the Fed is tightening, liquidity is falling, the markets overvalued, overbought and overleveraged, and there are traders on the warpath, well, it's time to do a very deep think on what you're actually willing to risk.
I have told my most conservative investors to get to 50% cash by selling losers and proportionately reducing the rest by keepers and highest conviction stocks. Of course, in non-tax qualified accounts, you have to consider taxes too. There, at least take tax losses now vs. later when prices might be lower yet.
If you own an S&P 500 ETF (SPY) (VOO), sell it. The S&P 500 is full of zombies, and zombie hunting is beginning. You can do better-picking stocks or using different ETFs.
If you own the Russell 2000 ETF (IWM), sell it, it's going lower. In the inefficient small cap space, you can do better picking small caps or using more focused ETFs.