Aeglea Presents Itself As Buy Opportunity After Latest Data Causes Stock To Trade Lower
Summary
Aeglea achieved primary endpoint in reducing arginine levels with its drug pegzilarginase for ARG1-D, which in turn reduced ammonia in the blood plasma, by an average of 80%.
BLA filing of pegzilarginase for patients with ARG1-D is expected to occur in first half of 2022.
Additional results from the phase 3 PEACE study, using pegzilarginase for patients with ARG1-D, are expected to be released at an upcoming medical meeting and in peer-reviewed medical journals.
The company will also submit a regulatory application for pegzilarginase for ARG1-D, with its partner Immedica Pharma, to Europe and other Middle East countries in 2022.
I do much more than just articles at Biotech Analysis Central: Members get access to model portfolios, regular updates, a chat room, and more. Learn More »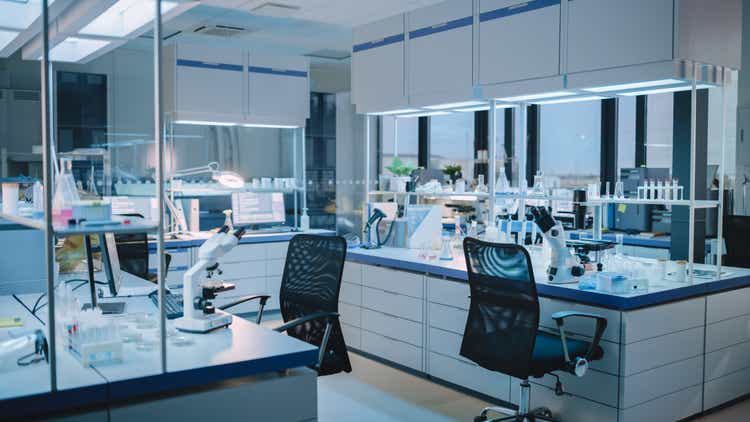 Aeglea BioTherapeutics (NASDAQ:AGLE) just announced results from its phase 3 study, which is using its drug pegzilarginase for a rare disease known as Arginase 1 Deficiency (ARG1-D). The company had met on the primary endpoint of being able to reduce a biomarker found in these patients starting from baseline to week 24 of the study. This primary endpoint was met with statistical significance, but despite that fact, the stock traded lower by as much as around 30%. The reason? Because it didn't achieve statistical significance when dealing with the secondary endpoints looking at mobility. However, this presents itself as a huge buying opportunity. Why? That's because the FDA sets up approvals based on whether or not a drug achieves the primary endpoint of a study. While it would have been nice to hit the secondary endpoints, I still believe the FDA will still likely approve the drug regardless. Thus, with the selloff being overblown, this is why I view this drop as a huge buying opportunity. As I will explain below, there are no currently approved therapies that directly target high levels of arginine found in these patients. With an inadequate standard of care treatments, plus the primary endpoint being met, I see no reason why the FDA won't approve pegzilarginase for these patients with ARG1-D.
Phase 3 Data Meets Primary Endpoint, BLA Filing Expected To Move Forward
The thing is that Aeglea met on the primary endpoint of the phase 3 study. This phase 3 study was known as PEACE, and it recruited up to 32 patients with Arginase 1 Deficiency (ARG1-D). These were patients who were aged 2 and older. The split of the study was as follows:
21 patients given pegzilarginase
11 patients given placebo
The primary endpoint of the study was to determine plasma arginine reduction from baseline levels. The secondary endpoint deals with mobility, which is determined by GMFM-E. This is a Gross Motor Function Measure scale to assess such mobility. Another secondary endpoint looking at mobility was 2-Minute Walk Test. Before diving into the results that were released by Aeglea, it is important to understand what this rare disease entails. ARG1-D is a major issue. That's because those who have it have a big build-up of the amino acid arginine and ammonia in the blood. This happens at a gradual pace, but eventually, when ammonia levels get to be too much, the body has major issues. Especially, when you consider the nervous system which has a major problem if there is too much ammonia in the blood. It also affects the muscles as well, which is why mobility becomes an issue. Other issues that can happen with those who have ARG1-D are:
Seizures
Developmental delay
Slower growth
Difficulty handling balance
Several other issues
The thing is that this is a rare disease. As I will explain below, despite not achieving improvements in terms of motor function with statistical significance, those treated with pegzilarginase did lower their levels of arginine substantially. Why should patients or investors care? Remember above where I stated that high levels of ammonia cause major issues with the body? Well, if such ammonia levels could be reduced dramatically, then at least these patients can achieve relief in some type of way. Not only that, but those who have this rare disease see high levels of ammonia build up faster when one of these happen:
High protein meal is consumed
Stress causes higher levels to build
Fasting for a long period of time
If one of these happens, then ammonia starts to build up in the blood at a quicker pace. At that point, a person can't eat or suffers from tolerability issues. The primary endpoint deals with reducing arginine levels, therefore, patients who were given this drug were helped by seeing lower levels of ammonia in the blood. Even though motor function was not improved with statistical significance, there were still highly positive trends in favor of patients who were given pegzilarginase.
Looking at the primary endpoint first, this was met with statistical significance. It was noted that patients given Aeglea's drug achieved an 80% reduction in mean plasma arginine. Again, this helps achieve lower levels of ammonia in the blood. The reduction achieved by pegzilarginase was statistically significant compared to those given placebo with a p-value of p<0.0001. Another way to look at it is that 90.5% of patients given the drug had achieved normal plasma arginine levels. On the other hand, 0% had achieved normal arginine levels who had taken placebo.
Secondary Endpoints Missed But Still Performed Better Than Placebo
The secondary endpoints are where Aeglea did not achieve statistical significance. The two endpoints that it lacked to do so was in terms of 2-Minute Walk Test and GMFM-E. While this is disappointing, taking a look at both endpoints, pegzilarginase still did slightly better compared to placebo. The endpoint results comparisons were as follows:
2-Minute Walk Test = 7.4 meters with pegzilarginase compared to 1.9 meters on placebo, p-value of p= 0.5961
GMFM-E score = 4.2 units with pegzilarginase compared to 0.4 units for those given placebo, p-value of p=0.1087
The reason why I wanted to bring these up is because even though the drug didn't achieve statistical significance on these two measures compared to placebo, it was still able to help in terms of motor function. Setting aside the motor function improvements of pegzilarginase, the key thing is the primary endpoint anyways. The FDA decides regulatory approvals for a drug based on whether or not a primary endpoint is achieved. Secondary endpoints are added for additional measures that are worth exploring and to see if the drug performs well against them. However, in terms of pegzilarginase being approved, the primary endpoint being met is all that matters.
That's why Aeglea announced that it is moving forward with filing a Biologics Licensing Application (BLA) in the first half of 2022 for pegzilarginase for ARG1-D. It also will move with its partner Immedica Pharma AB to submit an application for regulatory approval of the drug for this indication in Europe and certain countries in the Middle East. Additional catalysts for investors to look forward to would be additional results from this study, which is expected at an upcoming medical meeting and peer-reviewed medical journals. Is there another way to prove that the selloff of Aeglea was not warranted? In my opinion, yes there is. It was noted that from the phase 1/2 long-term open-label extension study, about 13 out of 14 patients remained on treatment ranging from 2 to 4 years. Do you believe these patients are only concerned about motor improvements? I don't believe so. I believe that these patients are happy that this therapy does help in terms of reducing ammonia in the blood. Again, this is the key thing that needs to be reiterated. That's why I believe that the sell-off that occurred in the stock by 30% or more was not warranted. If these patients were only concerned with motor function improvements, then most if not all wouldn't continue receiving this drug for 2 to 4 years. I don't believe that the FDA would refuse to approve pegzilarginase just on the merits that it doesn't improve motor function capability. Especially, at the expense of a large decline in arginine levels in the blood plasma that was achieved for these ARG1-D patients.
Financials
According to the 10-Q SEC filing, Aeglea BioTherapeutics had cash, cash equivalents, and marketable securities and restricted cash of $114.3 million as of September 30, 2021. This may seem like a small amount of cash, but it isn't. That's because the biotech believes this is enough cash to fund its operations into 2023. I believe that despite having cash until then, it may choose to raise cash in the coming days after the release of this data. Another option it may choose is to wait to raise cash when the stock has climbed higher on another positive news event. For instance, maybe when it files its BLA to the FDA for pegzilarginase for patients with ARG1-D in the first half of 2022. Not only that, but it did receive a small amount of cash earlier this year. This small amount of cash was obtained when it formed the partnership with Immedica Pharma AB earlier this year. It received an upfront payment of about $21.5 million for developing the deal with this biotech. It is also eligible to earn up to $130 million and then royalties on net sales of the drug in certain territories of percentage of mid-20s.
Risks To Business
The biggest risk of all would be the BLA filing of pegzilarginase for patients with ARG1-D which is expected in first half of 2022. While the filing of the application is expected to happen, there is no guarantee with certainty that the FDA will accept it in its current form. The primary endpoint was met for the drug in terms of reducing arginine levels, which is good. However, the FDA may possibly want additional data, another study, or a different endpoint. The understanding is that Aeglea should be able to achieve FDA approval with the biomarker arginine, however, that could possibly change. Another risk factor would be another cash raise. The company did achieve some cash from Immedica for developing the licensing deal for pegzilarginase, but it may need to raise additional cash in the coming months. This could cause the stock to trade lower in the short term if the company does pull the trigger to raise cash.
Conclusion
I believe that the stock selloff of 30% or more was overblown. It is disappointing that the secondary endpoints of motor function were not achieved, but just meeting the primary endpoint of arginine level reduction in blood plasma alone in my eyes was enough. This is evidenced above with 13 out of 14 patients remaining on treatment for 2 to 4 years. If motor function was the end all be all, then I believe most if not all those patients would not have continued treatment with pegzilarginase for so long. This is my reasoning on why I believe this sell-off was unjustified and why the stock should recover in the coming months/year. The BLA filing of pegzilarginase is still moving forward to the FDA in the first half of 2022 and Aeglea's partner will also file as well. I believe that the stock trading low on the released data just created a great buying opportunity.
This article is published by Terry Chrisomalis, who runs the Biotech Analysis Central pharmaceutical service on Seeking Alpha Marketplace. If you like what you read here and would like to subscribe to, I'm currently offering a two-week free trial period for subscribers to take advantage of. My service offers a deep-dive analysis of many pharmaceutical companies. The Biotech Analysis Central SA marketplace is $49 per month, but for those who sign up for the yearly plan will be able to take advantage of a 33.50% discount price of $399 per year.
This article was written by
Terry Chrisomalis is a private investor in the Biotech sector with years of experience utilizing his Applied Science background to generate long term value from Healthcare.
He is the author of the investing group
Learn more
.
Analyst's Disclosure: I/we have no stock, option or similar derivative position in any of the companies mentioned, and no plans to initiate any such positions within the next 72 hours. I wrote this article myself, and it expresses my own opinions. I am not receiving compensation for it (other than from Seeking Alpha). I have no business relationship with any company whose stock is mentioned in this article.
Seeking Alpha's Disclosure: Past performance is no guarantee of future results. No recommendation or advice is being given as to whether any investment is suitable for a particular investor. Any views or opinions expressed above may not reflect those of Seeking Alpha as a whole. Seeking Alpha is not a licensed securities dealer, broker or US investment adviser or investment bank. Our analysts are third party authors that include both professional investors and individual investors who may not be licensed or certified by any institute or regulatory body.