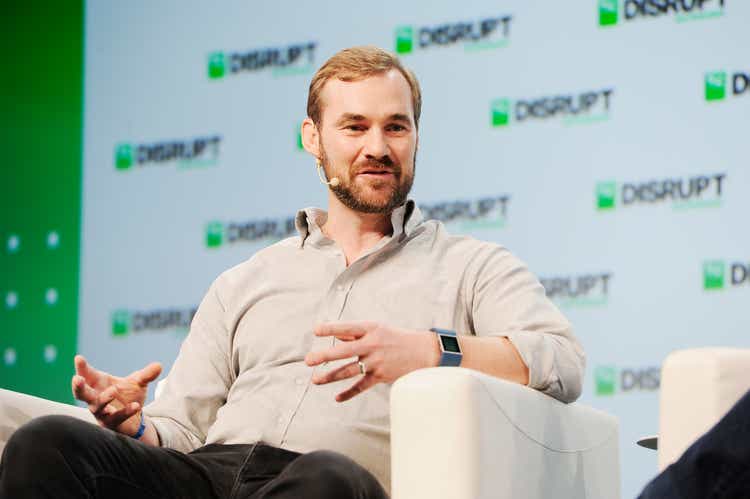 EVs
Tesla (TSLA) is up more than 1,450% over the past three years.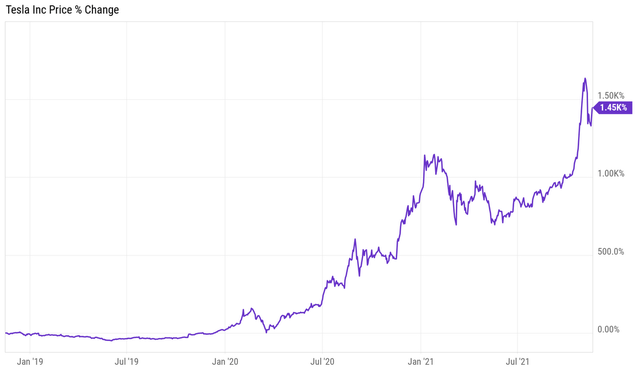 This was at the forefront of my mind when I made Lucid (LCID) my biggest position I've ever had earlier this year. Regardless of its long-term merits, it was a cinch to work as a successful SPAC deal. Lucid would be the most obvious comparable company for the most followed and loved company in the market. It was my biggest and best SPAC position and the most asymmetric bet of the past year, risking pennies to make dollars.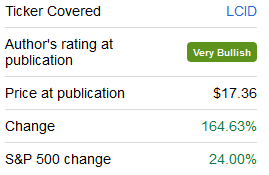 Quantum
Today, we have a second chance at this type of setup, this time in the realm of quantum computing. IonQ (IONQ) recently completed a SPAC combination to go public. In September, I described it as "today's best SPAC opportunity."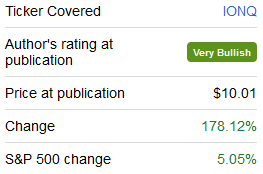 Such torrid successes raise the prospects of reigniting the SPAC market and drawing investor interest to quantum computing. So when investors look for their next quantum computing SPAC, what will they find? Answer: Rigetti Computing, which is combining with Supernova (SNII). Rigetti makes bold claims - that they're scaling the fastest among industry leaders including IBM (IBM), Google (GOOG) (GOOGL), and IonQ and that this big speed advantage creates a bigger market opportunity.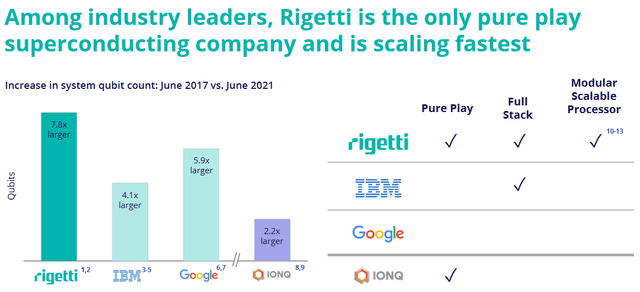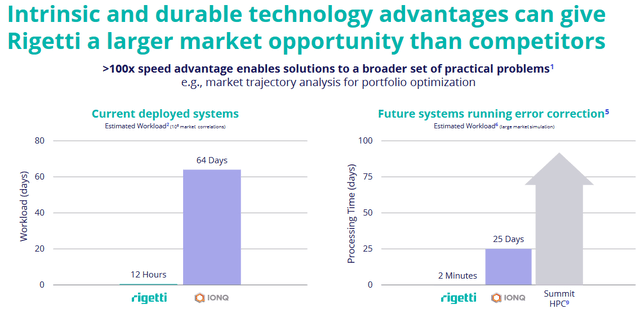 Rigetti presents their valuation metrics benchmarked against IonQ: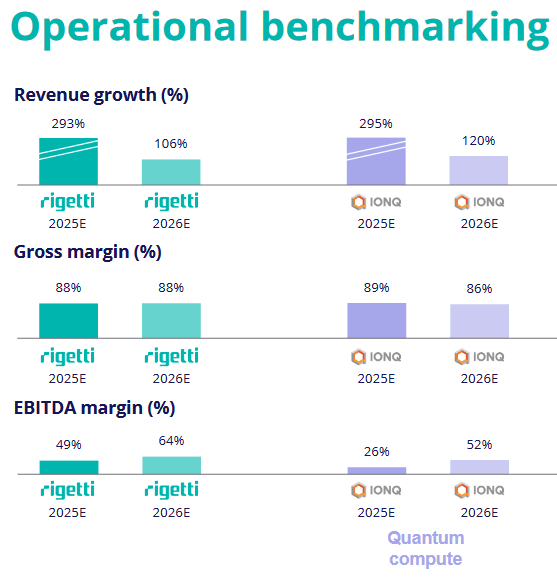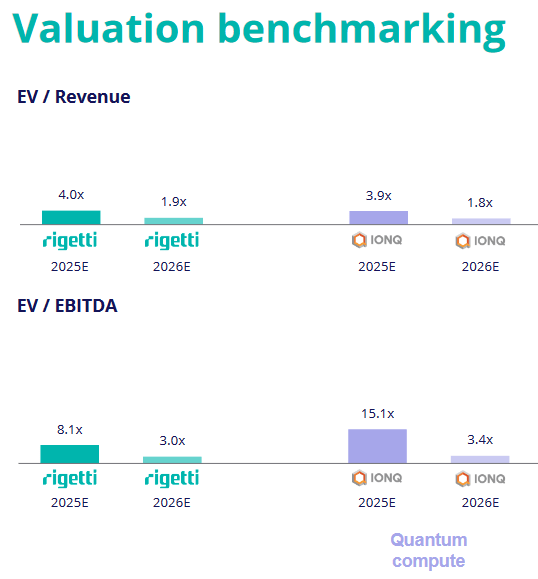 Rigetti claims the fastest rate of progress on increasing fidelity: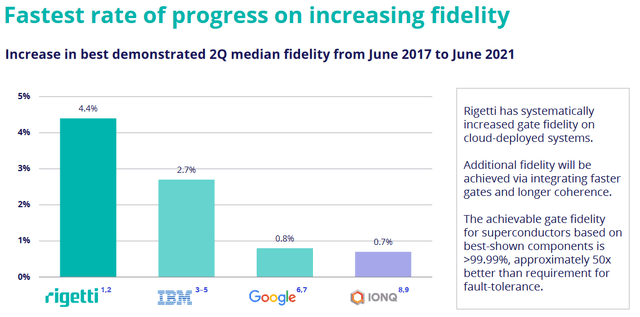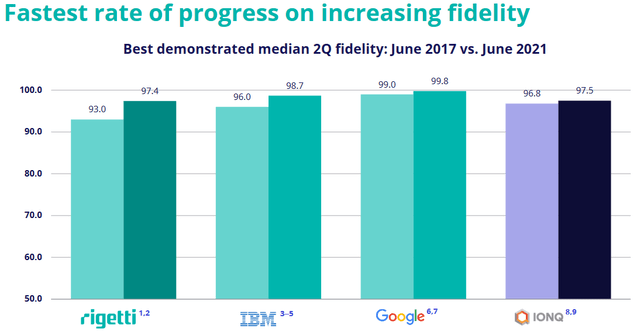 Which approach will ultimately come out on top? I placed my bet on IonQ. But I'm also willing to spread my bets which is why I'm investing in Rigetti.
Supernova II
Supernova Partners Acquisition Company II Ltd. IPOed in March. The IPO raised $345 million from investors that paid $10 for a unit which consisted of a share and a quarter of a warrant. They had 24 months to close a deal with a focus on technology. They announced their combination with Rigetti in October and filed their proxy earlier this month. IPO investors have made a 32% return in nine months, but it could still have a long way to go.
Quantum is a huge segmented market
Quantum is a massive future market with the potential for multiple winners that could include both IonQ and Rigetti. Applications include solving computational problems in simulation, optimization, machine learning, and cryptography. As different companies with different technological approaches compete, their differing characteristics will best serve different market segments. The two leading modalities are IonQ's trapped ion approach and Rigetti's superconducting approach. Here's how Boston Consulting Group compares the two main approaches: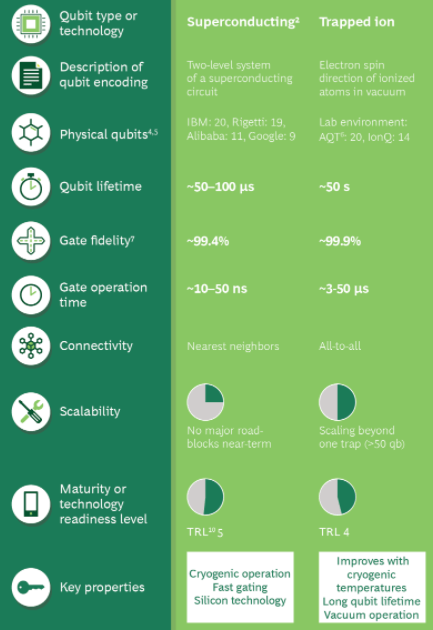 Superconducting
Superconducting is scaling fastest because it uses engineered qubits that take advantage of existing semiconductor processes and technology.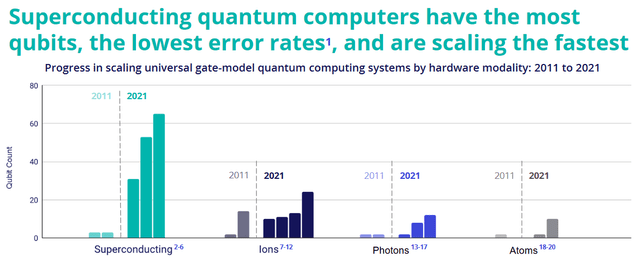 When asked why his company pursues superconducting, founder Chad Rigetti said,
With different technologies, everyone has a religion, and it becomes a contest about which one is in the lead, or which one is best. I think that's the wrong way to look at it. Superconducting is best suited for building scalable quantum processing hardware, in my judgment, and it's the technology that's shown the most progress most quickly in recent years. I think most people agree that superconducting will be the first to produce qubits that achieve quantum advantage. That doesn't mean that ion traps or some other technology won't have a big breakthrough down the road. But right now, superconducting has a huge leg up: It's the only quantum computing technology that is based on chips and lithography-driven. That means that once we solve the error correction challenges, it's relatively easy to scale, which is the key to achieving quantum advantage.
Superconducting was the first approach to achieve quantum supremacy (the goal of solving a problem with a quantum device that no classical computer could solve in a feasible time period) when Google used it to perform a calculation that would have taken the best classical supercomputer 10,000 years to complete. Google, IBM, Amazon (AMZN), and Rigetti have chosen this modality. Of the market participants, Rigetti will be the only pure play public option for investors to get direct exposure.
Rigetti
Rigetti's demonstrable success in multi-chip architecture solves the primary challenge of quickly scaling to quantum advantage. The company was the first to a scalable multi-chip quantum processor. By linking tiny high-performance chips, their interchip coupling enables scaling high-speed qubit fabric across multiple chips with extremely high fidelity.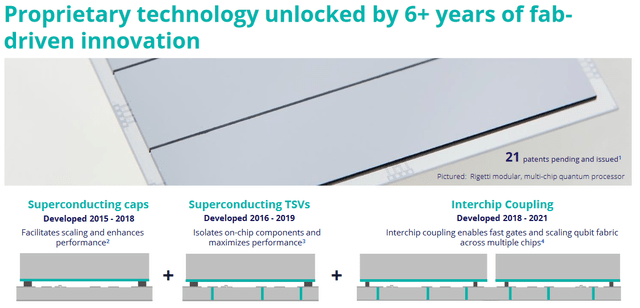 They have a clear path to building the next generation chip that builds on this multi-chip architecture to further improve qubit fidelity. One of their breakthroughs is the entangling gate. Universal entangling gates fixes a number of serious scientific and engineering challenges. Via parametric control, they resolve problems with on-chip, multi-qubit frequency crowding. They're compatible with high-fidelity tunable couplers. Rigetti built the first dedicated quantum foundry. This US-based facility enables speedy iteration, learning, and predictable scaling.

Rigetti is a 21st Century Bell Labs. It's a research and development powerhouse with key partnerships with civil government, national security, academic institutions, and commercial projects to help it progress rapidly.
Conclusion
For fellow IonQ investors, investing in Rigetti (SNII) could be the perfect way to hedge hardware modality.
TL; DR
Buy SNII, which could double in reaction to IONQ's successfully completing its SPAC deal, and hold it for the long-term potential of quantum computing.