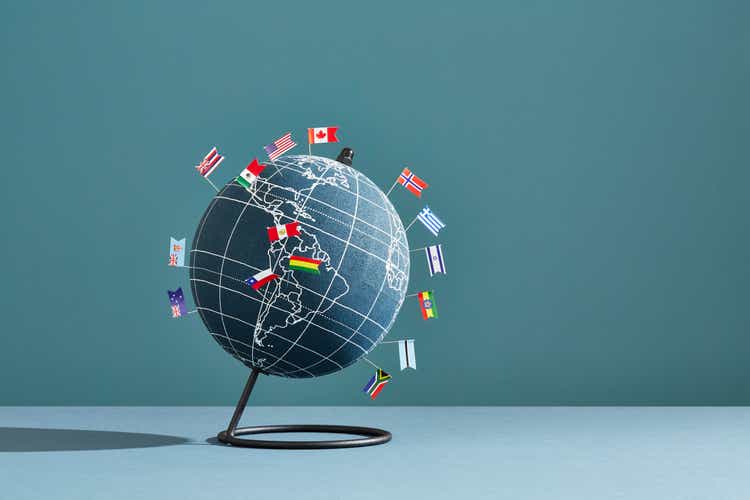 Written by Nick Ackerman, co-produced by Stanford Chemist
2021 is nearing a close, and once again, U.S. investments are taking the crown for being the better performer. That meant my wanting to gain exposure to international securities to be more diversified this year was ill-timed. That being said, I still believe that diversifying in international exposure is worth a bet. Historically, international and U.S. investments have traded off in performance, favoring one or the other. Over the last decade+, U.S. performance has been the dominant force.
Below is a chart showing the performance of the SPDR S&P 500 ETF (SPY) and Vanguard FTSE All-World ex-US ETF (VEU). VEU is most heavy in European investments but also carries a meaningful allocation to emerging and pacific markets. As we can see, VEU and SPY were quite close in performance up until April. After which, SPY continued higher while VEU had stayed relatively stagnant.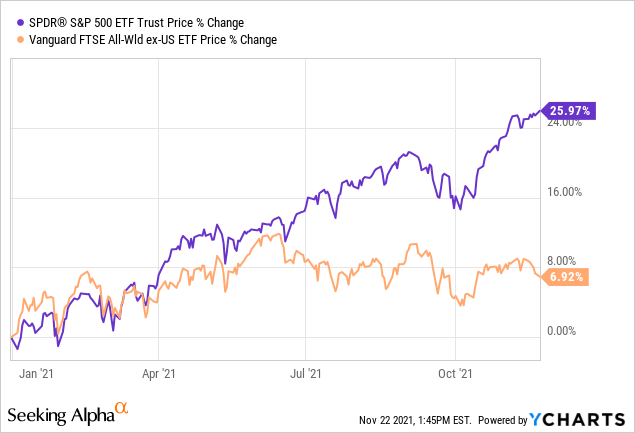 With the U.S. once again being the dominant market to have been invested in, it is starting to become quite a stretched run based on history.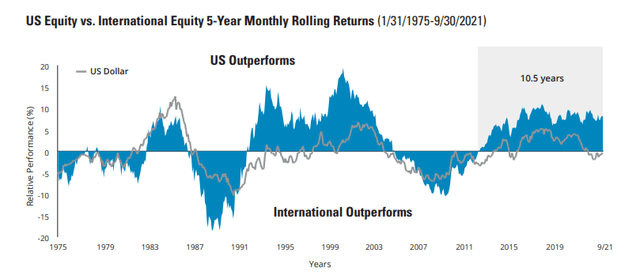 (Source - Hartford Funds Presentation)
If an investor wants to gain exposure to international holdings, I believe that two closed-end funds are attractively valued at this time. The Voya Global Advantage and Premium Opportunity Fund (NYSE:IGA) and BlackRock Enhanced Global Dividend Trust (NYSE:BOE) are interesting ideas. Both of these funds happen to utilize an options strategy of selling calls. In the case of BOE, they will sell against individual positions; IGA will sell against indexes or ETFs.
Keep in mind; these funds also carry a meaningful allocation to U.S. investments. Therefore, they aren't pure-play options but can still provide added diversification. The active management could mean they can go even heavier into global investments if the managers deem it warranted.
IGA has slightly edged out BOE between the two funds in terms of total returns over the last decade.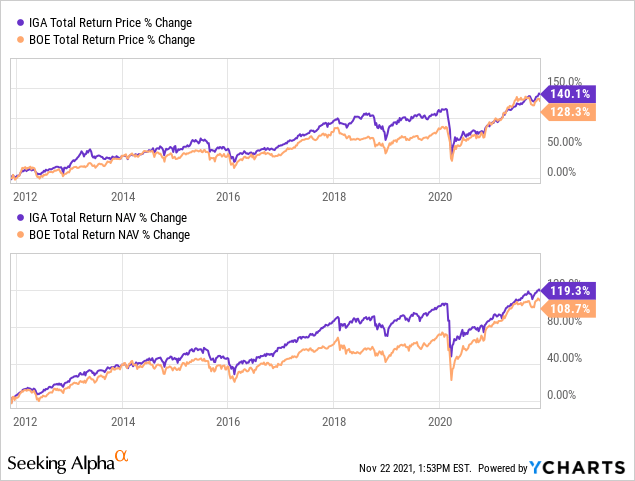 Voya Global Advantage and Premium Opportunity Fund (IGA)
IGA's investment objective is "a high level of income; capital appreciation is secondary." They intend to write "call options on indexes or ETFs, on an amount of equal to approximately 50-100% of the value of the Fund's common stock holdings." Typically, this is an important metric to look at. This can help gauge how bullish or bearish the fund may be leaning.
The more overwritten the portfolio, then the more that would indicate they are bearish. They would not want to be overwritten to a significant degree if they felt like the indexes would continue significantly higher. With that, they are slightly below their target, with the third quarter 2021 Fact Sheet showing a 49.85% percent of the portfolio being overwritten.
They don't have a specific sector allocation they follow either. I believe that is another crucial point. Currently, the largest sector in their portfolio belongs to financials and healthcare. Both sectors that haven't themselves been the best performers in recent years. On the other hand, financials this year have taken off. Taking the performance of the SPDR Financial Select Sector ETF (XLF), that ETF is up 32.36% as of 11/22/2021 and is the second best performing sector.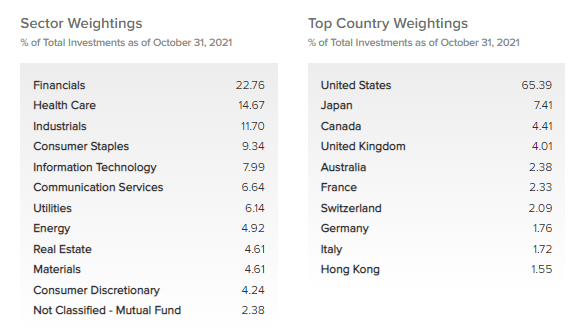 (Source - Fund Website)
Financial exposure is just one other area that I find more compelling of a reason to invest in IGA. That is my value-oriented investor style coming in to make me a bit more biased.
As mentioned previously, we can see that the fund isn't a pure-play international CEF. They still offer over 65% of their portfolio in U.S.-based investments. That's one area I wouldn't mind seeing come down. Though it has done the reverse, U.S. exposure has slightly increased since our previous coverage. Presumably, this is through what we highlighted above - that U.S. stocks have once again outperformed.
Making IGA the relatively attractive option it is at this time is the fund's discount. A lot of CEFs have gone to premiums this year or have come close. At the same time, IGA remains a somewhat deeply discounted fund.
The latest discount came to 6.01%. Over the last year, the fund's average discount was 9.06%. Even longer at the 5-year mark, we have an average discount of 9.15%. That puts the latest discount at a narrower level. However, this fund hasn't participated in the same level of tightening we've seen in the broader CEF space.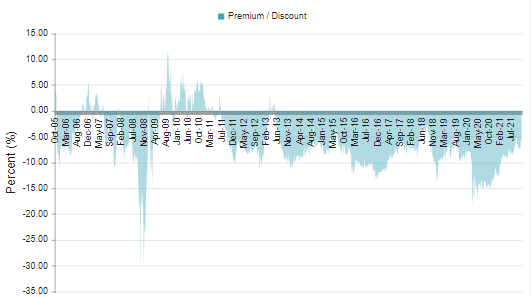 (Source - CEFConnect)
At this time, the fund has a distribution yield of 7.75%. This is paid quarterly and has come down over the life of the fund. The primary culprit of adjusting lower is the focus on a more international exposure that has been lagging. Again, the idea behind investing in IGA or BOE would be to take advantage of the better values outside the U.S. and diversify one's portfolio. If that plays out, that could indicate that the cuts could be limited from here.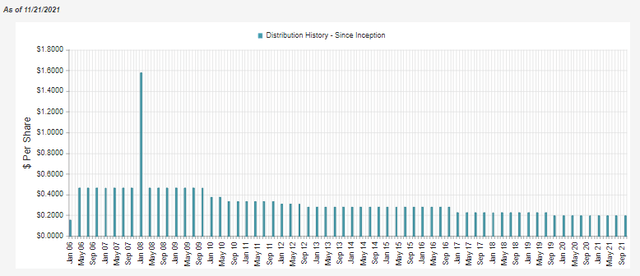 (Source - CEFConnect)
Voya Global Equity Dividend And Premium Opportunity Fund (IGD)
In this section, one final note is that one might consider Voya Global Equity Dividend And Premium Opportunity Fund (IGD). The fund also carries an attractive discount and similar investment exposure. However, they pay a monthly distribution.
I'm noting this because I still personally hold IGD. I made this switch when there was a larger tender offer for shares of IGD over IGA earlier this year. I have yet to make the switchback. Creating a compelling case to make a switchback is the fact that IGA has been the superior performer.
While they have similar portfolios, it indicates that they are just slightly better at managing IGA. One other small detail that could be a contributing factor, IGD will write calls against individual securities in its portfolio or ETFs.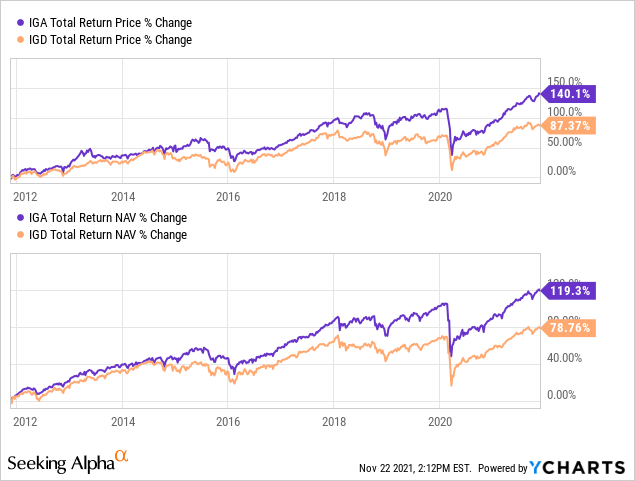 BlackRock Enhanced Global Dividend Trust (BOE)
BOE has an investment objective to "provide current income and current gains, with a secondary objective of long-term capital appreciation."
They intend to achieve this through "investing in at least 80% of its net assets in dividend-paying equity securities and at least 40% of its assets outside of the U.S. The Fund may invest in securities of companies of any market capitalization but intends to invest primarily in securities of large-capitalization companies. The Fund generally intends to write covered put and call options with respect to approximately 30% to 45% of its total assets. However, the percentage may vary from time to time with market conditions."
BOE focuses on writing options on single stocks. The fund reported as of October 29th, 2021, that it was overwritten by 43.97%. Interestingly, that is on the higher end of their range - which would, in theory, mean they might be a bit more bearish. At the same time, it still puts the overwritten portion below that of IGA's. Their range overall for their options strategy is on the lighter end.
The fund offers a bit more of those global ex-US positions than IGA. I believe that could have accounted for some of the underperformance relative to IGA over the last ten years. Assuming that international stocks can turn this around - which is what the main focus of this piece is on more broadly - we could see that potentially reverse if IGA doesn't increase its investments outside the U.S.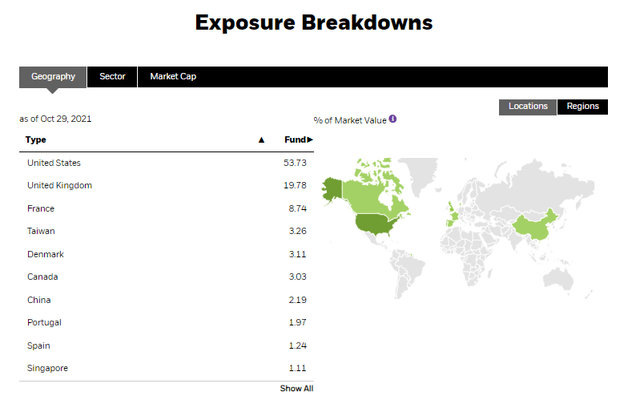 (Source - Fund Website)
For the fund's sector exposure, they carry the largest allocation to tech. However, it isn't overwhelmingly invested in the tech sector. Instead, they offer much more diversification than we see relative to other "diversified" CEFs.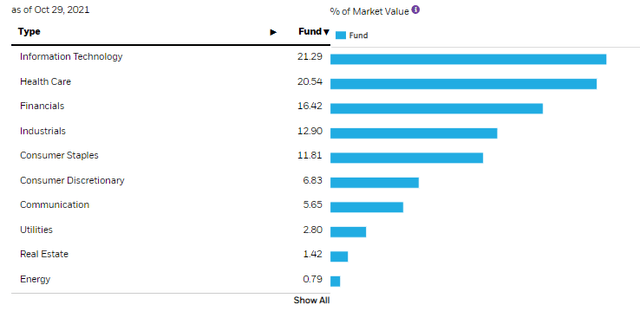 (Source - Fund Website)
That's also a change from earlier this year where tech was less than 19% of the portfolio. Healthcare at that same time was also a small allocation at just under 18%. We covered the fund, and we can see the previous allocations as of February 26th, 2021, in that publication.
Looking at BOE's discount, we can see that this fund wasn't always at a perpetual discount. In fact, before 2011, the fund enjoyed premium pricing on several occasions. It is really over the last decade (where the U.S. has outperformed) that we see a deep and persistent discount.
The current discount of 8.53% is arguably more attractive than IGA's relative to the other historical averages. Over the last year, the fund's average discount was 8.69%, which puts the 1-year z-score at just 0.07. A z-score indicates how far away a fund's discount is relative to the average over a particular time.
Over the last five years, the fund's average discount came to a yet wider 9.92%. Though that's also factoring in 2020, the fund reached some of the widest discounts it has ever touched since its inception. The discount was only topped back in 2008.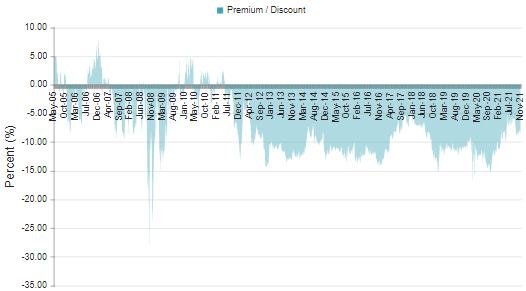 (Source - CEFConnect)
BOE pays a monthly distribution, so that can make income investors more attracted to the fund. They made that switch around 2014. Overall, the distribution trend has been similar to IGA, meaning lower and lower. Currently, the fund's distribution yield works out to 6.24%.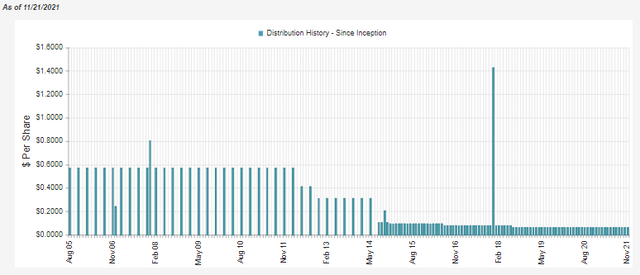 (Source - CEFConnect)
The last trim was several years ago. I like to give that distribution trim a pass since they paid out a significant special distribution of $1.35 per share before that.
When paying out such a material distribution, a significant amount of assets are no longer earning for the fund. That means the remaining assets have to "work harder" to sustain such a payout. That happened at the end of 2017. On 12/31/2021, they had 68,911,795 shares outstanding. That translates into paying shareholders a total of $93+ million just in that year-end payout. That was just over 10% of the fund's assets at that time.
Conclusion
International stocks haven't been the place to be for over a decade now. Over the last year, while they showed some promise right at the beginning, they have again sunk to underperform U.S. equities. Historically, international markets have outperformed relative to U.S. investments for certain periods.
Of course, besides the general historical trend of international versus U.S. performance taking turns, there should be a catalyst for such a change. JPMorgan (JPM) highlights just how cheap international investments are at this time.
We expect the global economy to continue to grow above trend over the course of next year and for robust earnings growth to be an important catalyst for international markets. In addition, valuations remain attractive with both emerging market and developed market stocks at some of their cheapest levels relative to the U.S. in the last 20 years. This, along with a global post-pandemic economic rebound, lower trade tensions and the prospect of a lower dollar in the long run argue for a greater allocation to international equities, with a particular focus on East Asia and Europe.
The accompanying chart visually highlights where the various markets are around the world in terms of P/E ratios.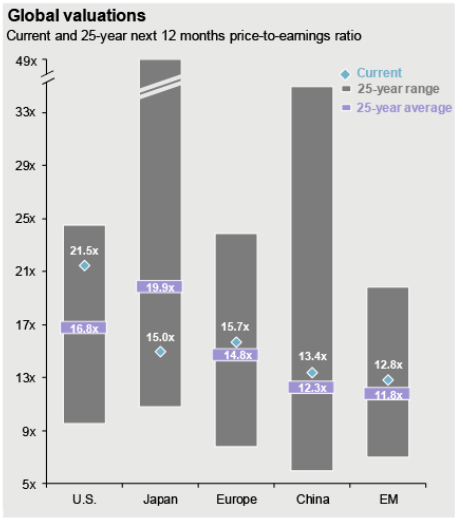 (Source - JPMorgan)
With all this being said, I believe that IGA and BOE can make compelling investment choices with their relatively attractive discounts.