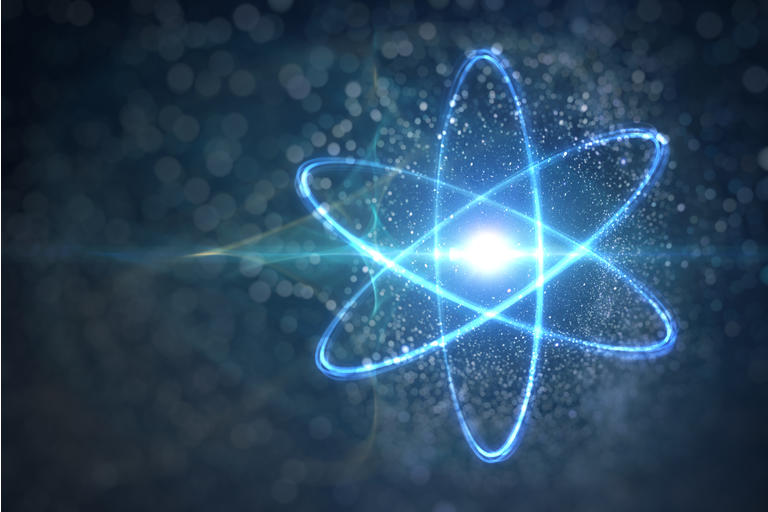 Understanding Lightbridge and the opportunity behind it
Lightbridge (NASDAQ:LTBR) is a zero-revenue company developing advanced nuclear fuel for tomorrow's reactors as well as existing ones. They have patented a fuel that has many advantages, from safety to profitability. After almost a decade of strong investments in R&D and cash burning, they are now quite close to licensing out their products for production. This move could easily bring some fresh revenues to a company suffering negative cash flows for years, and that could also trigger another consistent rise in their stock.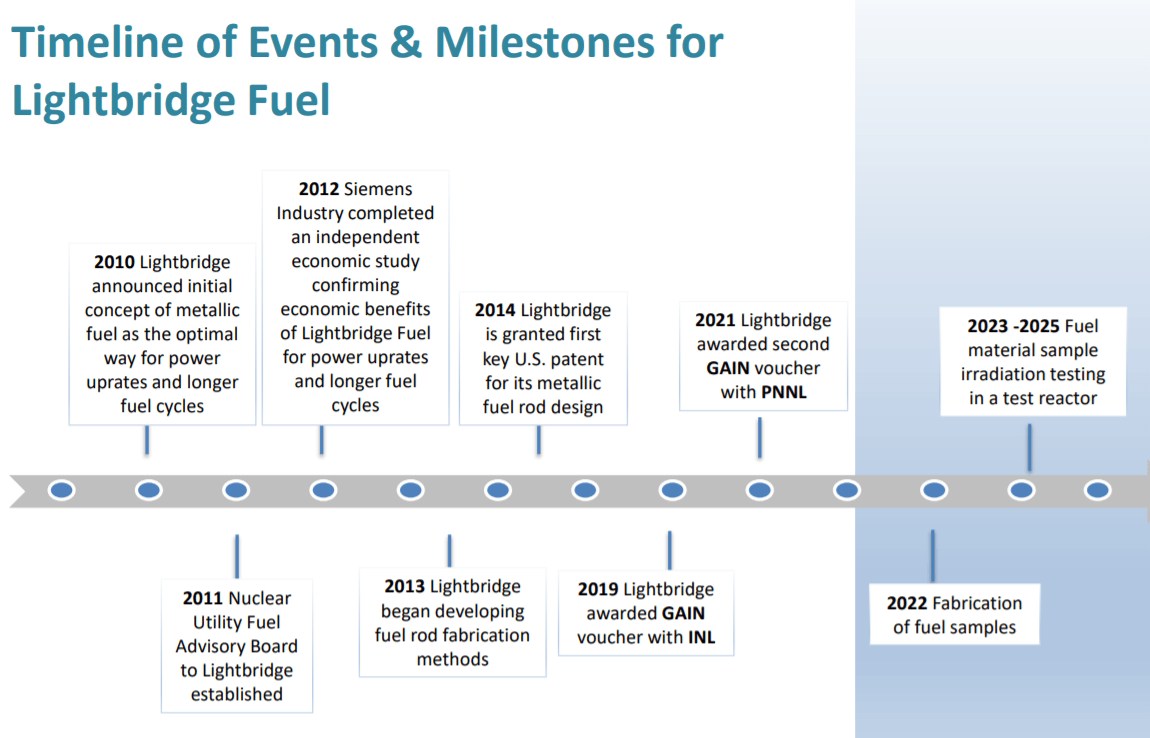 (Source: Lightbridge Presentation, November 2021)
This slide actually shows their interest in producing fuel samples, and thus the overall focus on production rather than licensing, but this move surely implies longer waiting periods for a positive net income. Right now, they have an innovative technology on their hands that is the result of many years of efforts and investments and needs to start paying off investors.
The fuel: why should power plants choose Lightbridge's fuel? Assessing technical and economic opportunities
When it comes to technical details, the company is very shareholders friendly and offers a wide range of reasons why their fuel is convenient. First, it's safer. They reported that their fuel operates at an average internal temperature of around 365 ℃, against the average of 1250 ℃ of other fuels. This feature significantly reduces the possibility of severe meltdowns and other incidents caused by strong heat.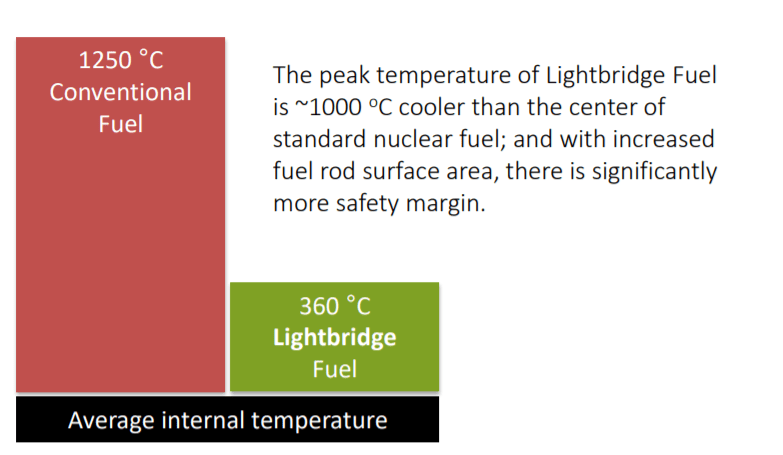 (Source: Lightbridge Presentation, November 2021)
The architecture of the fuel rods for reactors designed by Lightbridge is much more safety-friendly and helps reduce risks such as hydrogen gas generation and the possibility of fission product release, since it is completely retained even in the case of a cladding failure (severe accident). The innovative shape of the fuel rod is expected to improve cooling inside the reactor and the rod should keep its structural integrity. These features will allow reactor operators to run the power plant safer.
To better capitalize on these technological advancements, LTBR has patented almost every process that is needed to produce this advanced fuel. From the fabrication method for the casting route to the actual design of the fuel rod, no other fuel supplier could build such a fuel without infringing Lightbridge's patents.
But how does all this translate into the economics of a nuclear power plant? In one word: profitability. In the nuclear business, operating leverage and economies of scale are the big focus for managers. A tiny increase in the reactor's efficiency and/or lower costs for fuel (variable costs) will increase their net profits by millions of dollars. As reported by LTBR, an average, water-cooled reactor should expect an overall increase in gross revenue of $60 million per year, which derives mainly from an increase in electricity production.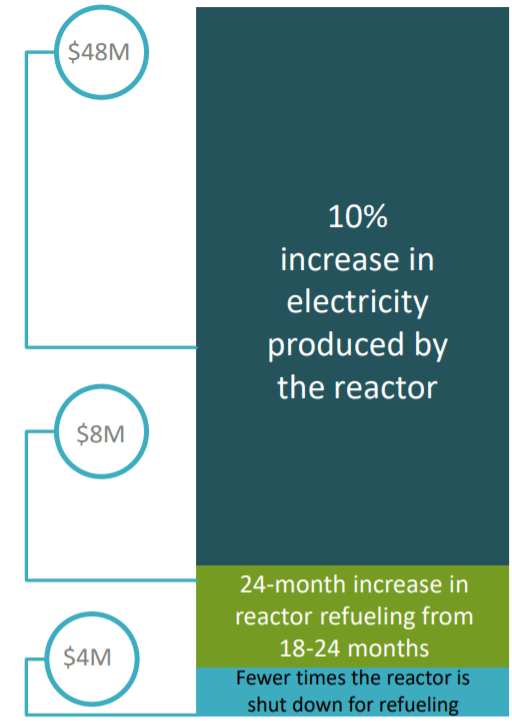 (Source: Lightbridge Presentation, November 2021)
The overall gain does not account for carbon credits gains, as well as the benefit of not needing to buy nuclear fuel for a long time, which reduces the risk of overpaying during an outrage.
The North American incubator for advanced nuclear technologies: leveraging bipartisan support
Lightbridge's aim is to improve today's reactors' economics while focusing on tomorrow's nuclear fuel. Because of this focus on tech advancements in the industry, they are receiving consistent financings from DOE, which has deployed financial resources in favor of advanced nuclear technologies. Since 2019, when the project first started, the company was awarded two GAIN vouchers (i.e. specific financings under a government-sponsored program) in two different projects: one will cost $886,000, paid ¾ by DOE, and the other of $663,000 paid ¾ by DOE.
While financing is a key part of the project, the possibility of testing their technologies is even more important for Lightbridge. This is why the Idaho National Laboratory for nuclear energy is so important for players like LTBR.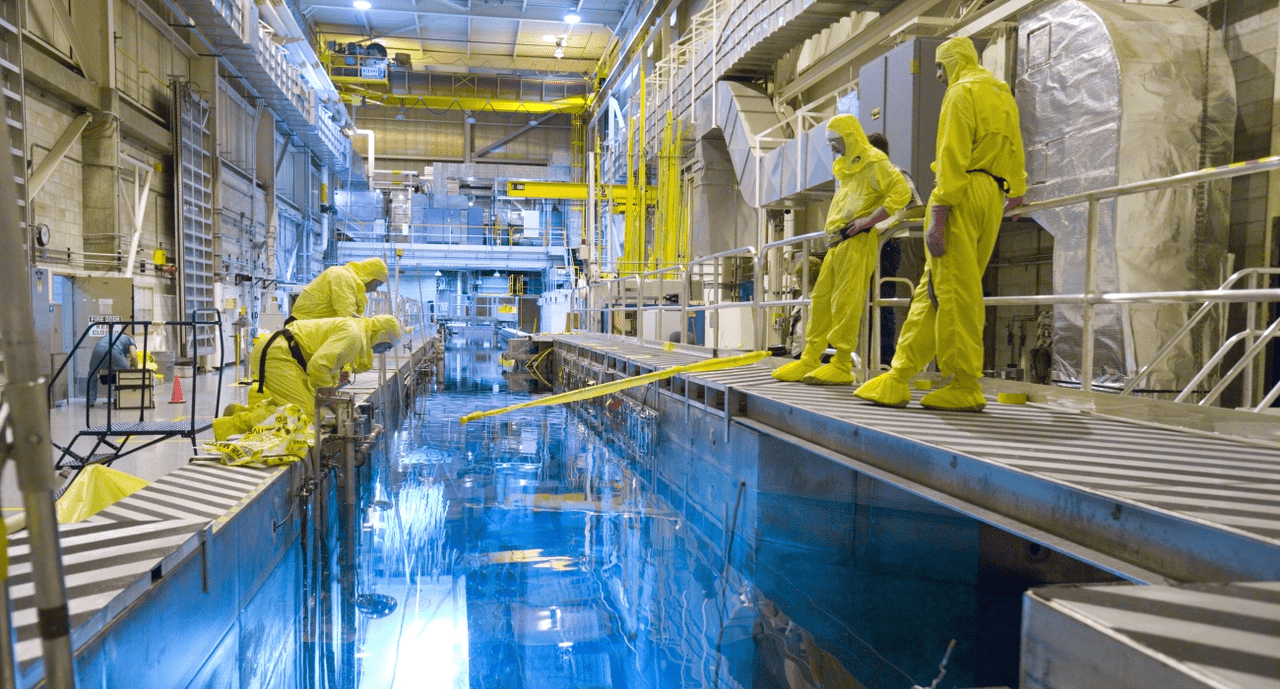 (Source: INL website, an inside view of their laboratory)
This is really where innovation begins and then develops, with the help of the US government and the minds of small private ventures like Lightbridge. During the third quarter of 2021, they have completed the testing of the thermal and cooling capabilities of their fuel. From now on, they can officially write these technical features on the patents and thus monetize them.
While this happens, it should be noted that nuclear energy is getting strong support from both political parties. This bipartisan interest in the industry could probably lead to an increase in spending for project financing, as well as fiscal benefits for innovative nuclear companies. This should be taken into account as the probability of lower R&D costs and a lower tax rate is more of a fact than a forecast. As of November 10, 2021, there were 47 bills regarding nuclear energy and advanced nuclear support, 26 sponsored by Democrats and 21 by Republicans (source: Lightbridge Investors presentation, Nov 2021).
Discussing (financial) risks that could harm shareholders while they wait for success
Right now the company is producing zero revenues, and thus is incurring losses every single quarter. As of Sept 30, 2021, they had $16 million in cash & cash equivalents, down from the $21 million back on Dec 31, 2020, mainly due to operating expenses. With net losses per year ranging from $7 million to $15 million, it is reasonable to think that the company will need more and more financing to sustain its operations through 2025. This is the main reason Lightbridge is a $75 million company that has the potential to gain a substantial market share in a $20+ billion market: consistent and aggressive dilution.

(Source: LTBR average outstanding shares, SA charting)
From 2016 to today, the company issued more than 6 million shares, and total outstanding shares passed from 400K to more than 6.5 million as of Sept 30, 2021. This caused every shareholder that was holding the stock back in 2016 to lose the majority of participation in the company, as well as the relevance of their voting rights.
The other major threat is execution risk. Management's ability to make key decisions about how to monetize their assets, as well as technical issues regarding their technologies, could significantly harm their ability to ever produce a profit in the future. Right now, LTBR is a hot take because of its zero-revenue setup, but the small market cap will translate into a multi-bagger in case of a positive outcome on their patents' monetization.
These are the reasons why a scenario-based analysis is needed to value this company. They are operating in a great market, with strong regulatory support and a massive opportunity ahead, but risks are still here. They will continue losing money until their products are ready to be sold or licensed out, and they will take liquidity directly from shareholders through equity raises.
An effort to model their future success, while including major risks: a scenario-based DCF model
The input to the model will be FCF, and the discount rate will be WACC plus a fixed percentage to take into account dilution and execution risks. The total discount rate will be 14%.
Low-case scenario: LTBR is not able to sustain costs for the development of their technologies. The company will consistently reach out to the market to get additional liquidity, forcing shareholders to suffer major losses. Eventually, Lightbridge will go bankrupt after the market won't accept equity raises anymore. Probability set at 40%.

Moderate-case scenario: LTBR is able to patent out their products in the short term (before 2024). This will boost their revenues and make them book a profit as soon as 2025. The stock issuances will gradually slow down, and the company could start focusing on heavy monetization of their assets. Under this scenario, Lightbridge will not produce the fuel, and thus they will have little to no Capex expected in the following years. Fair price under this scenario is set at $16. Probability set at 40%.

High-case scenario: Lightbridge is capable of starting the production of their fuel in 2025, with DOE financing the majority of costs in the short term (as it happened with Centrus Energy). After 2025, they will be selling HALEU to innovative reactors and conventional Lightbridge fuel to old reactors. Under this scenario, the company will have lower margins but significantly higher revenues, and thus FCF. Fair price under this scenario is set at $45. Probability set at 20%.
The weighted average fair price is about $14.5, with an implied upside potential of 70% from the current price ($8.5).
Conclusion
Lightbridge is an innovative company that could bring a really disruptive product to the market by the end of 2025 (at worst). They have spent the last decade or so developing a fuel that has many benefits, and that is suitable for both new and old reactors (large TAM). Right now, the company is aggressively diluting shareholders, but the overall prospect for the future is bright, with an implied potential of more than 70%.