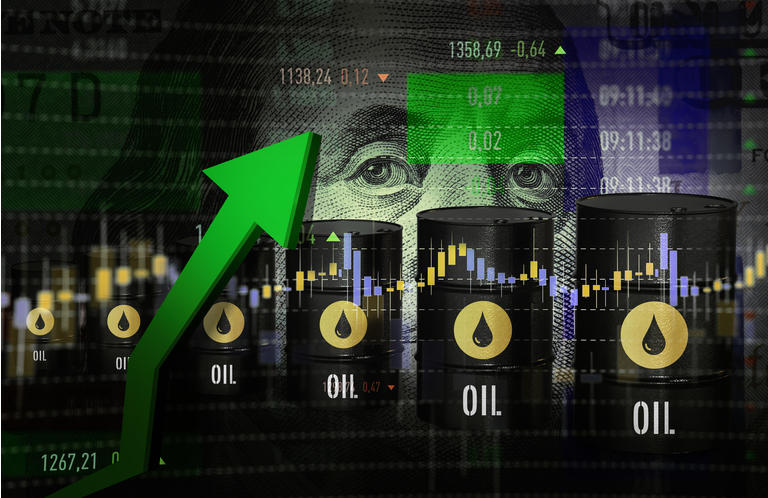 We're in the early stages of a historic oil bull market that will intensify as increasing global demand faces structural supply constraints. Ongoing events in today's energy markets offer a preview of what lies ahead for the oil market.
The

Ongoing Energy Crisis in Europe
In recent months a coal shortage in China exacerbated a natural gas shortage in Europe. The shortages are a consequence of growing demand amidst constrained supply. Across Europe, surging coal and natural gas prices have sent electricity prices to record highs. The situation became acute in the U.K. after a lull in North Sea wind activity.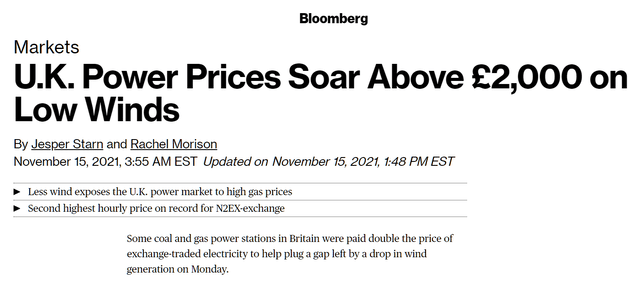 Record high U.K. energy fuel costs have bankrupted 22 retail electricity suppliers, affecting nearly 4 million households. U.K. consumers will pay for the costs of these failures through higher electricity costs and higher taxes to fund government intervention.
The heart of the matter is that the U.K. power grid has become over-dependent on the unreliable wind while at the same time reducing fossil fuels and nuclear power generation. Given the clear and present danger to U.K. citizens from blackouts and heating outages during the winter, it may come as a surprise that the crisis has done nothing to change plans to continue down the same path, namely, replacing fossil fuels and nuclear with solar and wind. From the same article:

Source: Bloomberg, "U.K. Power Prices Soar Above £2,000 on Low Winds," Nov. 15, 2021.
In fact, official U.K. policy aims to phase out coal and reduce nuclear power generation by 50% by 2025. To grasp the magnitude of this transition, see the chart below.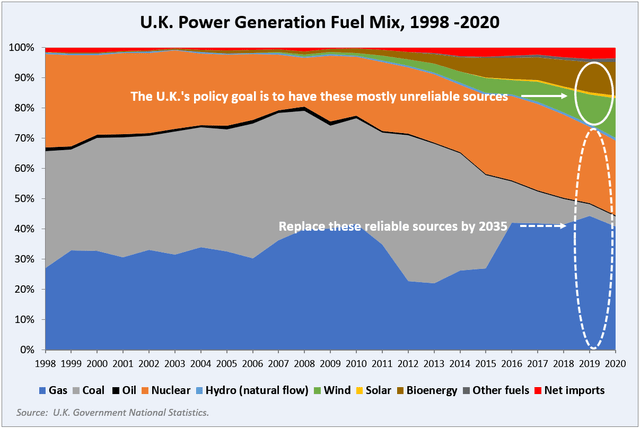 Going farther down the same road is bound to exacerbate the factors driving today's crisis, threatening incalculable strife in the years ahead. But that's not stopping the powers that be from proceeding with their plans.
By increasing energy costs, the U.K.'s energy policies are extraordinarily regressive, hurting those who spend the greatest percentage of their income on energy costs. They also suffer more during electricity outages, particularly in the winter.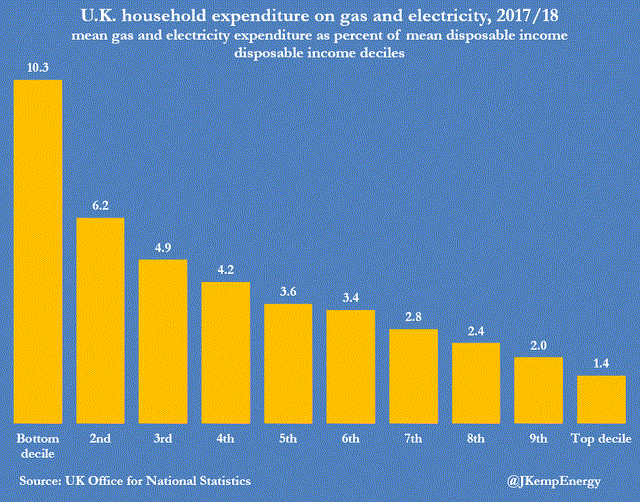 Source: Reuters, John Kemp, Sept. 21, 2021.
As such, the new energy policies will not sit well with most of the voting public as their adverse consequences intensify.
But the U.K. is not alone in adopting policies leading to energy scarcity. Germany is heading down a similar path with its "Energiewende." Germany's policies have been in effect for more than a decade, causing solar, wind, and natural gas to increase their share of the nation's energy mix at the expense of coal and nuclear, as shown in the graphic below.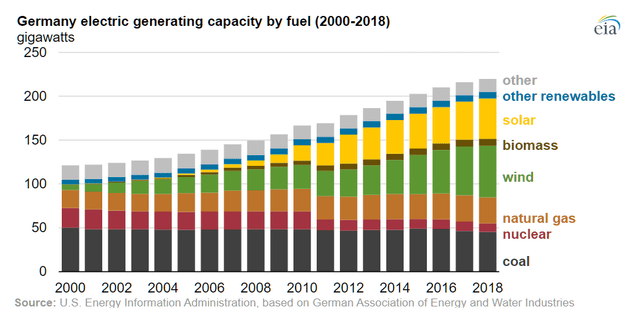 Source: EIA, May 29, 2019.
The German government plans to eliminate coal power generation by 2030. It's in the process of shutting down the Gundremmingen nuclear plant by year-end. Like in the U.K., it expects solar, wind, and natural gas to fill the energy supply void created by the shuttered plants.
Not surprisingly, when it comes to electricity prices, Germany's results are similar to the U.K.'s.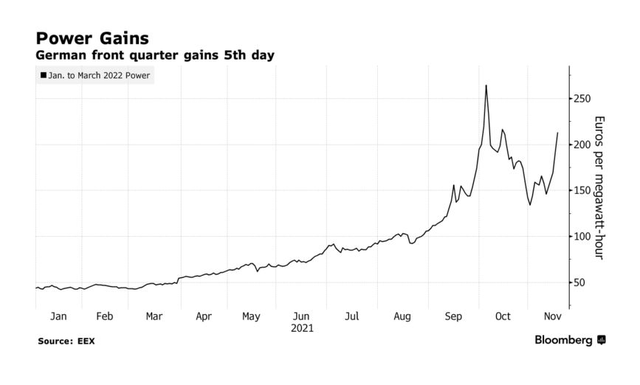 Source: Bloomberg, Nov. 17, 2021.
Energy policies like these have been implemented far and wide throughout Europe. They're only now starting to show their unintended - yet entirely predictable - consequences.
For one, they have disincentivized the production and storage of fossil fuels. As a result, European natural gas production has been declining as European nations make themselves more reliant on natural gas. Among European nations, only Norway incentivizes investment in natural gas production. Yet another predictable outcome from European energy policies is shown below.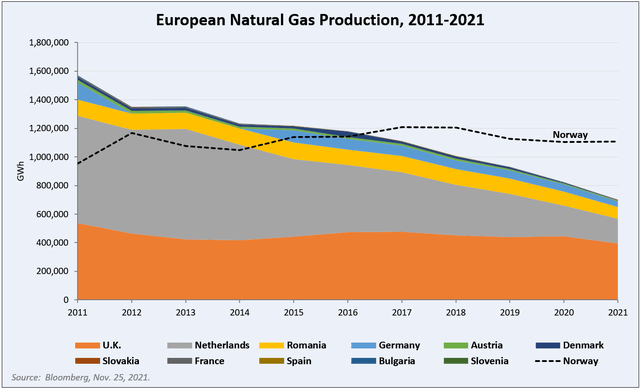 Lower domestic natural gas production has made Europe more reliant on foreign imports to meet demand. When Russian natural gas imports fell while Asian consumers simultaneously bid away liquefied natural gas cargoes, European natural gas inventories failed to build to levels that ensure adequate supply. Inventories are now entering winter at alarmingly low levels.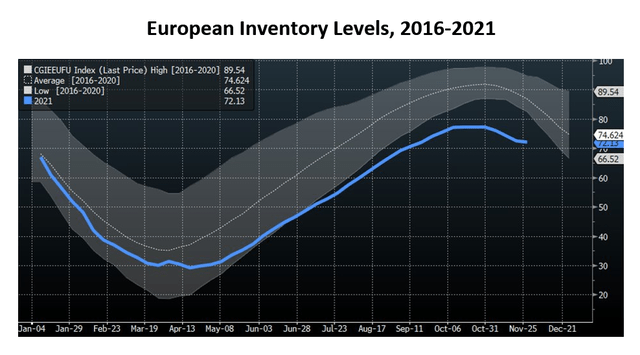 Source: Bloomberg, Nov. 25, 2021.
Low natural gas inventories have, in turn, caused prices to spike to all-time highs, consistent with $190 per barrel of oil on an energy-equivalency basis.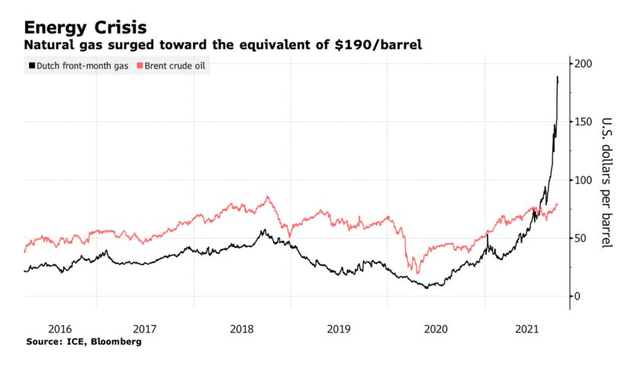 Source: Bloomberg, Oct. 7, 2021.
Price spikes like this one are the market's mechanism for reducing consumption. However, since natural gas is used for heating, price changes tend to have little impact on demand. Paying up for natural gas is therefore akin to a national tax that reduces living standards if sustained at high levels. The price spike also is a signal that shortages are imminent. Natural gas shortages are orders of magnitude more dangerous than high prices, as they lead to the loss of life in the cold.
The consequences of inadequate natural gas supply haven't stopped at electricity and heating. Natural gas is used as a feedstock to produce ammonia, which is used to produce fertilizer. High natural gas prices are feeding through to fertilizer prices, which will increase food prices.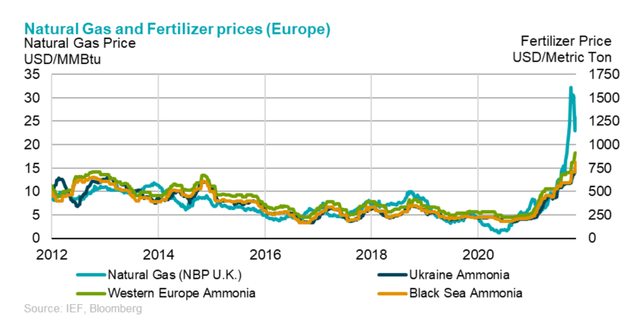 Source: International Energy Forum, Nov. 10, 2021.
These reckless policies that prioritize climate objectives far in the future at the expense of human welfare in the here-and-now are being implemented throughout the wider Western world.
In the U.S., for instance, California, Texas, and New England are likely to experience energy supply shortages after years of instituting similar energy policies. New England's grid operator recently warned about its dependence on high-cost LNG imports over the winter, despite the region's proximity to one of the most prolific natural gas producing regions in the world in Pennsylvania.
The Genesis of the Electricity Crisis
For years now, the systematic favoritism of solar and wind at the expense of fossil fuels and nuclear has had the effect of reducing energy supply while doing nothing to reduce demand. The hastily conceived transition has failed to take into account the negative economic and geopolitical ramifications that stem from dependence on less reliable energy sources. As these negative ramifications crop up, they're taking the public by surprise, as the authorities who proposed them never explained their true costs, such as a lower standard of living. As a result, they left society ill-prepared to deal with the energy transition's fallout when it arrived in the form of an energy shortage.
The situation has been enabled by widespread energy ignorance and a lack of critical thinking about energy policy. The Western world has grown so accustomed to reliable and affordable energy that it takes it for granted. This has allowed politicians to play to a public with no understanding of how much energy it uses, where that energy comes from, or what it will take to replace it. Meanwhile, those same politicians are egged on by individuals and companies profiting to the tune of billions of dollars from the harmful energy policies being proposed.
The end result is an emerging energy system based on wind and solar that's prone to interruption when the wind dies down, when energy exporters fail to deliver, or when competition for scarce supply causes a price spike. This system will prove incapable of meeting energy demand at all times, and barring a miracle storage breakthrough, will fail to meet long-term demand growth. It also will be prone to recurring shortages. This is precisely what we're seeing today in Europe.
Oil is Next
The world is learning the hard way that using wind and solar to replace the 89% of total global energy consumption met by fossil fuels and nuclear will be impossible in light of existing economic and technological constraints. This is particularly true for oil.
The looming oil market crisis shares features of today's coal and natural gas crises. Like coal and natural gas, its genesis lies in supply constraints. Also like coal and natural gas, its onset will be accelerated by policies that create skewed incentives and impede the industry's ability to respond to an impending shortage.
But the oil crisis also will have its own unique features, the most glaring among them being oil's longer-term supply challenges.
From a long-term perspective, both coal and natural gas are more abundant than oil. The world has plenty of accessible coal reserves, and developing nations like India and China have the will and the means to tap them. As global coal production increases over the coming months, the ongoing coal supply crises will die down, which, in turn, will alleviate the natural gas crisis.
Natural gas supply is also abundant. As the booming LNG trade turns natural gas into a global market, prices will be set by the marginal cost of global production and transportation instead of by regional dynamics as they are today.
But natural gas supply is at risk from growing wind-generation capacity, nearly 100% of which requires a backup capable of quickly and efficiently ramping up and down. This dynamic is behind the phenomenal growth in natural gas consumption, as shown for the U.S. in the chart below. Notice how renewables - mostly wind - supplant coal hand-in-hand with natural gas.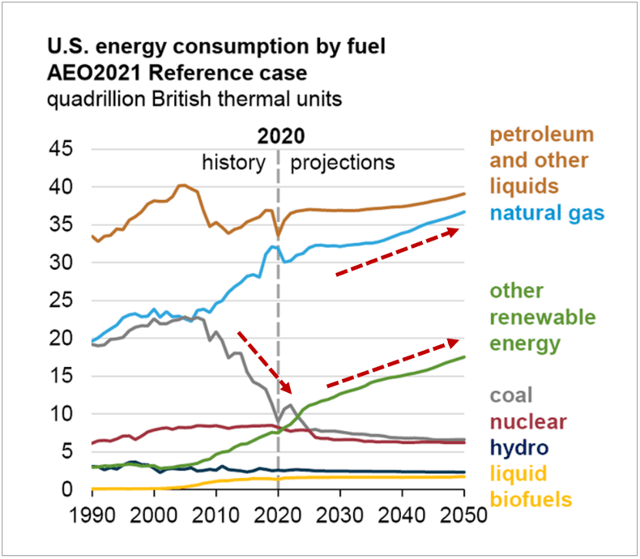 Source: EIA Annual Energy Outlook 2021, Feb. 3, 2021. Red arrows added.
Time will tell whether global natural gas production will prove capable of meeting growing demand in an affordable manner. Despite these demand challenges, massive global natural gas reserves and low production costs make the natural gas outlook far better than that of oil.
Oil's supply crisis, by contrast, will prove extremely difficult to alleviate over the long term. Since the oil market's supply challenges arise from long-term supply constraints, they will not be remedied by market forces or government decree.
In the end, it will be high oil prices, not government policy, that will drive a market-based transition to alternative fuel sources.
The Run-Up to the Oil Supply Crisis: Demand Outpacing Supply
Like coal and natural gas demand, oil demand has recovered from its early 2020 crash while the supply recovery has lagged behind.
Oil Demand Has Recovered
The latest data from the International Energy Agency shows that global demand was slightly below pre-pandemic levels, as shown by the red dotted line in the chart below.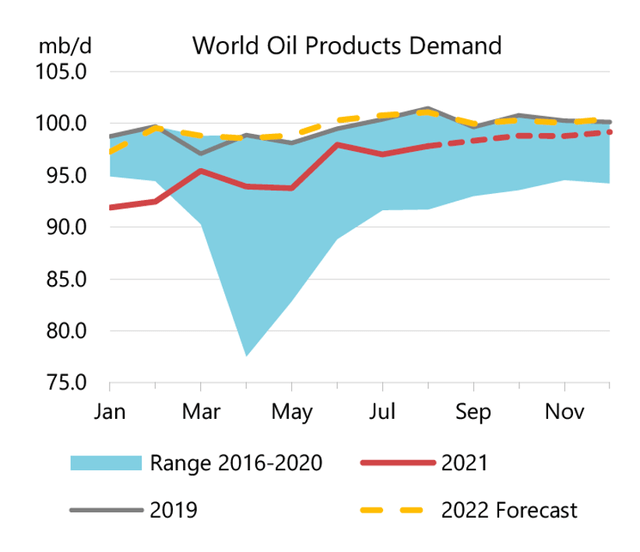 Source: IEA, "Oil Market Report," Nov. 16, 2021, pg. 5.
The remaining laggard holding demand below pre-pandemic levels is jet fuel, which remains 1.5 million barrels per day (bpd) below pre-pandemic levels.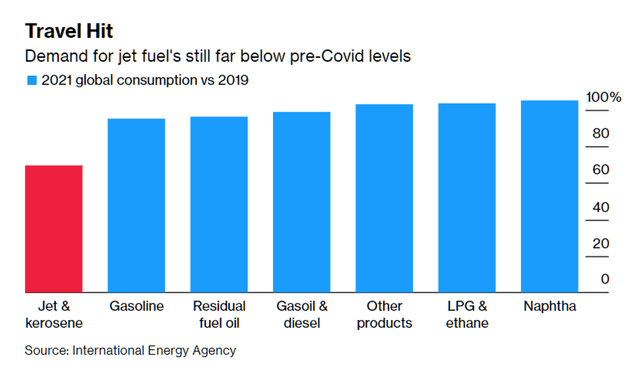 Source: Bloomberg, Nov. 9, 2021.
The weakness in jet fuel is attributable to the sluggish recovery in international air travel. The relatively low number of global flights is shown in the graphic below.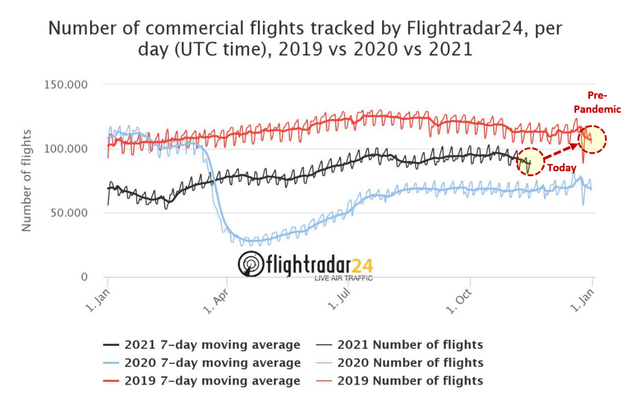 Source: Flightradar24, Nov. 16, 2021. Red lines and text added.
Over the next 12 to 18 months, a jet fuel demand recovery stands to add 1.5 million bpd of oil demand. In addition, an increase in commuting activity is likely to add an additional 500,000 bpd. This points to 2 million bpd of pent-up oil demand set to return as conditions normalize.
The Supply Recovery Has Trailed Demand
Since 2012, global oil supply has increased by a total of 10 million bpd. Over that timeframe, U.S. shale added 6 million bpd, while OPEC added 4 million bpd. Outside of those regions, however, supply has been flat.
The rest of the world has staged a muted production recovery from its 2020 crash, even as oil prices surged to seven-year highs. Look no farther than the number of rigs operating outside of the U.S. and OPEC to appreciate the tepid nature of the recovery. The area in the following chart circled in red shows how oil rigs have failed to respond to the dramatic rise in oil prices.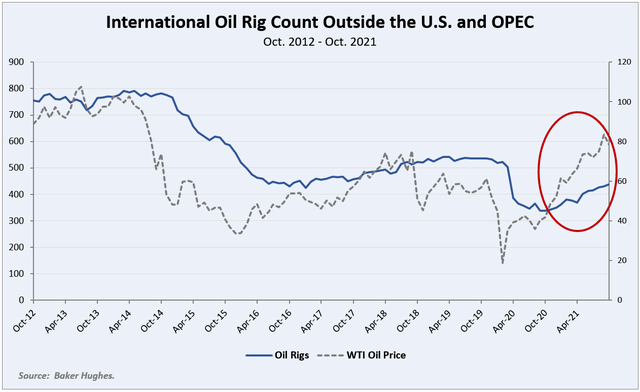 With oil supply outside the U.S. and OPEC likely to be flat or in decline going forward, U.S. shale and OPEC will continue to be the only game in town when it comes to new oil supply. Future supply growth will therefore hinge on the ability of U.S. shale and OPEC to muster additional production.
U.S. Shale Supply
U.S. shale was laid low in the wake of the pandemic and has yet to fully recover, as shown in the following chart that breaks out shale production by yearly vintage.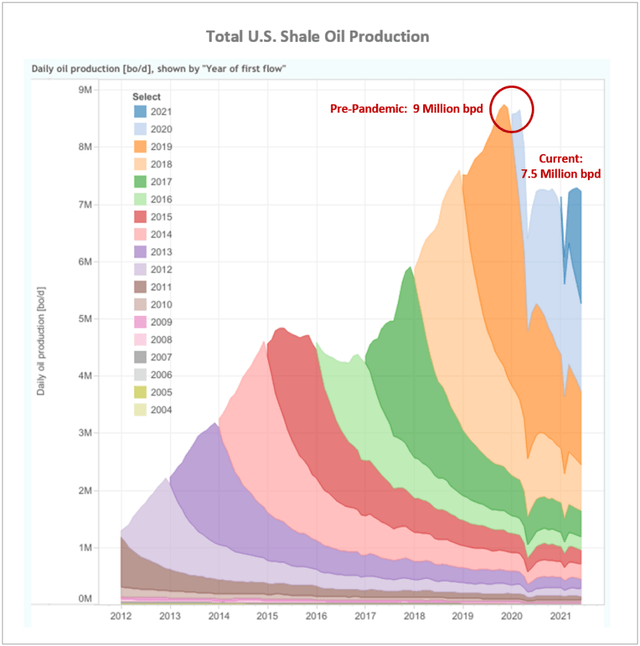 Source: ShaleProfile, Oct. 5, 2021. Red text added.
Shale's growth rate going forward will be restrained compared to pre-pandemic levels, with the only basin with significant growth prospects being the Permian Basin in West Texas and New Mexico. The Permian accounts for slightly more than half of total shale production.
Production from the other two major shale basins, the Eagle Ford and Bakken, is likely to remain flat, while shale-oil production outside the "Big Three" basins is likely to decline. The Permian will therefore singlehandedly face the burden of growing production enough to offset declines elsewhere while also mustering the production needed to grow aggregate U.S. oil output.

Source: EIA Drilling Productivity Report, Nov. 2021.
Shale's recovery is being held back by geological constraints. The most productive wells have already been drilled, and top-tier drilling locations are growing increasingly scarce. Shale is also facing financial constraints, as capital providers demand cash profits that have been nonexistent since the shale boom began. Shale producers that return cash profits to shareholders have less capital to fund production growth. The following graphic illustrates the surge in cash flow from operations with the attendant drop in capital invested in production activities (capex).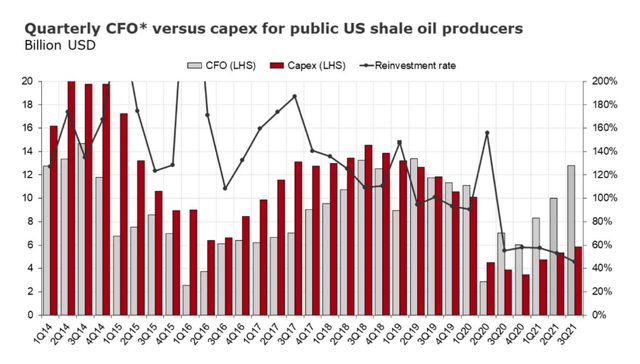 Source: Rystad Energy, Nov. 22, 2021.
The best indicator of the U.S. oil production outlook is the number of frac fleets deployed throughout the U.S. shale-oil basins. The following chart from Kayrros shows that the number of frac fleets began falling in late 2018, well before COVID-decimated activity in the shale patch. After plummeting in early 2020, the recovery has been far weaker than the dramatic oil-price recovery since then would suggest.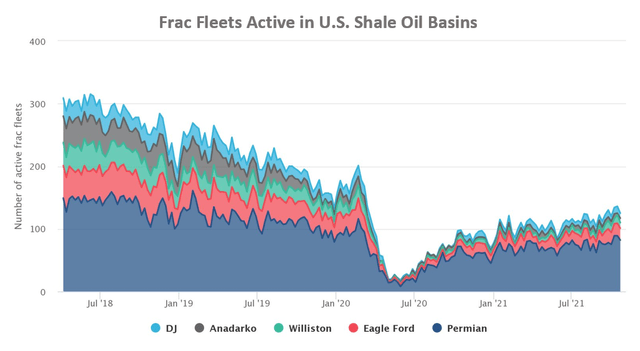 Source: Kayrros, Nov. 5, 2021.
At the moment, the Permian is the only shale basin with enough frac fleets to grow production.
In 2022, shale is likely to muster an additional 750,000 bpd of production, well below the 1.5 million bpd necessary to reach pre-pandemic levels. Moreover, that production is coming off a 7 million bpd base. Its growth rate pales in comparison to its 2018 heyday when production grew by 1.5 million bpd off a base of 6 million bpd.
OPEC Supply
As shale production growth remains firmly below pre-pandemic levels, OPEC is having difficulty increasing production even now. This phenomenon can be seen most clearly in the group's inability to meet the quotas set under the group's most recent production agreement.
Beginning in July 2021, OPEC and its non-OPEC partners - collectively referred to as "OPEC+" - agreed to increase their aggregate production by 400,000 bpd each month through September 2022, at which point their production will be restored to pre-pandemic levels.
But all is not going well with OPEC+'s scheduled production ramp. Angola, Nigeria, Azerbaijan, Mexico, and Malaysia have failed to meet their quotas for additional output. These members are holding back OPEC+'s aggregate monthly production hike, which has come in well short of its scheduled 400,000 monthly ramps.
Since the OPEC+ deal went into effect in July through October, the group was scheduled to have added 1.6 million bpd of supply. Instead, it has only mustered an additional 900,000 bpd, as cited in the following Reuters article.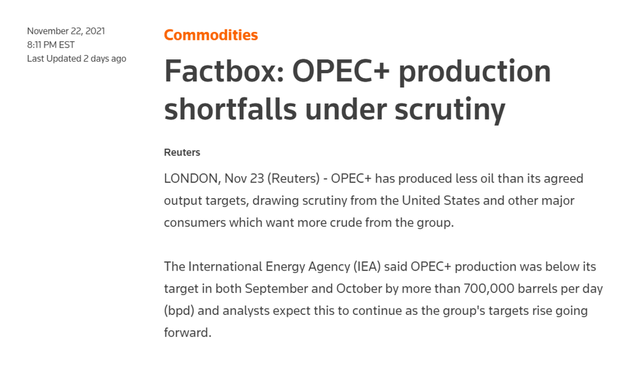 As of October, OPEC+ undershot its collective quota by a whopping 820,000 bpd, with Angola and Nigeria accounting for the lion's share of the underproduction.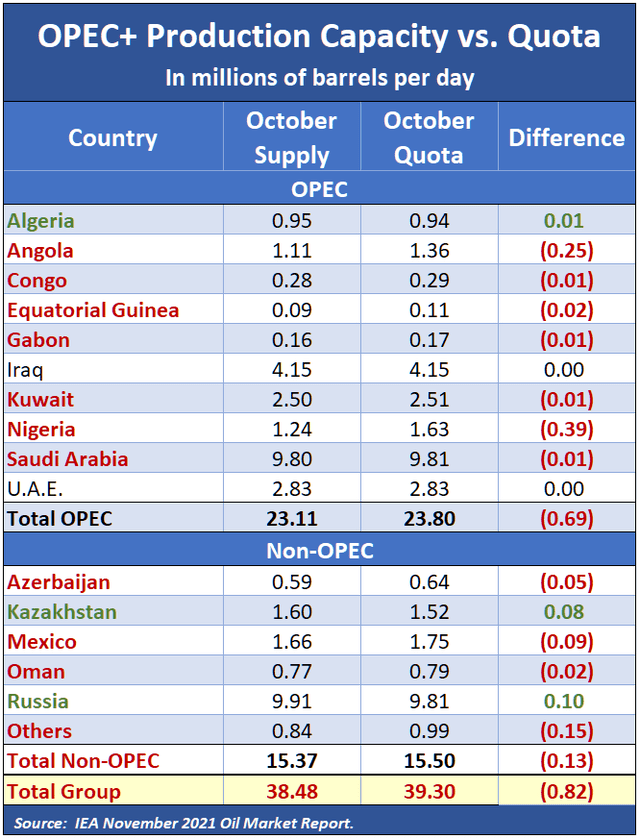 These quotas are tantamount to free money for oil-exporting countries that can meet them. Today's high oil prices provide an added incentive, as they stand far above each country's production costs. OPEC+ members aren't missing their quotas because they want to, but because they are not able to increase production.
With various OPEC+ members underproducing, it falls to the members who can boost production to make up for the laggards in meeting the group's 400,000 bpd monthly supply additions. So far, however, they have failed to do so, sticking to their individual quotas instead. Only Russia is overproducing its quota by a material amount. The net result is that OPEC+ as a group only increased production by 240,000 bpd in October, according to the IEA.
With the laggards apparently maxed out and major producers sticking to their quotas, each month that OPEC+'s aggregate quota steps up, the group's supply deficit relative to that quota grows larger. In a few months, that collective supply deficit will exceed OPEC+'s collective spare production capacity. It, therefore, remains an open question as to whether the group will be capable of achieving pre-pandemic production levels.
With Demand Outpacing Supply, Inventories are Drawing
Since mid-2020, global demand has significantly outpaced supply. The ensuing supply deficit has caused oil inventories to draw down at the steepest rate on record. In August, inventories fell below pre-pandemic levels and have continued to fall consistently since then.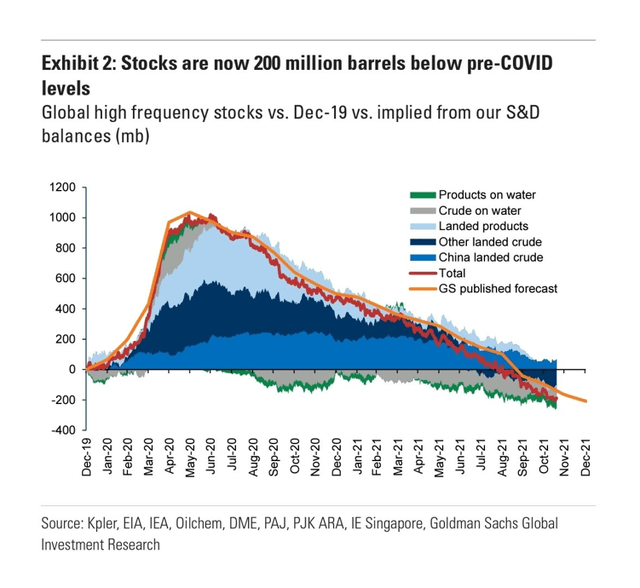 Source: Goldman Sachs, Nov. 17, 2021.
The IEA's most recent Oil Market Report showed inventories in the members of the Organization of Economic Cooperation and Development (OECD) - where most commercial oil inventories reside - falling to the lowest level since 2015.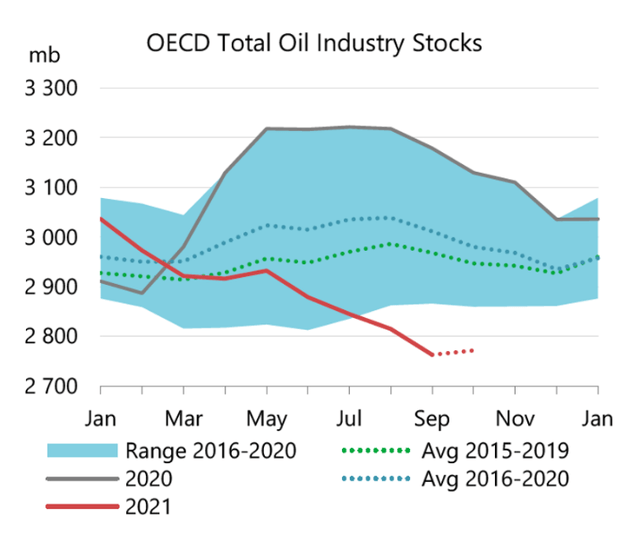 Source: IEA, November 2021 Oil Market Report, Nov. 16, 2021.
OECD inventories are at their lowest point since early 2015, a full 250 million barrels below their five-year average. If they approach the minimum levels required for normal oil-market operations, the market will enter a shortage.
Since oil inventories are inversely correlated with oil prices, the lower inventories go, the greater the upward pressure on prices. After adjusting for global demand growth and infrastructure additions since 2015, inventories don't have much further to fall until they are consistent with $100 per barrel oil prices.
Oil's Defining Characteristic: Long-Term Supply Constraints
Deepwater offshore is the modern frontier for new oil discoveries and supply. However, major offshore oil projects haven't been sanctioned since prices were sustained above $100 per barrel between 2010 and 2014. Norway's Johann Sverdrup and Guyana's Liza field, both of which entered production in 2019, marked the final two projects slated for development since then.
It takes at least five years to develop a major oil project. With no major projects set to bring on new supply, the oil market has at least five years before significant supply growth outside of OPEC and the U.S. is forthcoming.
Meanwhile, OPEC+ supply constraints are likely to emerge as soon as this coming April. By that time, OPEC+ quotas will exceed the IEA's estimate of the group's maximum production capacity. If by then the group is still woefully short of its quota, concerns are likely to arise that it's incapable of increasing production to pre-pandemic levels.
By April, only Iraq, Kuwait, Saudi Arabia, and U.A.E. will have material amounts of spare capacity, amounting to 1.7 million bpd, as shown in the chart below.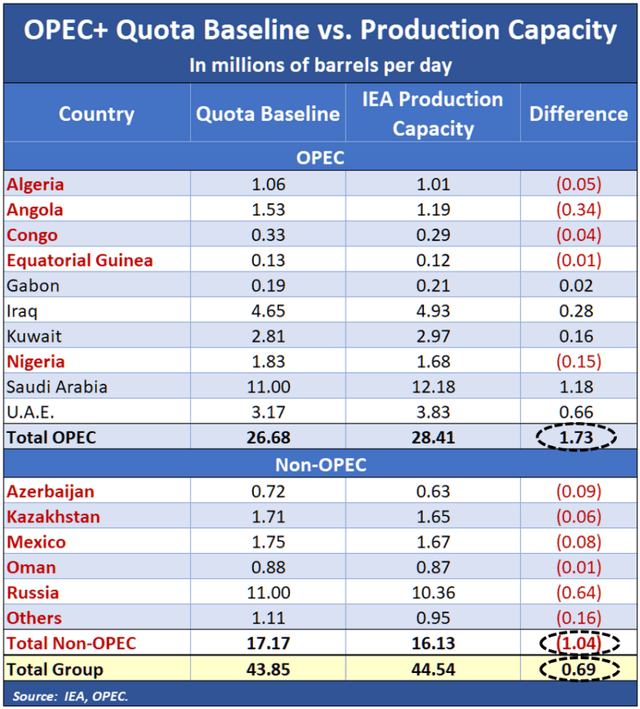 Adjusting for the Non-OPEC shortfall reduces OPEC+'s spare capacity to a mere 700,000 bpd.
From April through September, however, the OPEC+ deal will call for an additional 2 million bpd of production. If the group's spare capacity is only 700,000 bpd, the scheduled supply additions will exceed the amount of supply available by 1.3 million bpd.
These figures illuminate the near-term supply challenges that face OPEC+. They underscore the risk that the group's supply becomes severely constrained in short order. Only a few members have any spare capacity to speak of, which will be exhausted over the coming quarters if demand grows at a historically normal level.
Concerns about OPEC+ spare capacity are already cropping up. Amin Nasser, CEO of Aramco and Saudi Arabia's top oil executive, publicly acknowledged the group's supply constraints on Nov. 9.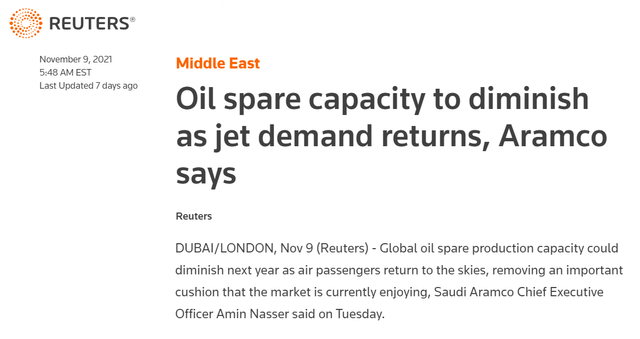 Nasser appears to be sounding the alarm in advance of a supply shortage so the Kingdom can escape blame when spare capacity is nil and the world is calling for increased supply.
With the U.S. and OPEC facing supply challenges while demand continues to rise, the world is speeding toward an oil supply crisis. In the past, oil prices have tended to surge to higher levels when anticipated demand growth one year ahead exceeds estimated spare capacity one year ahead. That point is likely to arrive in the second half of 2022.
Unfortunately - if the ongoing energy supply crunch in Europe is any indication - the public is only likely to learn about the dire oil supply outlook after supply has already run short.
A Strong Long-Term Outlook for Oil Demand
While future oil supply will be constrained, oil demand is likely to grow for decades into the future, supply and prices permitting.
The next few years of growth will resemble the pre-pandemic trend. Consider that in the decade before the pandemic decimated demand in 2020, oil consumption increased at a compound annual rate of 1.7%. Over this timeframe, global consumption rose from 85 million bpd in 2009 to 100 million bpd in 2019, for total growth of nearly 18%. On average, oil demand grew at half the global GDP growth rate, as shown in the chart below.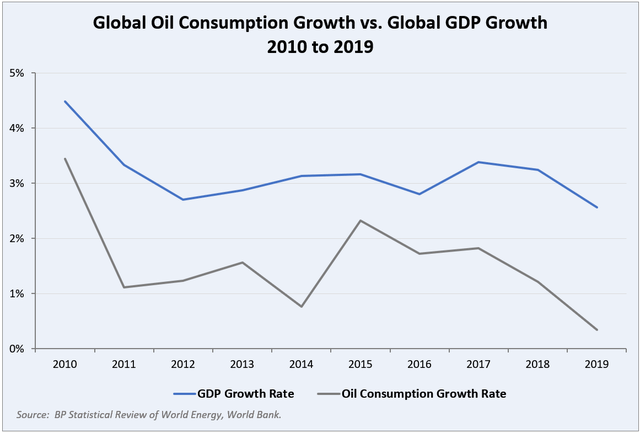 COVID may have delivered a crushing blow to both global GDP and oil consumption in 2020, but it did nothing to alter the long-term factors driving either metric. Oil demand will therefore share a similar relationship with GDP for many years to come.
Demographics Will Drive Growth
According to the United Nations, the world's population stands at 7.7 billion and will grow by 2 billion by 2050. It's safe to assume that population and economic growth are sufficient to increase oil demand by at least 1% per year.
Africa and developing Asia will drive demand growth, as their total population is forecast to grow by 50% by 2050. As their population grows, their living standards are also set to rise as their inhabitants seek the luxuries of a Western lifestyle made possible through access to reliable and affordable energy.
To get a sense of the demand growth likely to come from these regions, consider that China, India, and other populous southeast Asian countries currently consume a small fraction of the energy it takes to sustain a modern American lifestyle.
The following table shows the per-capita oil consumption for each country. Notice the gap that exists between the U.S., with its population of 331 million, and the developing nations, with their combined population of 4.9 billion - nearly 15-times that of the U.S.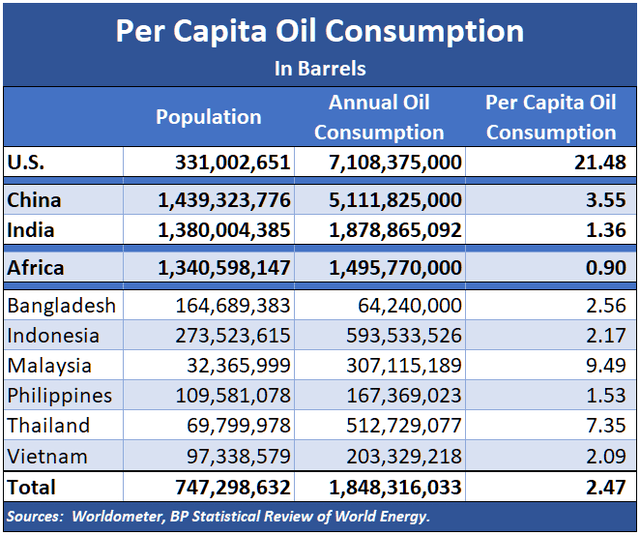 Given these countries' enormous populations, it won't take much consumption growth on a per-capita basis to send global demand higher over the coming years, even as the West reduces its oil use.
Consumption trends over time are similarly constructive as economic development proceeds. One lesson is that where there's energy poverty, no fuel source goes unused. That includes oil.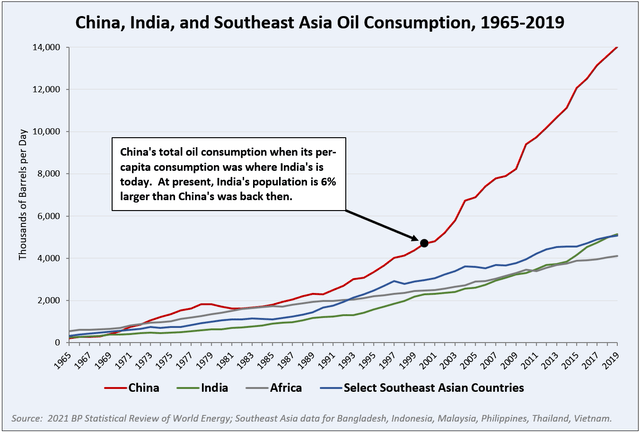 The black dot in the chart above represents China's oil demand in 2000, when its per-capita oil consumption was roughly equal to India's today. Look what happened to China's oil consumption after that point. In 20 years, it added 10 million bpd to a base of 4 million bpd.
While India's oil consumption may not grow at quickly as China's did after 2000, there can be little doubt that it is poised to grow at a high rate for many years to come. The same can be said for the 2.1 billion inhabitants of Africa and Southeast Asia.
Electric Vehicles Impact on Oil Demand
Efforts to break the world's reliance on oil center around replacing the existing fleet of internal combustion engine cars with electric vehicles (EVs). Few seem to appreciate the magnitude of this challenge.
Of the 100 million barrels of oil consumed throughout the world each day, 61 million bpd is used in transportation. Of that 61 million bpd, 24 million bpd is used by light-duty cars, 22 million bpd by trucks, 8 million bpd by planes, and 7 million bpd by ships and public transit, according to BP's 2021 Statistical Review of World Energy. Efforts to reduce oil consumption take aim at the 24 million bpd used by light-duty ICE cars.
The EIA estimates that there are 1.31 billion ICE cars and 9 million EVs, including hybrids. The EIA forecasts that EVs will grow to 672 million by 2050. However, the agency also forecasts that over the same timeframe, the global ICE car fleet will nearly double to 2.2 billion. Such a scenario would see gasoline demand grow, even assuming increased fuel efficiency.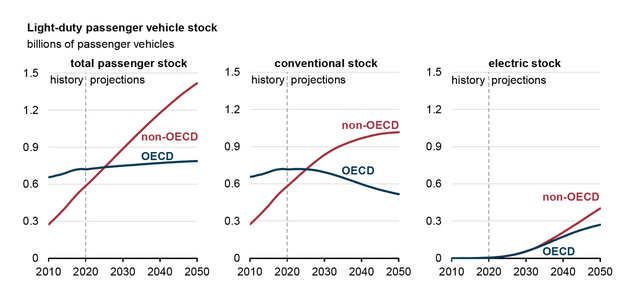 Source: EIA, "2021 International Energy Outlook," Oct. 6, 2021.
In the U.S., the EIA doesn't expect ICE car sales to peak until 2038, three years later than the Biden administration's target to convert 50% of the U.S. vehicle fleet to EVs.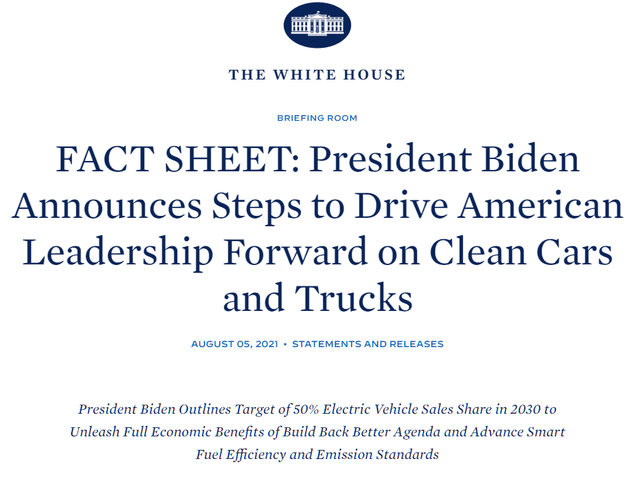 Source: The White House website.
This goal sounds nice, but it's patently unrealistic.
The fact of the matter is that EVs are a luxury of wealthy nations and are likely to remain so for at least the next decade. But a large-scale EV rollout faces serious obstacles even in wealthy nations. Putting aside the astronomical cost of the government subsidies necessary to make EVs competitive with ICE vehicles as EV unit sales soar into the hundreds of millions, a nationwide EV rollout will require a wholesale infrastructure makeover running into the trillions of dollars, far in excess of the infrastructure measures funded in recent U.S. federal spending bills.
But perhaps the greatest challenge for EV targets in wealthier nations is the additional electric power generation and transmission capacity that will be required to power a fleet of EVs. Most regions will have to increase their existing capacity by 50% to 100%. The massive power grid buildout begs the question of what will happen to prices of copper, lithium, nickel, and other commodities as their demand explodes higher? What will happen to the price of natural gas as increasing quantities are conscripted for electric power generation? Will surging commodity prices impact the cost of the EV rollout and rate of EV adoption? These are but a few of the factors that must be taken into account before society launches upon a potentially ill-fated, quixotic campaign measured in the trillions of dollars.
We have yet to come across a study that examines the full scope of challenges facing a widescale EV rollout. A proper analysis would not stop at economics but would address physical constraints and geopolitical ramifications, as well. For instance, will countries willingly sacrifice their energy security by relying on geopolitical adversaries to supply vital commodities used to produce EVs?
These questions serve to illuminate the staggering magnitude of the challenges facing even the wealthiest nations as they transition to EVs.
Freight, Air Travel, and Other Uses
Of the 61 million bpd of oil used in transportation, the 24 million bpd of light-vehicle oil consumption represents the low-hanging fruit for efforts to reduce consumption. The 37 million bpd used in freight, air travel, and marine transportation will be far more difficult to replace because these uses are much more energy-intensive than light-duty vehicles.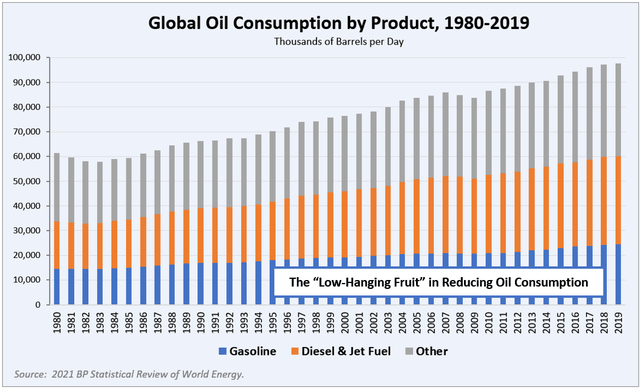 Then there's the additional 39 million bpd of oil consumed for non-transportation uses. This consumption will be even more difficult than transportation to replace because the uses frequently have no substitutes. This category includes oil consumed to make plastics, asphalt, cement, lubricants, rubber, agriculture, medicine, as well as literally thousands of other uses.
Clearly, the demographic tailwind driving demand growth coupled with the difficulty of transitioning away from existing uses of oil makes it far easier to talk about and plan for reducing oil demand than actually achieve it.
As long as voters ultimately call the shots, the transition away from oil will be an incremental, market-driven process that proceeds over decades. Moreover, the immense value that oil derives from its energy density, portability, and affordability relative to alternatives makes it more likely that newly emerging sources are additive to total global oil use instead of outright replacing it.
This would be consistent with the course of previous energy transitions, dating back from the mid-1800s - when humanity met its energy needs through woodburning and indentured labor - to the modern transition to natural gas, as shown in the chart below.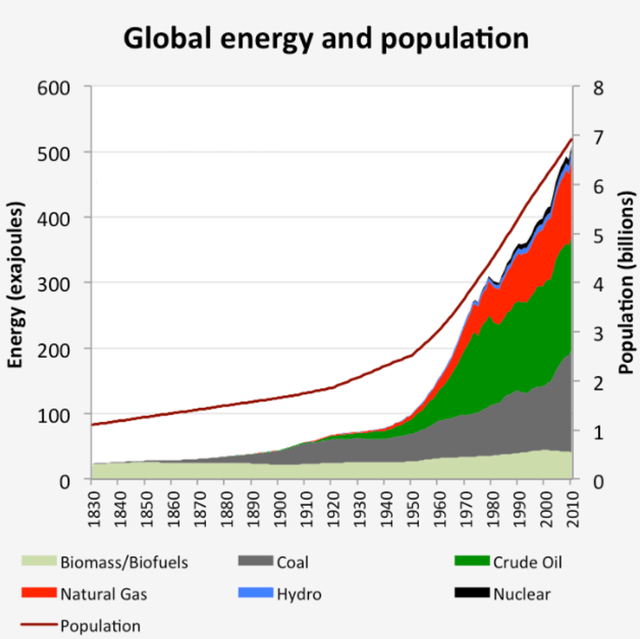 Source: Rembrandt Koppelaar, data from BP, Colin Campbell, and Vaclav Smil.
Notice that oil can be seen surpassing coal as the world's primary energy source in the 1960s. Nevertheless, the world today consumes almost three times as much coal as it did back then.
If the economy grows over the next few years, oil demand is all but certain to grow with it. Looking at the entire picture indicates that demand is also poised to grow for decades.
Risks to a Tightening Oil Market
Until OPEC exhausts its spare capacity and oil prices are sustained at levels that incentivize new supply and reduce demand, there are multiple near-term risks to further oil-market tightening.
Supply Risks
On the supply side, the Biden administration's strategic petroleum reserve release is a non-event from a long-term supply-and-demand perspective. Of the 50 million barrels released, 18 million barrels already were scheduled to be released but were rolled forward, while the remaining 32 million barrels will be structured as a loan that has to be returned in the future. The market is likely to be tighter when it comes time to replace these barrels, and the associated buying activity will add upside pressure to prices.
Expect Iran to return its 1 million bpd currently held off the market by U.S. sanctions. The Biden administration is highly sensitive to oil prices and will probably seek a deal with Iran if prices stay at levels it considers to be high. In the event Iran's production does not come online, the supply deficit may blow out in the second half of 2022, pushing oil prices far higher.
Iran's supply additions will be digested by the market in short order during the second half of 2022, when demand is expected to increase seasonally by 2 million bpd. The return of Iranian barrels would reduce the supply deficit but would not eliminate it.
Demand Risks
The greatest risk comes from a global recession triggered by surging energy costs like those seen in Europe today. But there are two countervailing forces that will reduce a recession's impact on oil fundamentals. First, OPEC+ is engaged in market management. If conditions deteriorate, the group is likely to cut production. Second, after years of underinvestment, a major price swoon will further disincentivize investment in global production would threaten to permanently reduce global production capacity, perhaps significantly so. Once demand recovered from such a swoon, the prices would snap back swiftly supply shortages would be a greater risk.
The "Omicron" COVID variant will probably reduce demand by 1.0 to 1.5 million bpd. Public officials haven't hesitated to panic even though the variant's symptoms are mild. At least 70 countries have already imposed travel restrictions.
It's important to note that the market reacted to the Omicron news on November 26 by sending oil prices down to levels that imply a 7 million bpd impact over three months according to Goldman Sachs, so additional downside would be unwarranted based on fundamentals, which set prices over the long run.
Also, OPEC+ will remain vigilant. The group can counter the new variant's impact on demand by postponing its scheduled 400,000 bpd monthly production hikes. It can also cut production.
Much has been made of surging gasoline prices affecting demand, but in reality, gasoline prices are not high outside of Brazil, as shown in the chart below.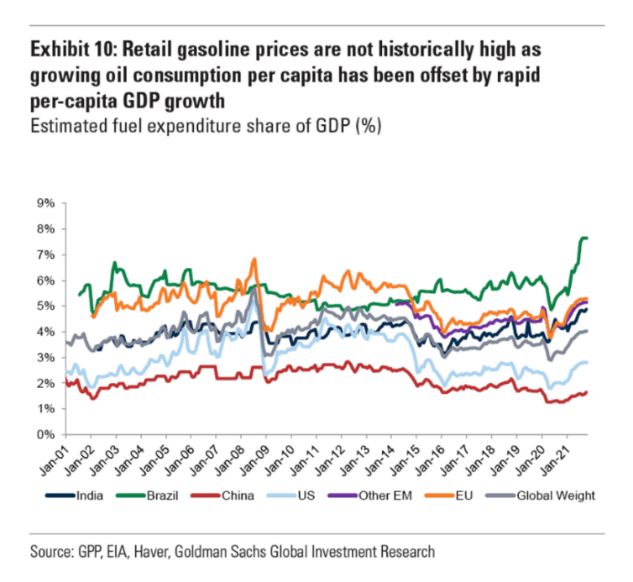 Goldman Sachs, "The SPR paradox – already priced in and a catalyst for even higher prices in 2022," Nov. 16, 2021. Pg. 5.
Recent gasoline sticker shock has come from the high rate at which prices increased over the past year. Despite the rapid increase, prices are not nearly high enough to pose a risk to demand.
Implications for Energy Equities
The outlook for oil prices - and, by extension, oil-related equities - is arguably the best it's been since the 1970s. That outlook is being turbocharged by international efforts to curtail supply.
Adjusted for inflation, oil futures have been trading around their average since the turn of the century. As such, they're not high enough to negatively impact demand. For perspective, the last demand-destroying price spike sent oil to $181.59, adjusted for inflation.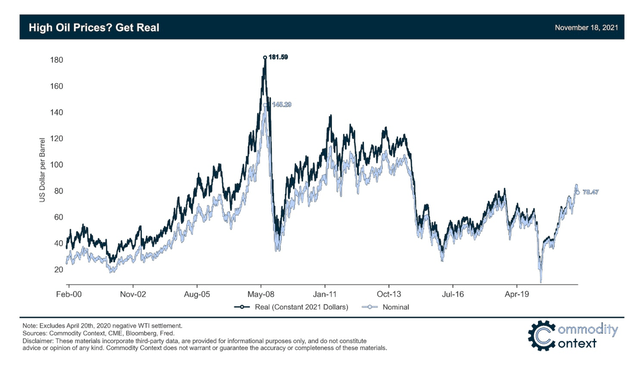 Source: Commodity Context, Nov. 18, 2021.
Demand growth will continue with strong momentum while supply additions have a short runway. Inventory levels are low, and draws are set to continue. Inventories won't have to fall much farther from current levels to be consistent with $100 per barrel oil prices.
Once OPEC production is maxed out, the oil market will be out of spare capacity for the first time since the oil age began. At that point, the world will be reliant on the 4 million bpd Permian Basin to meet the more than 1 million bpd of demand growth year after year. Without another shale revolution waiting in the wings, a severe oil-supply crunch awaits.
Oil-Related Stocks Remain Extremely Undervalued
The energy sector, comprised mostly of companies that span the oil-and-gas value chain, has been the top performer this year among S&P 500 sectors.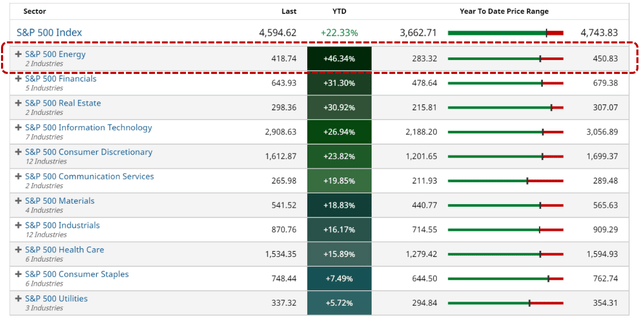 Source: Barcharts.com, Nov. 26, 2021.
Despite the sector's impressive run, oil stocks still trade at depressed levels, nowhere near reflective of current oil prices. Even the high-quality E&Ps languish at levels that imply a long-term price of $55 per barrel. Many others are valued at less than $55 per barrel, despite the fact that global oil prices trade in the $70s and have a favorable long-term outlook.
The chart below shows the huge gap between energy-stock market valuations and oil prices. The red-dotted line depicts the appreciation potential for the S&P Energy Sector, which is comprised of the largest energy companies. The opportunities are far greater in smaller oil-related names.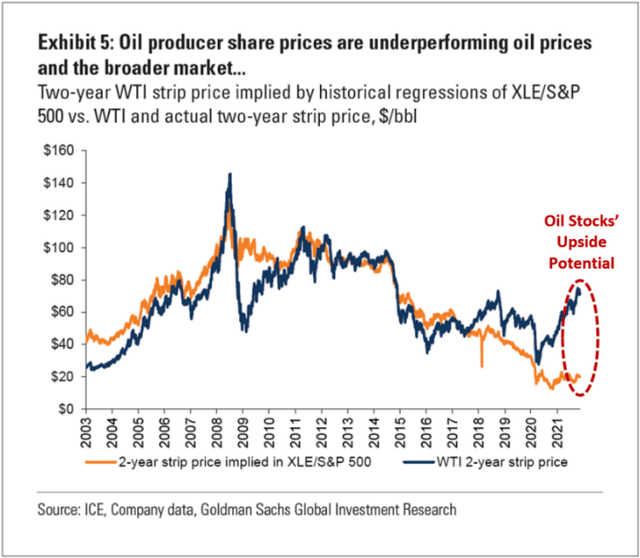 Goldman Sachs, "The SPR paradox – already priced in and a catalyst for even higher prices in 2022," Nov. 16, 2021. Pg. 3. Red arrow and text added.
The gap between market value and oil prices has grown as investors remain transfixed over the prospects for an energy transition powered by solar and wind, without appreciating the challenges that lie ahead. For better or worse, modern civilization remains in the oil age. As long as it does, it will need to invest capital in oil production. Looking at the sorry state of oil investment today, that's going to take much higher oil prices.
Once equity investors get a whiff of the looming oil supply shortage, the valuation gap will close swiftly. When oil prices rise in a supply-constrained market, oil stocks are the only place to hide. High oil prices will be a headwind for virtually every other stock market sector's performance due to the drag they exert on business results, but also from their knock-on effects to capital markets, such as stepped-up inflation and higher interest rates. In such an environment, investors will pile into the energy sector to keep from underperforming. We saw such a scramble when oil prices soared in 2008.
The last time prices were sustained above $100 per barrel, in the 2010 to 2014 timeframe, the energy sector comprised 15% of the S&P 500. That figure today? A historically low 2.9%. The gap between these figures hints at the outperformance that is possible once energy equities regain favor with investors.
We're approaching the point where oil-price fireworks begin, namely, when the year-ahead demand outlook exceeds year-ahead spare capacity. This condition is likely to be met in the second half of 2022. Energy investors should take advantage of the recent price weakness in oil and oil equities to position their portfolios for the long-term bull market that lies ahead.