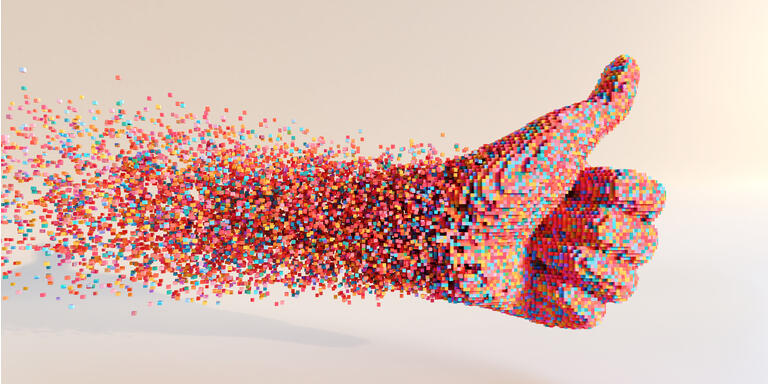 Blank check company Digital World Acquisition Corp. (NASDAQ:DWAC) is merging with Trump Media & Technology Group. The announcement initially created a frenzy for shares of Digital World Acquisition Corp. but shares have started to surge again. TRUTH Social could become a major Twitter (TWTR) rival and has massive market cap upside!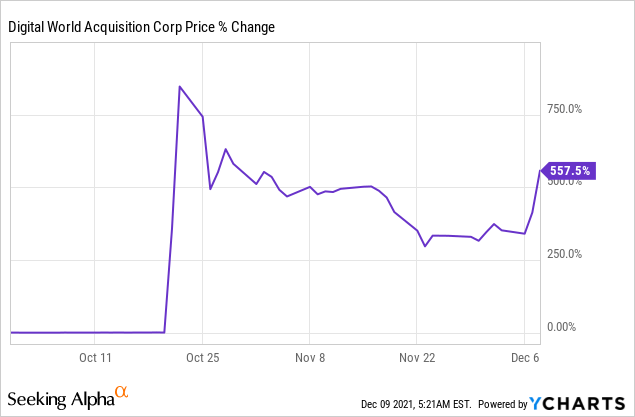 Bet on the rise of a Trump-focused social media network
Trump Media & Technology Group is set to roll-out a new social network, called TRUTH Social in FY 2022 that will allow followers to connect with the former president. The SPAC merger, announced in October, implies an enterprise value of $875M for Trump Media & Technology Group, but it could increase to $1.7B which is conditional on the issuance of new shares.
TRUTH Social has very good chances to become a social media hit, not only for the former president but also for investors that consider DWAC. This is because Donald Trump attracts a lot of attention, and attention is the ultimate currency in the social media world. He was banned from using his social media accounts in FY 2021, accounts that were followed by close to 150M people across multiple platforms. Trump's social media accounts on Twitter, Meta Platforms (FB) and Instagram were followed by 89M, 35M and 24M people. These numbers matter because they allow an estimate for how many people could potentially create accounts on the former president's new social media platform.
A Trump-focused social media network could attract, I estimate, up to 100M users. The former president is still immensely popular with his followers, independent of what you might think about Donald Trump, his style or his policies. Trump has been very good for social media companies and traditional media enterprises, and building his own social media network makes sense economically and politically. With 100M followers on the network, TRUTH Social could become one of the most profitable social media companies in the world. According to recently released TMTG projections, the network projects that it can grow to 81M users by FY 2026 of which 21M would be monetizable.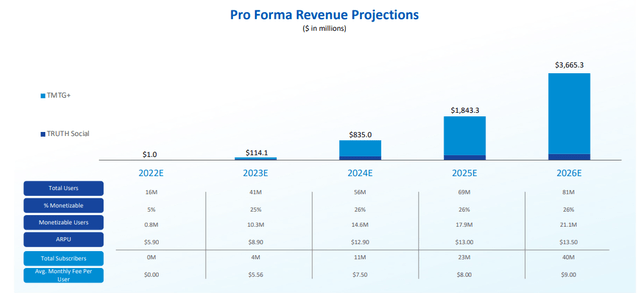 (Source: TMTG)
TRUTH Social, however, could easily surpass company projections because there are a few near-term catalysts that could accelerate platform growth and user monetization. The biggest catalyst for TRUTH Social is the appearance of Donald Trump himself. The former president has not had access to his follower base since accounts were suspended earlier this year, creating a vacuum that the former president is only too willing to fill with his own network. Other catalysts include political campaigns and elections in 2022 and 2024 that increase demand for political commentary. Surveys also show broad support for a Trump-focused social media network and the start of TRUTH Social will likely attract millions of new accounts and users in a very short period of time.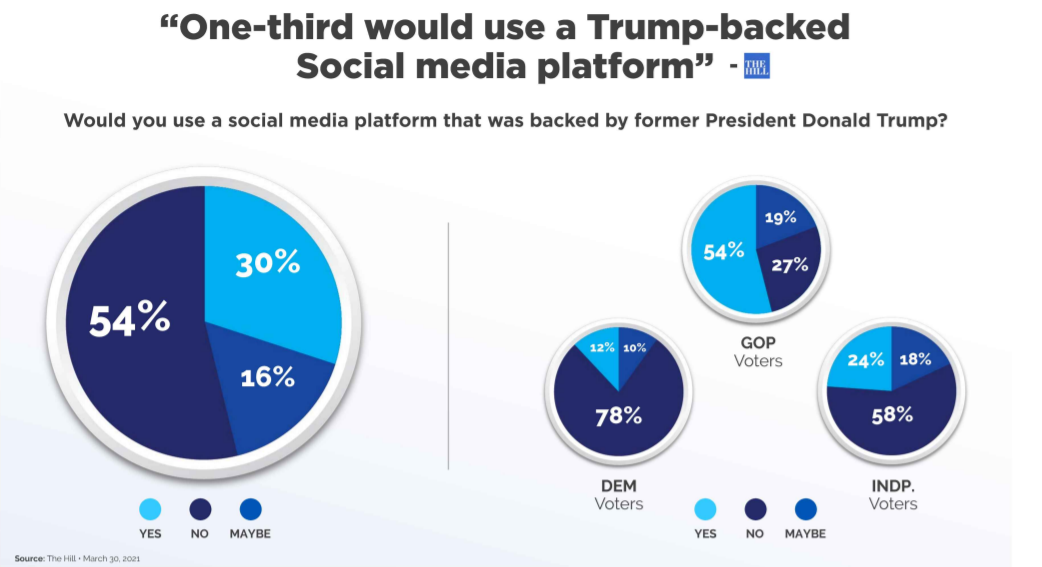 (Source: TMTG)
TMTG+ offers massive revenue opportunity
Trump Media & Technology Group is set to launch TMTG+, a paid subscription service that will include sports entertainment and programming but also documentaries and, perhaps, exclusive access to content provided by Trump and his campaign. The former president's name recognition, the catalysts of political campaigns kicking off and the previous social media ban could unleash a potent force that generates massive growth at Trump Social. Assuming a 5% sign-up rate for TMTG+ and a $20 monthly subscription rate, TRUTH Social could generate $100M in monthly revenues shortly after TRUTH Social goes live next year. It is not unrealistic for TMTG to generate in excess of $1.0B in revenues in the year the next presidential election is held. TMTG projections assume $835M in revenues in FY 2024, $1.84B in FY 2025 and $3.67B in FY 2026.
Based off of revenues around the $1.0B mark, DWAC has a P-S ratio of 1.9 X, which makes TMTG one of the cheapest social media companies around. Twitter and Meta Platforms trade at P-S ratios around or above six and don't face nearly as attractive near-term user growth prospects as TMTG. If TMTG was valued as highly as rival social media networks, at a P-S ratio of 6 X, TRUTH Social could achieve a market valuation of $6B. DWAC's market valuation today: $1.9B, leaving room for the market capitalization to triple.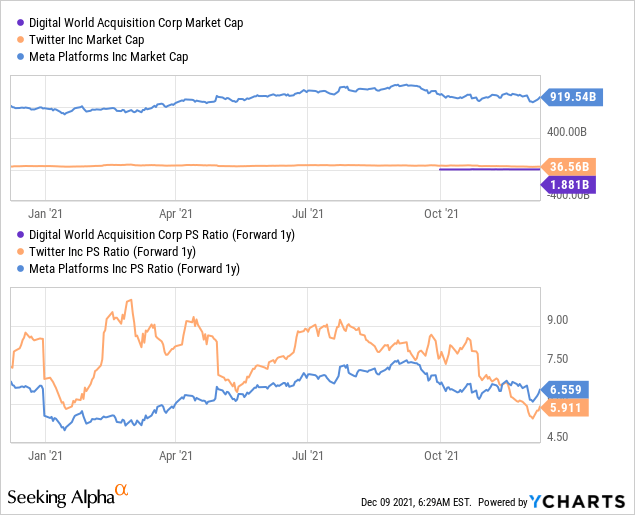 Rival social media networks and streaming platforms all trade at higher ratios than DWAC/TMTG.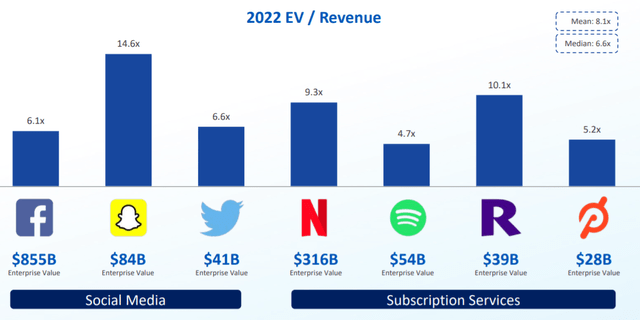 (Source: TMTG)
$1.0B PIPE investment
Last week TMTG announced a $1.0B PIPE investment in TMTG. PIPE stands for "private investment in public entity", which means institutional investors put up big money to invest in a company that is already public. The $1.0B investment in Trump Media & Technology Group proves that there is growing investor demand for a Trump-centered social media network.
After completion of the deal, TMTG will have approximately 224.7M shares outstanding, not including shares issued based on earn-out clauses.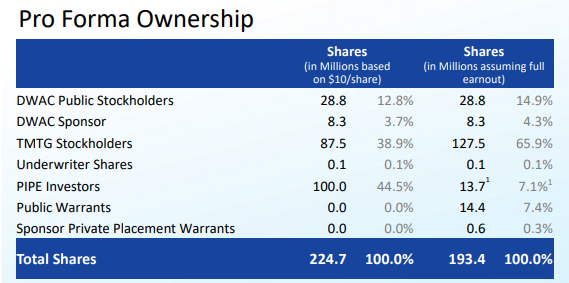 (Source: TMTG)
Risks with DWAC
There are considerable risks involved regarding the launch of a new social media network, which is a complex undertaking that requires technical knowledge and execution skills. A lot is still uncertain and the full potential of TRUTH Social is hard to estimate. There is a risk that Trump's social media network fails to take off and falls behind its projections for user growth and monetization. Also a risk: The SEC is investigating TMTG's SPAC deal which could result in a fine and impact the stock negatively.
Final thoughts
I believe user and revenue growth at TRUTH Social could break records as soon as the network goes live in FY 2022. This growth in users and the possibility for a significant market cap increase are currently undervalued!