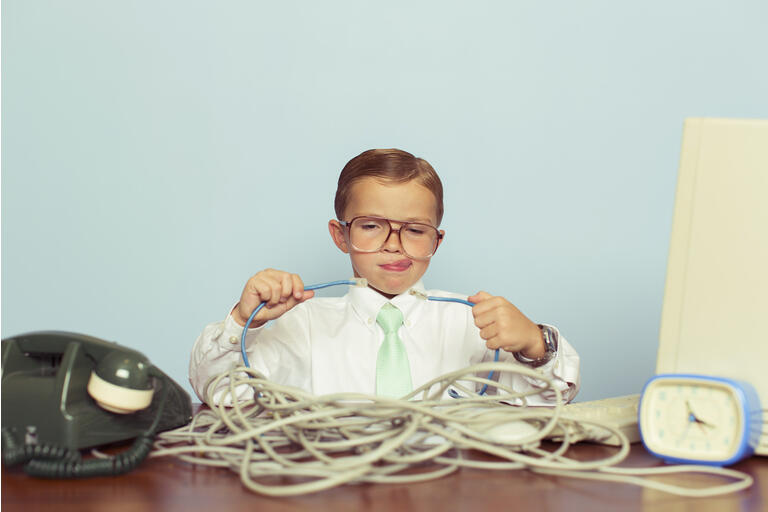 Introduction: Why is ATUS Stock Dropping
Altice USA, Inc. (NYSE:ATUS) shares have fallen another 6.4% in the last two days (December 7-8). At $15.86, ATUS stock is now down 59% from its peak in May, and is close to its all-time low of $15.20 in October 2018:
We attribute ATUS' decline this week to CEO Dexter Goei's comments at the UBS Global TMT Conference on Tuesday (December 7), which revised ATUS' 2021 outlook downwards and indicated a difficult H1 2022 ahead. We believe ATUS' fundamentals remain challenged and reiterate our Neutral rating.
Altice USA Neutral Case Recap
We downgraded our rating on ATUS from Buy to Neutral in November after Q3 2021 results; since then shares have fallen 12.6%. (Prior to that, ATUS stock had lost 39.8% over a year while Buy-rated in our coverage.)
Our downgrade was based on concerns about ATUS' business:
Competition in ATUS markets is already intensifying
ATUS' offering may be fundamentally uncompetitive
EBITDA and Free Cash Flow ("FCF") will likely decline
Management's turnaround initiatives may not be successful
We believe these problems are specific to ATUS, owing to poor management, including past excess cost cuts and bad strategic choices.
CEO Dexter Goei's comments at the UBS conference confirmed that fundamentals are still deteriorating, turnaround initiatives remain early-stage and, even if successful, would not show tangible progress until H2 2022.
Now Expecting Q4 Broadband Net Losses
Goei cut ATUS's broadband subscriber net add expectations in his comments:
Q4 broadband net adds are "probably trending slightly negative"; management had previously expected them to return to positive
Full-year broadband net losses of 5-10k are now likely; management previously expected "slightly" positive 2021 net adds, after a net loss of 1k in Q1-3
(NB. ATUS broadband numbers refer to residential customers only.)
If the new expectations were to come to pass, ATUS would have had broadband net losses in four out of the five quarters after Q3 2020:
ATUS Broadband Net Adds by Quarter (Since 2018)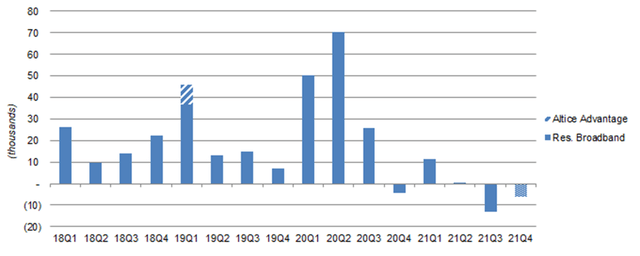 NB. Excludes net adds from Service Electric in Q3 2020 and Morris Broadband in Q2 2021. Suddenlink OSS/BSS migration disrupted net adds in Sep-Nov 2019.
Source: ATUS company filings.
More worryingly, the broadband net losses have been due to competition.
Broadband Losses Due to Fiber Competition
Goei was clear that ATUS' broadband net losses were due to competition, specifically from Verizon's (VZ) Fios fiber network.
He stated "these losses are in the Fios zones" while "non-Fios zones continued to grow". He believed that Fios' momentum has continued, described Fios as having been "heavily, heavily promotional" in fixed broadband as well as in its fixed + wireless product, where ATUS cannot compete well as it currently lacks a competitive mobile product (a relaunch is planned for Q1 2022).
Interestingly, Goei maintained that they have not seen any impact from Verizon's fixed wireless offering. (This has in any case only been available on a limited scale so far, with 4G or mmWave-based 5G.)
ATUS Expecting More Fiber Overbuild
Goei also predicted that competition from telco fiber overbuild would increase.
At present, fiber overbuild in ATUS' footprint consists of:
In Optimum footprint (5.0m homes passed), fiber overbuild of 65% by Fios
In Suddenlink footprint (3.5m homes passed), fiber overbuild of 20-25%, of which about half is by AT&T (T)
ATUS management believes fiber overbuild can reach 40-50% in the Suddenlink footprint over the next five years, a conservative estimate that assumes "perfect" execution by ATUS' competitors. (AT&T has a stated plan to double its fiber footprint from 15m to 30m by 2025.)
At the high end, ATUS expectations would mean up to 60% of its overall footprint will see fiber overbuild in the next five years.
Turnaround Initiatives Will Take Time
The timetable of ATUS' turnaround initiatives remains unchanged, which means they will likely take until H2 2022 to show any impact.
Examples of such initiatives include a relaunch of its mobile product in Q1 2022, doubling its door-to-door salesforce, and adding 75 retail outlets:
ATUS Distribution Channels (2017-22E)

Source: ATUS results presentation (Q3 2021).
Whether these initiatives will succeed remains to be seen. What is certain is that they will add substantially to ATUS' cost base in 2022.
EBITDA To Decline Mid-Single-Digits in 2022
Goei now expects ATUS' EBITDA to fall by mid-single-digits in 2022, including the $69.3m Air Strand revenues in 2021 (which had a near-100% margin). EBITDA was $4.42bn in 2020 and has been guided to "growth" in 2021, so this implies an EBITDA decline of approx. $220m (or $150m excluding Air Strand).
Most of the EBITDA decline can be attributed to $125m of costs from the turnaround initiatives, according to Goei, including:
Suddenlink rebrand $20-$30m (one-off)
New retail stores $20-$30m
More door-to-door salespeople $15-$20m
Mobile relaunch $20-$30m
Goei expects the mobile business to report a negative EBITDA of $100m.
Revenues are expected to fall by a low-single-digit in 2022. Revenues were $9.90bn in 2020 and have been guided to "growth" in 2021, so this implies a revenue decline in the hundreds of millions even excluding Air Strand.
Overall, EBITDA margin is expected to have a "one-year dip" to 41-42%, compared to approx. 44% expected in 2021 and 43.7% in 2020.
No Buybacks Until Growth Resumes
Goei also confirmed that there will be no buybacks until growth resumes.
The reason for this is that the expected EBITDA decline, even if it were to be temporary, would worsen ATUS' Net Debt / EBITDA ratio. It was already at 5.4x at Q3 2021, and guided to be the same at year-end, compared to a target range of 4.5-5.0x. FCF will thus be used to pay down debt.
This will be a disappointment to investors who wish ATUS to take advantage of the current share price with more buybacks. ATUS share price is $15.86 at present, compared to the $36 per share ATUS paid in its $2.3bn tender in December 2020, and the $34.12 it paid in $805m of buybacks in Q1-3 2021.
Some Operational improvements
Goei was able to share some operational improvements since Q3.
For example, ATUS has cut its Fiber-To-The-Home ("FTTH") install time by 40%; the completion rates on FTTH are now in the mid-80s percentages, its highest ever; and its technical service calls are now 80-90% fewer.
These are positive in being steps in the right direction, but may not be enough. For example, Goei had described FTTH install time as 3-4x that of cable, so even after a 40% reduction it is still at least 80% longer.
Fears of ATUS Being Taken Private Cheaply
Some investors are concerned that ATUS may be taken private at a low price, by controlling shareholder Patrick Drahi, who owns 44% of the stock and controls 92% of the votes. A few investors even suspect ATUS' recent poor performance to be part of a conspiracy to take ATUS private cheaply.
We do not believe these fears are realistic.
While the threat of an undervalued company being acquired at a discount to its true value is always present, we do not believe this is any more of a danger for ATUS than for any other company. Any takeover will need to be approved by a majority of the independent shareholders, so any takeover price will be at a substantial premium to the current price.
We do not view it as plausible that ATUS executives have been deliberately sabotaging ATUS's own performance. As stated above, management has spent billions of dollars to buy back shares at prices more than twice their current level - they would not do so if they intended to drive the share price down.
With Net Debt / EBITDA already at 5.4x and a substantial bid premium needed for the equity, any takeover would likely require significant additional equity. We believe the genuine operational issues at ATUS we have identified will make Patrick Drahi reluctant to invest even more money in ATUS, until there are concrete signs that the turnaround is succeeding.
Valuation: Is ATUS Stock Cheap?
With shares at $15.86, ATUS has a market capitalization of $7.36bn.
ATUS has guided to $1.6bn of FCF in 2021 (after $1.3bn of CapEx), implying $2.9bn of Operating Cash Flows. Excluding the after-tax effect of $69.3m one-off Air Strand revenues, FCF is likely $1.5bn, though ATUS only started paying federal cash taxes later in the year:
ATUS Free Cash Flow (2016-21)

Source: ATUS results presentation (Q3 2021).
The mid-single-digit EBITDA decline expected in 2022 will reduce FCF by approx. $160m (assuming a 21% tax rate). Management expects CapEx to be higher in 2022, at $1.7-1.8bn (before returning to normal in 2024). Including a full year of federal cash taxes, we believe 2022 FCF may be closer to $1bn.
ATUS's FCF Yield is thus 22% relative to 2021 estimates and 14% relative to 2022 estimates. A double-digit FCF Yield makes ATUS stock look "cheap", though 2021-22 figures may not provide a representative view of future FCF.
Is ATUS Stock A Buy? Conclusion
ATUS has again cut its 2021 outlook, and now expects broadband subscriber net losses for both Q4 and the full year.
ATUS expects to see a low-single-digit decline in revenues and a mid-single-digit decline in EBITDA in 2022, and there will be no buybacks.
Broadband losses are mainly in markets where ATUS overlaps with Verizon's Fios, but there will be more such fiber overbuild in future.
Turnaround initiatives are unlikely to produce tangible progress until H2 2022, if at all, though there has been some operational improvement.
ATUS has a double-digit Free Cash Flow Yield, but its business challenges mean that its investment case is too speculative.
We reiterate our Neutral rating on Altice USA, Inc.
Note: A track record of my past recommendations can be found here.