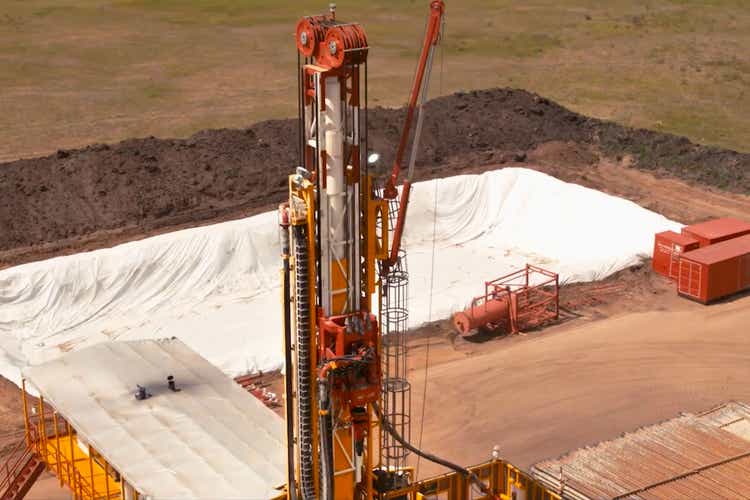 TETRA Technologies (TTI) is a small-cap industrial and oil and gas products and services company that provides completion fluids, calcium chloride, water management, frac flowback and production well testing to both onshore and offshore wells. Calcium chloride is used in oil and gas, industrial, agricultural, road, food, and beverage markets.
It has two divisions: Water & Flowback Services and Completion Fluids & Products. In the third quarter of 2021, both had similar revenues.
Its net long-term debt of $164 million is about half of its market capitalization; it has a high beta of 3.1, and its products appear more research-focused than scalable. However, it offers water treating solutions to a sector that produces a lot of "salty" (high-mineral) flowback and produced water.
TETRA Technologies may interest speculative ESG and oilfield services investors with a risk appetite for a high-beta stock. It does not pay a dividend, so I do not recommend it to dividend-hunters.
Third Quarter 2021 Results and Guidance
For the third quarter of 2021, TETRA Technologies reported revenue up 30% over a year ago to $95 million. The company explains that its European industrial calcium chloride business peaks seasonally in the second quarter, and that third quarter revenue was negatively impacted by about $11 million due to Hurricane Ida and delayed international completion fluids deliveries from global logistics and shipping issues.
Net income was $2.5 million, or $0.02/share, including $6.2 million of mark-to-market gains from TETRA's equity ownership in Standard Lithium and CSI Compressco LP. In earlier quarters the company had substantial income from operations that have since been discontinued.
Adjusted EBITDA was $15.0 million. Cash from operations was $2.8 million for the quarter.
In the earnings call, CEO Brady Murphy said, "During the third quarter, we achieved a record high 55 integrated water management projects with 27 different customers out of which four were new customers."
Fourth quarter revenues are expected to be higher due to deliveries delayed until then, return to normal operations in the Gulf of Mexico, and recent awards for work offshore Brazil.
Oilfield Water Service Segments
In an onshore, hydraulically fractured well, water service has several parts:
Sourcing the water-ideally not from an aquifer;
Transporting the water for fracturing to the wellsite, by pipeline or by truck;
Upon production, separating the flowback water (the water that went into the well) and the produced water (the additional water that was in the formation and is "produced" out) from the produced oil and liquids;
Transporting (by pipeline or truck) the produced and flowback water to a deep saltwater disposal well OR
Treating the water-especially removal of minerals and salt-to make it usable for an industrial process or-with far more treating-as potable water and then using or marketing and transporting the recycled water.
Permian Basin Flowback and Produced Water
In the Permian basin, between 2-4 barrels of water are "surfaced" for every barrel of oil. And as wells mature, they produce even more water. In the Permian, this adds up to about ten million barrels per day of water. The water is both "produced" (from the formation) and "flowback"-from the water injected for hydraulic fracturing. In both cases, it has an extremely high salt and mineral content and cannot be recycled, even for reinjection in fracturing, without treatment. The cheapest means of water handling is to inject it into deep saltwater disposal wells. However, even in an area as big as the Permian, ten million barrels per day of water is an issue.
Look to recent history for a crucial water disposal problem example. Increasing numbers of earthquakes ("induced seismicity"), up to even a level 5.0 occurred in Oklahoma. Ultimately, to resolving the problem required the state implement strict limits on total and per-well volumes injected into deep saltwater disposal wells.
The Permian has now also experienced unusual earthquakes in the Gardendale area, near Midland and Odessa, and in the Culberson-Reeves area in west Texas. This has caused the Texas Railroad Commission to limit flows into saltwater disposal wells in the 250-mile-square Gardendale area which has 76 disposal wells with 1.6 million barrels per day of disposal capacity.
Thus, it is likely Permian basin operators will be considering solutions for produced and flowback water, like those offered by TETRA Technologies, instead of trucking or piping the water to other saltwater disposal wells.
Oil and Gas Prices and Macro
Covid-19 shutdowns are easing or ceasing in many places, albeit with hiccups as the delta and omicron variants roll through. This has allowed oil and gas demand to return, and drilling activity is picking up.
Yet, an unfortunate consequence of Europe's and the United Kingdom's reliance on too-intermittent wind power last summer (and a scaling back of coal use) was that both dug far into their natural gas inventory. They are now dangerously reliant on Russian gas imports. Russia, for its part, is seeking to complete and use its Nordstream 2 pipeline. So, Russia has been restricting natural gas exports until it has the completion approval from Europe it needs.
US oil and natural gas prices remain relatively strong, although natural gas prices in the US have been dropping on warmer weather here.
The December 9, 2021 closing West Texas Intermediate (WTI) oil price (January 2022 NYMEX contract) was $70.57/barrel. The Brent futures price (for February 2022) was $73.98/barrel.
The December 9, 2021 natural gas futures price for the January 2022 NYMEX contract closed at $3.78/million British Thermal Units (MMBTUs).
West Texas Intermediate Crude Oil, $/bbl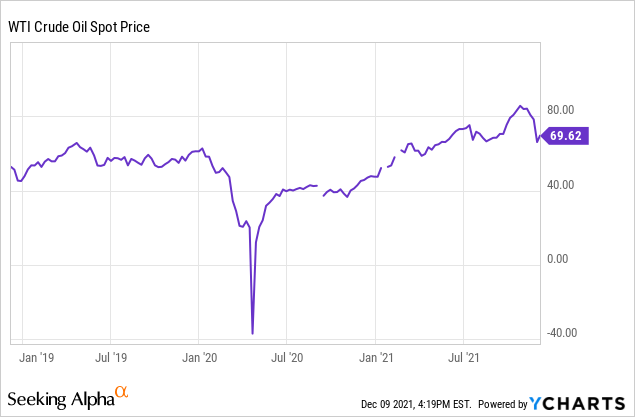 The month-ahead natural gas contract price is used instead of the spot price to better illustrate current price changes.
Henry Hub One-Month Futures Price, $/MMBTU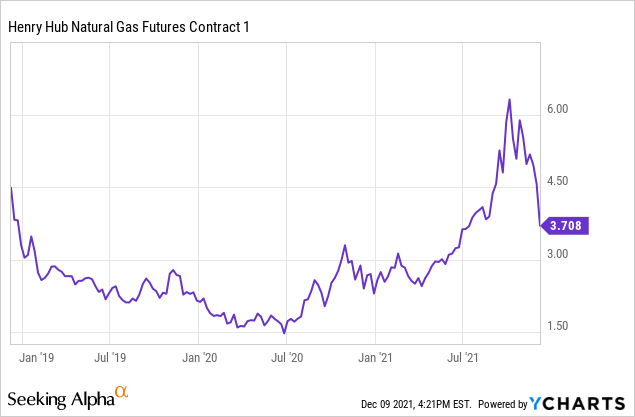 Competitors
TETRA Technologies is headquartered in The Woodlands, Texas and has 1800 employees.
Its largest oilfield service competitors are also companies that may hire TETRA Technologies as a subcontractor: Baker Hughes (BKR), Halliburton (HAL), and Schlumberger (SLB). The company has many other competitors in the water segment of oilfield services, including Aris Water Solutions (ARIS), as well as partnerships and private companies like Waterbridge, Gravity, Pilot Water Solutions, and Goodnight Midstream. Competitors may also include more generalist midstream companies.
Strategy
TETRA Technologies is expanding into low carbon energy markets by commercializing an ultra-pure zinc bromide for stationary batteries and energy storage, and by advancing its carbon dioxide capture technology, among other projects.
Governance
At September 26, 2021, Institutional Shareholder Services ranked TETRA Technologies' overall governance as a 3, with sub-scores of audit (2), board (3), shareholder rights (5), and compensation (2). In this ranking a 1 indicates lower governance risk and a 10 indicates higher governance risk.
Shorts were 2.3% of float at November 15, 2021.
Insiders own 9.9% of the shares.
The company's beta is a very high 3.1, considerably more volatile than the overall market.
Financial and Stock Highlights
With a December 9, 2021 closing stock price of $2.57/share, market capitalization is on the small side compared to many oilfield companies at $326 million.
The average of analysts' 2021 and 2022 earnings per share estimates are -$0.04 and $0.14, respectively, which gives the company a forward P/E ratio of 18.4.
At September 30, 2021, TETRA Tech had $311 million in liabilities, including $164.4 million of long-term debt. With $411 million in assets the liability-to-asset ratio is a very steep 76%.
Trailing twelve months' operating cash flow is $22.5 million; while trailing twelve months levered free cash flow is $51.0 million.
The 52-week price range is $0.72-$4.49 per share, so the December 9, 2021 closing price of $2.57/share is 57% of the one-year high. The one-year target price is $5.00/share; the closing price is 51% of that level.
Average daily volume traded is 1.3 million shares, just over 1% of the number of outstanding shares.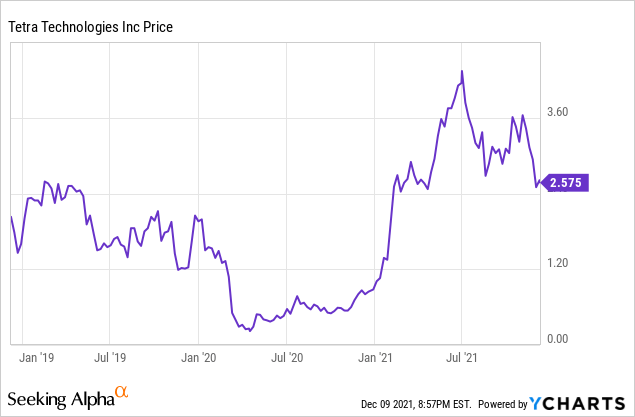 The ratio of enterprise value to EBITDA is 30.2, so far from bargain territory of 10.0 or less in this ratio.
TETRA Technologies does not pay a dividend.
The company's mean analyst rating is a 2.1 or "buy" from fourteen analysts.
The five largest institutional holders on September 29, 2021, are BlackRock at 6.3%, Fuller & Thaler Asset Management at 5.9%, Vanguard at 4.7%, T. Rowe Price at 4.1%, and State Street at 2.8%.
Positive and Negative Risks
TETRA Technologies' major exposure is a second derivative of US and global oil price risk (the price risk itself, and then the level of oil and gas drilling), which is subject to continuing demand recovery and moderated supply by OPEC+. While public US companies have reined in drilling, private companies have expanded their efforts in the last several months.
To the extent Permian seismic risks worsen, TETRA Technologies processes—which don't involve saltwater disposal wells—may be of increasing interest to customers.
Recommendations for TETRA Technologies
I do not recommend TETRA Technologies to investors looking for large trade volumes, big market caps, dividend-payers, low-beta, or rapid-growth companies.
While the company does not appear to have the capability to scale up quickly, with its active international business it is geographically diversified, a benefit. In particular, the company has growth from its new Brazilian contracts.
Financially, TETRA technologies has a forward price-earnings ratio of 18 but a high ratio of liabilities to assets (76%).
TETRA Technologies' stock price and market capitalization are both relatively small. The company may interest risk-seeking investors looking for innovative publicly traded water service companies at the intersection of the oilfield services and ESG sectors. These interested in a speculative investment may appreciate the company's oilfield water and fluids focus—particularly since it offers alternatives to deep saltwater well disposal—in addition to its chemical research and new products.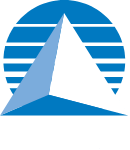 (Source: TTI)