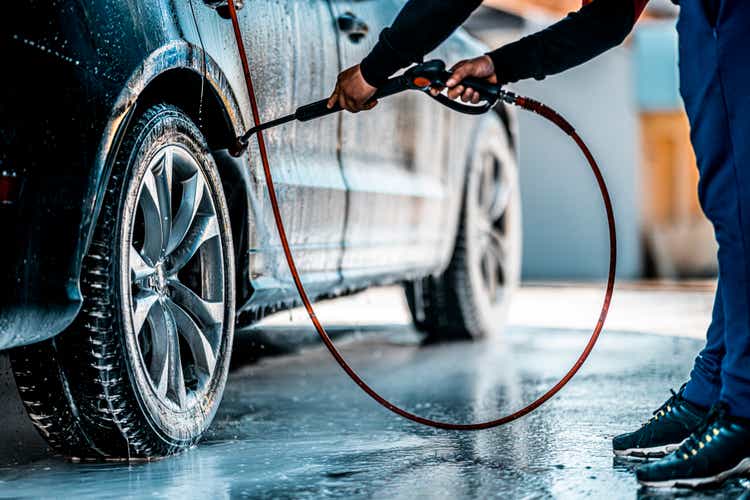 Mister Car Wash (NYSE:MCW) has seen some struggles after it went public this past summer. In June, I concluded that there was a clean growth runway for the company, as the leading car wash player could operate as a consolidator in a still very fragmented market. The company has continuously made some bolt-on acquisitions, now followed by a larger deal. This looks compelling, together with resilient operating performance and pullback in the shares, yet shares still look a bit pricey here.
Former Take
Mister Car Wash had a shiny public debut this summer. The happy and fun car wash franchise has seen a splashing debut, yet I concluded that a great deal of the growth prospects unfortunately appeared to have been priced in already.
The company operated 344 locations across 21 states at the time, in total performing some 60 million car washes on a trailing basis, that was the end of the first quarter of 2021. With an average wash coming in at $10 per share, this is a sizeable operation, as the company has 1.4 million wash club members as well, being very loyal members which on an average go for 30 washes a year.
Founded in 1996, the company focuses on hard work, fun and washes. With nearly 300 million cars registered in the US, and some 2 billion washes being performed, the market is huge as the share of automatic washes keeps increasing vs. the do-it-yourself market.
The company went public at $15 per share as the 296 million shares valued the company at $4.44 billion at the offer price. This excludes a roughly half a billion net debt load, which results in a $5.0 billion enterprise valuation, a huge number with 344 locations, for an average valuation at around $15 million per location. This compares to a 2019 operation which generated $630 million in sales and $75 million in operating profits. Despite revenues falling to $575 million in 2020 for obvious reasons, the operating profits actually rose to $105 million last year.
The company posted a 13% increase in first quarter sales to $175 million, as operating profits nearly doubled to $47 million. Leverage was no major concern with EBITDA in 2020 already reported at $161 million, for a 3 times leverage ratio. Believing operating profits might run at $190 million a year based on the first quarter results, I saw net earnings potential at $135 million, for earnings just shy of half a dollar. That looked full at 30 times earnings, a multiple which jumped far higher after shares rose to $21 on the first day of trading. After that move, a $6.8 billion equity valuation was equivalent to 47 times annualized profits.
While this was high, I believed that the company was very good as it held just a 3% market share, creating a real runway for future growth, yet I found the valuation too high in order to become upbeat.
What Happened?
Fast forward to half a year ago since the IPO, shares have gradually come down a bit to $18, down 15% from the first day of trading. Since the public offering, the company has actually announced the purchase of a few locations here and there, or even small chains.
In August, the company posted spectacular second quarter results. Revenues rose 93% to $197 million as the company operated with 351 locations. The company posted a large GAAP loss on the back of huge stock-based compensation expenses related to the offering, as adjusted earnings of $41 million translates into earnings of $0.14 per share, a bit better than the run rate posted in the first quarter.
In November, third quarter results were solid as well with revenues up 25% to $194 million, down a bit on a sequential basis, although that seasonally is a bit softer quarter. Adjusted earnings came in at $0.11 per share, or $35 million in absolute dollar terms, although that adjusted for a $7 million stock-based compensation expense. Hence, a $0.50 per share run rate probably is still quite realistic on an annual basis, or actually a bit optimistic. This is certainly the case as the company guided for adjusted earnings this year at around $0.42 per share as the fourth quarter is seasonably softer.
Net debt stood at $448 million, with EBITDA posted at $197 million in the first three quarters of the year already. With EBITDA seen at $252 million this year, this works down to a 1.8 times leverage ratio, very modest.
Working with a 330 million share count, shares are valued at $6.0 billion here at $18, for a $6.5 billion enterprise valuation. This translates into a 8-9 times sales multiple and roughly 26 times EBITDA multiple.
Another Deal
With the company being quite active on the deal front already since the public offering, Mister Car Wash has announced a larger deal in December. The company has reached a deal to acquire Clean Streak, a chain with 23 locations and 10 development locations, with all these ten locations set to be opening in the upcoming year.
The deal comes at a price, that is $390 million, which suggests that $12 million has been paid per location, far less than the $18-$19 million implied valuation per location of the company right now. Following the deal, net debt will increase to $840 million, which jacks up leverage quite a bit, as I believe forward EBITDA likely runs around $300 million in the coming year. This should translate into a 2.8 times leverage ratio.
This is very manageable as this business operated with 5-6 times leverage ratios in the past, as pro forma earnings likely run at around half a dollar going forward.
That suggests that the business trades at 36 times earnings, which is quite demanding as leverage increases a bit following this bolt-on deal. Truth is that appeal has improved a bit since the offering, mostly because shares fell 15% ever since, in combination with solid operating performance. Nonetheless, the improved appeal does not automatically create a situation which is necessary compelling, or appealing.
Here, I think the situation looks a bit brighter, but I am not too eager to immediately start buying the shares at these levels, as the valuation is still quite a bit demanding, even though the business itself has been off to a good start since the summer.