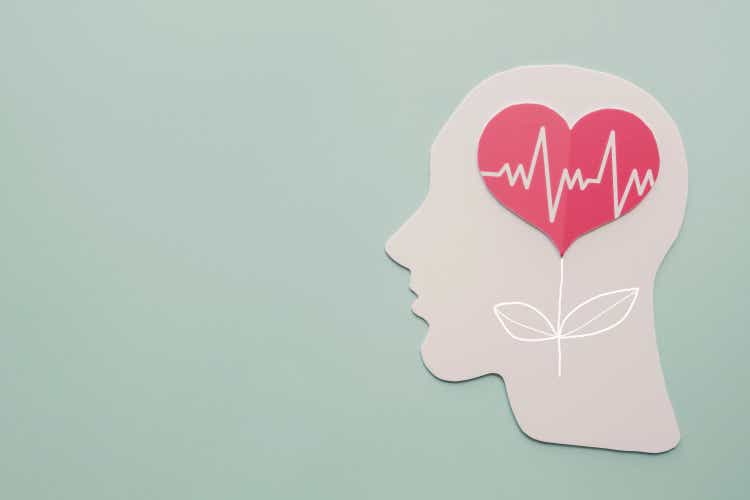 Talkspace (NASDAQ:TALK) has found itself in a position that to state its collapse has been material would be an understatement. The floor has totally disintegrated and the company has been in free fall since it closed its go-public merger with Hudson Executive Investment Corp. Talkspace's common shares were cut in half, then half again. The market is now attempting to do this again. What went wrong? And is there a floor? Indeed, the company is now down 85% from its 52-week high with no respite as the broader market weakens on the back of fears over the new COVID-19 variant. That said, broader macro factors like the surge in inflation, end of year tax-loss selling, and the earlier than expected tapering by the Federal Reserve of its monetary expansion policies have also weighed down on the stock and dampened any broader appetite for a recovery.
For Talkspace's remaining and embattled shareholders, the future seems murky at best and non-existent at worst. Such a tumultuous price decline is hard to stomach for even the most experienced and hardened stock market investors. Perhaps they can take some solace in the Talkspace is not alone. The entire deSPAC and small-cap growth space took a beating this year. An unfortunate fact that was hidden by a (SPY) dominated by a few trillion-dollar-plus technology companies.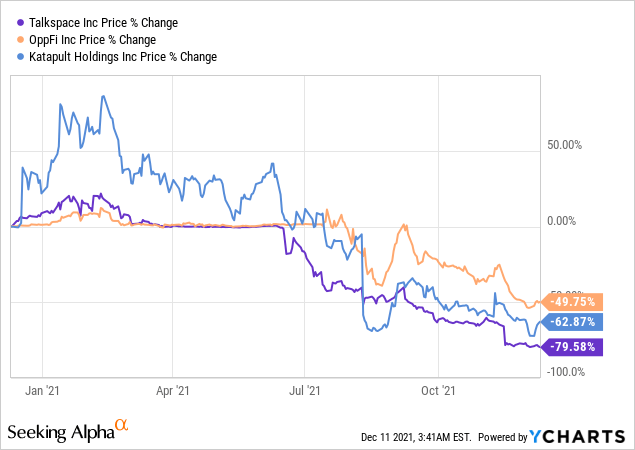 Let's be clear here. Talkspace's go-public transaction value of $1.4 billion was driven by unrealistic management expectations and euphoric market conditions at the time. The zeitgeist then was characterised by easy money and untenable price to revenue multiples. We now exist in what should hopefully be the later stages of the collapse of the bubble.
Do The Financials Justify The Decline?
New York City-based Talkspace is an online and mobile therapy company that provides its users access to licensed therapists. The company last reported fiscal 2021 third quarter results that saw net revenue come in at $26.4 million, a 26% increase over the year-ago quarter. This growth was driven by momentum in the B2B segment which saw completed sessions grow by 96%. Direct‐to‐consumer revenue only grew by 10% year-over-year to $18.6 million, a growth slowdown attributed to delays in launching new products as well as a decline in conversion rates. The stock price reacted by a double-digit decline as this figure was significantly below management's expectations and was followed by a large exodus of the company's C-suite.
Co-Founder and CEO Oren Frank resigned, not even turning up to the earnings call. He was followed by his brother Roni Frank, Co-founder and Head of Clinical Services. The COO also departed, leaving Board Chairman Douglas Braunstein to step in as interim CEO. The had rendered the company fundamentally leaderless and presents an instability that poses more near-term risks to its shareholders. This uncertainty around future management and strategy has aggregated with increased competition in the rapidly growing space to discombobulate Talkspace's future.
Further, with gross margins at 54% during the quarter, the company saw a significant 1600 basis point compression in gross margins versus the year-ago period. Such a significant contraction of a key profitability metric meant adjusted EBITDA was negative at $20.8 million. This was a more than 10x increase from a loss of $2.0 million in the year-ago period. Cash used in operating activities for the preceding 9 months was also negative at $41.1 million, a significant increase from a loss of $6.7 million in the comparable year-ago period. Essentially, Talkspace is experiencing a significant deceleration in its underlying business growth as operating expenses and cash burn run higher.
However, the company held ample liquidity at the end of its last quarter with net cash and equivalents of $222.9 million. Hence, with its current market cap at $309 million, 72% of the company's market cap is in cash. The market is prescribing a functional value of $86.1 million to Talkspace's operations.
Stop The Count
When Talkspace announced it was going public it did so at a valuation of $1.4 billion. Less than 12 months later and it now trades at a fraction of this. And while the company's B2B prospects remain a bright spot, the majority of its revenue comes from its decelerating direct‐to‐consumer business.
Whilst it is difficult to recommend Talkspace as a buy, the current price is far too discounted. The company only has to see a moderate slowdown in cash burn and a pickup of its D2C business to see its share re-rated sharply upwards.
I expect the tax-loss harvesting trade to fully play out over the remaining fourteen trading days of the year. If Talkspace is able to quickly reinvigorate its leadership and more prudently position itself, then 2022 should hopefully look a lot less than 2021.