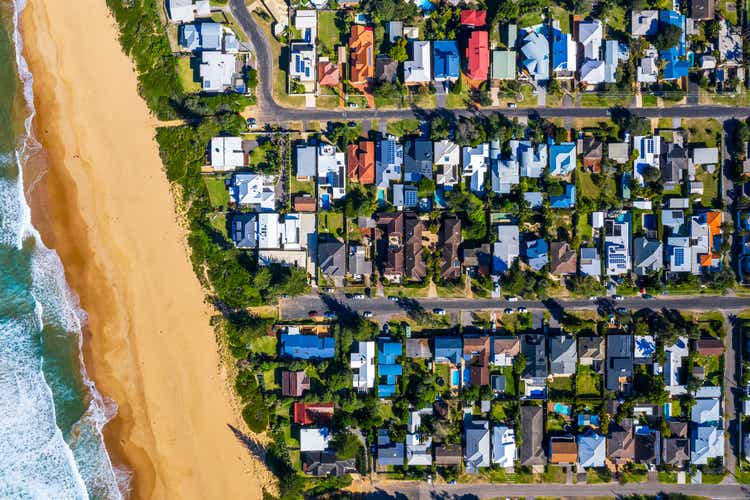 Real Estate Weekly Outlook
U.S. equity markets rebounded from a two-week skid as a pair of significant market concerns - a potential economic slowdown from the Omicron variant and the debt ceiling standoff - now appear likely to be avoided. "Encouraging" signs on Omicron and signs of reacceleration across the critical housing sector offset continued jitters over soaring inflation as fresh data this week showed that consumer prices rose at the fastest rate in nearly four decades.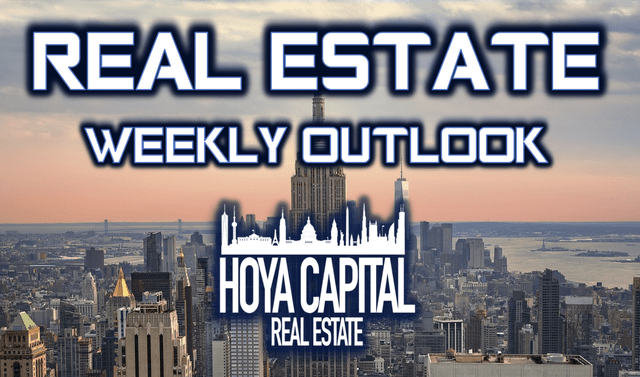 Posting its best week of gains since early February and closing at fresh record-highs, the S&P 500 (SPY) advanced 3.8% on the week, while the Mid-Cap 400 (MDY) gained 3.0% and the Small-Cap 600 (SLY) climbed 3.0%. Real estate equities were broadly higher amid an ongoing wave of REIT dividend increases, M&A developments, and data showing soaring rent growth. The Equity REIT Index rallied 2.8% on the week with 17-of-19 property sectors in positive territory while the Mortgage REIT Index finished higher by 1.5%.
After sliding to its lowest level since mid-September in the prior week, the 10-Year Treasury Yield jumped 15 basis points on the week to close at 1.49%. All eleven GICS equity sectors were higher by at least 2.5% on the week while energy prices - Crude Oil and Gasoline futures - posted sharp gains. Homebuilders and the broader Hoya Capital Housing Index continued to lead the way following strong earnings results from Toll Brothers (TOL) and as housing and rent data continue to show an acceleration across the broader housing industry as Redfin (RDFN) reported that the number of homes for sale fell to all-time lows as demand remains insatiable.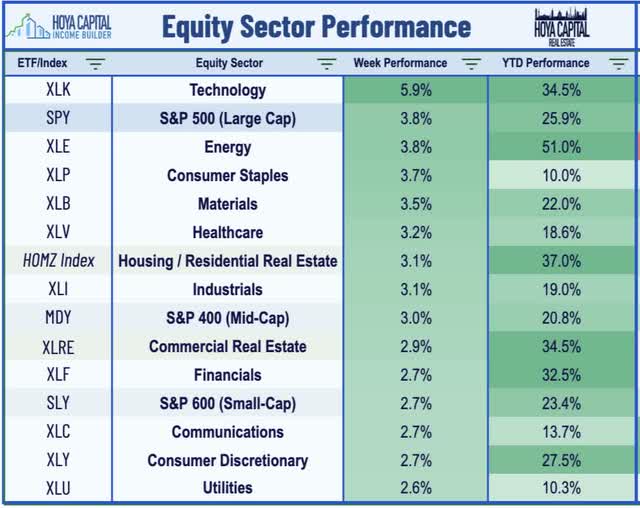 Real Estate Economic Data
Below, we recap the most important macroeconomic data points over this past week affecting the residential and commercial real estate marketplace.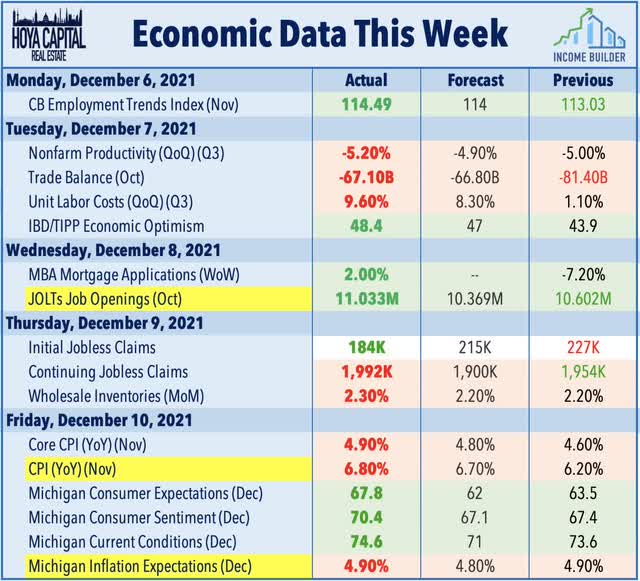 The BLS reported that consumer prices surged at the fastest pace in nearly four decades in November as inflation has so far proven to be less "transitory" than many economists projected. The Consumer Price Index rose 6.88% year-over-year - slightly hotter than consensus estimates - and the highest annual increase since June 1982. Core Consumer Prices - which excludes food and energy - rose 4.96% from last year - also higher than expected. Prices for food, rent, and gasoline were once again the largest contributors to inflation as the energy index rose 33.3% and the food index increased 6.1%.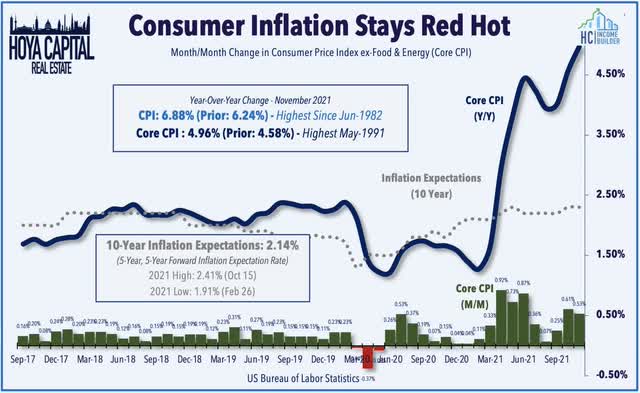 We continue to see persistent near-term pressure on inflation metrics due to the delayed impact of soaring rents and home values, which are just beginning to filter in the data. The cost of shelter soared 0.5% in November, which was the biggest increase in 20 years while the annual gain rose to 3.9%, the highest in more than 14 years. The Dallas Fed published a report highlighting the data issues at the BLS, finding a 16-month lag between the BLS inflation series and real-time market pricing of home prices and rents which will add an estimated 0.6-1.2% to the Core CPI index in 2022 and 2023.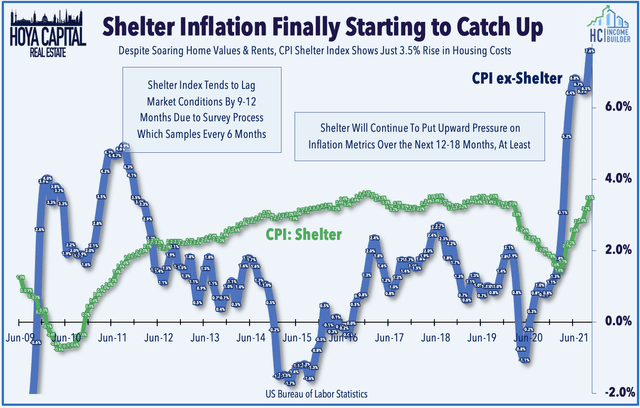 Equity REIT Week In Review
Some more early Christmas gifts arrived under the tree this past week as the wave of REIT dividend hikes and special dividends continued, bringing the full-year total up to a record-setting 125. Mid-America Apartment (MAA) gained 4.4% on the week after hiking its dividend by 6.1%. Lab space owner Alexandria Real Estate (ARE) rallied nearly 5% after it boosted its dividend by 2.7%. Elsewhere, net lease REIT W. P. Carey (WPC) and Essential Properties (EPRT) each hiked their dividends for the fourth time this year.

A trio of REITs declared special dividends: Lamar Advertising (LAMR) declared a special cash dividend of $0.50/share while Retail Opportunity (ROIC) declared a $0.07/share special dividend. Condor Hospitality (CDOR) declared a $7.94/share dividend as part of the sale of its full hotel portfolio to Blackstone (BX) Real Estate Partners - a healthy premium resulting in nearly 100% total returns for the year. CDOR also notified the NYSE of its intent to delist the Common Stock as part of its dissolution. In our State of the REIT Nation report, we discussed how despite the 125 REIT dividend increases this year, historically low payout ratios suggest we're poised to see another big year of dividend growth in 2022.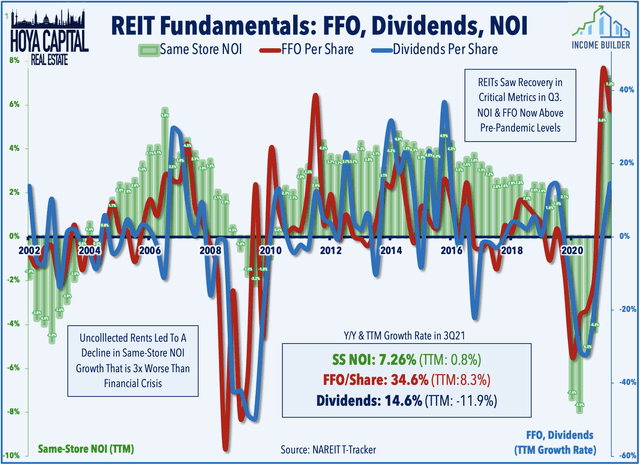 Timber: PotlatchDeltic (PCH) soared more than 7% on the week after announcing last Friday afternoon a 7.3% dividend hike and a special cash dividend of $4.00/share. This week, we published Timber REITs: Renewable Dividends in which we analyzed how record profitability this year has translated into significant dividend growth. Across the land, there are few better inflation hedges than land itself. Timber REITs own nearly 30 million acres of land, more acreage than the smallest U.S. five states combined. Lumber prices had dipped over 50% from their early-summer peak to their lows in late-August, but have come surging back over the past three months amid a housing industry reacceleration.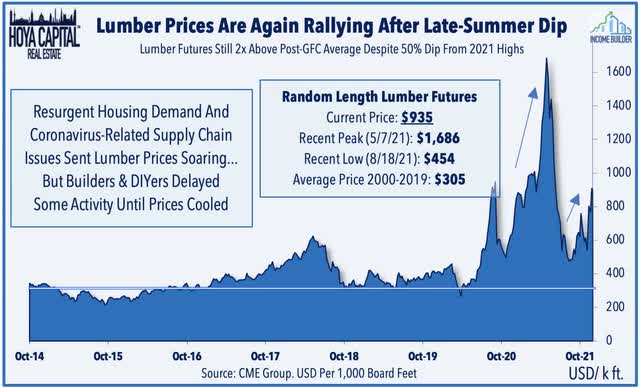 Apartments: Sticking with the housing theme, fresh data this week from RealPage showed that apartment rent growth and occupancy set new records in November, defying the typical seasonal slowdown while apartment occupancy hit a new all-time high of 97.5% in November. The annual increase in effective asking rents for move-in leases reached 13.9% in November, climbing at an all-time record pace. A separate report published by Apartment List showed also showed that rents continued to rise in November, pushing the year-to-date national rent gains to a "staggering" 17.8%. Mack-Cali Realty (CLI) gained 1% after announcing it will rebrand itself as Veris Residential (VRE), reflecting the company's transition into a pure-play multifamily REIT.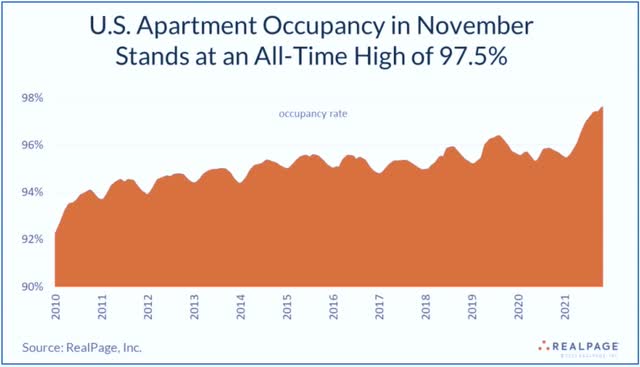 Homebuilders: Toll Brothers rallied nearly 10% on the week after reporting strong earnings results and providing an upbeat forecast for revenue growth of 20% in 2022 following 22% revenue growth this year. Consistent with reports from other builders and strong housing market data over the last several months - including small-cap Hovnanian Enterprises (HOV) which soared more than 30% following similarly-strong results - Toll Brothers reported improving margins despite lingering supply chain headwinds and commented that "demand remains very strong... as the housing market continues to benefit from solid fundamentals, including favorable demographics, pent up demand, a tight resale market, and permanent changes to the way Americans view life, work and home."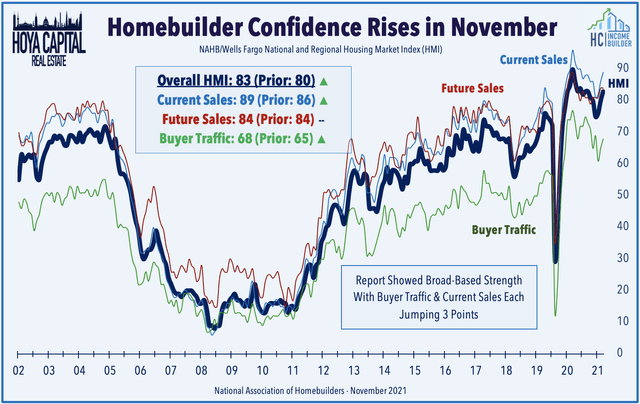 Casino: REITs were also quite busy on the M&A front this week as external growth has fully kicked back into fear. Gaming and Leisure Properties (GLPI) advanced 1.5% on the week after it announced a major $1.8B acquisition of the Live! casinos in Maryland, Philadelphia, and Pittsburgh from Cordish Companies. Acquired at a 6.9% cap rate, the acquisition is GLIP's largest since 2016. GLPI will enter into a new triple-net master lease with Cordish for the Philadelphia and Pittsburgh casinos and a single asset lease for Maryland. The leases will have an initial term of 39 years, with a maximum term of 60 years inclusive of tenant renewal options. The initial annual rent for all three properties will be $125.0M, with a 1.75% fixed yearly escalator.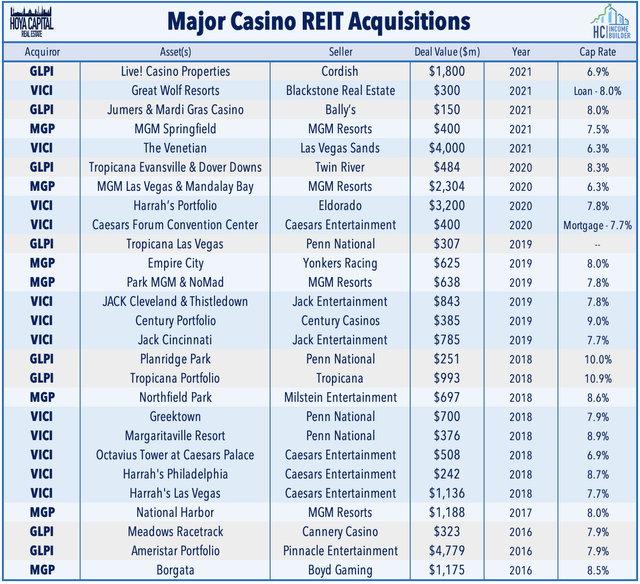 Cannabis: Chicago Atlantic Real Estate (REFI) became the newest exchange-listed REIT this week in a $100M IPO. Last week, we published Cannabis REITs: When They Go Low, We Get High. Riding a seemingly never-ending 'high' since emerging onto the scene in the mid-2010s, Cannabis REITs are far-and-away the best-performing REIT sector of the past half-decade as the budding industry thrives in the murky and often contradictory regulatory framework of legalized marijuana. Joining Innovative Industrial (IIPR), Power REIT (PW), and AFC Gamma (AFCG), REFI will operate as a commercial mortgage REITs - similar to AFCG which went public in early 2021.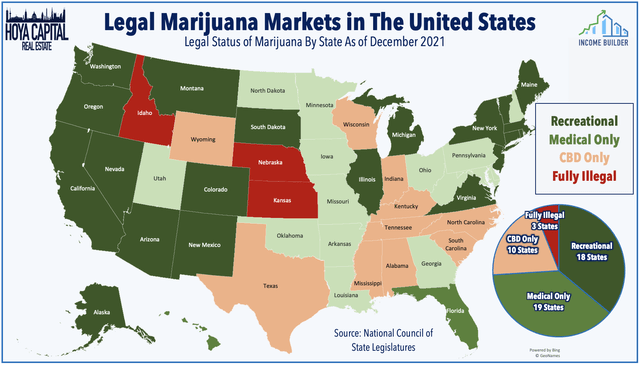 Manufactured Housing: UMH Properties (UMH) gained more than 5% this week after announcing a joint venture with Nuveen Real Estate for greenfield development or acquisition of new manufactured housing communities with an initial capital commitment of up to $170M. UMH will have a 40% stake in the Joint Venture and serve as the managing member and operating member of the joint venture. UMH will earn customary fees associated with property and asset management. Led by sector leaders Equity LifeStyle (ELS) and Sun Communities (SUI), manufactured housing REITs are on-pace to outperform the broad-based Equity REIT Index for an incredible ninth-straight year.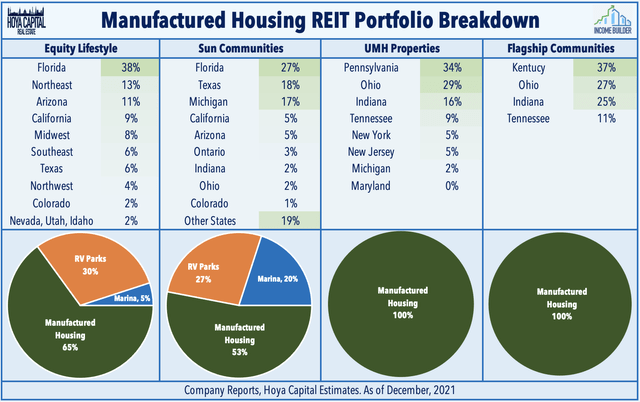 Healthcare: CareTrust REIT (CTRE) advanced 2% on the week after a Bloomberg report that the company is "exploring strategic options" including a possible sale. The owner of skilled-nursing facilities - which has been one of the best-performing healthcare REITs over the past five years despite struggles across the SNF industry - is said to be working with an adviser to see about interest from possible buyers. CTRE originally spun off from the Ensign Group (ENSG) and today owns 223 properties across 28 states with a market cap of roughly $2.0B. Within the healthcare REIT space, we see Omega Healthcare (OHI) as a potential bidder, but wouldn't be surprised to see interest from Ventas (VTR) or Welltower (WELL).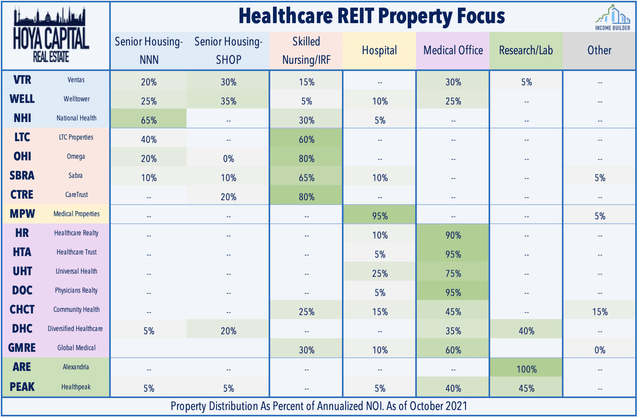 Mortgage REIT Week In Review
Mortgage REITs rebounded as well this past week with residential mREITs gaining 2.5% on the week while commercial mREITs advanced 0.5%. Orchid Island Capital (ORC) gained more than 5% on the week after holding its dividend steady and announcing an expanded stock buyback program. Elsewhere, roughly a dozen mREITs declared dividends in-line with their current rate including Annaly Capital (NLY), AGNC Investment (AGNC), PennyMac Mortgage (PMT), Ellington Residential (EARN), and Dynex Capital (DX). Residential mREIT now pay an average dividend yield of 9.42% while the average commercial mREIT pays a dividend yield of 6.46%.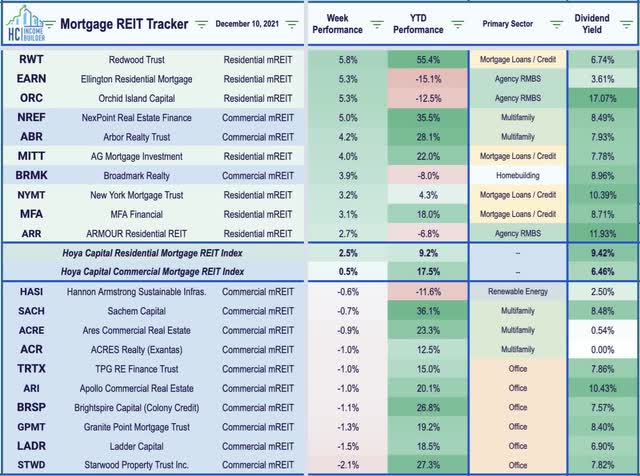 REIT Preferreds & Capital Raising
REIT Preferred stocks advanced 0.46% this week, on average, and are now higher by 8.45% on a price-return basis with total returns of roughly 14%. This week, Ellington Financial (EFC) launched a new 6.250% Series B Fixed-Rate Reset Cumulative Redeemable Preferred Stock (EFC.PB), issuing issue 4.4M shares for gross proceeds of $110M. Several REITs launched secondary common stock offerings including Agree Realty (ADC), Starwood Property (STWD), and Gaming & Leisure Properties (GLPI).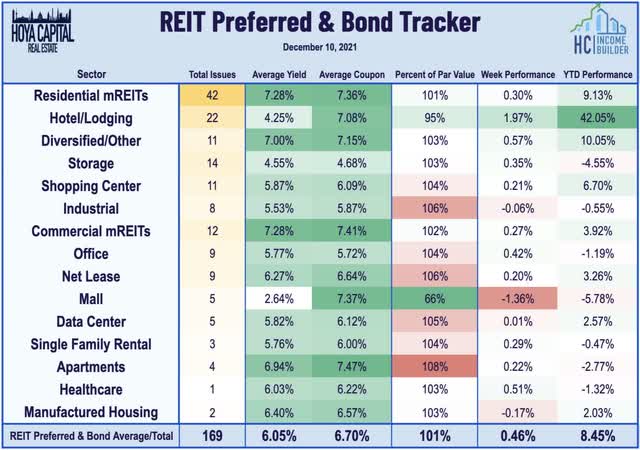 2021 Performance Check-Up
With three weeks remaining in 2021, Equity REITs are now higher by 30.4% this year on a price return basis while Mortgage REITs have gained 10.9%. This compares with the 25.9% advance on the S&P 500 and the 20.8% gain on the S&P Mid-Cap 400. Led by the residential and retail property sectors, all nineteen REIT sectors are now in positive territory for the year, while on the residential side, all eight sectors in the Hoya Capital Housing Index are higher. At 1.49%, the 10-year Treasury yield has climbed 57 basis points since the start of the year and is 97 basis points above its all-time closing low of 0.52% last August, but still 176 basis points below its 2018 peak of 3.25%.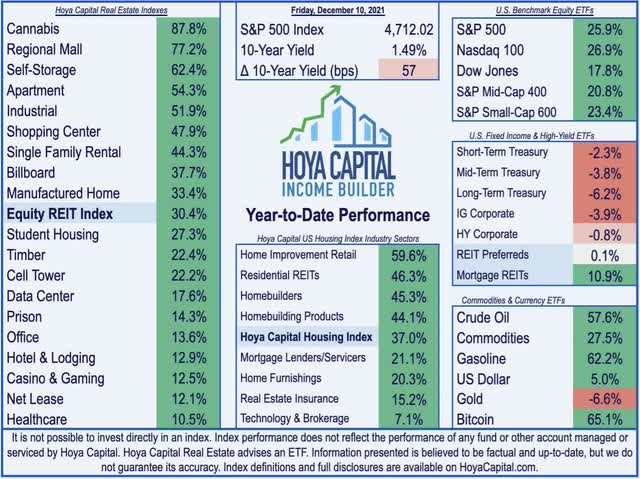 Among the ten major asset classes, REITs are now the best-performing asset class this year on a total returns basis, outpacing the previously red-hot Commodities (DJP) complex as well as Large-Cap, Mid-Cap, and Small-Cap equities along with international stocks and bonds. Despite the rough 2020 in which REITs were the worst-performing asset class, REITs are still the fourth best-performing asset classes since the start of 2010, producing average annual total returns during this time of 12.6%, producing superior total returns to Bonds (AGG), TIPS (TIP), Commodities (DJP), Emerging Markets (EEM), and International (EFA) stocks.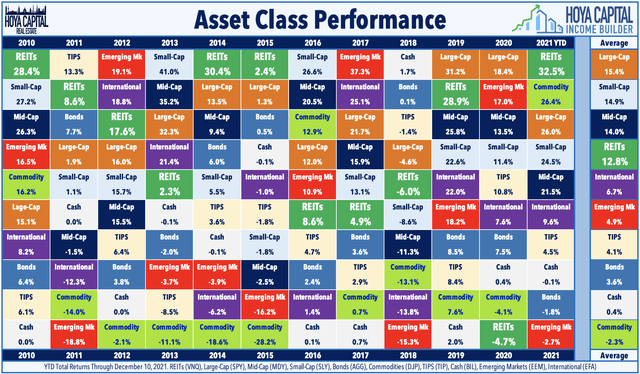 Economic Calendar In The Week Ahead
We have another busy week of economic and housing data in the week ahead, kicking off on Tuesday with the Producer Price Index for November, which is expected to show the highest annual rate of price increases on record at 9.2%. On Tuesday, we'll see Retail Sales data for November, which is expected to show a modest increase in spending as the holiday shopping season kicked off. Also on Tuesday, we'll see NAHB Homebuilder Sentiment data for December which is expected to stay steady with last month. On Thursday, we'll see Housing Starts and Building Permits data for November which is expected to show that construction activity accelerated last month, consistent with signs of housing industry acceleration over the past quarter.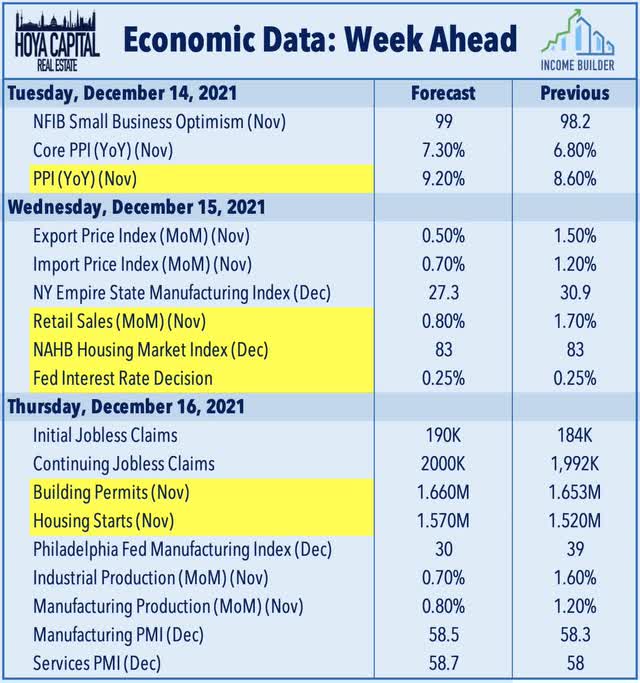 For an in-depth analysis of all real estate sectors, be sure to check out all of our quarterly reports Apartments, Homebuilders, Manufactured Housing, Student Housing, Single-Family Rentals, Cell Towers, Casinos, Industrial, Data Center, Malls, Healthcare, Net Lease, Shopping Centers, Hotels, Billboards, Office, Storage, Timber, Prisons, and Cannabis.
Disclosure: Hoya Capital Real Estate advises two Exchange-Traded Funds listed on the NYSE. In addition to any long positions listed below, Hoya Capital is long all components in the Hoya Capital Housing 100 Index and in the Hoya Capital High Dividend Yield Index. Index definitions and a complete list of holdings are available on our website.