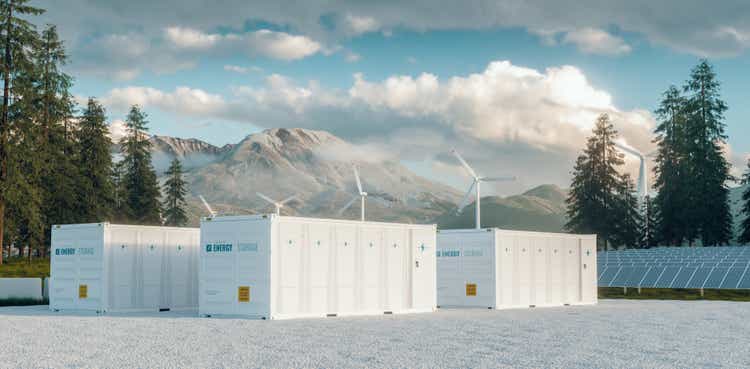 Energy Storage
An important thing happened in the past couple of years: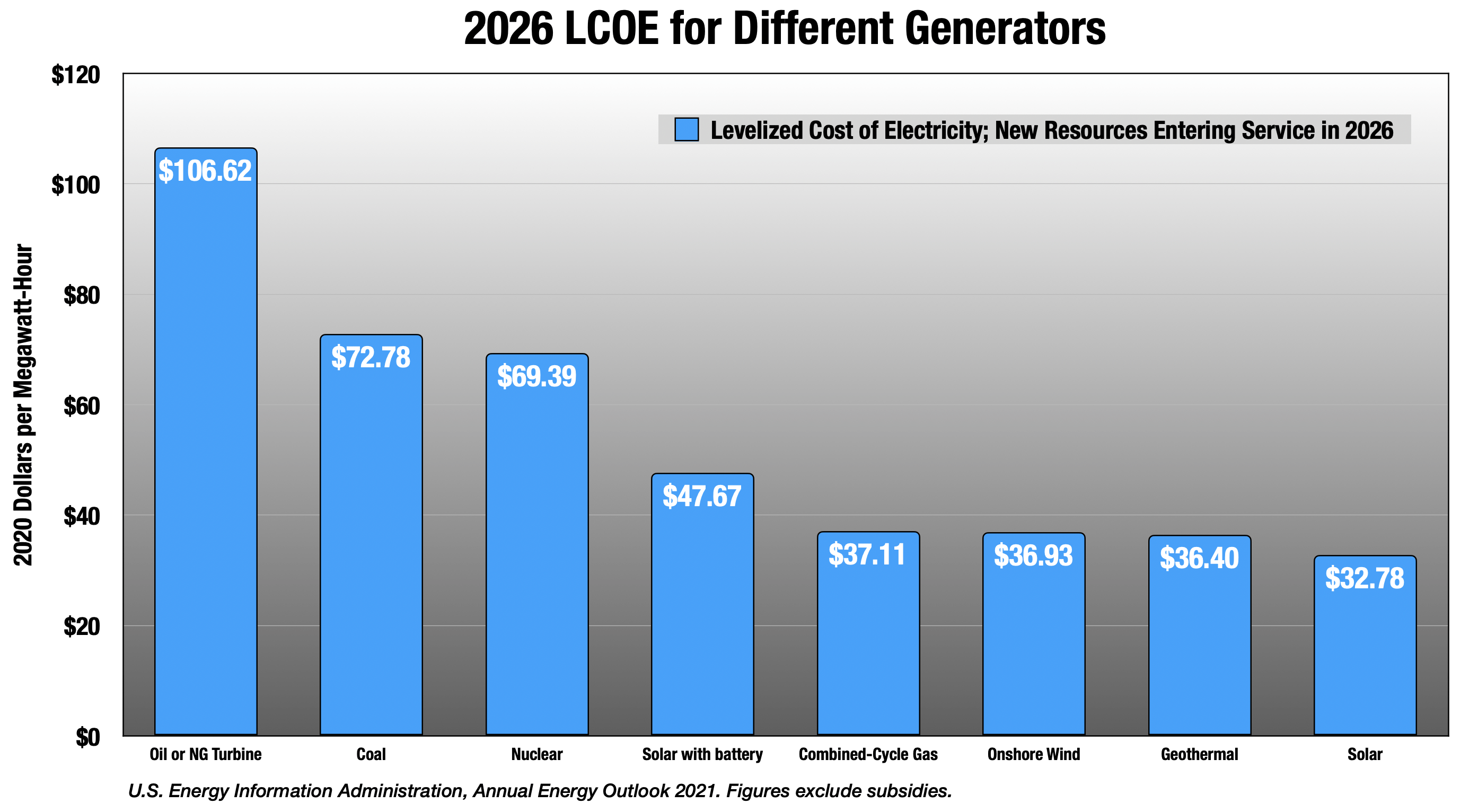 The levelized cost of electricity, or LCOE, measures all the costs associated with generating electricity - CapEx, OpEx, and fuel - divided by the total megawatt-hours produced over the life of the asset. Renewables have always had higher CapEx for the same number of megawatt-hours, but very low OpEx and no fuel. CapEx has now come down far enough that the cheapest new construction is solar, poor underappreciated geothermal, and onshore wind, even when we exclude subsidies. That chart, with data from a February 2021 EIA report, will only get more lopsided every year. It probably already is, and the 2022 outlook release is less than two months away.
The question used to be "Can we afford to shift to renewables?" The question now is "How do we do it?" A key part of the answer is energy storage, and managing that energy storage will be crucial. This infrastructure will be very complex, and asset owners will need systems and software to manage and maximize profit. That is what Stem (NYSE:STEM) provides their customers.
Renewables are now very cheap and only getting cheaper, but the power comes when the power comes, not necessarily when you need it. There are many parts to this problem, ranging from powering through the 5-9 PM demand surge just as solar is shutting down for the day, to seasonal storage that saves summer overproduction for winter. There is a lot in between those two poles as well.
Right now, the answer is giant banks of lithium-ion batteries. This is because for forty years, the prime directive in battery research has been to make them smaller and lighter, and lithium is one of the most energy dense metals. But as suited as lithium is to power smartphones and cars, it brings a lot of problems to energy storage, where energy density is much less of an advantage. The biggest disadvantage is the 4-hour maximum discharge.
So right now, of the many specific roles for energy storage, lithium-ion is only suitable for one of them - time-shifting for that 5-9 PM demand surge. This works best in the context of a wind farm. In most windy places, it blows more at night, when demand and wholesale prices are low. Instead of sending to the grid at a low price, you charge your co-located battery up. Then, the next day during the 5-9 PM surge when prices are at their highest, you discharge the battery into the grid. It is essentially arbitrage.
With all this 4-hour lithium-ion being built now, it's fairly obvious what to do with it and how to schedule it to maximize profit. But a lot of work and investment is underway in taking the next steps in energy storage: 10+ hours, multiday, and seasonal storage. The projections here from the Department of Energy and industry groups are fairly mind boggling. They are talking about tens or hundreds of millions of megawatt-hours and trillions of dollars in global investment into energy storage by 2040. Mass deployment will not even begin until 2030.
Once all this begins to happen, managing storage assets becomes far more complex than with lithium-ion. One of the key elements to that is going to be AI systems that use weather, electrical demand, and other data to predict near-term generation and demand, and deploy the company's generation and storage assets in the way that maximizes profit. That's what brings us here today.
Stem's Role And Opportunity
Stem is a systems/software company that helps manage energy storage and maximize profit using AI to predict demand. This is going to be a key link in the whole thing, and the importance will only grow over time. They have two lines in their operating statement: hardware and services. They kindly break them out through cost-of-revenue, which is very helpful, even though it is detrimental to them right now. From it, we know they have large negative gross margins on services, which is never encouraging.
The business plan seems to be to take a thin gross margin on the hardware systems, somewhere around 12%, and make that up with leverage on the software/services side. The problem they have is that contracts are 10 or more years long. For a 10-year contract, the revenue is received and recognized at 12% of the contract per year in years 1-5, and 8% per year in years 6-10. It looks like they have substantial start-up costs in year one of the contract, after which they enjoy a very high margin. But if they grow fast, those start-up costs in year one will make getting leverage very hard.
Here's an explanatory revenue model for their software/services segment:
Assume their services bookings go up by 100%, 50% or 25% YoY.
Assume their gross margin on software/services in year one is -29%, as it was in the first three quarters of 2021. It was -34% last quarter.
Assume that gross margin goes to 75% in subsequent years of the contract.
In these scenarios, Stem gets a positive gross margin in services next year, but it remains pretty low for a services company.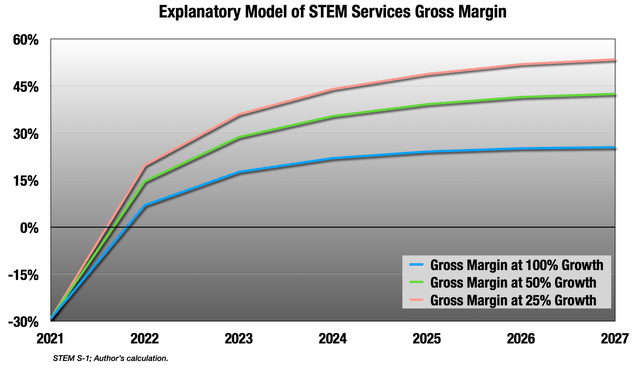 The higher the growth rate, the more of a drag those year one costs are. In the very high growth scenario, gross margin caps out around 30%, not very good for software/services. It will take several more years after that to get to a positive operating profit, if they ever can get enough leverage.
It's hard to say how markets will look at this down the road. Stem has a tradeoff between revenue growth and gross margin, which are the first two things people look at in an early-stage software company. Do analysts focus on the high growth, or relatively low margin for software? In the context of that model, several things could happen. Here's a model of gross margin with declining growth rates, starting at 100% in 2022 and going to 25% in 2025: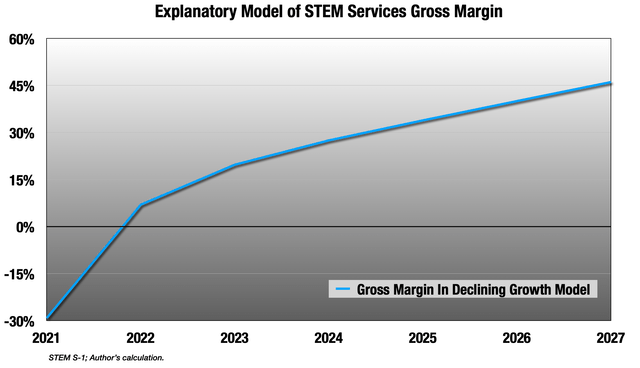 Do analysts focus on the slowing growth, or the fact that they are adding six percentage points to gross margin every year? I don't know.
I am still holding off on this one. There is no way to put a value on it without understanding that math I laid out a little better, because my assumptions may be way off. It will be at least another quarter before I can give a recommendation. But those gross margin charts lead to a pretty obvious 2022 play, so I'll be back on that in a few months. For now, a $2.7 billion market cap makes no sense for a company with negative gross margins on software.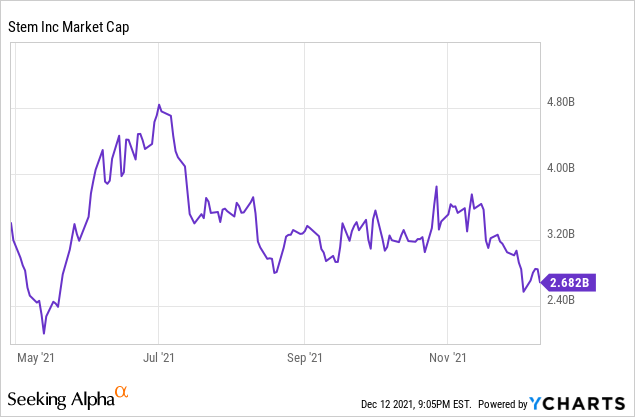 It made much less sense at $4.8 billion. There is a lot of hype around energy storage right now that will eventually die down. Patience.
Zillow Risk
Stem shares a risk with a lot of machine learning AI companies, one I now call Zillow Risk. Zillow (Z) had a ton of great historical and current data on residential real estate listings and sales with which to train their machine learning AI. They had tasked with buying and selling homes.
The weakness in all machine learning AI is that no matter how much good data they were trained on, if something happens that is not in the data, for example a whacked out pandemic residential real estate market, there's no telling what the AI might do. Like losing Zillow $420 million. Zillow had plenty of great data from 2007-2010 about what that sort of unusual market looked like, but none about a market with very high demand, very low inventory, and increased geographic mobility.
This is a big risk for all AI businesses like Stem, OpenDoor (OPEN) and Upstart (UPST) that are using AI to make very big, expensive decisions. If something very unusual happens, the results can be catastrophic. Stem has a wealth of very good weather data going back over a century, and hourly generation/demand data going back many years. But we are seeing more highly unusual weather events that would not show up in the data, and the results for Stem and their customers could be catastrophic.
They also face growing competition, including from companies that also provide storage solutions, like Fluence (FLNC) and the soon-to-SPAC Energy Vault (NXU).
Final Thoughts
I believe that in 2021, energy storage is the great blue-sky opportunity of the shift to renewables. Wind, and especially solar are now very crowded, and everyone is just competing on price. But the lynchpin in the whole system is going to be energy storage, and a lot of it.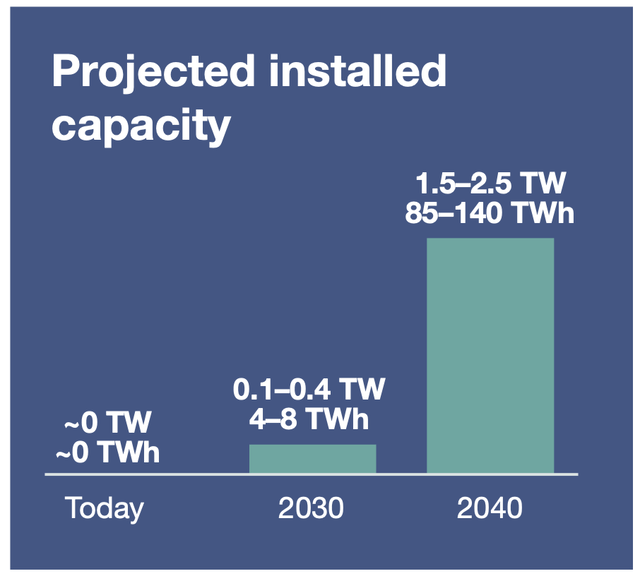 Long Duration Energy Storage Council 2021 Report [PDF]
That is one of the more insane projections you will ever see so blandly laid out on a chart. It comes from the Long Duration Storage Council, a new industry group made up of British Petroleum (BP), Rio Tinto (RIO), Baker Hughes (BKR), private equity Breakthrough Energy Ventures, and many energy storage companies, mostly private. Many of those private companies have Breakthrough Energy Ventures as a main investor. The point that I am trying to make is that the chart is very self-interested.
Here's the thing though: I think they are being wildly conservative in their estimate. They base their estimate on the assumption that only 10% of all generation will go into storage in 2040. In a world with a ton of wind and solar, that doesn't make a lot of sense. Even in the summer, solar is only producing power at high rates for 8-10 hours a day. There are also 14-16 other hours every day that need to be powered. Wind blows most regularly at night, when demand is the lowest. Seasonal storage will be required to save some summer solar generation for winter. Weather events will require multiday storage for resiliency. I don't see how 10% covers all that.
Managing storage and maximizing profit is going to begin getting very complex in the next few years, ramping after 2025, and really accelerating after 2030. Owners of these assets are going to need systems and software to manage all that complexity, and that's the huge opportunity for Stem and their competition.
I'm not making any recommendation on Stem yet until I have more clarity on the structure of those contracts, and how people are going to view the tradeoff between growth and gross margin. We are so early in this game that I am in no rush. Remember, wide scale deployment is not expected to begin until around 2030. But there is an obvious 2022 play as they shift to positive gross margins in software, so I'll be back in a few months with updates.