Intel (NASDAQ:INTC) announced on Dec. 7, 2021, that the company is planning to publicly list shares in its Mobileye self-driving car unit, which could value the unit at more than $50 billion. Mobileye is expected to deliver more than 40% revenue growth this year compared to last year, with 41 new program wins from more than 30 automakers.
Intel has big plans to reposition the company as one of the leaders in semiconductor production. These unfortunately require a lot of money as shown below:
Two new fabs at the company's Ocotillo campus in Chandler, Arizona, $20b investment
A $3.5 billion upgrade to a chip manufacturing plant in Rio Rancho, New Mexico, that will boost a processor stacking technology called Foveros.
A $3 billion Mod3 factory expansion, adding 1.1 million square feet of plant space.
In addition, Intel had planned on spend $400M to turn its Jerusalem-headquartered Mobileye unit into an R&D campus for self-driving vehicle innovation. The company will be spending $200M to build a new R&D center and "mega chip design" facility in Haifa next to an existing development center. The new facility will employ 6,000 workers.
In order to fund these activities, Intel announced the decision to publicly list its Mobileye unit in the middle of 2022 via initial public offering. Mobileye was purchased for $15 billion in 2017, with the value coming from software and services opportunities for autonomous vehicles and advanced driver assistance systems. It has been estimated that Mobileye is now worth $50 billion, a more than three-fold increase in just four years.
Mobileye technology is based on the use of optical vision systems with motion detection algorithms running on a custom hardware accelerator – the EyeQ chip. The Mobileye system consists of two key components:
A High­-Resolution Vision Sensor - A toll-tag sized black box, the vision sensor is mounted on the inside of the vehicle's windshield & also admits the systems audible warnings.
A Visual Display, called the EyeWatch - also mounted inside the cab, communicating identified dangers to the driver via audible and visual alerts.
Mobileye's system-on-chip (SoC) – the EyeQ family – provides the processing power to support a comprehensive suite of ADAS functions based on a single camera sensor. In its fourth and fifth generations, EyeQ will further support semi and fully autonomous driving, having the bandwidth/throughput to stream and process the full set of surround cameras, radars and LiDARs.
Despite being owned by Intel, Mobileye has never used Intel's factories to make its chips. Mobileye uses STMicroelectronics (STM) for its chip design. The earlier EyeQ processors used STM's manufacturing process, but the newer ones use TSMC (TSM). STM worked with TSMC to develop the automotive process that EyeQ uses.
Mobileye Headwinds
Customers
Mobileye currently provides advanced driver assistance systems (ADAS) and corresponding products for more than 30 automobile manufacturers who have chosen the EyeQ for their assisted-driving technologies, including Audi, BMW, FCA, General Motors, Honda, Hyundai, Kia, Nissan, Volkswagen.
According to Intel, Mobileye's revenue in 2020 is $967 million, compared with $879 million in 2019, a YoY increase of 10%. The company expects to achieve record annual revenue this year, which is expected to be more than 40% higher than in 2020. In 2020, Mobileye shipped 19.3 million EyeQ chips versus 2.7 million in 2014, which represents a 39% CAGR.
While Mobileye touts numerous customers, Qualcomm (QCOM) announced cooperation with BMW at the 2021 Investor Conference. The latter's new cars will use the Qualcomm Snapdragon Ride autonomous driving platform (including chips) from 2025.
In addition to a certain gap in performance, discussed later in this article, Intel's 3940 chip belongs to the E3900 series and was released in 2016 with a 14nm process. At the beginning, it was mainly used as a consumer-grade chip, and then it was decentralized to the car level. The car-level is the A3900 series, and the cost is about $40. Qualcomm's S8155 is a mass-produced 7nm car-grade car chip, and the cost is around $100.
Competition from Alternative Automotive AI Chips
Most autonomous vehicles employ a system of cameras, radar, laser sensors and other technologies to assess road conditions and adjust driving behavior. These vehicles might have adaptive cruise control, traffic lane adjustments and automatic braking, steering and acceleration.
The level of autonomous driving and the computing power of the chip are inseparable. The autonomous driving industry generally believes that the chip computing power (Trillion Operations Per Second ("TOPS")) required for L2 autonomous driving is below 10 TOPS, L3 requires 30 to 60 TOPS, L4 requires more than 100 TOPS, and L5 requires more than 1000 TOPS. It is precisely because of this that chip computing power TOPS has become the core weight of various chip competitions.
If car companies use multiple chips to build autonomous driving domain controllers, they can reach a maximum of 1,024 TOPS, which can support L4 autonomous driving.
While a single chip's computing power TOPS is a key indicator, it's not the only one. Autonomous driving is a complex system that requires car-road-cloud-side collaboration. Therefore, in the competition of autonomous driving chips, in addition to the core, there is also software and hardware collaboration, as well as platforms and tool chains.
At present, there are numerous competitors in the automotive AI chip market, presenting headwinds to Intel and Mobileye, including Qualcomm (QCOM) and Nvidia (NVDA), Tesla (TSLA) and Chinese companies Huawei, Horizon Robotics, Black Sesame Technologies, and Xin Chi Technology.
Details about competitor products and plans are below.
Intel- Mobileye
The Intel A3900 series, based on the X86 architecture design, was released in 2016 with a 14nm process. At the beginning, it was mainly used as a consumer-grade chip, and then it was decentralized to the car-level. The car-level is the A3900 series, and the cost is about $40.
The upgraded version of EyeQ4, EyeQ5, was released in 2020. It was only installed on Geely Automobile's Geely 001 model for the first time in the fourth quarter of this year. EyeQ5 uses a 7nm FinFET process and has a computing power of 24 TOPS.
Qualcomm
SA8155P is an integrated, next-generation automotive cockpit platform. It is a 7nm SoC designed with custom hardware blocks including: An octa-core CPU subsystem featuring the 4th generation Qualcomm Kryo CPUs based on the ARMv8 architecture. The SoC utilizes a highly efficient machine learning architecture consuming less than 7 W to deliver 10 TOPS of performance.
Qualcomm's fourth-generation Snapdragon automotive digital cockpit platform, the SA8295P, uses a 5-nm process technology and has a TOPS of 30.
Nvidia
The Xavier processor features a programmable CPU, GPU, and deep learning accelerators, delivering 30 TOPs. Nvidia's next-generation autopilot chip Orin chip will also start mass production in 2022. The Orin chip has a single computing power of 254 TOPS, which has exceeded EyeQ5 computing power by 10 times.
The computing power of a single SoC of Nvidia Atlan reaches 1000 TOPS (expected to provide samples to developers in 2023).
Huawei
Huawei is positioning itself as a Tier 1 supplier and building a "5G automotive ecosystem", which is aimed at the high-level autonomous driving market and cannot be ignored.
Huawei's Ascend 310 can provide 16 TOPS output, while power consumption remains at just 8 W. The Ascend 610 can provide 160 TOPS computing power, for L3-L4 level automatic driving. The 610 processor boasts a 64-bit capable quad-core CPU architecture and advanced 4G LTE to balance power and performance in high-tier smartphones.
Horizon Robotics
Founded in 2015, Horizon Robotics makes AI chips for autonomous vehicles and machines. It also makes software customized to these chips, which can be installed in everything from vehicles to smart speakers.
Horizon Robotics announced its third automotive-grade AI chip, Journey 5, and real-time in-car operating system, TogetherOS. The single-chip AI computing power of Journey 5 can reach up to 128 TOPS. The intended partners for the debut of the Journey 5 are leading OEMs, including SAIC, Great Wall Motor, JAC, Li Auto, Changan Automobile and BYD.
If car companies use multiple chips to build autonomous driving domain controllers, they can reach a maximum of 1,024 TOPS, which can support L4 autonomous driving. The Journey 5 chip has an 8-core ARM Cortex A55 CPU and a dual-core Horizon Bayesian architecture Brain Processor Unit (BPU) AI computing unit.
Black Sesame Technologies
Black Sesame Technologies' new self-driving chip, the A1000 Pro, has taped out with a record high computing performance among such chips built by local companies. The A1000 Pro is based on the company's A1000 chip, which is optimized to achieve 106 TOPS of computing power as standard and up to 196 TOPS in the acceleration mode, according to Black Sesame.
Black Sesame has worked with companies including NIO, SAIC, BYD, Dongfeng Motor, FAW and Bosch on L2/L3 ADAS and autonomous driving sensing system solutions.
Xin Chi Technology
Xin Chi is a semiconductor company based in China, focusing on next-generation high-performance automotive-grade chip solutions. The V9T launched in 2021 has a TOPS of 1.
In 2022, Xin Chi will launch an autonomous driving chip between 10 and 200 TOPS-V9P/U. This product has higher computing power integration and can support L3 level autonomous driving. In 2023, Xin Chi will launch the V9S autonomous driving chip with higher computing power. The chip is developed for the central computing platform architecture. The computing power is up to 500-1000 TOPS and can support Robotaxi for L4/L5 level autonomous driving.
At present, the V9 (autonomous driving) under Xin Chi Technology uses a 16nm process. This process level has fallen behind in consumer electronics, but in the automotive industry, the 16nm process is still a mainstream node.
Tesla
Full Self-Driving Chip (FSD Chip, previously Autopilot Hardware 3.0) is an autonomous driving chip designed by Tesla and introduced in early 2019 for their own cars. Tesla claims the chip is aimed at autonomous levels 4 and 5. It's fabricated on Samsung's 14 nm process technology. The FSD Chip incorporates 3 quad-core Cortex-A72 clusters for a total of 12 CPUs operating at 2.2 GHz, a Mali G71 MP12 GPU operating 1 GHz, 2 neural processing units operating at 2 GHz, and various other hardware accelerators.
Tesla's self-driving cars will be powered by a computer based on two of its new AI chips, each equipped with a CPU, GPU, and deep-learning accelerators. The computer delivers 144 TOPS, enabling it to collect data from a range of surround cameras, radars and ultrasonics and power deep neural network algorithms.
Table 1 shows a list of companies, their chip versions (current and planned), and TOPS for the chips. According to our report entitled "Hot ICs: A Market Analysis of Artificial Intelligence ("AI"), 5G, CMOS Image Sensors, and Memory Chips," the Nvidia Orin chip has a single computing power of 200 TOPS, which has exceeded EyeQ5 computing power by 9X. The Horizon Journey 5 and Huawei's Ascend 610 both surpass EyeQ5.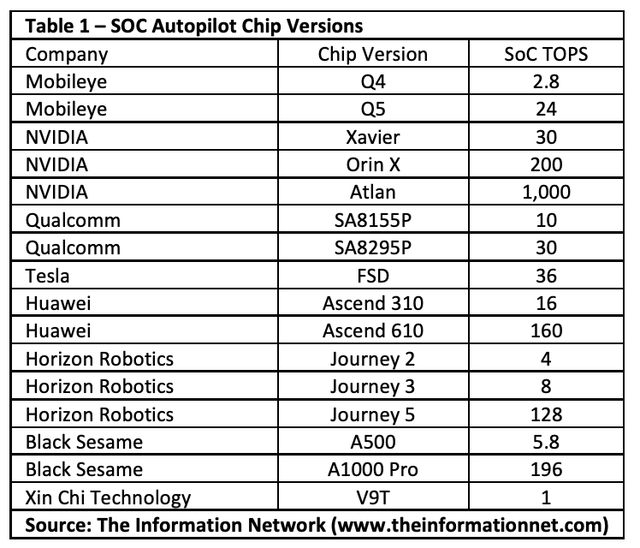 ADAS Market
ADAS is defined by one of the following six feature levels (L0-L5):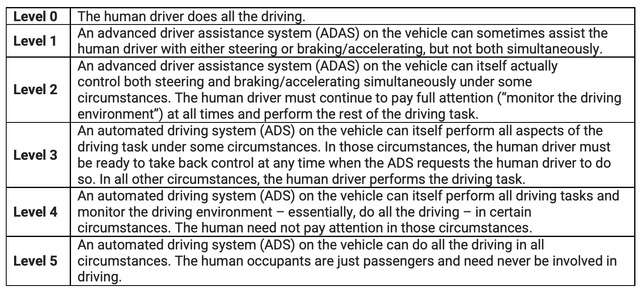 In 2020, the penetration rate of L2 autonomous driving in China reached 15%. This means that nearly 4 million new cars were equipped with L2 autonomous driving systems. It's estimated that by 2030, autonomous vehicles will account for more than 40% of the overall travel mileage, and the penetration rate of fully autonomous new vehicles will reach 10%.
I expect that from 2019 to 2030, the ADAS to L3 penetration rate of China's self-owned brand passenger cars will increase from 20% to 75%. That will mean the chip market size will increase from about $50 million to more than $1.5 billion.
Chinese independent brands also will use domestically produced in-vehicle chips in the same way that Chinese vehicles have experienced a smaller impact from the semiconductor "shortage," as I discussed in previous Seeking Alpha articles.
According to our report entitled "Global and China EV Batteries and Materials: Technology, Trends, and Market Forecasts," China is the largest market for passenger vehicles and the second largest country in terms of EV penetration. Table 2 shows that Europe overtook China in 2020 with EV penetration, as the U.S. plans to stick with ICD vehicles.
The strong demand in China is important for Mobileye and competitors, since Huawei and Chinese startups will make a dent in Mobileye's market lead. As stated above, China's Horizon Robotics partners with leading OEMs, including SAIC, Great Wall Motor, JAC, Li Auto, Changan Automobile and BYD – all in China.
SAIC Motors is both an investor in Horizon and an investor in Black Sesame. In August 2020, SAIC stated that the company has invested in more than a dozen domestic head chip companies including Horizon and Black Sesame.
Globally, just 15% of the world's vehicles to have no ADAS autonomous driving systems by 2025 compared to 42% in 2020, while 40% will be equipped with L1 autonomous driving systems. Importantly 36% of vehicles will be equipped with L2 autonomous driving systems in 2025, up from 10% in 2020. Just 9% will have L3 or higher features.
Investor Takeaway: Mobileye Spinoff Is A Great Decision
Intel announced in Dec. 7, 2021, that the company is planning to publicly list shares in its Mobileye self-driving car unit. Frankly, this is not "a day that will live in infamy" moment.
Autonomous driving technology is still in the early stage of development, and it's far from reaching the mature stage. This has enabled a lot of competition in the automotive autopilot chip market, with time to establish partnerships with auto companies, something Mobileye has been doing for a number of years. While Mobileye shipped 19.3 million SOCs, Horizon shipped nearly half a million.
The real differentiation is computing power, and while Mobileye has a performance of just 24 TOPS, Horizon's Journey 5 chip has 128 TOPS computing power. Chip computing power required for L2 autonomous driving is below 10 TOPS, L3 requires 30 to 60 TOPS, L4 requires more than 100 TOPS. That means that Horizon, founded in 2015 vs. Mobileye founded in 1999, can reach L4 autonomous driving while Mobileye is stalled at L2.
Mobileye and self-driving cars are not CEO Gelsinger's strategic directions for Intel. The later the IPO, the more headwinds Mobileye will face, along with the spectre of a lower IPO valuation
So this spinoff is a great decision by Intel, because Intel is in the "CHIP" business and the company will use the IPO money to build new fabs. Besides, STMicroelectronics designs and TSMC makes the EyeQ chips anyway, which won't affect Intel's goal of recovering from the recent down years of lost CPU share to AMD (AMD).