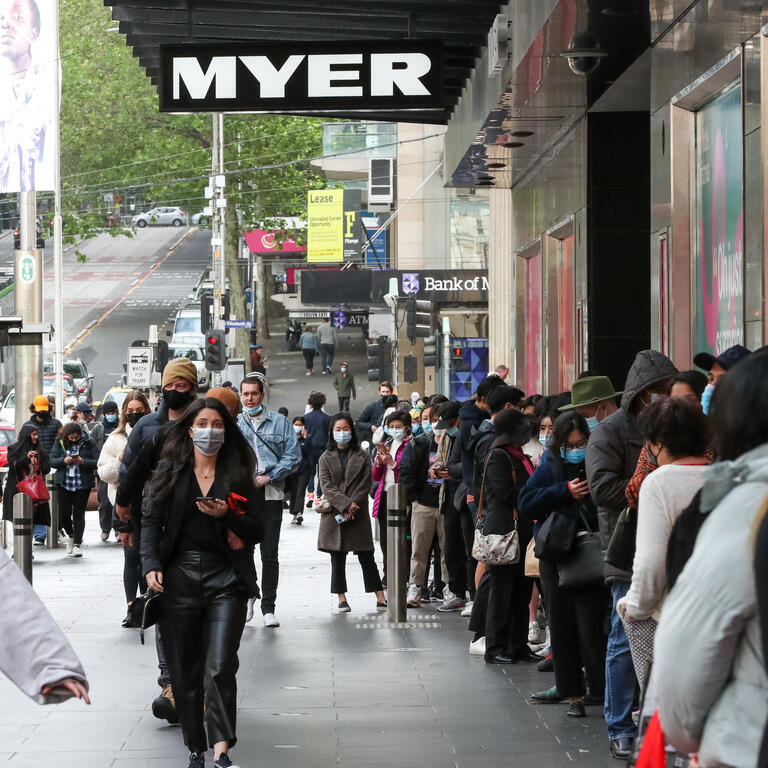 Introduction
As you probably already know, I have a variety of systems for tracking the economy - including high-frequency weekly indicators, an array of short leading indicators, and the primary system of long leading indicators which I typically update at least twice a year. Most of those systems rely on a cycle of long-leading, then short-leading indicators, followed by coincident, short-lagging, long-lagging, and finally mid-cycle indicators - and then around to long leading indicators again. But I also have a fundamentals-based system which I call "the consumer nowcast."
The consumer nowcast looks at the ability of consumers to spend. When that ability is temporarily tapped out, and consumers pull back, a recession quickly follows. I have been writing about this "consumer nowcast" system for over 15 years, when it did not signal a problem in 2005-06, but did signal trouble in 2007.
Here's how the consumer nowcast goes: in order to spend, consumers have to be making more money in real, inflation-adjusted terms. If they can't do that, they can refinance debt at lower interest rates, thus freeing up additional cash to spend. If they can't do that, they can cash in appreciating assets like houses and stocks. But if all of those avenues are closed off, consumers have no choice but to pull back; and when they spend less, manufacturers and suppliers quickly notice, cutting back production and supply; and a recession ensues.
So how stands the consumer nowcast now?
To begin with, real consumer earnings, whether measured as real average hourly earnings, or real aggregate payrolls, have recently declined: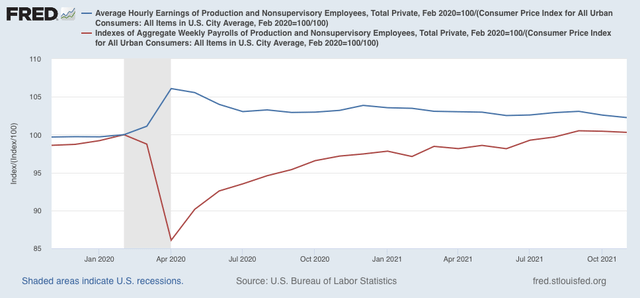 In the case of hourly earnings, the decline has existed for over a year - but that is mainly because of the skew of who was laid off during the pandemic lockdowns: mainly low wage earners. As low wage earners got hired back, and thus there were more of them in the mix, real hourly earnings declined.
Real aggregate earnings do not have that issue. They recently peaked only two months ago. Obviously, the longer the decline continues, the worse the situation, but for now, it isn't too serious an issue.
But suppose it continues. Can consumers refinance at lower rates? As of now, no they can't. Here are several measures of corporate bond interest rates, plus mortgage rates (green):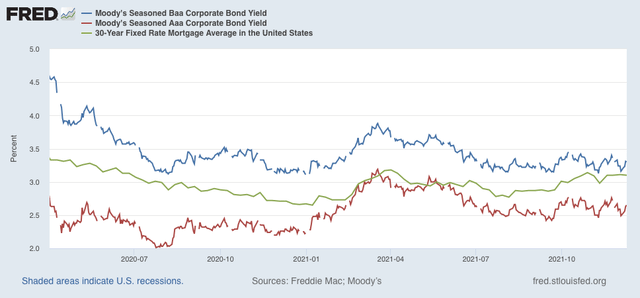 Interest rates for AAA bonds bottomed almost 18 months ago. For BAA bonds and mortgage rates, that was at the turn of the last year. In the past, a failure to decline to new lows for one year merited a yellow flag in my system. But in the 1980s, 1990s, and 2000s, it was only after a 3 year period of a failure to make a new low that a red flag was hoisted.
So we are on the verge of a yellow flag; and indeed, according to Edward Yardeni, refinancing of mortgages for the past several months has been at 2-year lows: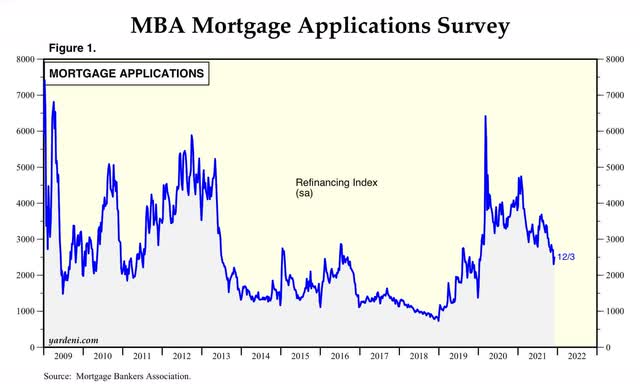 So, for the moment, refinancing at lower interest rates is not a significant driver of new consumer cash.
But when it comes to appreciating assets, the situation is quite different. Here's what house prices (BLUE) and stock prices (red) look like: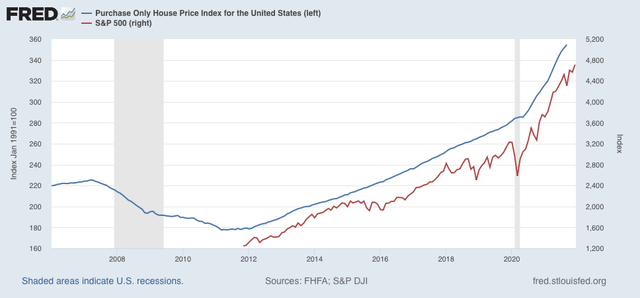 Both have made repeated new highs all this year.
Unsurprisingly, cash-out home refinancing has made a big comeback: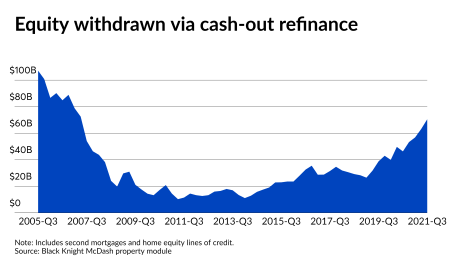 Although I hasten to add, according to industry observers, it is nowhere near where it was during the housing bubble.
According to HousingWire,
the third quarter saw homeowners tap into their home equity at the highest rate in more than 14 years, with cash-outs making up 54% of all refinances, a 6% increase from the first quarter.

Overall, mortgage holders withdrew more than $70 billion in equity in the third quarter, equivalent to just 0.8% of available equity entering the quarter, the report said. Year-over-year, more than a million cash-out refis were originated
HousingWire's source, Black Knight, elaborated that
"Home price growth in the third quarter - while less than half that of Q2's history-making rate - added more than $250 billion to Americans' already record levels of tappable equity," said Graboske. "The aggregate total of $9.4 trillion is up an astonishing 32% from the same time last year.... As prices have surged over the past 18 months, the average mortgage-holder's equity stake has risen by $53,000. That works out to nearly $178,000 available in tappable equity to the average homeowner....

"Data points like these inevitably, and understandably, lead to comparisons with the run-up to the Great Recession. It's therefore particularly important to note that the $70 billion extracted from the market via cash-out refis in Q3 2021 represents just 0.8% of the available tappable equity at the start of the quarter. For context, that's less than a third of the rate at which people were pulling cash out of their homes at the peak of such activity in 2005. Underwriting standards are much higher today as well, with the average credit scores of cash-out refinance borrowers more than 50 points higher than during that period, and the resulting LTVs are much lower. In fact, the average borrower's mortgage debt is just 45.2% of their home's value - the lowest total market leverage we've ever recorded, going back at least to the turn of the century. In short, it's a markedly different time and market today."
Finally, household debt obligations - close to 40-year lows - are nowhere near a point where consumers are likely to need to pull back: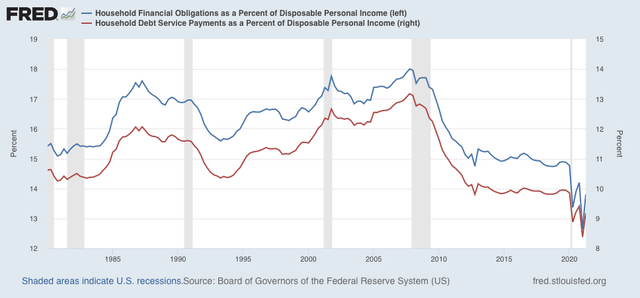 And indeed, measuring real retail sales and real personal spending shows that consumers have been continuing to spend through the latest data in October: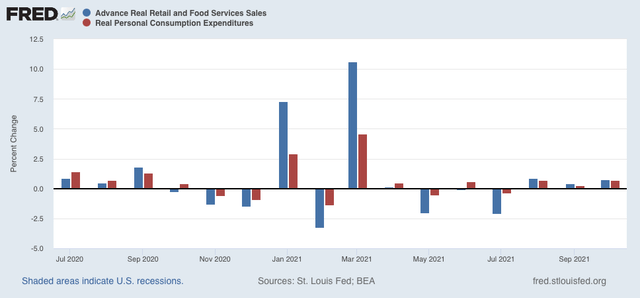 Conclusion
In summary, the consumer nowcast shows that the big comeback in household earnings may be near or even slightly past peak, and the ability to refinance at lower interest rates has been closed off. But sharply appreciating asset prices are available to be tapped as a source for new spending; and with household balance sheets in very good shape compared with the past few decades, consumers are indeed continuing to spend. So the consumer nowcast, while not rosy, is nowhere near to forecasting a recession at this point.