SMIC Sanctions
A December 9, 2021 WSJ article noted that:
"...officials are planning to discuss this month a Defense Department proposal to close regulatory loopholes that have allowed Semiconductor Manufacturing International Corp. to purchase critical U.S. technology, the people said. SMIC, as the company is known, has been able to continue buying U.S. tools to make chips despite its inclusion on the Commerce Department's entity list, which is designed to limit access to key U.S. exports."
The U.S. Government may be turning the screws even more on China's Semiconductor Manufacturing International Corp. (SMIC) (OTCQX:SMICY), as a follow-up to a September 4, 2020 move that put the company on a trade blacklist. I detailed SMIC and its technology in an August 11, 2021 Seeking Alpha article entitled "SMIC Is Closing The Gap With Industry Leaders Despite U.S. Sanctions."
One of the key takeaways of the original blacklist was to keep SMIC from developing chips at sub-7nm nodes using EUV lithography from ASML (NASDAQ:ASML). However, SMIC continued to use ASML's immersion DUV lithography equipment, albeit an older version that could only get the company to the 14nm node when coupled with multiple patterning. SMIC purchased $1.2 billion in DUV systems from ASML in early 2021.
But these new sanctions can put the lid on imports of immersion DUV lithography systems also from ASML.
SK Hynix Block to Install EUV in China
SK Hynix (OTC:HXSCL) started mass production of 1A nm (4th generation) DRAMs using EUV lithography equipment at its Icheon plant in Korea in July. The company has plans to overhaul a huge fab in Wuxi, China so it can make memory chips more efficiently using EUV. Readers can learn more about EUV for DRAMs in my July 4, 2021 Seeking Alpha article entitled "Micron: Strong Financial Performance, But EUV Looms Large."
But according to an article in Reuters, the Biden administration wants to prevent the export of the EUV systems to SK Hynix at the Wuxi fab.
Additional DUV Headwinds For ASML
In a March 22, 2021 Seeking Alpha article entitled "Three Headwinds Facing ASML's Non-EUV Business In China," I noted that one of the headwinds facing ASML was a recommendation to block DUV immersion sales by the National Security Commission on Artificial Intelligence, a committee established by Congress in the John S. McCain National Defense Authorization Act for Fiscal Year 2019.
In early March 2021, the commission recommended that the U.S. Government block ArF DUV Immersion lithography equipment from being delivered to China. On page 231, the report noted:
"The Departments of State and Commerce should work with the governments of the Netherlands and Japan to align the export licensing processes of all three countries regarding high-end SME, particularly EUV and ArF DUV immersion lithography equipment, toward a policy of presumptive denial of licenses for exports of such equipment to China. This would slow China's efforts to domestically produce 7nm or 5nm chips at scale and constrain China's semiconductor production capability of chips at any node at or below 16nm—which the Commission assesses to be most useful for advanced AI applications—by limiting the capability of Chinese firms to repair or replace existing equipment."
ASML's immersion DUV system sales have trended downward over the past four years. Chart 1 shows that even with an increase in DUV shipments in the latest quarter, between Q1 2018 and Q3 2021 (15 quarters), the trendline (dotted red line) shows negative growth for DUVs. EUV shipments, also choppy, are trending up (blue dotted line).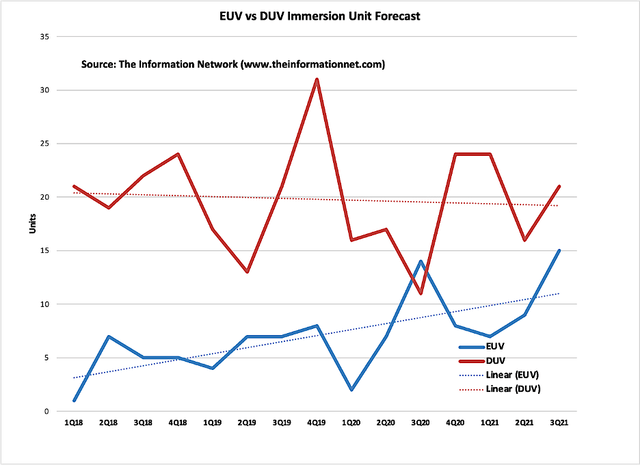 Chart 1
In addition, ASML's sales to China slowed in the recent quarter to 10% of revenues, down from 17% in Q2 2021. In CY 2020, China accounted for 23% of ASML's revenues.
In the second quarter of 2021, global semiconductor equipment revenues increased 5.5% QoQ to a record high of $24.9 billion. Importantly, China increased 37.9% QoQ, as illustrated in Chart 2. The U.S. Government's sanctions against exports of EUV systems to China and now DUV systems will significantly impact ASML's revenues.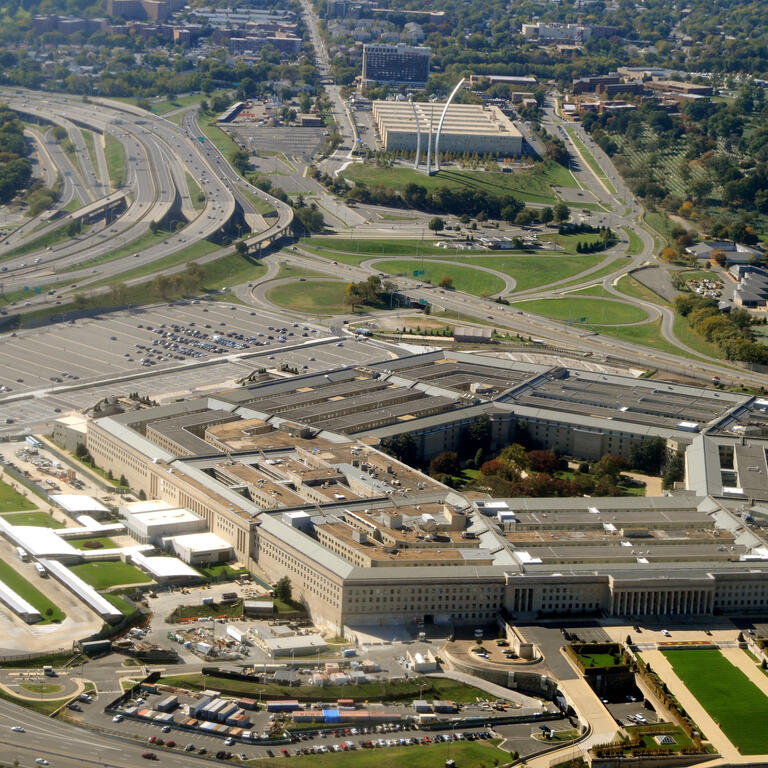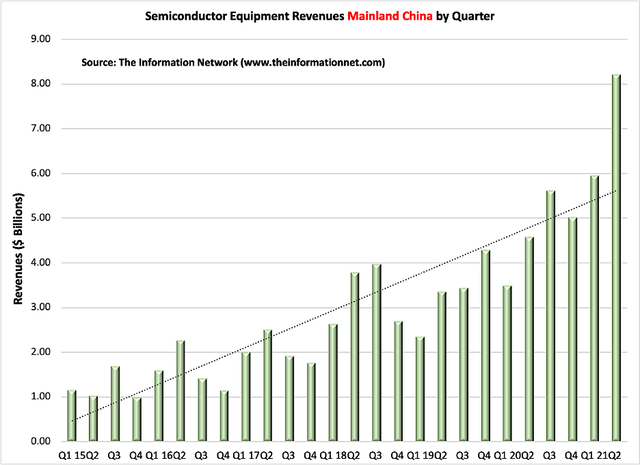 Chart 2
Investor Takeaway
In the shadow of recent hypervelocity missile knowhow from China and Russia (read my Seeking Alpha article of November 28, 2021 entitled "XAR: Ready For Breakout Against Hypervelocity Missiles"), the weaponization of the semiconductor industry against China continues.
In the past several months, the U.S. Government has blocked a Chinese takeover of another semiconductor firm called Magnachip, demanded all semiconductor firms hand over details on their customers, and asserted South Korea comply with all US "export controls" pertaining to China.
Readers may agree or disagree with the governmental reach outside the U.S. borders, but this policy is having an impact on non-U.S. companies in the semiconductor supply chain.
In this article, I address two non-U.S. companies negatively impacted by these actions, SK Hynix and ASML. But in addition to these two companies, we have two more headlines:
According to the latter article, Taiwan's chip fabricators signed an agreement on December 3 to create their own semiconductor equipment industry. Taiwan is the home to Taiwan Semiconductor Manufacturing (TSM) and United Microelectronics (UMC). In my opinion, this is a ludicrous and bravado statement because it will take 20 years for Taiwan to establish an equipment supply chain that would be competitive against Applied Materials (AMAT), Lam Research (LRCX), and KLA (KLAC).
I've written several Seeking Alpha articles about China's equipment industry which, after a decade of attempts, have less than a 5% share of the overall equipment market, according to The Information Network's report entitled "Global Semiconductor Equipment: Markets, Market Share, Market Forecasts." So this means that Taiwan will need to buy equipment from Japan, equipment from Mainland China, or build their own. But recall that in mid-2019, Japan embargoed semiconductor materials to Taiwan, particularly e-beam photoresist. I discussed this in a July 15, 2019 Seeking Alpha article entitled "Sorry, But Japan's Material Embargo Won't Help Micron Technology."
The overreach of the sanctions by the U.S. government, started by President Trump, have been expanded under President Biden. But like it or not, the U.S. spends a lot of money protecting countries like Korea and Japan. Currently, there are approximately 55,000 U.S. troops in Japan and 26,500 U.S. troops in South Korea.
In 2019, the U.S. and South Korea negotiated an agreement calling for South Korea to contribute approximately $893 million. Japan's current support amounts to approximately $1.7 billion. By comparison, the Department of Defense currently estimates the total cost of maintaining the U.S. presence in South Korea and Japan at $4.5 billion and $5.7 billion, respectively.
And if sanctions and blacklists function as another strategy in protecting foreign countries, so be it. As China continues to advance militarily and technologically, these sanctions will only be broader based. This will only put sales of DUV lithography systems further in jeopardy and negatively impact ASML.