At this time of year, I really focus on buying beaten down stocks that are getting punished further by tax-loss selling pressure. With this strategy, it is possible to buy at rock-bottom prices and see the share price rebound in a relatively short time, as tax-loss selling fades towards the end of December. Tax-loss selling temporarily increases the selling pressure on a stock, so it is only natural that once this ends, the shares are likely to trade at a higher level. It is not uncommon to see some small-cap stocks rebound by 20 to 40% or more into the New Year, and with this in mind, here is a stock that fits the profile I look for when employing this strategy:
Hill International, Inc., (NYSE:HIL) is a leader in project, facilities, and construction management. It has been in business for about 45 years and has offices in nearly 40 countries. According to Building Design + Construction Magazine, Hill International is the 5th largest project and construction management firm in the United States.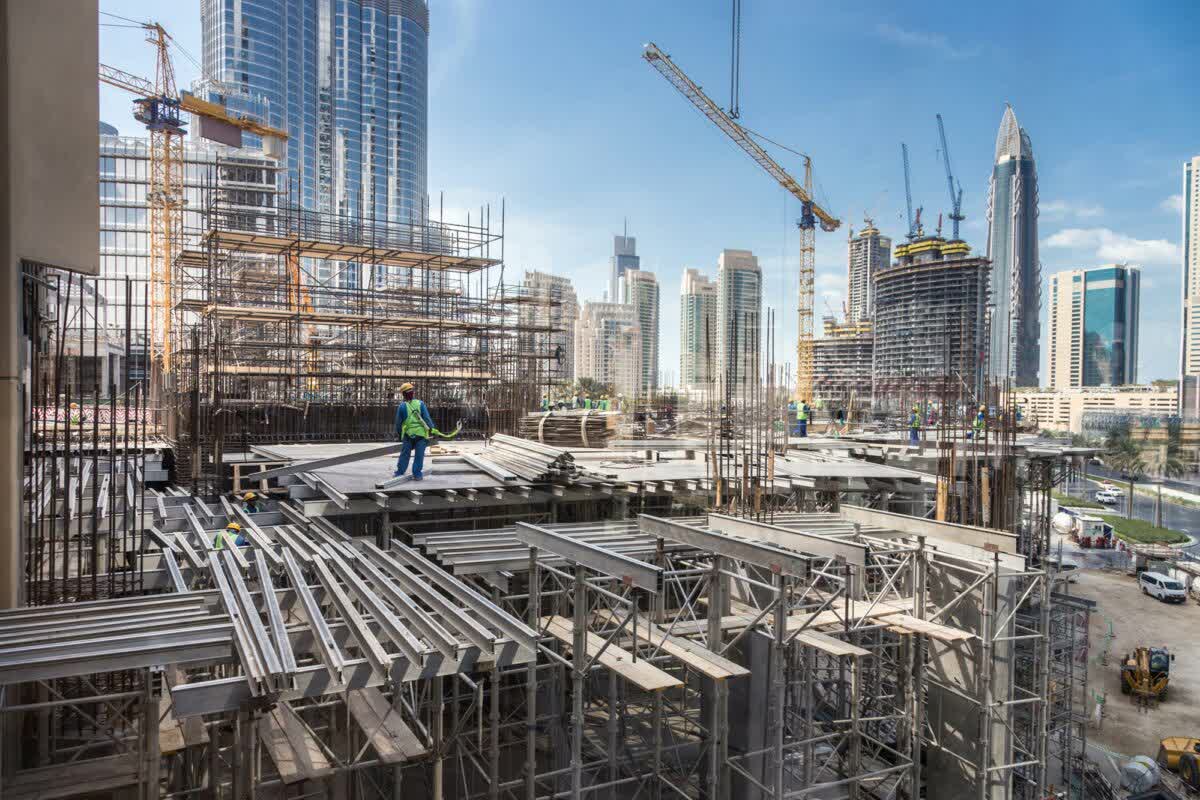 Photo Credit: Hill International website
There Are Many Reasons To Be Bullish On Hill International:
I believe this stock is undervalued and that it has bottomed out. It is likely to benefit from the end of tax-loss selling. It is also poised to benefit for years to come from increased infrastructure spending due to the "Build Back Better" bill. An activist investor owns a stake of roughly 10%, and there has been some recent insider buying. Over the past few months, director Paul J. Evans has purchased about 50,000 shares, with the most recent transaction for about 10,000 shares being purchased for $2.22 each on November 15, 2021. This stock appears deeply undervalued based on peer valuations and also based on historical levels of where this stock has traded. With the world moving forward after dealing with a pandemic for the past two years and with this company well-positioned going forward, this appears to be an ideal time to buy the shares in order to benefit from multiple tailwinds, so let's take a deeper look:
Hill International Is Strategically Positioned For Massive Infrastructure Spending:
The company appears to have made a strategic and possibly game-changing move when it acquired an engineering firm in late 2020, which resulted in a newly formed entity called "Hill International Technical Services". According to the investor presentation, this acquisition and newly formed entity: "Positions Hill to pursue major aviation, highway and bridge and rail and transit programs and projects." The company also said that this was: "Expected to provide a significant growth engine in one of our largest U.S. operating regions beginning in 2021." This seems like a smart move and timed to take advantage of the infrastructure spending bill that was widely expected; however, as we all know, this bill got delayed over and over and only recently was signed by President Biden. Because of this delay the company has not yet seen the benefits or impact of the massive infrastructure spending bill, but it is now likely to see this finally happen in 2022. As shown on page 12 of the investor presentation, Hill International is very well positioned to capture new contracts in projects that include ports, harbors, airports, rail, transit, bridges, highways, water, power, and more.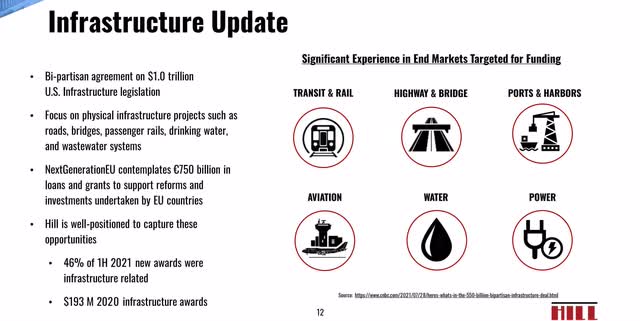 Source: Hill International Investor Presentation
Recent Financials Show Revenue Growth And A $661 Million Backlog:
As of September 30, 2021 (Q3), the company had a backlog of about $661 million and total liquidity of $38.6 million. For Q3, the company reported consulting fee revenues of $77.1 million which is a 7.7% increase over revenues of $71.5 million for the prior year period. Net income for Q3 was $1.3 million or 2 cents per share. In the Q3 announcement, the company slightly reduced consulting fee revenue guidance from a range of $320 to $330 million previously to a currently expected range of between $305 to $315 million, with adjusted EBITDA expected to be around $20 million. This reduction in revenues was attributed to project deferrals that were caused by Covid-19 in the Middle East and the United States. While this seems to have disappointed some investors, the good news is that the company said it expected "that these deferred projects will commence in 2022." Between these deferred projects getting started in 2022, and the new projects expected to be awarded next year, (thanks to the newly signed infrastructure bill), this company appears well-positioned for 2022. In late October, Hill International announced a five-year, $125 million deal with a major utility in Southern California. I won't be surprised to see more major contracts like this awarded in 2022, thanks to increased infrastructure spending.
Historical Norms Show Strong Potential As A Reversion To The Mean Play:
Hill International earned 52 cents per share in 2017, and 25 cents per share in 2019. That shows some of the earnings potential this company has had in the past and what it could earn when it is not dealing with issues such as a pandemic, that causes project delays. Over the past several years, it was common for this stock to trade in the $6 to $7 per share range, and this also shows the upside potential if this company trades back at historical norms.
The Chart:
As the chart below shows, the 50-day moving average for this stock is $2.10 per share and the 200-day moving average is $2.44 per share. You can also see that the stock appears to be getting pulled down by tax-loss selling as it was trading for about $2.50 per share in September and has drifted lower as we get close to the end of the year. I think this stock will rebound back to the $2.50 per share level, which is also right around the 200-day moving average.
An Activist Hedge Fund Has Taken A Large Stake In Hill International:
An activist and value oriented hedge fund named Engine Capital Management, LP has taken a stake of about 5,555,256 shares in Hill International, which represents about 10% of the outstanding shares. Engine Capital Management, LP has been in the news, most recently for pushing Kohl's (KSS) for a break up or sale of the e-commerce division. I think it is very interesting that an activist hedge fund would buy a roughly 10% stake in a small company like Hill International because it has a market cap of just around $112 million. I think it is a great sign, and that Engine Capital Management, LP must see significant value and upside potential in this stock. Arnaud Ajdler is the founder of Engine Capital and he also has a seat on the Board of Directors at Hill International. A Barron's article regarding the stake taken by this hedge fund points out that peers of Hill International are valued at about one times revenues. Hill International has annual revenues of nearly $400 million, and at $2 per share, the current market capitalization is just around $112 million. Based on this, it suggests the potential of the market capitalization for this company to go from $112 million to about $400 million if it eventually trades at one times revenues as its peers do. That would take the stock price back to about $8 per share. The Barron's article suggests an $8 to $9 share price in the event of an acquisition and details the friendly activism by stating:
An acquisition price at one-times sales for Hill would equate to an $8-to-$9 price per share. This is an amicable situation, in which Engine would act less as a buyer and more as a monitor, making sure the board continues down the road it's on. While Engine could clearly have the ear of the board if it wants it (Hill director David Sgro previously worked at Crescendo with Engine principal Arnaud Ajdler), it is unlikely to escalate its activism in the absence of serious operational or performance deterioration.
So far, there has not been a big gain in the share price or acquisition for Engine Capital, LP, but since the past couple of years have been severely impacted by Covid-19, it is really not surprising that nothing has happened under these circumstances. The pandemic caused delays and cancellations of many large projects and we see that confirmed by management over the past few quarters. However, management has also suggested that many projects that were deferred are expected to commence in 2022. The combination of these deferred projects coming back in 2022, along with the potential for new large contract awards coming from the massive "Build Back Better" infrastructure plan could put the Engine Capital, LP upside thesis back into play in 2022. The headwinds of the pandemic are fading and the company should see strong tailwinds from the infrastructure bill along with the formation of Hill International Technical Services to further capitalize on infrastructure spending.
Potential Downside Risks:
As with any small cap stock, I think management execution is the biggest potential downside risk. Those risks might be mitigated due to the insider ownership and also the oversight and board representation from Engine Capital's Arnaud Ajdler. A deadly new Covid-19 variant could start a wave of project cancellations and delays, which would impact revenues and profits. However, it appears that the world is much more prepared for a variant or another pandemic.
In Conclusion:
This stock and the company itself appears to be at an inflection point, whereby secular tailwinds from infrastructure spending should push both revenues and the share price back towards historical highs and closer to peer valuations. These shares appear to have limited downside potential from these levels and significant upside which provides investors with a very favorable risk to reward ratio. I also really like seeing that a value based activist investor has taken a significant stake and has a seat on the Board.
Data is sourced from Yahoo Finance. No guarantees or representations are made. Hawkinvest is not a registered investment advisor and does not provide specific investment advice. The information is for informational purposes only. You should always consult a financial advisor.