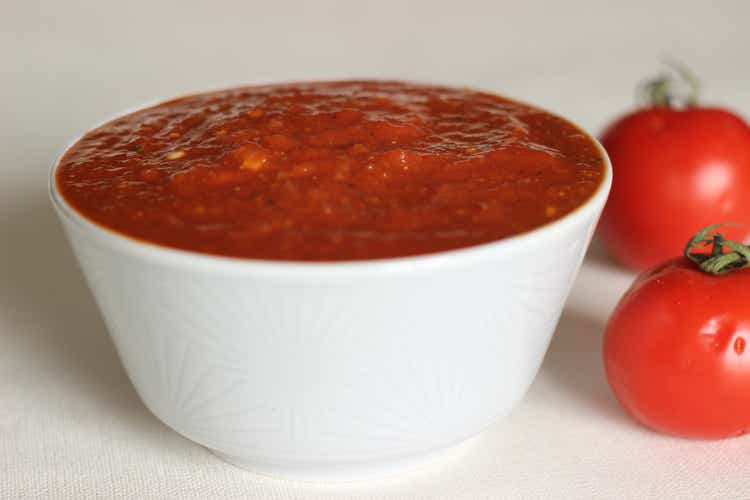 The food industry is not generally known to be particularly appealing to investors dedicated to the growth ideology of investing. The space is highly competitive, low margin, and growth tends to match the combination of inflation plus the impact caused by continued population growth. But this does not mean that every company in this space should be ignored. There are some firms that are exhibiting attractive upside and they have shares that are trading at levels that are reasonable when you factor that growth into the equation. Case in point, we need to only look at Sovos Brands (NASDAQ:SOVO), a firm that recently went public and has demonstrated the ability to expand while growing its cash flows.
Taste testing Sovos Brands
Though Sovos Brands itself may not be a household name, the company prides itself on acquiring and growing brands that are lesser known. Today, the company has a rather interesting portfolio that includes brands such as Rao's, noosa, Birch Benders, and Michael Angelo's. One thing that investors who are aware of these brands might notice is that they all fall under the premium category. Management has been diligent in making sure it only purchases brands that fit this niche. Management considers these to be one-of-a-kind brands.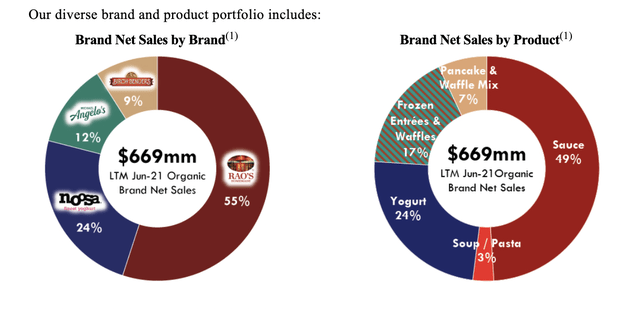 *Taken from Sovos Brands
Using the most recent data provided by management, the single largest contributor to the company's sales is Rao's. In the trailing 12 months ending in June of 2021, sales associated with this brand represented 55% of the overall revenue the company generated during that time. Next in line was noosa, which accounted for 24% of sales. Michael Angelo's accounted for 12%, and Birch Benders made up the remaining 9%. Another way to look at all of this is through the lens of product type. According to management, 49% of the company's overall sales come from sauces. Another 24% is attributable to yogurt, while 17% falls under the frozen entrees and waffles space. Pancake and waffle mix makes up 7% and the soup/pasta category comprises the remaining 3%.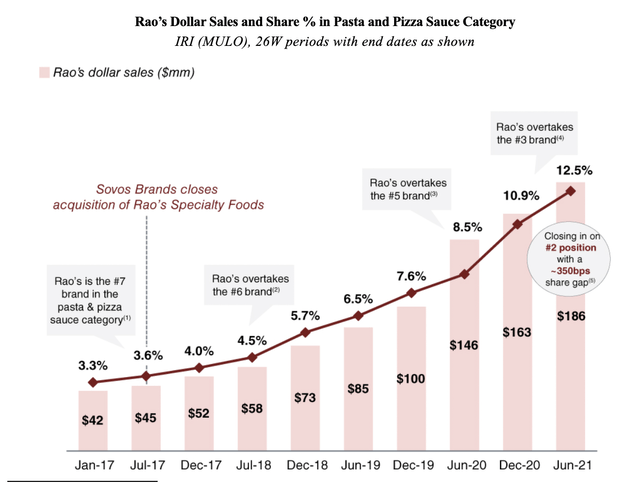 *Taken from Sovos Brands
Particularly special to the company is its Rao's brand. Acquired in 2017, this particular brand boasted a market share of just three point 3%. This made it the 7th largest player in the pasta and pizza sauce category. But due to quality management, focused on growing the enterprise, Rao's has since grown to boast a 12.5% market share, making it the second largest player in its space. Management's goal, naturally, is to repeat this with the other brands that it acquires over time. It is also worth mentioning that the company is dedicated to growing these brands by opening them up to other product lines that the company comes up with. For instance, when the business first acquired Rao's, it was a small player in the $3 billion pasta and pizza sauce space. Since then, it has expanded into the dry pasta, frozen entree, and RTS soup categories, bringing its total addressable market to $14 billion. By adding on frozen pizza and salad dressing products in the future, management expects to grow the total addressable market for this brand to $22 billion.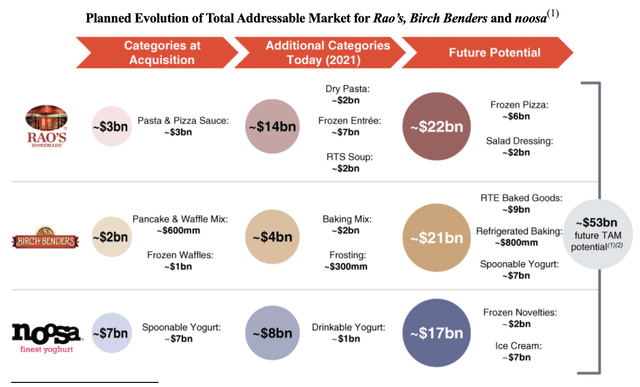 *Taken from Sovos Brands
The company has charted out similar growth paths for two of its other brands. Birch Benders initially had a $2 billion total addressable market. That number today is about $4 billion and the future opportunity, according to management, is $21 billion. And noosa, once pigeonholed in the $7 billion spoonable yogurt market has grown to $8 billion with its sights set on $17 billion once it grows into the frozen novelties and ice cream space. Of course, management has to balance out growth and quality. Selling the most doesn't achieve much if margins suffer because a product falls out of the premium category.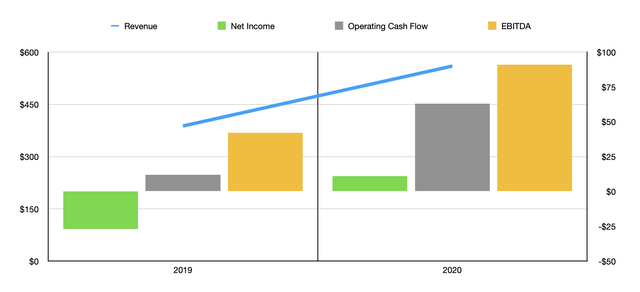 *Created by Author
Financial performance for Sovos Brands is rather limited. The company, in its prospectus, provided only two years worth of revenue data. In 2019, the company generated sales of $388 million. This increased to $560.07 million in 2020. For the current fiscal year, things are looking up. In the first nine months of the firm's 2021 fiscal year, the company generated sales of $529.94 million. That represents a nice increase over the $398.34 million generated the same time one year earlier. If current expectations are correct, then sales this year should range from between $710 million and $715 million.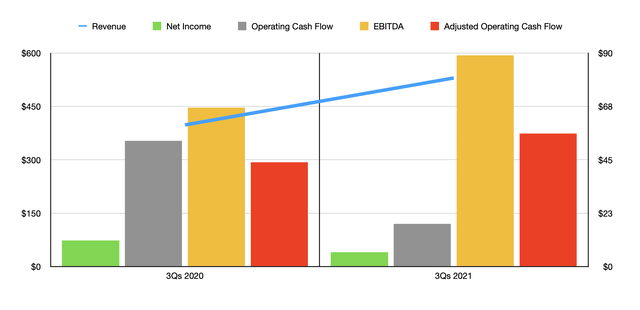 *Created by Author
On the bottom line, the company has followed a similar trajectory. The company went from generating a net loss of $27.15 million in 2019 to generating a profit of $10.83 million in 2020. This year, things are looking slightly troubled. Net profits of $5.76 million are lower than the $11.30 million achieved in the same nine months of 2020. However, other profitability metrics are looking up. After seeing operating cash flow rise from $11.56 million in 2019 to $62.91 million in 2020, the metric continues to rise this year. Although operating cash flow has fallen from $52.78 million to $18.31 million, adjusting for changes in working capital would see it rise from $44.45 million to $55.91 million. And EBITDA for the year so far has risen to $88.65 million from the $66.98 million achieved the same time period of 2020. For the current fiscal year, management expects this to range from between $113 million and $115 million. To put this in perspective, EBITDA in 2020 was $91.13 million, while in 2019 it was $42.35 million.
| | | |
| --- | --- | --- |
| Company | Price / Operating Cash Flow | EV / EBITDA |
| Sovos Brands | 21.1 | 20.6 |
| Cal-Maine Foods (CALM) | 104.9 | 42.1 |
| Hostess Brands (TWNK) | 12.8 | 16.1 |
| Sanderson Farms (SAFM) | 8.7 | 7.0 |
| The Simply Good Foods Company (SMPL) | 27.6 | 28.9 |
| Tyson Foods (TSN) | 8.0 | 6.6 |
When it comes to pricing the enterprise, the process is simple. On an EV to EBITDA basis, the company is trading at a multiple of 20.6. Based on my calculations, operating cash flow for the year should be about $78.7 million. If this is true, then the multiple for the firm should be 21.1. To put these figures in perspective, I decided to compare the company to five high-rated peers as defined by Seeking Alpha's Quant platform. On a price to operating cash flow basis, these companies ranged from a low of 8 to a high of 104.9. Three of the five companies were cheaper than our prospect. Using the EV to EBITDA approach, I ended up with a range of 6.6 to 42.1. Once again, three of the companies were cheaper than Sovos Brands.
Takeaway
At this moment, Sovos Brands is a fascinating company. Generally speaking, I would be turned off by the high multiples the firm is trading at. But the rapid growth management has demonstrated is encouraging and the innovative track record of the company in creating this growth is a huge net positive. Because of this, I don't think the shares are overpriced at this time. At worst, they are probably fairly valued. But on the whole, I suspect that they could offer additional upside if growth continues. The only negative that I see is that the company's net leverage ratio, using 2021 estimates, is rather lofty at just under 6.1. That's not horrible, but it does need to come down or else it will warrant some discount because of the increased risk. But if management can keep growth occurring at a nice pace and if they can control net leverage, the firm might make for a good prospect for long term, growth oriented investors.