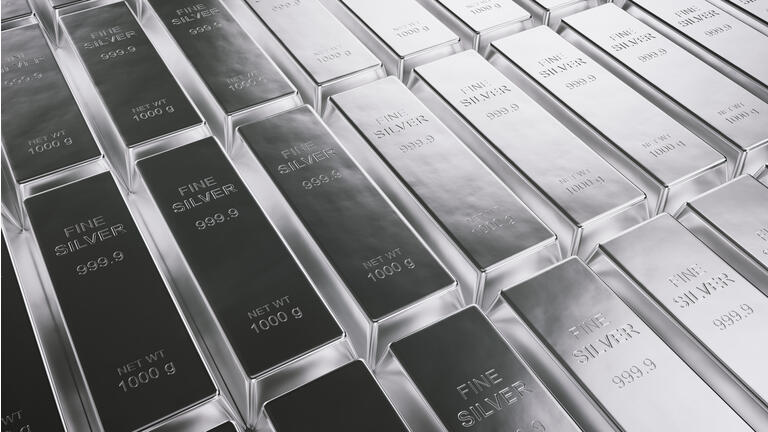 Silver has been considered a store of value for decades. Silver possesses the best features of gold, whereas both correspond to a commodity investment type and serve as a safe haven. Unlike stock, bond, and FX investments, the silver commodity has a long-term value with a stable demand and a high liquidity. By September 2021 its price has fallen by $5.3 per ounce, but this fact doesn't truly reflect its fair price.
Following silver's decline in price, ETFs iShares Silver Trust (NYSEARCA:SLV) and Sprott Physical Silver (NYSEARCA:PSLV) declined as well. However, increasing inflation rates, socio-economic instability across countries, industry-specific increasing demand on silver and other external factors will force market participants to radically manage portfolio risks via the silver commodity. These factors will exert enough market pressure on silver to positively affect its price, so I am bullish regarding silver.
Key drivers of Silver
First of all, silver is a good hedge against unfavorable macroeconomic conditions. Given uncontrollable inflation rates in the largest world economies, investors typically find silver as a good investment opportunity. For example, let us look at the SLV index during 1H20, which corresponds to the period of the beginning of the COVID-19 pandemic and the acceleration of the global inflation rate. On 1 March 2020, SLV traded at $13.05 and it doubled by 1 August 2020.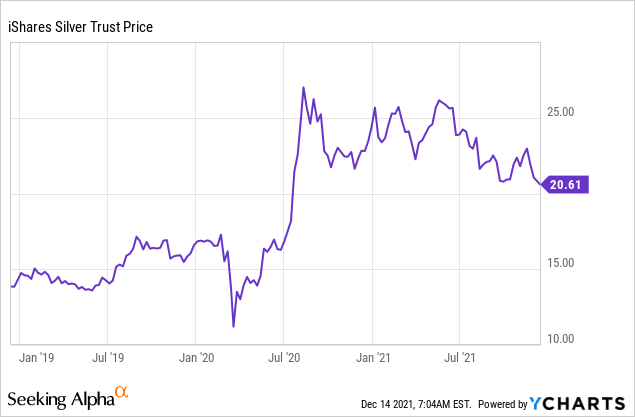 In fact, silver reacted similarly to the economic turmoil of 2009. Following increasing inflation rates, stock markets were declining as well. The total volume of international trade decreased by 10%, and its growth hasn't recovered yet. As inflation rates increased sharply and the global GDP growth rate became negative, tangible investments, like gold and silver, became essential investment tools to investors, so that prices of silver increased by 337%.
Secondly, physical silver is widely used across various industries, including those that are related to jewelry, solar panels and electrical conductors. From this point of view, silver is sensitive to industry-specific fluctuations, making it more volatile.
Silver dynamics
As mentioned above, silver is extremely valuable in times of an economic slowdown. It becomes even more obvious if we look at the recent crises related to the COVID-19 pandemic and the Great Recession, which started in 2007.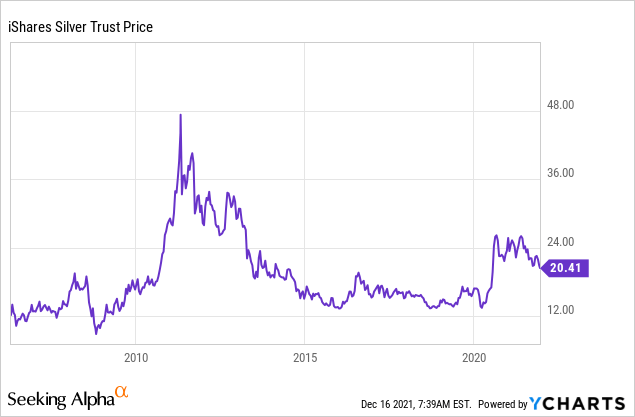 Following the financial crisis of 2007-2008, the volatility of silver increased, which happened not just because of its hedge characteristics. Those years also corresponded to the beginning of various market manipulations via spoofing by traders from the largest investment banks, including Deutsche Bank and JPMorgan Chase, with the latter case being the most significant. JPMorgan traders opened significant long/short positions with an intention to cancel their orders at any order prior to their executions. Such behavior introduced misleading information, and this market deception allowed them to make money using futures contracts on silver. The Department of Justice caught JPMorgan spoofing between 2008 and 2016. As a result, the bank was fined by $920 million in 2020, a record fine.
Since policy-makers have improved supervisory measures following those manipulations, we expect some stabilization of the silver price.
Risks that underlie silver
Being a commodity with extremely high electrical and thermal conductivity, silver is an important raw material in various industries. However, it is possible that scientists may find new material compounds that will possess physical characteristics similar to those of silver. Existence of such a substitute with the same manufacturing features can negatively affect the market position of silver. From the industry perspective, silver has more applications than gold. The former is more sensitive to industry fluctuations, so that a decline in industrial demand may moderately reduce silver's growth potential.
In addition, silver is more volatile compared to gold, so, in some cases, silver is less preferable than gold if you aim to effectively manage your portfolio risks. At the same time, your gain on a silver position can be significantly greater than that of gold.
Valuation
Since the beginning of 2H21, the price of silver has fallen significantly, as it dropped by 21.2% and it is now trading near $22 per ounce. At the same time, the gold-to-silver ratio, which is simply the price of one ounce of gold relative to one ounce of silver, seems to be around 80. That implies a significant price gap, since historically, this number was closer to 40. All else equal, we expect that this gap will decrease, which will allow silver to reach a potential price of $44 per ounce.
Nowadays, we observe that many countries face high inflation rates, which are far above their targeted values. Although Central Banks aim to slow down inflation through increasing interest rates, such a monetary policy seems to have a little effect on the growth rate of price indexes. As a result, investors will look for a reduction in the riskiness of their portfolios, which becomes possible using hedge commodities like silver. The parties that engaged in the silver manipulation, have been heavily fined, so that there will be no more malicious forces targeting a dramatical fall in the price of silver. Combined with the smoothing gold-to silver ratio, these factors will allow daily silver quotes to step over $110 per ounce.
Currently, high inflation rates are affected by the inconsistency of money printing policy by the Federal Reserve, and that will make silver even more attractive.

Data by Federal Reserve System
By the way, I find it important to note that market participants seem to underestimate the gap between supply and demand of silver. The main reason lies in a variety of forms of usage of silver. Whereas investors go on accumulating silver in large amounts, manufacturers increase its usage in their day-to-day operations. So, the growth rate of demand is significantly greater than the growth of supply of silver. Specifically, silver is an essential material for green energy production. As this industry becomes increasingly popular, we would expect a boost in the growth rate of demand on silver. As soon as it is fully incorporated into the silver price, investors that have at least some exposure to silver will be better-off.
Conclusion
Definitely, current economic conditions make silver a very attractive investment. The gold-to-silver indicator also suggests that its price will increase by $20 per ounce, which is only the worst-case scenario, and we may expect that it has a chance to reach $100 per ounce.