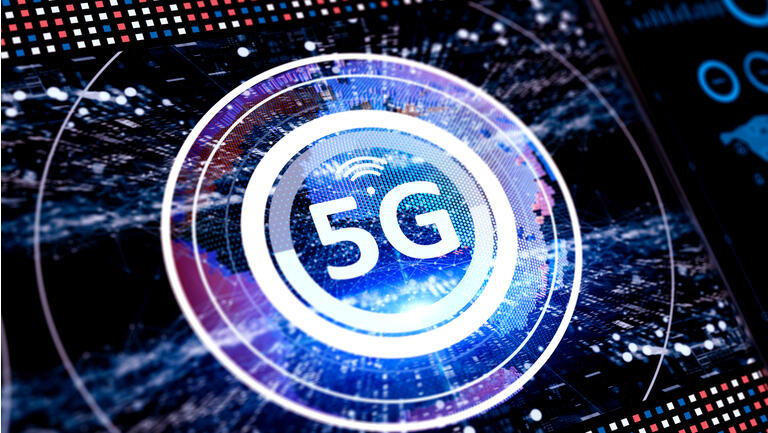 Before Warren Buffett was buying Coca-Cola (KO) and Apple (AAPL), he was following a rarely discussed strategy.
I could make you 50% a year on $1 million. No, I know I could. I guarantee that.

- Warren Buffett
Warren Buffett started his career buying stocks that were deeply undervalued to their asset value. They're sometimes called "cigar butt" stocks because they have "one-puff" left of value, or net-net stocks because they trade for less than Net Current Asset Value.
The important thing to know is that these small, ugly, overlooked stocks had the best chance of making high returns, which is why Buffett built his early empire on them.
The stock I'm sharing today is Westell Technologies (OTCPK:WSTL). This investment idea comes from Net Net Hunter, where Evan Bleker posted it to the community forum. Evan gave me the go-ahead to write about it, and I'm really glad he could share the idea.
Westell is:
Cheap
Ugly
Hardly profitable
But most importantly, it's undervalued based on tangible asset value. There's real value in each share.
Important Factors
I like to look at 3 things with these net-net stocks:
Current Value (what's the Net Current Asset Value of the company?)
Potential Problems (any deal breakers? High debt, burning cash, historically poor earnings...)
Growing in Value (Will this stock grow in value?)
We'll look at each of these 3 factors.
1. Current Value
The main idea behind buying Westell is it's undervalued today.
Most companies that you hear about are undervalued tomorrow. Facebook (FB) might be undervalued based on tomorrow's earnings. Alibaba (BABA) might be undervalued based on the cash flows it produces in the future.
Those are great companies, and I'm not trying to knock them. But if you're going to put your money into something, wouldn't you rather that company be undervalued today? Not based on tomorrow's earnings?
The great thing with Westell is that the company is undervalued based on tangible assets. The "Bullish" thesis is based on what's already sitting on Westell's Balance Sheet - not lying years ahead in future earnings.
Big Beautiful Balance Sheet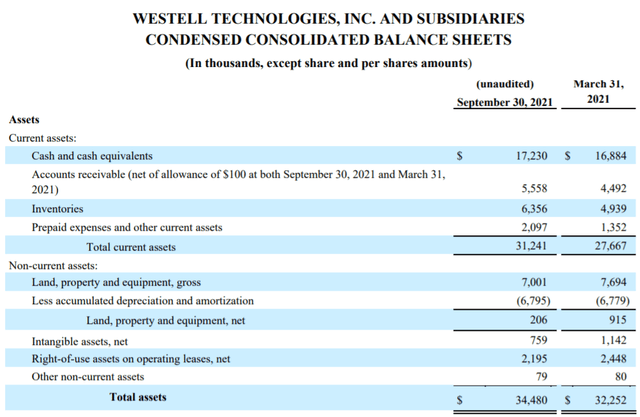 Today, Westell is trading for $1.225, with a market cap of $13.6M. There's $34.48M of assets on the Balance Sheet, and only $10.2M in total liabilities. That means the company is trading for much less than its net asset value, which is ~$24.28M.
With asset-based value investing, it's often best to focus on companies with strong current assets, like cash & cash equivalents, accounts receivables, etc., because current assets have a more dependable value than more long-term assets (like the value of machinery or intangible assets).
Value Breakdown
This is what Westell's worth based on its Balance Sheet:
Tangible Book Value (Tangible Assets - All Liabilities) = $21,248
Net Current Asset Value (Net Current Assets - All Liabilities) = $21,042
~$1.89 NCAV/share (minimum price target)
At a $13M market cap today, this stock is looking undervalued compared to its Net Current Asset Value of $21M. Based on this valuation, the stock has nearly 60% upside, and virtually no downside.
Additionally, quite a bit of the company's current assets come from cash, which is great because cash is the most constant store of value (a dollar is always worth a dollar).
Another good thing - a good chunk of the company's inventories comes in the form of raw materials. If the company was liquidated, raw materials would be the easiest thing to sell, so this adds another level of protection:

2. Potential Problems
How bad does this stock have to be to trade at such a deep discount?
Well, it certainly isn't great.
This company's not exactly a stud when it comes to growth, earnings, or profitability in general. This company's performance is well below average, but it's cheap.
Business Description
Westell is a cyclical telecom company that makes communication equipment. From my understanding of the hardware manufacturing industry (and the company's past profitability), Westell probably does not have any kind of competitive advantage. Anyone can make hardware. Hardware is a tough place to compete.

Most Recent 10-K
Westell's sales have fallen over 70% since 2014, and according to Morningstar, book value per share has fallen from $5.25/share to $2.01/share over the same period.
The company operates out of 3 segments, where each segment makes about a third of the company's revenue. Intelligent Site Management appears to be the most profitable segment, contributing 50% of the company's gross profits, while the other two segments contribute about 25% apiece:
In-Building Wireless - They sell hardware components (repeaters, battery backup units...) that extend internet coverage inside malls, stadiums, buildings, etc.
Intelligent Site Management - They sell remote units that inform operators if the network system is working.
Communications Network Solutions - A range of hardware products.
Operating Performance
This company is not free cash flow positive and struggles to turn a profit.
You can see that EBITDA has hovered below $0 over the past 10 years:

As a reminder - this isn't something terrible in and of itself. The business is really undervalued compared to its assets.
As long as the business can tread water and possibly grow in value over time, this stock is undervalued with very low risk. We don't need this stock to be anything special since it's already trading well below asset value.
Quick Notes (Possible Deal Breakers)
Anything that ruins this stock pick? Let's check:
The company has a very low debt-to-equity ratio of 15%. It's best to see D/E lower than 25% for these kinds of stocks; pass.
Compensation - executive officers (CEO, CFO, and Senior Vice President) together made over $1.1M. Even though this is a lot of money compared to the company's current market cap ($13M), this doesn't seem to be unreasonably high pay for executives. Something to watch though:

NCAV Burn Rate - Westell's Net Current Asset Value has been in decline. This is dangerous, because if NCAV declines to 0, so does the value of the stock. NCAV has been rising with the company's newfound profitability, so this does not look to be a big issue right now. Hopefully, this quarter's results will show continued profitability.
3. Growing Value
Will this company grow in value?
Again, this test looks to see if a company should grow in value.
This helps to protect us against the scary situation where the stock could just stay put for an entire year, or slowly decline.
If the company is growing in value and the stock price stays the same, then it's actually becoming an even better purchase for us.
Whereas if NCAV shrinks every year - there's the chance that the market will never realize the value - and we'll be caught holding the bag!
Westell's growing in value because of recent profitability, and I'd argue that will serve as a short-term catalyst.
Short-Term Catalyst
Over the past 10 quarters, net income has mostly been negative. In June 2021, you can see that net income turned positive, and operating cash flows have been trending positively:

Author
I don't expect this company to see lasting profitability. This is a cyclical company that is operating in a tough market.
The upside here is that a quick surge of profitability could act as a catalyst (hate to throw that word around) to help the company trade closer to its fair value.
Good results in the coming quarters could further solidify this "catalyst" and help the share price rise towards intrinsic value.
The bottom line is that profit means the business earns money, and that money turns into assets. More assets means that NCAV will be higher. And a higher NCAV means that shares are worth more. Profits are good.
All Ships Float with 5G?
Why has the company turned profitable all of a sudden?
It's difficult to predict future sales with this company because a lot of the company's revenues seem to be project-based. Westell makes money when businesses and municipalities want to upgrade their communication networks.
Westell could benefit massively from the 5G rollout.
When 5G comes around and suddenly everyone needs to get new equipment, that could mean big bucks for Westell and a boom in their business.
I have to admit - it certainly sounds like a weak thesis to buy Westell based on an eventual 5G rollout. But I think it's something to be seriously considered.
5G will come around eventually. Would you say that it's more likely than not that the companies that are directly involved in the rollout will see increased demand? I think it would make sense that they'd see higher demand, sales, and profits.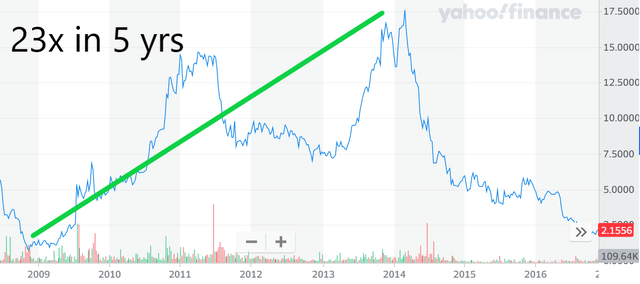 During the LTE rollout of 2009-2014, Westell rose from $0.72 to $14 in 2 years, making an 18.5x return in 2 years, and later went on to rise to $17.50 in 2014, making a 23x return in 5 years.
Now I'm not saying this will happen again, and I don't think you should buy the stock because you're speculating that Westell will 10x when 5G rolls out.
But I am saying that this is a cheap stock. There are tangible assets backing the minimum price target of $1.89/share. For that reason, there's bound to be some upside as the share price catches up to NCAV/share.
In the meantime, if the company sees strong results, there's a possibility that the share price could quickly rise to NCAV, or explode, making the stock a multi-bagger.
Recap
Westell is undervalued based on tangible asset value, which is mainly comprised of cash. This makes Westell a deep value pick with very little downside risk - if the share price drops you can buy dollars for quarters.
Based on the company's Net Current Asset Value, a cautionary measure of value, Westell should have a minimum value of $1.89/share, representing an upside of nearly 60% at today's prices.
One possible catalyst is the company's recent profitability. Continued profits could give the stock the boost it needs to reach its NCAV, and a strong operating environment fueled by a 5G rollout could make this stock a multi-bagger (although it's best not to count on this happening)!
One risk is that the company's NCAV could decline over time. If NCAV declines, shares will have no value. A decline in NCAV seems unlikely in the immediate future because the company has recently turned profitable, and profits lead to an increase in NCAV. It wouldn't be investing if there weren't risks, and this is certainly something to watch out for.
Last but not least - I've put my money where my mouth is, and I hold this stock in my portfolio. If the stock goes up, that is great, and if the stock goes down, that is also great, because I can buy more.
Thank you very much for reading, and I hope you've enjoyed this article. Feel free to share your thoughts/ ask questions below. I hope you have an excellent rest of your day.