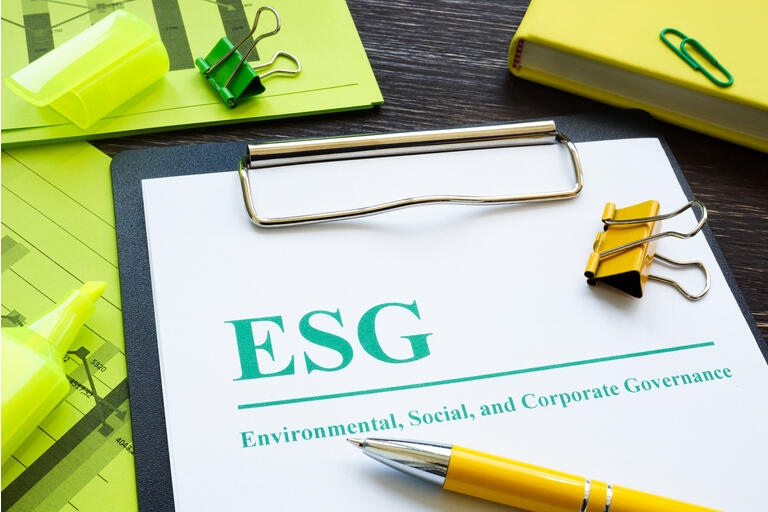 This year has been monumental for the Responsible Investing (RI) industry in the United States. Leading up to 2021, the U.S. has merely dipped its toe in the sustainable finance waters. The U.S. has been slow to adopt many regulations and recommendations surrounding sustainable finance already implemented in the EU through the Sustainable Finance Disclosure Regulation (SFDR).
What happened in RI during 2021?
Momentum for the U.S. Responsible Investing industry picked up in January when President Joe Biden signed executive orders to re-enter into the Paris Climate Agreement. This legally binding international treaty has been adopted by 196 individual parties and intends to limit global warming to below 2 degrees Celsius. In February, the Securities and Exchange Commission (SEC) announced that Satyam Khanna will serve as the first-ever climate and ESG policy advisor. Khanna, who served as a senior advisor to the Principles for Responsible Investment (PRI) network, was tasked with coordinating efforts to begin a regulatory framework surrounding climate risk and ESG disclosures.
In April, President Biden hosted a Leaders Summit on Climate which brought together representatives from 40 nations. At the summit, Biden officially announced that by 2030 the U.S. will cut greenhouse gas emissions by 50-52% below 2005 levels. The announcement was followed by another Executive Order in May which declared U.S. policy will "advance consistent, clear, intelligible, comparable, and accurate disclosure of climate-related financial risk." Onward to June, where the SEC released its annual regulatory agenda that emphasized framing disclosures relating to climate risk, workforce diversity, corporate board diversity, and cybersecurity risk. In July, SEC Chair Gary Gensler reiterated those goals and stated in a speech that he asked his staff to develop a mandatory climate risk rule proposal by the end of 2021.
The push forward in sustainable finance continued in October as the U.S. Department of Labor proposed a rule that would essentially make it easier for retirement plan sponsors to consider climate change and other ESG factors when selecting investments. The final ruling is expected by mid-year 2022. Also in October, the U.S. took part in the United Nations Climate Change Conference (COP26), where it committed to stop public financing for fossil fuel projects abroad by the end of next year.
With the backdrop set, let's look at where the U.S. is in terms of its 2021 supply of RI-related funds via launches, as well as investor demand through flow trends.
Responsible Investing Fund Launches
In 2021 through October month-end, there were 110 equity and fixed income funds that launched focused on Responsible Investing—71 RI-related ETFs and 39 RI-related mutual funds. This number represented 23.1% of the total fund launches since the start of the year.
Percentage of U.S. Domiciled RI-Related Fund Launches by Quarter (2018-2021)

The percentage of equity and fixed income RI-related fund launches have increased each quarter this year. The third quarter of 2021 saw 28.0% of all fund launches (27.2% ETFs and 30.6% mutual funds) specifically focused on Responsible Investing. So far through the fourth quarter, that number has increased to 35.9% (28.6% ETFs and 51.7% mutual funds).
It is clear the supply of RI-related funds is increasing but does investor demand meet this expanding landscape?
U.S. Responsible Investing Fund Flows
Year-to-date flows into all equity and fixed income funds have totaled $944.5 billion (+$699.4 billion ETFs and +$245.1 billion mutual funds). This astonishing level of inflows into both asset classes is significantly higher than recent year inflows—75.5% greater than inflows during 2020. Flows into RI-related equity and fixed income funds have totaled $58.2 billion (+$35.8 billion ETFs and +$22.4 billion mutual funds) so far through October month-end—marking 6.2% of total flows.
While RI-related equity and fixed income flows are still net positive, they remain around 2020 levels and have decreased as a percentage of total flows. Last year, flows into RI-related equity and fixed income funds accounted for 23.5% of total flows (+$54.3 billion). Two areas of increased investor demand have been in RI-related fixed income ETFs and RI-related equity mutual funds.
Equity Flows ($Mil) by Fund Type (2018-2021)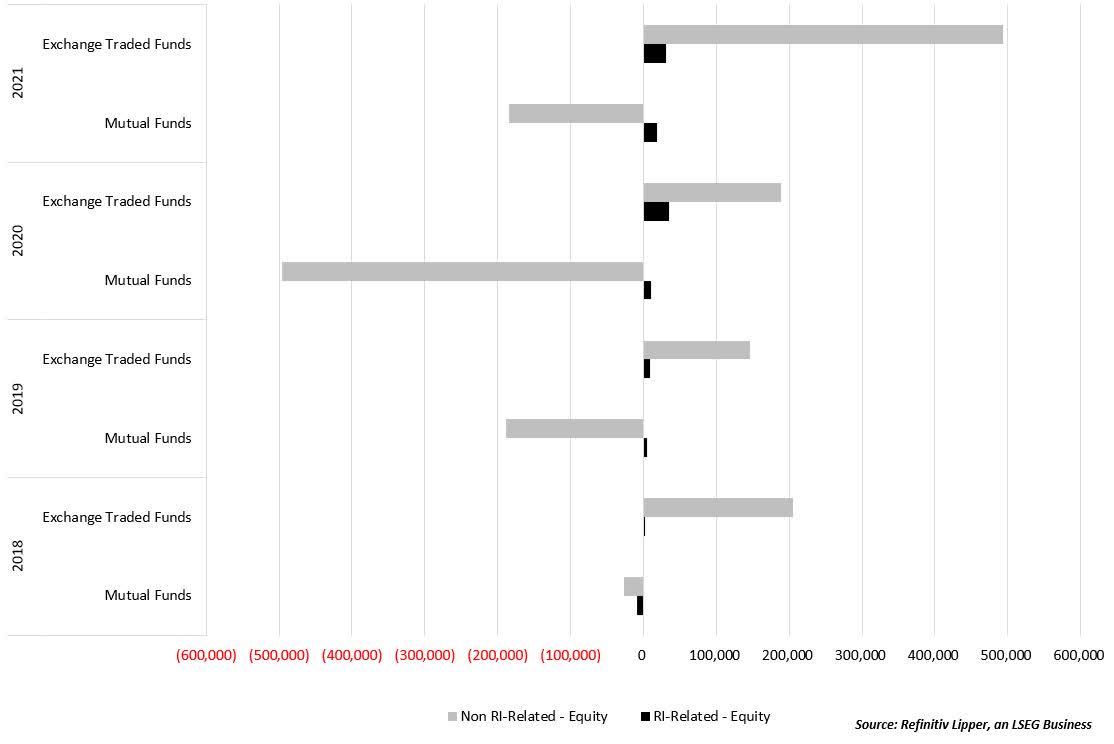 While RI-related fixed income ETF flows are slightly trending upward, RI-related equity mutual fund flows have been an outlier in relation to total equity mutual fund flows. Conventional equity funds have suffered outflows so far this year totaling $184.3 billion, putting them on pace to record yet another calendar year outflow. Flows into conventional RI-related equity funds, however, have been strong. Through the first 10 months of 2021, RI-related equity mutual funds have recorded $18.9 billion in net inflows and over the previous two years reported inflows of $10.6 billion and $5.2 billion, respectively.
RI-Related Equity and Fixed Income Flows ($Mil) by Fund Type (2018-2021)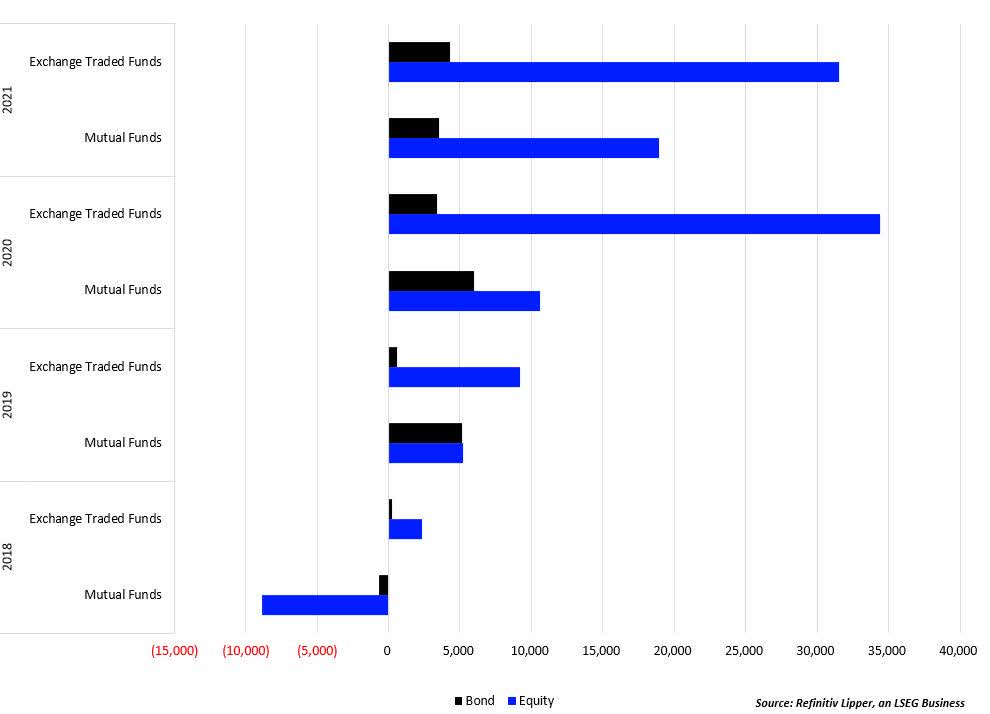 Wrap Up
The year 2020 saw a jump in RI-related fund launches as a percentage of total fund launches—especially for mutual funds. The 2020 increased supply of RI-related funds was met with strong investor demand, accounting for 23.5% of all total flows throughout the year.
Momentum for growth in the U.S. Responsible Investing industry has continued in 2021 through Executive Orders, appointing leadership with ESG experience, and a renewed focus on working with international partners. Through October, 21.1% of all new fund launches were RI-related, an increase from 15.0% in 2020—a sign that fund management companies are banking on the continued interest from market participants.
While total RI-related inflows through the first 10 months remain consistent with 2020 levels, there is increased investor demand in RI-related fixed income ETFs and RI-related equity mutual funds. With the potential passing of new legislation looming in 2022 (Prudence and Loyalty in Selecting Plan Investments and Exercising Shareholder Rights), RI-related mutual fund flows are poised to see resilient inflows.
Many U.S. investors are waiting on increased standardization surrounding ESG-related company disclosures as well as improved clarity on ESG terminology in public fund documents. There are many hills yet to climb and a long road yet to travel, but one thing is for certain, 2021 was a step towards progress in the U.S. Responsible Investing industry.
Editor's Note: The summary bullets for this article were chosen by Seeking Alpha editors.