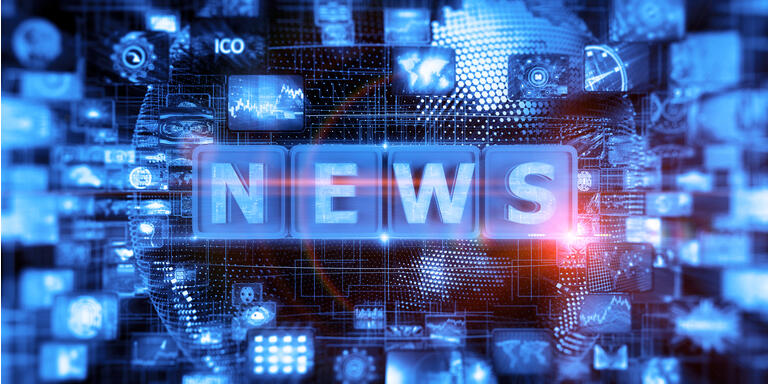 Note: This article was previously released on Cash Flow Kingdom with some additional information. It was prepared with Darren McCammon.
Thesis
Lee Enterprises (NASDAQ:LEE) is a newspaper company that is undergoing rapid change that should lead to attractive top and bottom-line growth in the future. Shares were very inexpensive not too long ago, but even though they have rallied in the recent past, they do not seem overly expensive yet.
Lee Enterprises
Lee Enterprises owns almost 350 local newspapers and specialty publications in 77 markets and 26 states. Importantly, they increasingly refer to these not as local newspapers, but rather as local media outlets -- you'll see why throughout this article.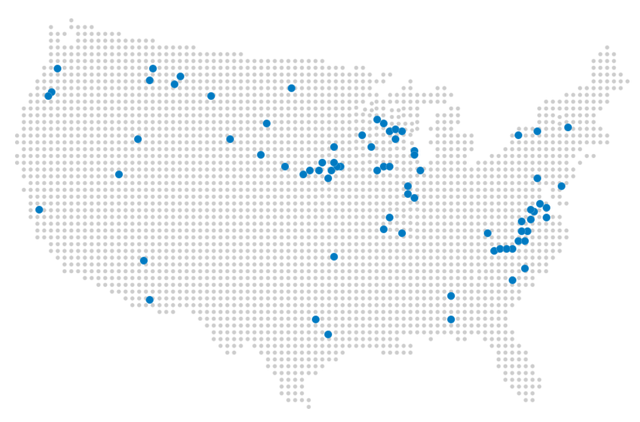 Source: Lee Enterprises Presentation
LEE makes money from selling subscriptions (45%), advertising and marketing services (46%), and other services (9%). Subscription revenue may be slightly smaller than advertising and marketing revenue, but it's listed first because subscriptions are also key to advertising sales. You need to first capture the eyeballs before you sell those eyeballs to advertisers.
As we've seen with Google and Facebook, those companies that can attract and monetize eyeballs in new ways can become hyper-successful. LEE may be in a very nascent state of leveraging multiple monetization streams to its viewer base, but we wanted to mention there is significant long-term potential.
Revenue and Profits
As previously implied, the daily local print newspaper business is dying. LEE's print-only subscription revenue was down 12.9% in fiscal 2021 vs. 2020. What's more, this isn't a one-time thing, print news readership has been declining for decades. Many of LEE's subscriptions, however, are now sold as joint print plus digital. They also sell a lot of subscriptions digital-only. In fact, the digital-only portion of LEE's subscription business is their fastest-growing segment, with strong growth of +44% in 2021 vs 2020, and +65% in Q4 2021 vs. Q4 2020. As it turns out, people still want access to their local news.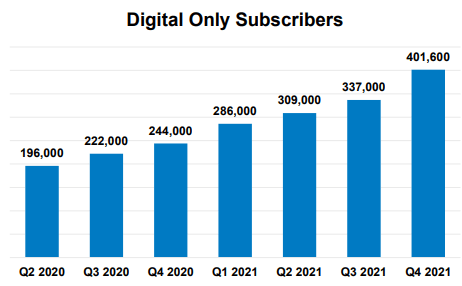 Source: Lee Enterprises Presentation
Newspapers are increasingly decided to give less content away for free, instead moving to various types of "sampling" and teasing followed by a promise of full access if you buy. This leaves the reader with a choice -- buy, or try to find someone else still offering content for free (increasingly difficult to find), or do without. More and more consumers are willing to decide to pay for the content they seek, e.g. local news in LEE's case.
As a result, LEE's overall combined subscription revenue (print, digital, dual print, and digital) has stopped shrinking, instead rising by 0.5% vs. last year. That may not seem like a big deal, but we see this as a turning point. It means LEE has now successfully stopped its overall revenue attrition by selling enough digital subscriptions to make up for its print subscription losses. In theory, if print subscription revenue continues to shrink at about the same rate, and digital subscription revenue continues to grow at about the same rate, digital will increasingly subsume print. This is because the print shrinkage rate is being applied to an ever-smaller base, while the digital growth is being applied to an ever-larger base. As a result, overall subscription revenue should continue to grow. With 49 million unique visitors per month but only 402K paid subscribers (<1% conversion), it's clear the opportunity to grow the subscriber base is massive.
Adjusted EBITDA for LEE was $25.8 million in Q4 (which pencils out to a 7x EV/EBITDA run rate). Once again, this is slight growth of about 1%, helping to confirm the bottom has likely been reached. Going forward, the switch from paper to digital could also bring improving operating margins. Supplying print subscriptions is inherently more costly than supplying digital subscriptions because print requires the printing and physical delivery of papers, while digital does not. As the business migrates from print to digital, you save these operating costs. However, those cost savings are currently being plowed back into their new growing digital business lines primarily -- there is thus no guarantee that margins will expand a lot in the near term.
The ongoing transformation of LEE from a local newspaper business to a local media outlet business should result in significant new revenue and profit streams. The news business is old with most monetization aspects long taken advantage of. Not so the digital news business. LEE for instance is already leveraging its digital business by selling additional marketing services. LEE already pays for a sales force that calls on local businesses -- it's thus not a stretch to let those businesses know in addition to digital advertising they can also provide them with digital marketing and other services. In fact, this seems like a pretty natural and seamless transition.
Maybe a small example will help readers further understand the opportunity. Take your local favorite pizzeria that historically would offer coupons in their local LEE-owned print newspaper. It's a pretty natural transition for LEE's salesforce to let that pizzeria know they can also offer coupons to digital news service subscribers. Once they have done that and seen some success, why wouldn't the LEE salesperson then sell higher value geolocation, income level, and/or age group targeted coupons? Next comes an offer to build and host the pizzeria's website site complete with digital ordering and integrated Uber/DoorDash delivery. Next some online quizzes, contests, and surveys to increase customer involvement, maybe with a free or deeply discounted pizza as the prize. Then LEE provides data analysis and insights to help the pizzeria understand which campaign is producing the best results so they can focus on that. And on, and on...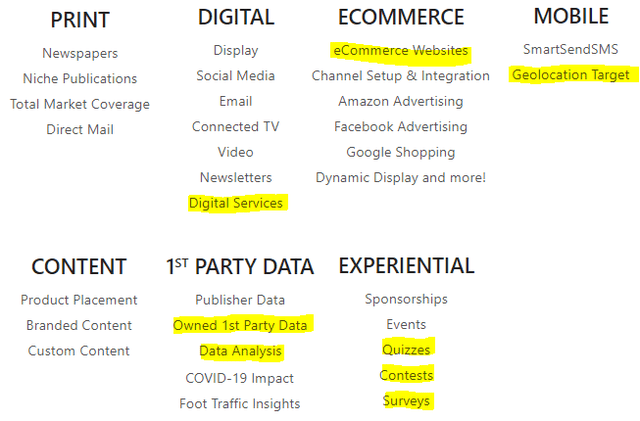 Source: Lee Website Advertise tab
The transformation is similar to going from Yahoo's banner adds to Google's targeted search and advertising. In this process, value is added and thus the provider can command a higher share of the profit.
In the meantime, with LEE one gets a company that appears to have turned the corner with considerable upside prospects from here, yet it is only trading at around 7x EV/EBITDA. For comparison's sake, Gannett Inc trades for 15x EV/EBITDA while the New York Times trades for a whopping 25x EV/EBITDA despite LEE enjoying a digital growth rate that is higher than either of those competing firms. Investors also get a company that, in addition to the prospects above, has a path to rolling-up additional local newspapers, then leveraging them by applying digital prowess.
Roll-Up Strategy
LEE has been rolling up the local newspaper industry for almost 20 years. The more significant legacy purchases have been 16 daily newspapers from Howard Publications in 2002 ($694 million purchase price), and 14 daily and over 100 non-daily publications from Pulitzer for $1.5 billion in 2005. They clearly paid too much for the Pulitzer purchase; however, with the debt incurred ultimately leading them to a prepackaged bankruptcy that occurred in 2011.
This is when Warren Buffett got involved, helping to provide financing for the firm to come out of bankruptcy, and taking a ~3% position in the firm in the process. Later in 2018 he also showed confidence in LEE, signing a 5-year agreement for them to manage Berkshire's (BRK.A)(BRK.B) newspaper group.
Then in 2020, Buffett formally sold all 30 daily newspapers plus 49 paid weekly publications and 32 other additional print products from Berkshire's BH Media Group to LEE for $140 million. Importantly, however, Mr. Buffet also provided 100% of all the firm's financing for this transaction and refinanced all their other debt -- $576 million in total financing at a 9% fixed rate for 25 years. Mr. Buffett seems to have turned the newspaper business over to LEE in the hope that LEE can transform it from a local newspaper to a local media business. He retains an interest in LEE's success both from his equity position and the debt they owe him. It would be interesting if Berkshire one day bought LEE, and used its team to roll up the space, but there's no indication that is his intention at this time.
Debt
Lee Enterprises is also a debt reduction snowball story. As indicated above, Lee Enterprises, with its $240 million market cap, attracted a relationship with Warren Buffett which includes a $576 million dollar term loan at 9% fixed for 25 years. Importantly, this financing came with no covenants, no prepayment penalties, and mandatory principal reduction payments based on the company's available excess cash flow. Since then, that cash flow has been able to pay down $93 million of debt bringing it to $483 million.
In the 2021 fiscal year, they brought in $117 in Adj. EBITDA, spent $45 million on interest, $8 million on capex, and $8 million on taxes. The rest, all the excess cash flow, went to pay down debt principle -- about $56 million. It is highly likely this will continue; thus we do not expect dividends any time soon.
Considering debt pay down saves the company 9% in interest, each quarter's pay down of principle also frees up much more money for next quarter's debt reduction -- hence the "Debt Reduction Snowball".
With this quarter's earnings, the firm has now achieved a Debt/Adj. EBITDA run rate of slightly less than 4x. This could be good enough for LEE to seek to refinance the debt at a lower rate, which could potentially speed up the debt reduction due to lower interest expenses and higher surplus cashflows. LEE's goal is to get to 2.5x leverage, which could, we believe, happen by the end of 2023. However, to give an idea of the potential upside the current debt reduction effort represents, if they succeeded in paying off all debt eventually, it would be equivalent to $80 per share of debt reduction -- vs. today's sub-$40 share price.
Management Alignment
Warren Buffett does not see his job as running businesses. Instead, he only buys or lends to them after ensuring there is good management in place to run them. The capital allocation oversight, however, usually remains firmly in his hands and he doesn't think short-term. This in and of itself may be indicative of LEE having decent management.
In addition, management owns roughly $25 million worth of shares with the CEO owning 1.7% of the outstanding shares (~$4 million) and the Chairman of the Board owning 3%. There have been no significant purchases or sales of shares by management in 2020 or 2021. Overall, there seems to be adequate alignment between insiders and outside shareholders here.
Takeaway
This small-cap, dying local newspaper business, is anything but boring. It seems they have been able to turn the corner, growing adjusted EBITDA and revenue slightly during the last year. If they are able to continue to grow the digital business at the pace they have been, the firm should be worth considerably more than the 7x EV/EBITDA they currently trade at, which is why LEE could have considerable upside potential over the coming years.