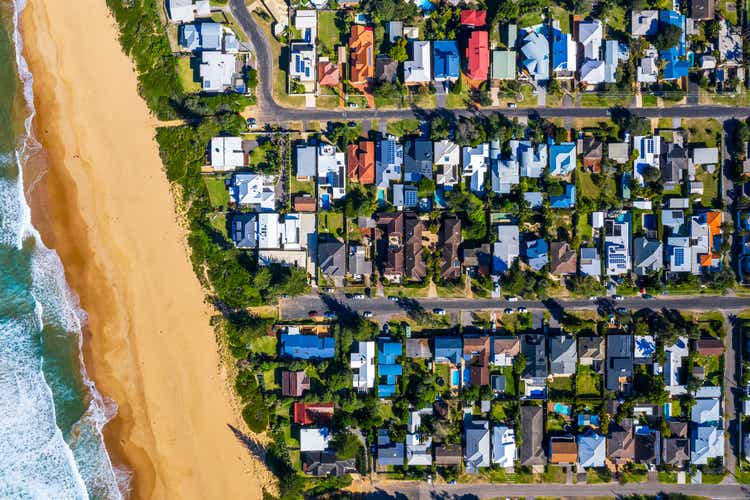 The Schwab U.S. REIT ETF (NYSEARCA:SCHH) invests in domestic REITs to provide investors exposure to the real estate sector (at a low expense ratio of 0.07%) and generate a fixed income over the long term. Though this passively managed ETF is mostly designed for income investors, its price has experienced a solid run-up of 32% in the last 12 months. The reason for the price gain was the interest rate slash by the Fed, which led to robust demand for residential and specialty real estate.
Well, those days are past and the Fed has pledged to start hiking the rates to control the raging inflation. Home prices too are on the boil and, as per the latest statistics, American homes have never been so unaffordable in the last 13 years.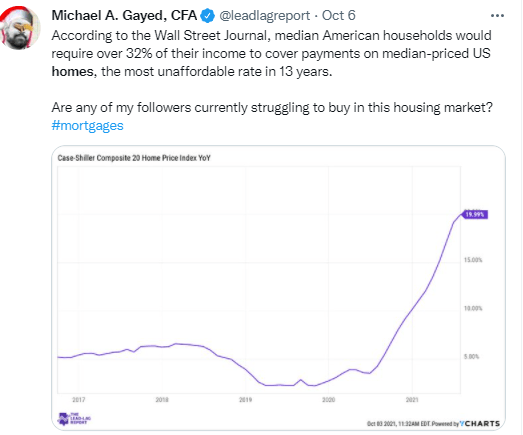 Image Source: My Tweet/The Lead-Lag Report
With home prices boiling and interest rates about to rise, REIT prices can consolidate or correct in the near to medium term (an event that will increase their dividend yield). With that said, here is my analysis of SCHH.
Portfolio and Risk Analysis
As of December 17, 2021, SCHH had invested its assets in 141 REITs with an average Price/Cash Flow ratio of 21.17. The ETF has invested about 41% of its assets in its top 10 holdings, which makes it rather top-heavy and prone to sectoral volatility.
The ETF's annual portfolio turnover ratio is a mere 5.66%, which implies that it keeps most of its holdings for the medium to long term. This is a good strategy because high-quality REITs deliver decent returns and some growth when held for the long term.
Dividend Yield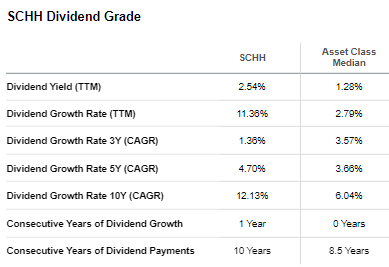 Image Source: Seeking Alpha
SCHH's TTM dividend is 2.54%, which is rather low for an income fund, considering that interest rate hikes are around the corner. Its dividend payouts have been increasing at an insignificant CAGR of 1.36%, which implies that its forward dividend yield is 2.57%.
As the ETF's dividend yield is low, it makes sense to check what kind of combined returns (price gain plus dividend yield) it is likely to deliver as per historical data.
Price Momentum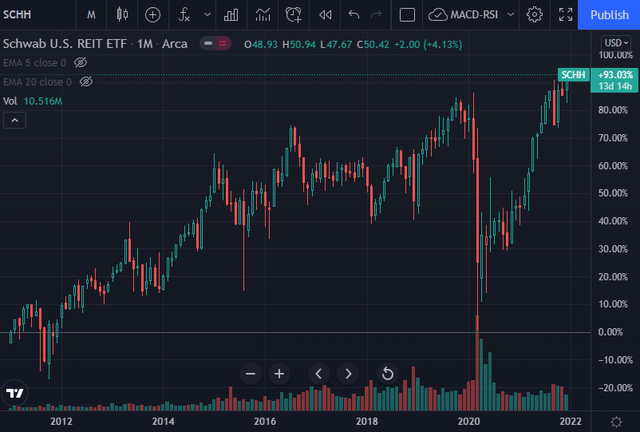 Image Source: Trading View
SCHH's price has gained 93% since its inception in January 2011 - this works out to an annual price gain of about 7% on a simple average basis.
But does SCHH deliver better returns than its peer, the iShares Core U.S. REIT ETF (USRT)?
Peer Comparison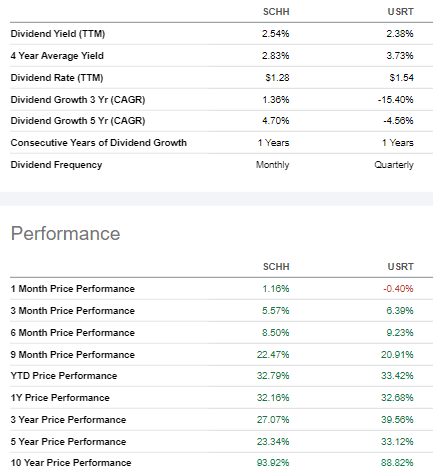 Image Source: Custom Comparison at Seeking Alpha
In the 10-year holding shootout, SCHH has delivered a combined return (TTM dividend yield plus price gain) of 96.46%, while USRT has delivered 91.2% in the same period.
However, USRT has delivered superior combined returns in the 3-5 years holding period (refer to the image above).
Both peers have delivered similar combined returns in the last 12 months.
Summing Up
SCHH's investable quotient is high for income investors who:
Are okay with holding it for the long term.
Are happy with annual combined returns of 10%, with most of the gain coming from price appreciation.
Are willing to overlook its peer USRT's outperformance in the last 3-5 years.
For all others, it does not make the cut. Plus, as interest rate hikes are upon us and homes are getting increasingly unaffordable, the growth in REIT prices may halt. My rating for SCHH is neutral.

Anticipate Crashes, Corrections, and Bear Markets
Sometimes, you might not realize your biggest portfolio risks until it's too late.
That's why it's important to pay attention to the right market data, analysis, and insights on a daily basis. Being a passive investor puts you at unnecessary risk. When you stay informed on key signals and indicators, you'll take control of your financial future.
My award-winning market research gives you everything you need to know each day, so you can be ready to act when it matters most.
Click here to gain access and try the Lead-Lag Report FREE for 14 days.