The COVID-19 pandemic disrupted the nature of work globally during 2020, massively increasing the mix of work done remotely. This step-function increase in remote work creates immense opportunities for companies to build advanced digital workspaces for improved collaboration and productivity -- a metaverse for work. At the frontier of this exciting new metaverse opportunity sits Microsoft (NASDAQ:MSFT), which is well-positioned to monetize this potentially multi-trillion-dollar opportunity. Success in the metaverse could help MSFT continue to outperform for many years to come.
(Note on sources: all consensus estimates come from FactSet.)
Rise of the Metaverse for Work
The metaverse is a hot topic, but there are multiple definitions of it. I like Meta Platforms (FB) CEO Mark Zuckerberg's simple definition: the metaverse is a "more embodied internet." In my view, the internet has continuously evolved toward being a more embodied experience, as the internet is increasingly woven into our daily experience of reality.
The COVID-19 pandemic in early 2020 led to a rapid acceleration of the embodiment of the internet, with perhaps the most significant impact on office work. The pandemic has revolutionized how companies think about productivity and presence in the workplace.
Considering only remote work that can be done without a loss of productivity, McKinsey estimates that about 20 to 25 percent of the workforces in advanced economies could work from home between three and five days a week, representing four to five times more remote work than before the pandemic.
Rapidly improving digital work technologies could multiple McKinsey's estimate for the number of people who could work at home without losing productivity. Furthermore, such digital work technologies could increase productivity where most people would be more productive working in a digital environment than a physical one.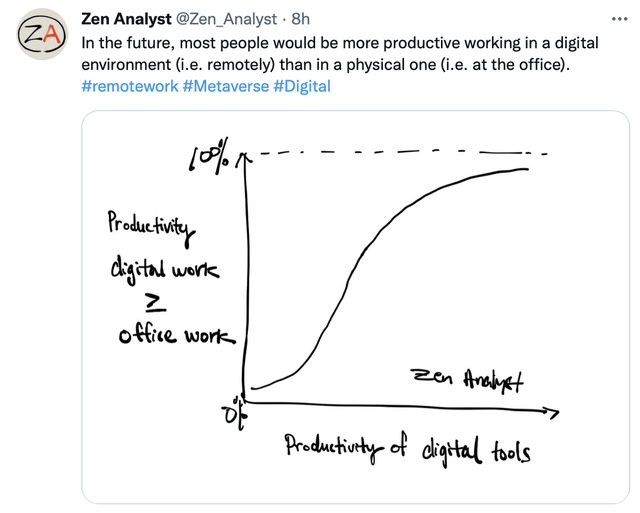 Source: Zen Analyst (Twitter)
Bill Gates seems to agree with this view, writing in his 2021 Year In Review:
Within the next two or three years, I predict most virtual meetings will move from 2D camera image grids... to the metaverse, a 3D space with digital avatars.
Let's take a look at one of Microsoft's most exciting new products for the metaverse of work.
Meet Mesh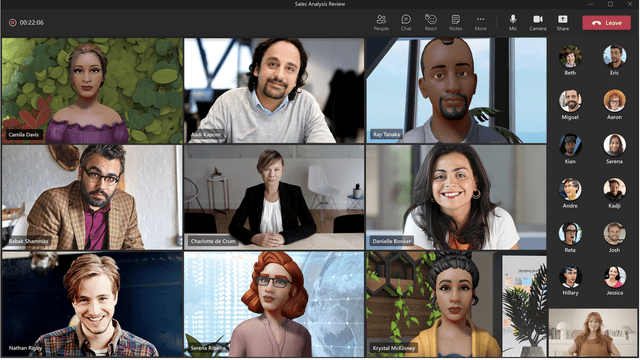 Source: Microsoft
After nearly two years of remote work since offices shut down in early 2020, we learned two things: remote workers are far more efficient than most business leaders imagined, and they miss the spontaneous opportunities to build relationships with colleagues.
In November 2021, Microsoft unveiled a solution: Mesh for Microsoft Teams. The feature combines the mixed-reality capabilities of Microsoft Mesh, which allows people in different physical locations to join collaborative and shared holographic experiences, with the productivity tools of Microsoft Teams, where people can join virtual meetings, send chats, collaborate on shared documents, and more.
The company believes Mesh is a gateway to the metaverse. Organizations can build immersive spaces – metaverses – within Teams, which could be accessed through standard smartphones and laptops to mixed-reality headsets.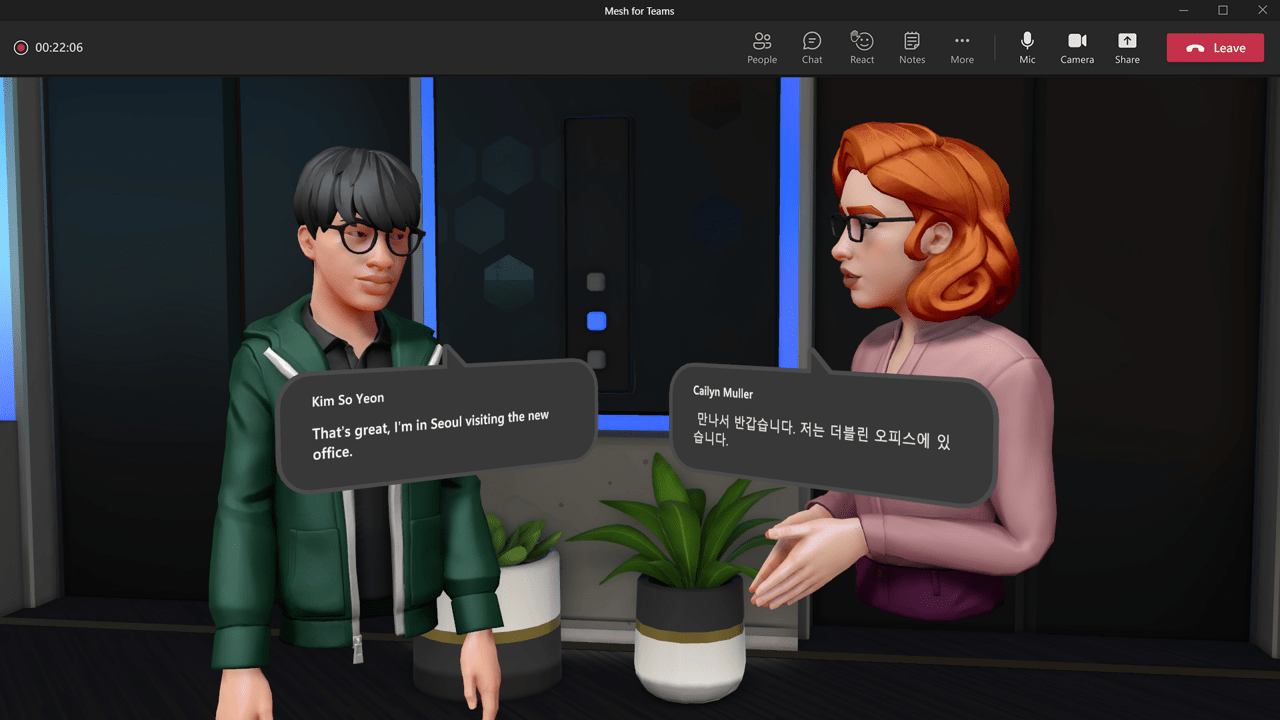 Source: Microsoft
These capabilities open up additional software and hardware opportunities for Microsoft.
Software & Opportunities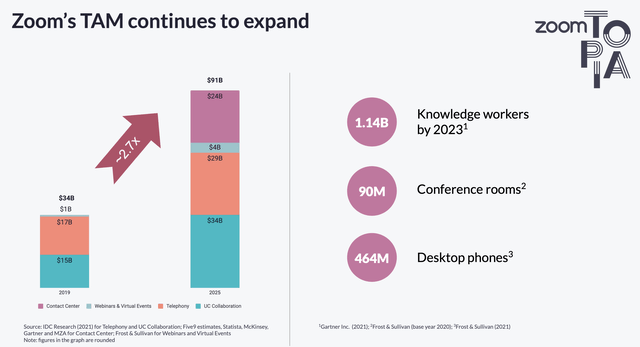 Source: Zoom
Zoom (ZM) sized the unified communications and collaboration market at $34 billion in 2019 and expects it to expand 2.7x to $91 billion in 2025.
Applying Microsoft's expected 36% net income margins in FY22 and 34x next-twelve-month EPS multiple, a $91 billion market could be worth an extra $1.1 trillion in market cap for Microsoft, which is a massive opportunity even for Microsoft shareholders.
However, communication and collaboration are only the tips of the iceberg.
Please forgive me for making what could appear like a wild assertion: over multiple decades, the value of metaverse spaces could slowly converge with the value of global real estate, valued at $326.5 trillion in 2020. More realistically, perhaps, the value of metaverse spaces could converge with global commercial real estate, valued at $33 trillion in 2020.
The convergence of value is theoretically possible if productivity in the metaverse outpaces the productivity of physical spaces. Since the perception of space matters in the metaverse, Microsoft could charge a subscription fee for premium tools for building workspaces or "rent" out pre-built metaverse spaces.
Microsoft is also well positioned to provide the hardware on-ramp to the metaverse of work: its metaverse-ready, mixed reality headset, HoloLens.

Source: Microsoft
Boeing (BA) recently announced in its factory of the future, immersive 3-D engineering designs would be twinned with robots that speak to each other, while mechanics around the world will be linked by $3,500 HoloLens headsets made by Microsoft. After intense design sessions, Boeing engineers could host team meetings on Mesh in a seamless experience.
According to BCG, the virtual reality and augmented reality market could reach $297 billion by 2024.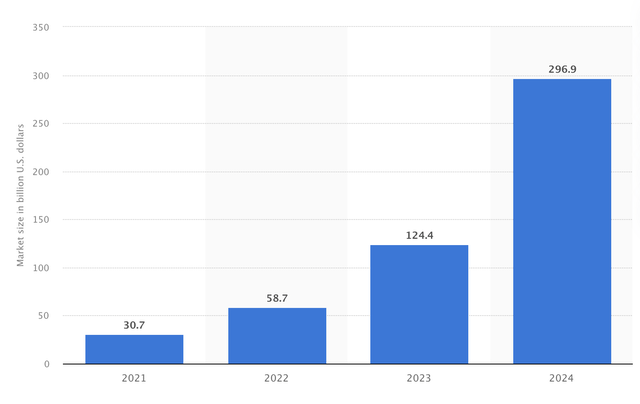 Source: Statista
Since the margin opportunity of this emerging market is unclear, I could not size with confidence its market cap opportunity as I have with the unified communication and collaboration market. However, it will likely have significantly lower margins in 2024 than a software solution like Mesh. However, even a 10% net income margin and 20x multiple would suggest an incremental $600 billion in market value.
Putting it all together, Microsoft's Mesh and HoloLens could offer a market cap opportunity of nearly $2 trillion by 2025, which is nearly as large as Microsoft's market cap of around $2.4 trillion today. Note that this is the entire addressable market of these two products, and I am not suggesting that Microsoft will capture all of it. I'm sizing these markets' potential impact on the stock to illustrate that there are massive growth opportunities even for a giant like Microsoft.
Beyond 2025, I believe the market opportunity in the metaverse of work will continue to compound for decades, closing the massive real estate market gap.
Valuation
Microsoft is currently trading at 33x next-twelve-month consensus EPS, a 56% premium to the S&P 500. FY22 and FY23 consensus EPS are expected to grow around 15% per year, which is nearly double the S&P 500's expected 8% per year growth rate.
Significantly, materially all of Microsoft's near-term expected growth is driven by its core business of cloud, productivity software, and personal computing. In other words, the large metaverse opportunities discussed here could provide additional upside over the long run.
In my view, Microsoft's much faster expected growth rate and much larger growth opportunities (compared to the average S&P 500 company) more than justify the company's premium valuation.
Risk: Metaverse Wars
While the idea of a metaverse is not new, the embrace of it by large corporations is unprecedented. This will likely lead to aggressive competition between corporate titans for the leadership role in defining, building, and profiting from the metaverse. The three fiercest competitors for Microsoft in this arena are NVIDIA (NVDA), Meta Platforms (FB), and Apple (AAPL).
While all four technology giants could benefit from the metaverse, there is a risk that all could lose due to poor capital allocation in an irrational competitive environment, and there is a risk of unpredictable relative winners and losers. The bull case is that the four will collaborate rather than compete in a bloody battle.
Microsoft and Apple are significantly larger than NVIDIA and Meta, giving these companies the advantage of scale and scope. In terms of market cap, Microsoft and Apple are valued at between two to three trillion, while Meta and NVIDIA are valued at between half and one trillion.
Microsoft is expected to generate over $60 billion in terms of free cash flow and Apple over $100 billion in their current fiscal year, significantly larger than Meta's expected $32 billion of free cash flow and NVIDIA's $12 billion in 2022. Free cash flow means more firepower to support significant metaverse investments.
NVIDIA and Meta have the advantage of being led by founders who are visionaries with a track record of solid execution and agility.
Jensen Huang founded NVIDIA in 1993. Today, at 58-years-old, Jensen is still deeply committed as the company's CEO. NVIDIA, in my view, ranks among the most innovative companies in history and is deeply committed to the metaverse.
Meta Platforms was founded in 2004 by Mark Zuckerberg, who is still deeply engaged as the company's CEO and owns 58% of Meta's voting shares. With control of the company, Zuckerberg can command the company to burn over $10 billion a year investing in the metaverse for many years to come. Notably, Mark Zuckerberg is only 37 years old and could lead the company through the uncertain transition into the metaverse for the next 30 years.
While I respect Microsoft and Apple enormously and will likely buy the stocks after a pullback, I currently own shares of Meta and NVIDIA due to their strong growth prospects over the next decade. I am bullish on Microsoft and Apple and very bullish on Meta and NVIDIA.
I look forward to discussing this topic with you in the comment section below.