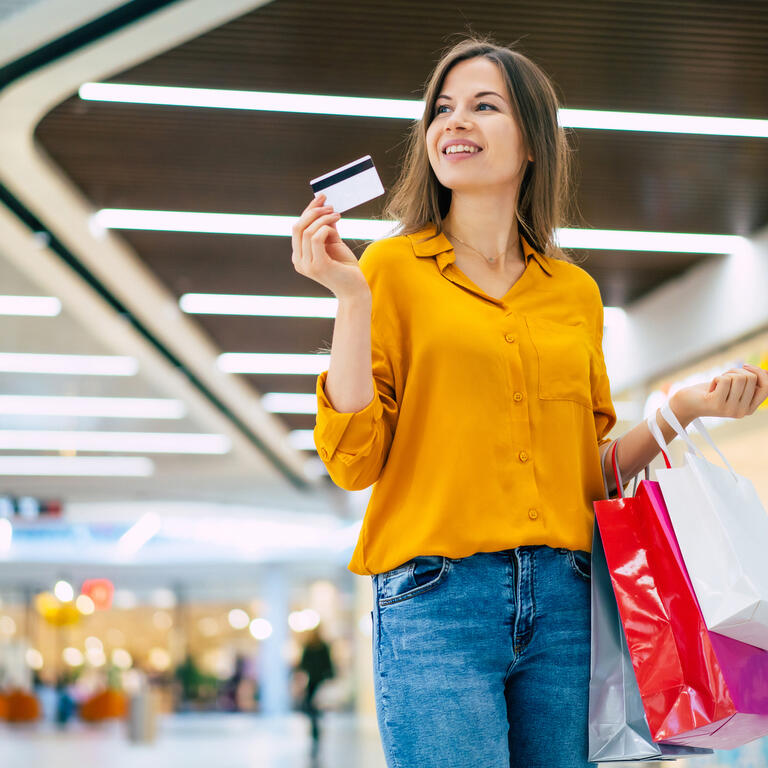 Introduction
We review our Mastercard International (NYSE:MA) investment case after MA stock started the week by falling 3.5% on Monday (December 20). At $337.02, MA's share price is down 16.1% from its July peak and down 5.6% year-to-date:
Librarian Capital's MA Rating History vs. Share Price (Last 1 Year)

Source: Seeking Alpha (20-Dec-21).
We initiated our Buy rating on Mastercard in April 2019. Even with its recent dip, MA stock has gained 45% (including dividends) in less than three years.
We believe Mastercard's long-term growth drivers are still powerful, and recent weakness represents an attractive entry point into a multi-year compounder - we forecast a total return of 76% (20.6% annualized) by 2024 year-end.
Mastercard Buy Case Recap
Our investment case on Mastercard has been based on our belief that its 15%+ EPS CAGR and premium valuation would continue, driven by:
Electronic payment volumes are growing structurally, from both GDP growth and the continuing shift away from cash and cheques
Even in the U.S. and Europe, a significant amount of consumer spending remains in cash; the potential is even greater in newer geographies
Incumbent payment networks enjoy natural advantages in scale and network effects; regulations ensure a high barrier to entry
Mastercard and Visa (V) are increasingly penetrating new payment verticals including Business-to-Business, Business-to-Consumer and Peer-to-Peer
They are also increasingly providing value-added services that utilise their platform status and wealth of data, adding further revenue growth
Payment networks have natural operational leverage, being highly scalable and having largely fixed costs, so earnings grow faster than revenues
COVID-19 hit Mastercard's P&L significantly, as travel restrictions sharply reduced high-margin cross-border volumes. However, since the trough in Q2 2020, volume and revenues have progressively recovered (except the seasonal Q1 2021 dip), helped by both an accelerated shift to electronic payments and a gradual improvement in the pandemic situation:
New 3-year targets set out by Mastercard's management in their bi-annual investor day in early November provide further support to our investment case. However, this has been overshadowed by a number of external events.
Why Did Mastercard Stock Drop?
We believe Mastercard's share price (along with that of its closest peer, Visa) has been weak since the summer due to the following:
Concerns about Amazon's (AMZN) dispute with Visa, including an upcoming ban on the latter's U.K. credit cards
Concerns about payment networks being possibly disintermediated by new Fintech players, particularly Buy Now Play Later ("BNPL") operators
Concerns about a slower recovery in high-margin cross-border volumes, made worse by the new Omicron variant discovered in late November
We believe concerns about Amazon and Fintech are unfounded, based on the sector's structural dynamics as well as recent news. The impact from renewed travel restrictions that followed the Omicron variant is real, but we believe it to be short-term in nature.
Fears About Amazon Dispute Are Unfounded
We believe investor fears about Amazon's dispute with Visa are unfounded.
Mastercard is currently not subject to any of Amazon's actions against Visa, and may in fact be an indirect beneficiary, for example if Amazon were to move its U.S. co-brand relationship from Visa to Mastercard.
As we explained in a recent Visa article, we believe Amazon's actions will not be a threat to even Visa itself. Retailers have only limited ability to steer consumers to a particular payment method, and restricting payment options would require sacrificing significant amounts of their own business. Moreover, Mastercard's and Visa's volumes are so large that even Amazon likely represents just a low-single-digit percentage of their revenues:
U.S. Volumes - Key Payment Networks vs. E-commerce and Amazon (2020)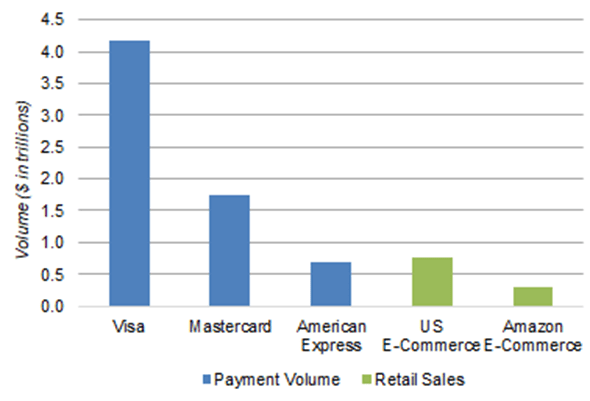 Source: Company filings.
We expect Amazon and Visa to settle their dispute in the next few months.
Fears About New Fintech Are Unfounded
We believe investor fears about Mastercard and Visa being disintermediated by new Fintech are unfounded.
Current Payment Networks Have Inherent Advantages
Current payment networks have inherent advantages that prevent disintermediation and in fact make them attractive partners for Fintech.
Mastercard, for example, enjoys classic "network effects" from its 2.9 billion cards-in-force and 80m merchant locations - Fintech companies that partner with MA can gain access to these and scale, while those who do not will find it ruinously expensive to try to re-create the same network. In addition, consumer trust and regulatory compliance are essential in payments, and the incumbents have spent decades building up their capabilities there.
Thus far most Fintech companies, as well as large Technology companies like Apple (AAPL) and Alphabet (GOOG), have ended up partnering with Mastercard and other payment incumbents. We believe this will continue.
In BNPL, Mastercard and Visa debit cards are used in an estimated 80-90% of transactions, thereby generating revenues for the networks (in similar or higher amounts than conventional card purchases).
Mastercard Launching Own BNPL Solution
An example of how Mastercard will utilise its advantages as an incumbent is its upcoming launch of its own BNPL solution at scale in 2022:
"Mastercard Installments" Proposition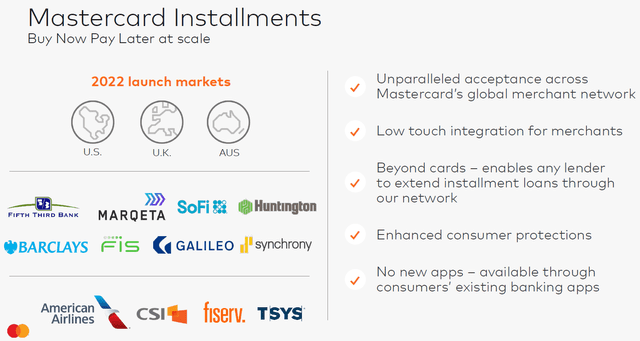 "Mastercard Installments" will enable lenders to provide BNPL products to their consumers through their current banking apps, allow BNPL purchases at merchants that accept Mastercard, and provide lenders with a consumer's transaction history for credit decisioning (subject to user consent and local laws) - key advantages over offerings from BNPL pureplays.
Buy Now Pay Later Facing More Pressures
Many BNPL pureplays may not be sustainable businesses, being reliant on historically low interest rates and often still loss-making. Recent industry developments will likely make conditions more difficult for them.
On December 16, the U.S. Consumer Financial Protection Bureau ("CFPB") opened an inquiry into BNPL, ordering the main industry players to submit information on their transaction trends, fees, underwriting policies and credit reporting. Among other things, the CFPB accused some BNPL operators of "regulatory arbitrage" on consumer protection laws. One area the CFPB may target is late fees, which contribute the majority of revenues at some BNPL pureplays.
On December 20, consumer credit rating provider Equifax (EFX) announced it will be including BNPL information as part of its credit reports from Q1 2022. Most consumer credit ratings currently do not include BNPL, and most BNPL providers do not report their consumer data to the agencies, which means at present BNPL does not affect consumer credit scores in the same way that credit card loans. That advantage is now disappearing.
Omicron Variant Impact Will Be Temporary
The impact from renewed travel restrictions to counter the Omicron variant is real, but we believe it to be short-term in nature.
Payment volumes have continued to recover year-to-date, helped by the roll-out of COVID vaccines (which passed their Phase 3 trials in November 2020). The spread of the Delta variant, the last "variant of concern", caused a dip in U.S. payments volume in August, but the recovery continued thereafter:
The same pattern has been seen in cross-border volumes:
Visa Cross-Border Volume Index vs. 2019 (2021 YTD)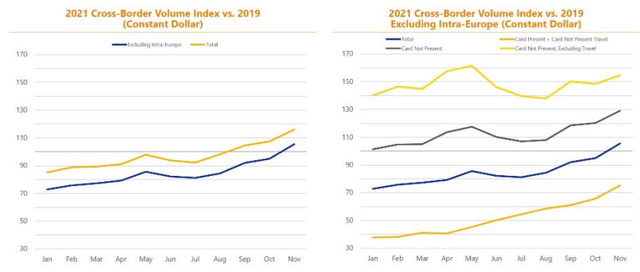 Source: Visa 8-K filing (01-Dec-21).
Most current vaccines continue to offer significant protection against the new Omicron variant and, even if new vaccines were to be needed, the speed at which the original vaccines were developed suggested these too would be available quickly. (Pfizer (PFE) CEO Albert Bourla predicted that one could be developed for Omicron by March 2022 if necessary.)
New Targets Include Low 20s EPS CAGR
New 3-year targets set out by Mastercard's management in their bi-annual investor day in early November also support our investment case.
For 2022-24, management targets a revenue CAGR in the high-teens, EBIT margin of at least 50%, and an EPS CAGR in the low 20s:
Mastercard 2022-24 Targets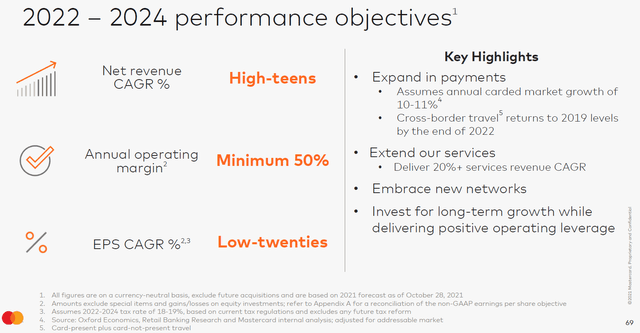 Source: MA investor day presentation (Nov-21).
The targets are underpinned by an assumed CAGR of 10-11% for the carded market in Mastercard's core business, and augmented by a recovery in cross-border travel volumes by 2022 and a CAGR of 20% in services revenues.
Targeted payment flows include both continuing growth in its historic Consumer Purchases market ($37 trillion out of $115 trillion), as well as newer markets such as Disbursements & Remittances and B2B Accounts Payable:
Mastercard Targeted Payment Volumes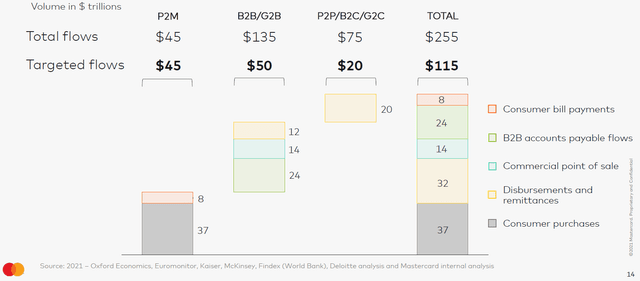 Source: MA investor day presentation (Nov-21).
We believe the targets reflect the huge size of Mastercard's growth potential.
Valuation - Is Mastercard Stock Overvalued?
At $377.02, relative to 2020 financials, Mastercard shares are trading at a 51.6x P/E and a 1.9% Free Cash Flow ("FCF") Yield; relative to pre-COVID 2019 financials, the P/E is 42.0x and the FCF Yield is 2.2%:
MA Net Income, Cashflows & Valuation (2016-20)

Source: MA company filings.
Relative to our conservative 2021 EPS estimate, the P/E is 40.1x.
All these P/E multiples likely overstate Mastercard's valuation. Volume is already approx. 30% above its 2019 level as of Q3 2021, but Net Income is only 7% higher, because volume has been temporarily diverted from high-margin cross-border spending by international travel restrictions. We expect a quick rebound in earnings when these are lifted.
In November, Mastercard's Board raised the dividend by 11% to $0.49 per share ($1.96 annualized), implying a current Dividend Yield of 0.6%. The Board also authorized a new $8bn buyback program, in addition to $4.4bn remaining under the current program, giving a total repurchase authorization of $12.4bn, or 3.7% of the current market capitalization.
Mastercard Stock Forecasts
We update our dividend and buyback assumptions but keep the rest of our forecasts unchanged:
2021 Net Income to be $8.33bn (unchanged)
2022 Net Income to grow 20% year-on-year (unchanged)
From 2023, Net Income to grow by 15% each year (unchanged)
2021 share count to be 989m (unchanged)
From 2022, share count to fall by 1.3% each year (was 1.0%)
2021 dividend to be $1.81 (was $1.80)
From 2022, dividends to be based on a 22% payout ratio (was 25%)
2024 P/E of 42x (unchanged), implying a 0.6% Dividend Yield
Our forecasts imply an EPS CAGR of 18.2% by 2024, significantly more conservative than the low 20s included in management targets.
Our new 2024 EPS estimate of $13.90 is 0.9% higher than before ($13.77):
Illustrative Mastercard Return Forecasts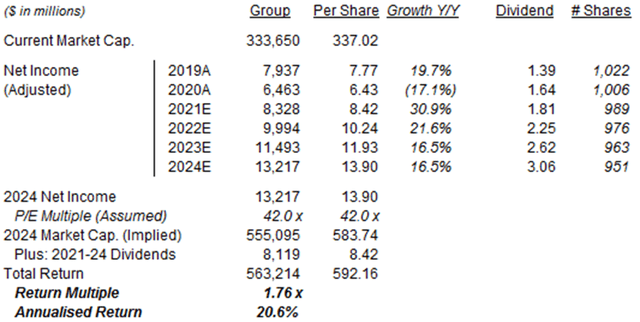 Source: Librarian Capital estimates.
With shares at $337.02, we expect an exit price of $585 and a total return of 76% (20.6% annualized) by 2024 year-end, in just over three years.
Is MA Stock A Buy, Sell, or Hold Now?
Mastercard stock fell 3.5% on Monday, and is now down 16.1% from its July peak and down 5.6% year-to-date, an opportunity in our view.
Share price weakness is due to concerns about Amazon's dispute with Visa, Fintech disintermediation and the new Omicron variant.
We believe these concerns are unfounded. For example, Fintech companies offering Buy Now Pay Later are facing more pressures.
Mastercard announced new 3-year targets in November, including an EPS CAGR in the low 20s, supporting our investment case.
With shares at $337.02, we expect a total return of 76% (20.6% annualized) by 2024 year-end, in just over 3 years.
We reiterate our Buy rating on Mastercard.
Note: A track record of my past recommendations can be found here.