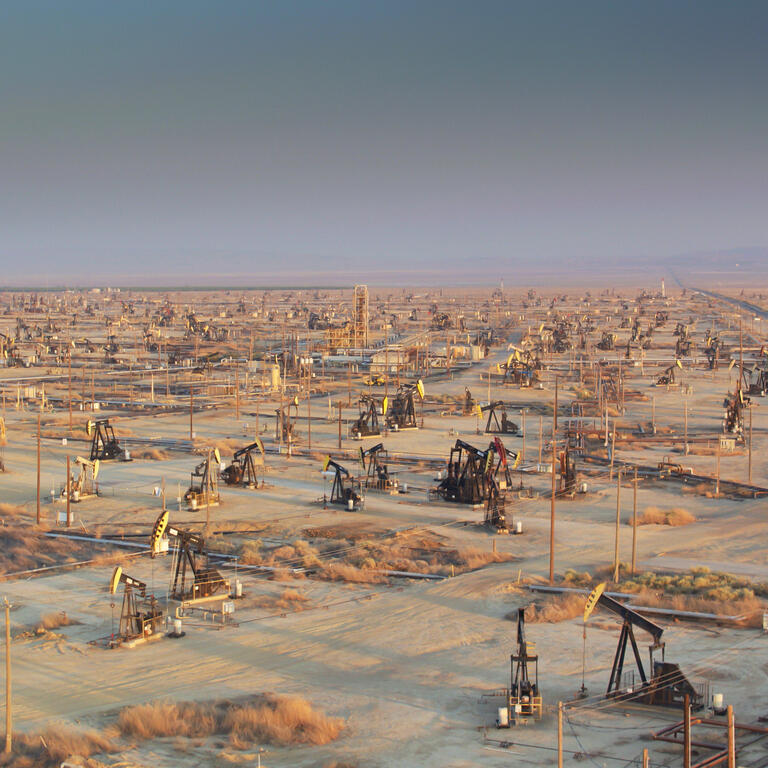 Things change quickly around year-end tax loss selling. This year, the selling pressure has been more intense with the emergence of a new COVID-19 variant. While the jury is still out on its full impact, investors have taken extra pains to sell some stocks. Top among them is CorEnergy (NYSE:CORR). When we last covered it we just saw too many risks to get long the common shares. With perfect, 20-20 hindsight, probably the best call we made.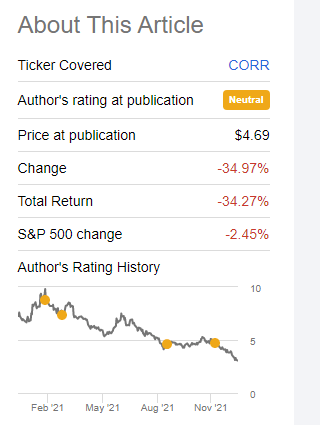 Source: Outlook Deterioration
Alongside the common shares, the preferred shares (NYSE:CORR.PA) have also been taken to the cleaners (albeit on a gentle setting).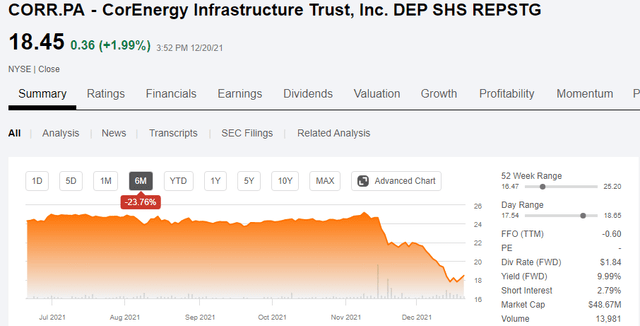 Source: Seeking Alpha
Yes, they have outperformed the common, nonetheless, that is a huge discount to the par value. It would be a rather nifty return (more than 20% compounded) if it returned to par over three years and continued paying its dividends. Is this an opportunity? We tell why this could work and also what could go wrong.
A Little History
CORR had two major assets at one time. While the quote of Warren Buffett and diversification may ring true at times, CORR certainly could have benefitted from having its eggs in more than just two baskets. Both tenants stopped paying rent and assets were disposed off for pennies on the dollar. CORR's 3-year total return lags the midstream sector by a fair bit as a result.
CORR recently did an interesting deal with Crimson Midstream Holdings, LLC, a California Public Utilities Commission (CPUC) regulated crude oil pipeline owner and operator, for approximately $350 million. If $350 million sounds like a lot, well it is because that number is really high compared to CORR's market capitalization today.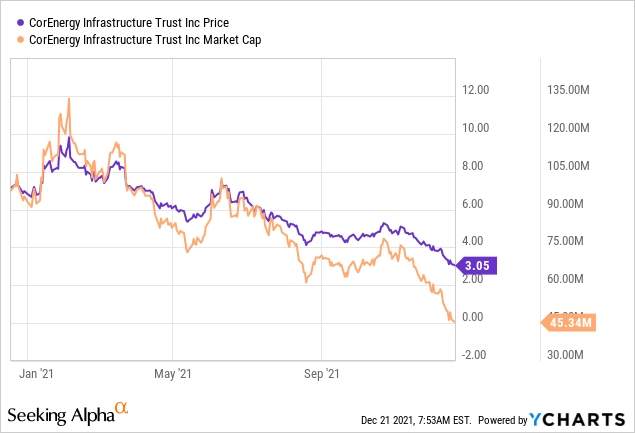 CORR funded this via cash on hand, an unsecured facility and asset level debt. While the upside case for CORR exists, if it can make things work, we want to focus on the preferred shares here.
What Works For CORR.PA
CORR.PA offers a competitive yield in today's yield starved markets. At 10% you are getting 6% more than what regular preferred share ETFs can deliver in the best case and at least 4% more than what most leveraged closed end funds in this area can deliver. So at the minimum, you are not risking for negative yield setups.
The assets recently purchased are regulated and to an extent, CORR can make up for declining volumes by charging higher fees to remaining operators. Those that want to extrapolate that to mean that CORR is a utility, may also think that there are no competing utility assets that offer yields in this zone. We certainly are not aware of any.
CORR's transaction also got Crimson to take payment in CORR common shares for part of this asset. These kind of transactions assure that the buying company is not receiving a lemon and Crimson has every reason to be involved and make sure all parties go home happy. Of course, what works for the common shares, should work twice as well for the preferred shares.
What Does Not Work For Us
CORR is really, really small. This of course is an indirect consequence of the market punishing its bad decisions, but we can see this even if we ignore the market capitalization. General and administrative expenses are running at over 22% of revenues.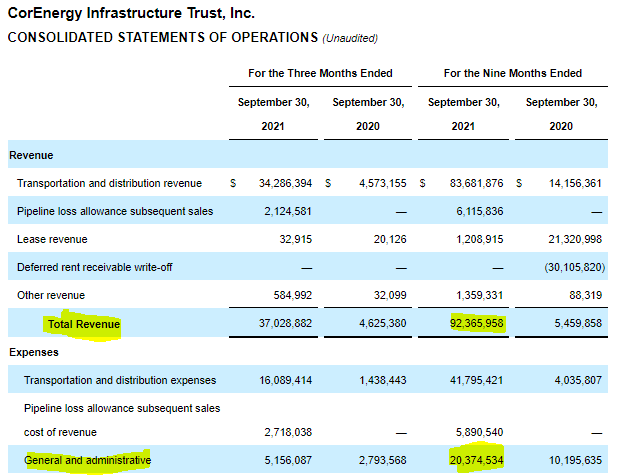 Source: CORR 10-Q, highlights from author
Yes, we expect that to move more in line with that seen in Q3-2021 (15%), but even that rate is pretty excessive. This sets up a rather high fixed cost that creates more asymmetric downside risks.
The second reason we don't like the preferred shares is that management is something we touched on way before the Crimson acquisition. At that point CORR had zero net debt (cash on hand equal to debt) and the preferred shares were in the driver's seat. Our fear back then for the preferred shares was that management had no incentive to keep that nice buffer as it benefits the preferred shares and not the common shares to which their future is tied. As expected, they used that cash to make the Crimson acquisition. We suspect that any additional upside surprises will also play out the same way where management may make another leveraged acquisition that keeps risk the same for CORR.PA.
Finally, we see the buffer on the preferred share yield coverage as unacceptably low, even for a 10% yielder. With expected EBITDA of around $43 million annually, interest expense of $13 million, maintenance capex and taxes of about $12 million and preferred share dividends of $9.2 million leaves just $8.8 million annually. From that we have to subtract the mandatory debt amortization which was $2 million last quarter. Where is the buffer?
Verdict
There are no good comparatives in the space. What we would need is a similarly leveraged company with a tiny market capitalization with primarily one regulated asset. There are none that we can think of. But let us give you a few comparatives that we like better than CORR.PA to give a sense of our enthusiasm (or lack thereof) for this.
NuStar Logistics, L.P. SB NT FX/FL 43 (NSS) which are the floating subordinated bonds of NuStar L.P. (NS). They yield about 7% currently and the payment is designed to float higher with interest rate hikes. NS has an interest coverage ratio (as defined by adjusted EBITDA divided by interest expense) of near 4X. NS assets in the Permian are outstanding and that is the only shale corridor growing meaningfully.
NGL Energy Partners LP (NGL) bonds are one where the yield to maturity is higher than what CORR.PA pays.

Source: Interactive Brokers
The March 2025's yield over 11.6%.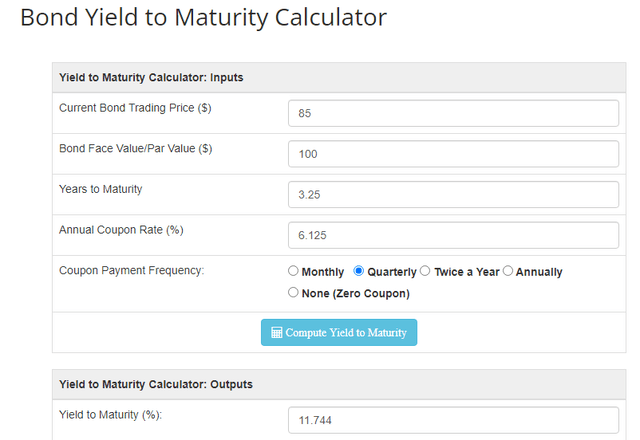 Source: DQYDJ
NGL does not have regulated assets but the bonds are one step above in the capital structure vs where CORR.PA stands. NGL is also similar from a performance and market perceptions perspective.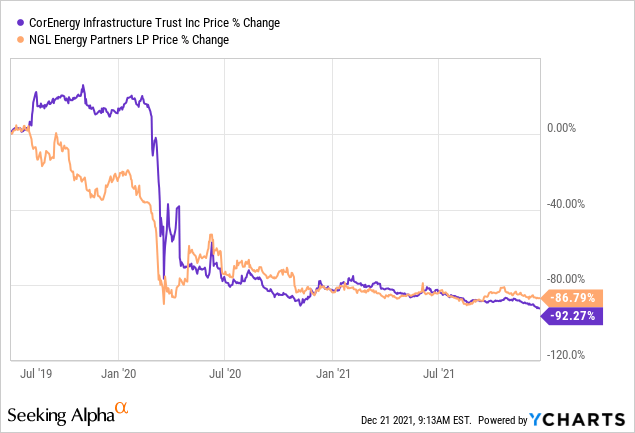 While we don't own either of those two, we do think both offer much better risk-reward structures than CORR.PA. Post the tax-loss selling season we are likely to see a bounce in CORR.PA and perhaps some better volume numbers in Q4-2021 may assuage the market to send this back to the mid-$20s. We just don't like the setup here.
Please note that this is not financial advice. It may seem like it, sound like it, but surprisingly, it is not. Investors are expected to do their own due diligence and consult with a professional who knows their objectives and constraints.