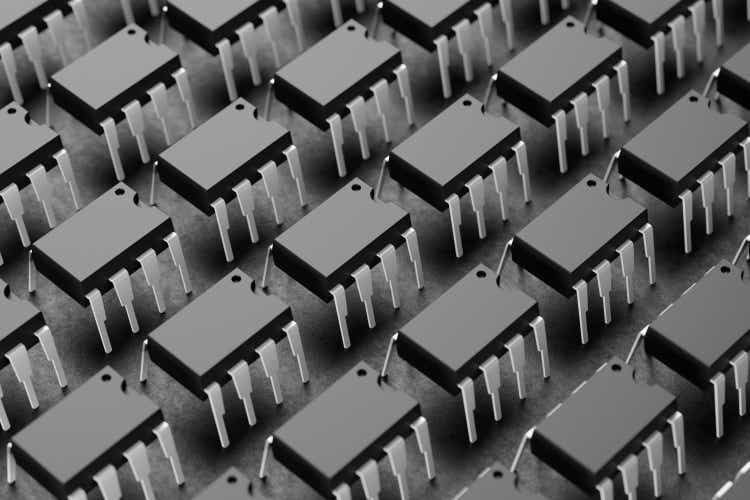 The year 2021 is almost certain to end up as a year for the record books for Kulicke and Soffa Industries (NASDAQ:KLIC). The stock, though, has started to stumble with the year coming to a close. The stock is still likely to end the year with big gains, having outperformed most, but the stock seems to have lost its momentum from earlier in the year. KLIC is facing rising challenges with 2022 rapidly approaching. Headwinds are gathering strength, insider selling is not helping and shorts have taken an increased interest in KLIC. However, there is still reason to stick with KLIC. Why will be covered next.
KLIC has not been the same
KLIC will likely look back at 2021 as a very productive year with the year almost over. The top and the bottom line, for instance, have soared higher and the stock has gained 76% YTD, better than most. That last number might not sound bad at all, but the stock is also way off its highs. At one point, the stock was up 133% in 2021. The stock has been struggling to move forward ever since.

Source: finviz.com
The stock reached its high for the year in early September, but then proceeded to decline over the next six weeks, losing 34% of its value along the way. The stock tried to rally in recent weeks, gaining 39% by early December, but it crashed once it was revealed that top executives at KLIC had sold some of their stock. The stock lost 14% that same day. The table below lists some of the transactions that have taken place recently.
| | | |
| --- | --- | --- |
| Name | Title | Shares sold |
| Chen, Fusen | CEO & President | 60,000 |
| Wong, Lester | CFO | 30,000 |
Source: KLIC SEC filings
Selling by top executives always gets noticed, even if the selling of shares does not necessarily imply anything. Still, the act of putting large numbers of shares up for sale puts downward pressure on the price of the stock. It gives rise to all sorts of speculation, even if there is no evidence to back it up. It also provides ammunition to those who are bearish on KLIC for whatever reason.
It's worth mentioning that short interest has soared higher, especially in the last three months, which coincided with the stock struggling. According to the most recent data, short interest has reached 7.5M, roughly four times what it was 10 weeks earlier. The selling by top executives will only strengthen the conviction of the bears.
Growth is expected to slow down
The stock trended higher for most of 2021, despite some ups and downs, but that seems to have changed. In addition, there's another factor driving a change in sentiment towards the stock. Revenue and earnings have shot higher in recent quarters, but growth is expected to slow down for several reasons.
KLIC is an equipment supplier with an emphasis on semiconductor, LED and electronic assembly solutions. KLIC has a limited production capacity, which KLIC has in the past stated is sufficient to ensure around $450M in revenue per quarter. That limit has been reached, which means top-line growth will be harder to come by.
KLIC is still doing fine according to the latest numbers. Q4 revenue increased by 173.1% YoY to $485.3M, a new record, breaking the old one set just one quarter earlier. GAAP EPS increased by 740% YoY to $2.10 and non-GAAP EPS increased by 520% YoY to $2.17, both new records. The table below shows the numbers for Q4 FY2021.
| | | | | | |
| --- | --- | --- | --- | --- | --- |
| (GAAP) | Q4 FY2021 | Q3 FY2021 | Q4 FY2020 | QoQ | YoY |
| Revenue | $485.326M | $424.318M | $177.688M | 14.38% | 173.13% |
| Gross margin | 47.7% | 46.1% | 50.0% | 160bps | (230bps) |
| Operating margin | 31.9% | 28.4% | 13.0% | 350bps | 1890bps |
| Income from operations | $154.836M | $120.455M | $23.048M | 28.54% | 571.80% |
| Net income | $133.711M | $113.766M | $15.784M | 17.53% | 747.13% |
| EPS | $2.10 | $1.79 | $0.25 | 17.32% | 740.00% |
| (Non-GAAP) | | | | | |
| Operating margin | 33.0% | 29.7% | 16.4% | 330bps | 1660bps |
| Income from operations | $160.198M | $125.935M | $29.194M | 27.21% | 448.74% |
| Net income | $138.266M | $118.786M | $21.749M | 16.40% | 535.73% |
| EPS | $2.17 | $1.87 | $0.35 | 16.04% | 520.00% |
Source: KLIC
If the Q4 numbers are available, then so too are the numbers for all of FY2021. FY2021 revenue increased by 143.5% YoY to $1,517.6M. GAAP EPS increased by 596.4% YoY to $5.78 and non-GAAP EPS increased by 546.3% YoY to $6.14. In comparison, the targets set three years ago were $1.2B in revenue and non-GAAP EPS of $4.30 by FY2021. KLIC beat those targets by 25% and 40% respectively.
Bookings totaled $2,177M in FY2021, up from $646.4M in FY2020. KLIC ended FY2021 with a backlog of $787.2M. The weighted average of shares outstanding rose from 63.36M in FY2020 to 63.52M in FY2021, which reduced FY2021 EPS by $0.14. The table below shows the numbers for FY2021.
| | | | |
| --- | --- | --- | --- |
| (GAAP) | FY2021 | FY2020 | YoY |
| Revenue | $1,517.6M | $623.2M | 143.52% |
| Gross margin | 45.9% | 47.8% | (190bps) |
| Operating margin | 27.2% | 9.4% | 1780bps |
| Income from operations | $412.4M | $58.5M | 604.96% |
| Net income | $367.2M | $52.3M | 502.10% |
| EPS | $5.78 | $0.83 | 596.39% |
| (Non-GAAP) | | | |
| Net income | $390.2M | $60.3M | 547.10% |
| EPS | $6.14 | $0.95 | 546.32% |
Source: Form 10-K
The huge YoY gains really stand out. FY2021 was without a doubt a year for the record books. It's true business is way up, but easy comps are also a factor, resulting in headline numbers you don't get to see all that often. However, comps will turn against KLIC in the coming quarters. The chart below shows how quarterly revenue spiked higher starting in Q1 FY2021 when revenue jumped by 50.6% QoQ.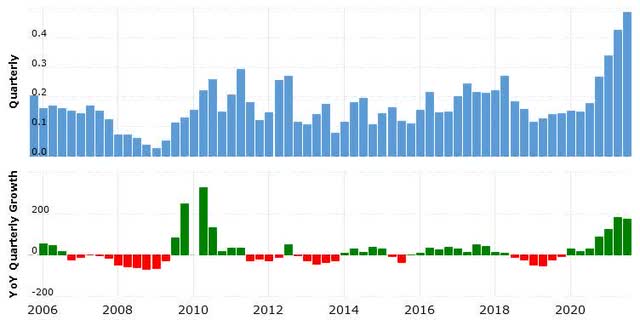 Source: macrotrends.net
Revenue has spiked higher for the last four quarters, but this also means that Q1 FY2022 will not benefit from comps the way prior quarters did. The base will be much higher going forward and comps will be a lot more difficult. Headline growth in the coming quarters will be much less impressive going forward.
There are signs of this in the outlook. Guidance calls for Q1 FY2022 revenue of $440-480M, an increase of 71.7% YoY at the midpoint, but also a decline of 5.2% QoQ. The forecast expects non-GAAP EPS of $1.88, plus or minus 10%, an increase of 118.6% YoY at the midpoint. It's also less than the $2.17 in Q4. Growth seems to have peaked.
| | | | |
| --- | --- | --- | --- |
| (Non-GAAP) | Q1 FY2022 (guidance) | Q1 FY2021 | YoY (midpoint) |
| Revenue | $440-480M | $267.9M | 71.71% |
| EPS | $1.88 +/- 10% | $0.86 | 118.60% |
Source: KLIC
Why long KLIC still makes sense
FY2021 was an outstanding year, but FY2022 is shaping up to be a different year. Capacity constraints and difficult comps will make sure of it. KLIC itself expects FY2022 revenue to be comparable to FY2021, which implies revenue of around $1.5B. Keep in mind that $1.5B was also the number given for FY2023 revenue at the most recent Investor Day. From the Q4 earnings call:
Well, actually, we are quite positive on the end market demand of '22. So we are feeling right now '22, the revenue will be comparable to '21. That's what actually in Investor Day, we told all the investors. So that means we expect fairly comparable.
A transcript of the Q4 FY2021 earnings call can be found here.
FY2021 revenue grew by 143.5% YoY to $1.5B and non-GAAP EPS grew by 546.3% YoY to $6.14, but the baseline is still at $900M and $2.17 respectively. KLIC sees baseline growth of $1.5B in revenue and non-GAAP EPS of $6.09 in FY2024. In other words, FY2021 was a terrific year, but it was more like an exception than the norm being way above the baseline.
The baseline for revenue and non-GAAP EPS are forecast to grow at a CAGR of 18.6% and 41% in FY2021-2024, up from 10.1% and 21.1% in FY2018-2021. There will be growth in the years to come, just not at the pace seen in FY2021. KLIC grew at a very fast pace in FY2021, but it's expected to slow down sharply in the next two years. This slowing down of growth helps explains why KLIC trades at relatively low multiples. For instance, KLIC trades at about 7 times EBITDA with an enterprise value of $3B, which may come as a surprise to some for a company that grew as fast as it did in FY2021.
| | |
| --- | --- |
| | KLIC |
| Market cap | $3.66B |
| Enterprise value | $2.96B |
| Revenue ("ttm") | $1,517.7M |
| EBITDA | $434.0M |
| Trailing P/E | 9.45 |
| Forward P/E | 9.78 |
| PEG ratio | 0.02 |
| P/S | 2.23 |
| P/B | 3.09 |
| EV/sales | 1.95 |
| EV/EBITDA | 6.82 |
Source: Seeking Alpha
It's worth mentioning that even though top-line growth is expected to remain flat in FY2022-2023, KLIC does have other options to drive bottom-line growth. A better product mix, for instance, can also drive earnings higher. KLIC is releasing new products, including those that come with higher margins. If the product mix in FY2022 is composed of more higher-margin products than before, gross margins should rise along with earnings. The stock can still go higher even with the top line staying flat. The fact that multiples are where they are makes it easier.
Investor takeaways
FY2021 was a great year for KLIC. Revenue and EPS soared higher, but the flip side is that there will be less of it in the next two years. FY2021 revenue and EPS grew by 143.5% and 546.3% respectively, but don't expect to see those numbers in FY2022. Difficult comps and production capacity constraints will ensure more modest numbers from KLIC. The outlook sees an average of $1.5B in revenue for the next two years, similar to FY2021.
However, while the top line stays flat, the bottom line could be different. There are a number of ways to increase earnings. Focusing on products with the highest margins or lowering costs with increased efficiency are some of the options. They won't result in a multiplying of EPS like in FY2021, but it was never realistic to expect those numbers to continue indefinitely. A slowing down is inevitable as covered in a previous article.
Sentiment towards KLIC seems to be turning negative, which is reflected in the rise in short interest after the stock peaked in September. It's no wonder the stock sold off when KLIC executives sold their stock. It reinforced the assumption that KLIC has peaked and it's only downhill from here on out. The fact that it came at a time when the stock market is facing a number of challenges of its own does not help.
While some may decide to abandon KLIC with growth slowing down and the stock stagnating, I remain bullish KLIC. Long KLIC is still worth pursuing with multiples where they are, but patience will be needed as the road ahead could be a bumpy one. Sentiment may have become too negative. The insider selling looks to have been a one-off event with no further selling. While revenue is not likely to see much growth, it's unlikely to shrink either. Earnings can still surprise, especially when expectations are low, and that could help the stock surpass the September highs with multiples where they are. The stock can still go higher, just do not expect it to be as easy as it was in the past year.