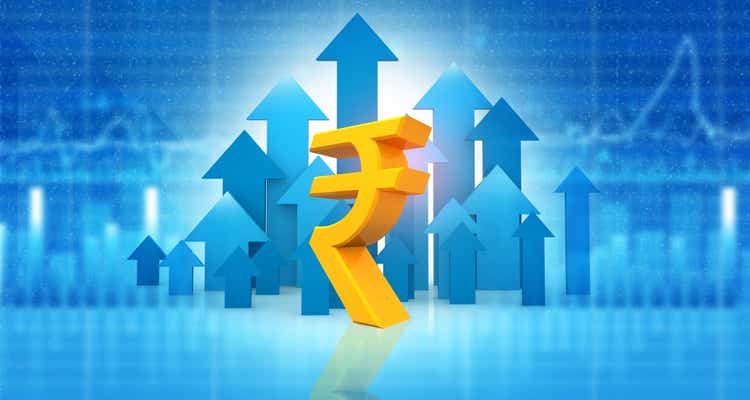 In recent coverage given to Mastercard Inc. (NYSE:MA) and Visa Inc. (NYSE:V), both companies were credited with solid line item discipline. This line item discipline, however, hides minutiae that will grow to impede future growth outside of their home turf. Nowhere is this more prevalent than with Mastercard's woes in India that U.S. and European financial media have glossed over as "protectionist" or "nationalist". The reality is (as usual) a little more complex and reflective of digital payments' relevance to national economies. Neither company can be expected to have solid revenue-boosting presence in overseas "growth markets" in the long term.
A Record-Breaking Inclusion Plan
Prior to the current administration sweeping into power in India, the indigenous banking industry was at a lull: it was estimated that a little under a third of the republic's citizens (with the republic itself accounting for roughly 1 out of every 6 human beings in the world) had a bank account. The reason for this was the depositary requirements: a bank account holder is expected to retain a "minimum balance" ranging from ₹3,000 to 5,000. Over a decade prior to the current administration coming to power, the Reserve Bank of India (RBI) - India's central banking authority - had clarified that this was not a regulatory demand but specific to the institution in light of the "cost involved in maintaining and servicing such accounts". As a result, for several decades since the republic's independence, the majority of account holders comprised of the likes of salaried professionals in organized sectors, government officials, businessmen, et al, while the working class in the unorganized sector (a majority of the country's adult population) were left behind.
The current administration took a number of steps to rectify this, the most visible of which was the launch of the "Pradhan Mantri Jan Dhan Yojana" (PMJDY) on Independence Day (August 15) in 2014. Translating rather awkwardly in English to "Prime Minister's Programme for People's Wealth", the financial inclusion initiative mandated banks (with state-owned banks leading the charge) to enable zero balance accounts with overdraft facility and deposit insurance for the republic's teeming (hundreds of) millions.
The project entered the record books for posterity: within a week, 18.1 million new accounts were opened. By the end of January 2015, this number grew to 125 million. By January 2021, this number stood at 416.5 million - with women in rural areas accounting for more than half this number. The total estimated balance held in these accounts was estimated at ₹137,195.93 crores (equivalent to $18 billion).
Note: A "crore" is 10 million; a "lakh" is 100,000.
A Debit Card Champion Rises
Now, a key factor attributed in some circles for the "cost involved" with debit cards were their per-transaction processing and other costs. This is separate from the credit risk associated with the transaction. Until 2013, the vast majority of the cards issued were by Mastercard and Visa, both of whom had been in the republic for decades: state-owned Central Bank of India launched India's first bank credit card via Visa in 1980 while Mastercard entered the fray via state-owned Vijaya Bank in 1988.
To whittle the cost down, the Indian government had launched indigenous payment network RuPay a year prior to PMJDY. Operated through RBI-owned National Payments Corporation of India (NPCI), the network is operated on a "not-for-profit" basis, i.e. the costs associated with running the network have no profit margin baked in. It is estimated that RuPay's transaction costs is 23% lower than either Mastercard or Visa's. Furthermore, all Indian companies with an annual turnover exceeding ₹50 crore (US$6.6 million) are required to offer RuPay payment options to their customers.
A vast majority of the cards issued for the PMJDY Yojana's bank accounts were linked to RuPay. In 2013, RuPay accounted for only 0.6% of all cards. By 2018, RuPay-linked cards represented 50% of all cards issued. Furthermore, RuPay surpassed Visa as India's largest payment card network by number of transactions in June 2017 by recording 375 million transactions.
Since its launch, RuPay's volumes have seen a massive increase in its usage until the pandemic in 2020 saw both volumes and value falter.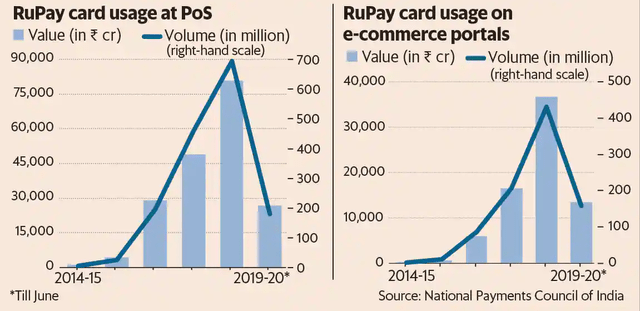 As previous coverage of Mastercard and Visa highlighted, both companies are heavily dependent on debit card volumes for revenues. In 2018, perhaps in a bid to "internationalize" the choice of language used by then-President Trump, Mastercard complained to the Office of the United States Trade Representative (USTR) that the Indian government was using "nationalism" to further RuPay adoption. The Indian government has pointedly ignored the complaint.
In 2012, RuPay entered into a partnership with Discover Financial Services (DFS) to gain access to the international payment network. By 2019, over 64 million "Global Cards" were issued. RuPay is also working on tokenization solutions as well as app-based solutions for devices (i.e. smartphones and smartwatches) to eliminate the traditional "card reader" device entirely.
A Credit Card Laggard Rises
While RuPay became a debit card leader, the credit card market was a different story. Both Mastercard and Visa continued to dominate this segment. By September 2020, the total value transacted was at around $6.6 billion with a historical high of $9.3 billion seen in October the previous year. As seen with RuPay, the pandemic's effects were writ large on the drop in both value and volume.

As of August 2021, it was estimated that HDFC Bank (HDB), state-owned State Bank of India (OTCPK:SBKJY) and ICICI Bank (IBN) were the most prominent issuers in cards while per card spend varies widely across the other banks operating in the country.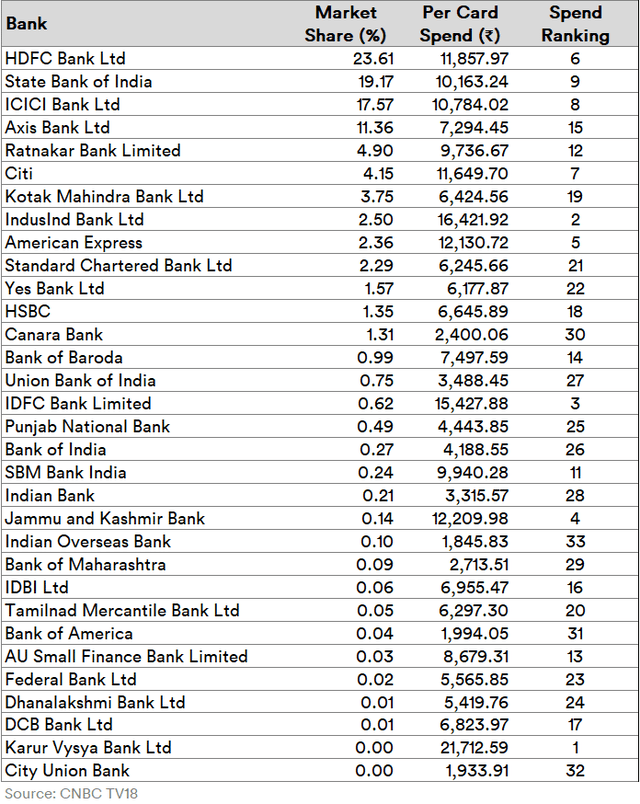 As of 2020, RuPay had very few partnerships in the credit card category; even the bulk of credit cards issued by the State Bank of India were Visa-branded. The driving factor for this has been the fact that merchant discount rate (MDR) charges - which stands for the amount the bank processing a transaction from, say, a buyer deducts from the amount payable to the seller - were eliminated for RuPay transactions from January 2020.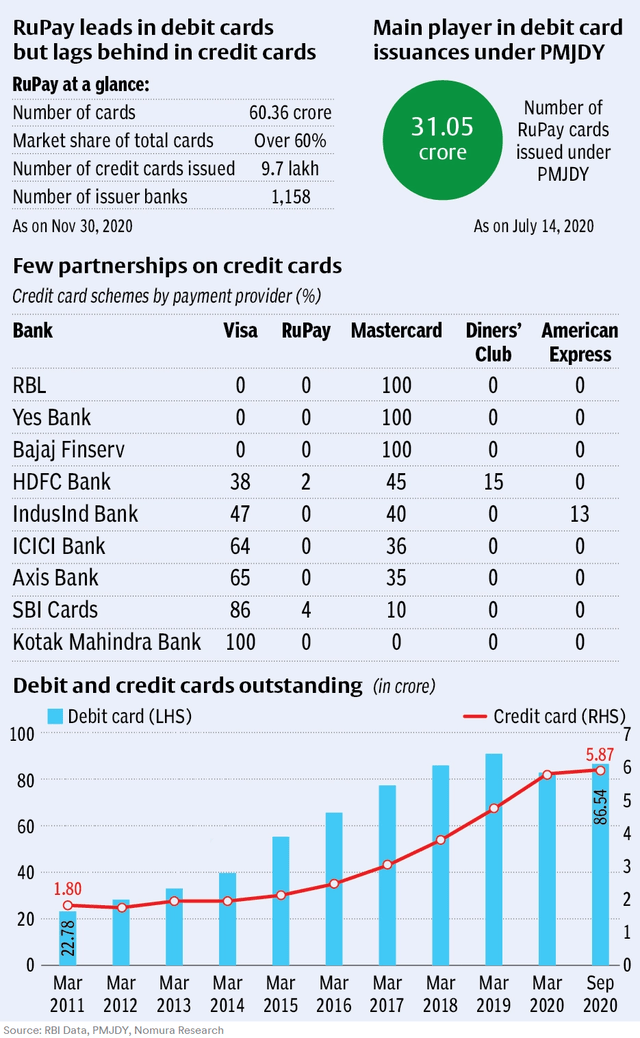 In July this year, Mastercard was barred from issuing new credit cards after the government determined that the company was storing Indian customers' data on overseas servers and also failing to erase the Indian leg of the transactions data from said servers within 24 hours as mandated by the country's laws. In August, Visa - despite downplaying concerns over RuPay - "privately" complained to the U.S. government that the ongoing promotion of RuPay is hurting it in a key growth market. Once again, the Indian government pointedly ignored all such reports.
As the current year draws to a close, the status quo has begun to shift. State Bank of India (No. 2 on the list) launched a co-branded RuPay credit card geared for fuel purchases in September, Bank of Baroda (No. 14) released an international RuPay credit card leveraging Japan Credit Bureau's processing network in November and Yes Bank (No. 11) launched a RuPay-backed credit card in December.
Also, on December 15, the Indian government approved a $170 million plan to compensate a percentage of the transactions processed on RuPay cards and low-value interbank transactions for a year to increase accessibility for the republic's unbanked and marginalized low-earning citizens. This would also serve to increase transaction processing volume and deepen market penetration that Indian banks can secure long-term transaction processing revenue streams from.
In an interesting move earlier this year, the RBI invited bids to set up a parallel "for-profit" payment network, which drew interest from the likes of Amazon (AMZN) and Google (GOOG) (GOOGL) as well as the Tata and Reliance conglomerates. After protests from banking unions, data security concerns and objections over a "New Umbrella Entity" without state-run banks, it can be expected that foreign ownership in this "for-profit" network will not go beyond that of a non-controlling minority.
Fiscals: Problematic for One, Steady for the Other (For Now)
Both Visa and Mastercard are cagey about releasing country-specific financial data from developing nations, often tagged as "growth markets". Mastercard operates a privately-held subsidiary called "Mastercard Asia-Pacific Private Limited" (MAPPL) which lumps its presence in South and Southeast Asia with Australia and New Zealand, with Visa doing the same via "Visa Worldwide Pte. Ltd". Neither are obligated to release financial reports to the public but do file their annual performance with local regulators. Thus, given the paucity of public data, analyzing the impact of India's regulatory actions becomes a little difficult.
However, MAPPL's fiscals over the years show some very interesting trends in recent years.

Mastercard's top-line item discipline is evident here with MAPPL's contribution to the company's worldwide revenue being steady around the 20% mark. But in terms of rebates and incentives (which readers should remember is supposed to be a sub-item under revenues and not expenses in GAAP), it is clear that MAPPL has been burning cash to keep other sub-items running to maintain this revenue contribution. From 2014 till 2020, as a percentage of effective revenue, it has more than doubled.
To add another lens to this trend analysis (and to match negatives, i.e. outflows, with a negative), when compared with the company's expenses, it has gone from being a little over a fourth in 2014 to drawing up par in 2020.
When it comes to Visa, the company hasn't made its performance in its latest fiscal year (ending September 30, 2021) publicly available yet. Also, it doesn't offer nearly as much data publicly. With the data available at hand, it can be determined that top-line item discipline with regard to contribution to the company's worldwide revenue is steady around the 14% mark while all other sub-items seem to be running steady as well.

This is where it becomes pertinent to take into account the two companies' seniority: they've been around longer than most people in the world today and their leadership are no strangers to regulatory action in the past. The complaint by Visa when, for all intents and purposes, the trend analysis indicates that it isn't as affected indicates that it portends doom in the future. On the other hand, Mastercard's complaints does make sense, given the trends seen.
However, neither company has seen smooth sailing in their "established markets": both companies have recently been named in a class action lawsuit over price-fixing mechanisms designed to prevent competition. Similar cases filed in Europe and the U.S. in the past have led to payouts to the tune of billions.
Final Notes
RuPay's success is by no means an outlier. China's UnionPay operates a rival card network larger than both companies in the domestic market while also being an interbank network, Indonesia is working on its own payment network and Russia's Mir network mirrors RuPay's success in its homeland.
RuPay is also going international: in 2019, institutions in the United Arab Emirates - where 3.4 million Indian citizens work and reside - have begun issuing cards that enable transactions on both POS and ATMs. South Korea's BC Card network, Japan's JCB network, Singapore's NETS and Brazil's Elo also have agreements with RuPay to allow cross-operability. Mir and RuPay are currently in discussions to enact a similar agreement.
Thus, the trends seen in Mastercard and likely a matter of concern for Visa is not just RuPay; it's this collection of nation-focused payment systems working together while pursuing national/regional objectives.
There is a certain class of investor who will insist that no other "for profit" network (indigenous or otherwise) can prevail because both companies have a powerful "ecosystem". This word, popularized by management consultants and lapped up by naïve retail investors, is a meaningless buzzword that should remain in nature studies.
The "ecosystem" of any payment network is a ledger of participating institutions with an overarching protocol for customer service, transfer of risks, electronic cash settlement and defense from criminal access. In this era, this is not a uniquely-engineered product from a select class of galaxy-class minds. The companies' leadership had the astuteness to build a service that did well in their homeland and then exported this model to other countries where a certain class of individuals initially needed this service. Local institutions servicing their needs thus became a part of the service.
There is a certain class of investor that will make the "economic argument" that there is no incentive for an institution to switch over to the RuPay network (or any other "for profit" network, indigenous or otherwise), given lower per-unit revenue. This, too, is a naïve assumption: the West is the West and the East is the East.
Outside of the "gentle" machinations of the State in China, a very large proportion of the political and mercantile leadership in the rest of the East are mindful of their nations' history and their own role in shaping it. For many in the political classes, national objective precedes "economics". For most of the mercantile classes, ingenuity and adaptability drives success harder than "economics".
However, the aforementioned naïve assumption would likely hold true in both companies' cases in the West, given the numerous times they were theatrically accused by parliamentary committees and in courts of having an unsustainable monopoly, only to see them walking away after a payout. Said committees and courts tend to be less forgiving in the East. Perhaps, even significantly less forgiving.
One Indian executive reacting to the two companies' India problems remarked, "Some of the foreign companies would rather sit and lobby rather than fix their systems." While lobbying might be how these legacy institutions "fix" a problem, it's no longer the case in the East.
The future seems to be gloriously diversified at a significant cost to these two companies. A smart investor with global broker access and means would be well-served by taking a page from the global institutional investor's playbook and note some of the key names mentioned here. An investment case worked out with these names would diversify their portfolio in the digital payments space and perhaps even boost gains.